Wikipedia to launch article-quality ranking system — from digitaltrends.com by Andrew Couts
On 06/29/2011, in communications, creativity, digital audio, digital learning, digital video, education, ideas, innovation, interactivity, library / librarians, multimedia, new media literacies, story, storytelling, teaching & learning, transmedia, writing, by Daniel Christian
Teaching students to be multimedia storytellers — from Spotlight on Digital Media & Learning
From DSC:
With a special congrats out to Laura Fleming on her curation efforts:
We wanted to point Spotlight readers to a new, powerful collection on the National Writing Project's Digital Is website. Reading and Writing Transmedia is curated by Laura Fleming, a library media specialist in River Edge, N.J., who blogs regularly about the connection between transmedia and education.
From DSC:
Growing up with the music I did, I really liked this! It's fun — and for some students, highly engaging! Thanks to Lee Wilson for posting it on his blog.
Also see:
There's an app for that class at Va. universities — from timesdispatch.com by Karin Kapsidelis
VCU and other universities are exploring the uses of
smartphones and mobile applications in and outside classrooms.
With the help of his smartphone,
D. Kirk Richardson
taught a class last summer on Edgar Allan Poe's last hours in Richmond. The walking tour took on a different dimension for his Virginia Commonwealth University students when he augmented his lesson with vintage images from the poet's day. On his iPhone, they could see Poe haunts that no longer exist and even a menu from a restaurant where he dined during his last 30 hours here in 1849. For Richardson, who teaches focused inquiry classes at VCU's University College, it was a way of adding context to Poe's life and "moving history out of books." He has since adapted that mobile lesson plan to a
mytourguide.com
application and is showing his students this semester how to use the app to create their own walking tours. Later this month, the class will set out to digitally explore the Civil War prison camp on Belle Isle, famous hotels and the last days of Jefferson Davis.
Originally saw this at
Ray Schroeder's Online Learning Update blog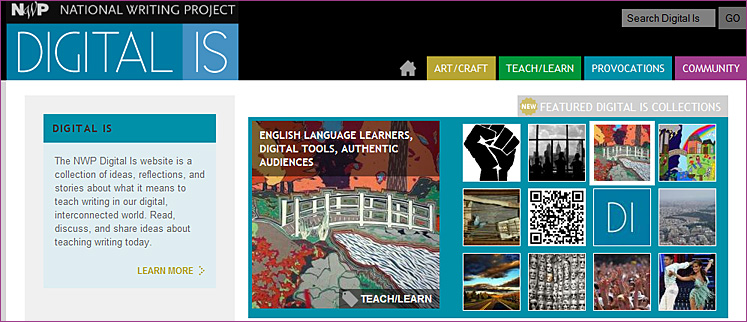 About NWP Digital Is
The NWP Digital Is website is a teaching-focused knowledge base exploring the art and craft of writing, the teaching and learning of writing, along with ideas that provoke us to think in new ways about education and culture in the digital age.
Learn more about the NWP Digital Is website and how to participate.

About the National Writing Project
The National Writing Project (NWP) is a nationwide network of educators working together to improve the teaching of writing in the nation's schools and in other settings. NWP provides high-quality professional development programs to teachers in a variety of disciplines and at all levels, from early childhood through university. Through its network of more than two hundred university-based sites located in all fifty states, the District of Columbia, Puerto Rico, and the U.S. Virgin Islands, NWP develops the leadership, programs, and research needed for teachers to help students become successful writers and learners.
Support for the National Writing Project is provided by the U.S. Department of Education, foundations, corporations, universities, and K–12 schools.
Learn More About the National Writing Project
Also see: