On 06/15/2017, in attention, education technology, emerging technologies, engagement / engaging students, Facebook, innovation, library / librarians, society, teaching & learning, Technologies for your home, tools, United States, user experience, UX, vendors, virtual reality / worlds / learning, by Daniel Christian
Oculus Education Pilot Kicks Off in 90 California Libraries — from oculus.com
Excerpt:
Books, like VR, open the door to new possibilities and let us experience worlds that would otherwise be beyond reach. Today, we're excited to bring the two together through a new partnership with the California State Library. This pilot program will place 100 Rifts and Oculus Ready PCs in 90 libraries throughout the state, letting even more people step inside VR and see themselves as part of the revolution.
"It's pretty cool to imagine how many people will try VR for the very first time—and have that 'wow' moment—in their local libraries," says Oculus Education Program Manager Cindy Ball. "We hope early access will cause many people to feel excited and empowered to move beyond just experiencing VR and open their minds to the possibility of one day joining the industry."
Also see:
Oculus Brings Rift to 90 Libraries in California for Public Access VR — from roadtovr.com by Dominic Brennan
Excerpt:
Oculus has announced a pilot program to place 100 Rifts and Oculus Ready PCs in 90 libraries throughout the state of California, from the Oregon border down to Mexico. Detailed on the Oculus Blog, the new partnership with the California State Library hopes to highlight the educational potential of VR, as well as provide easy access to VR hardware within the heart of local communities.
"Public libraries provide safe, supportive environments that are available and welcoming to everyone," says Oculus Education Program Manager Cindy Ball. "They help level the playing field by providing educational opportunities and access to technology that may not be readily available in the community households. Libraries share the love—at scale."
On 05/13/2017, in 21st century, adjunct faculty, algorithms, Artificial Intelligence / Machine Learning / Deep Learning, bots, cognitive computing, colleges, community colleges, faculty, higher education, ideas, innovation, intelligent systems, intelligent tutoring, Learning Agents, learning ecosystem, library / librarians, personalized/customized learning, teaching & learning, universities, Using teams, by Daniel Christian
7 things you should know about artificial intelligence in teaching and learning — from Educause Learning Initiative (ELI)
Abstract:
The term artificial intelligence (AI) refers to computer systems that undertake tasks usually thought to require human cognitive processes and decision-making capabilities. To exhibit intelligence, computers apply algorithms to find patterns in large amounts of data—a process called machine learning, which plays a key role in a number of AI applications. AI learning agents have the potential to function like adaptive learning but at a much more sophisticated and nuanced level, potentially giving every student a computer-simulated personal mentor. Many colleges and universities are developing AI projects that aid teaching and learning.
7 things you should know about the evolution of teaching and learning professions — from Educause Learning Initiative (ELI)
Abstract
For this issue of the 7 Things, we asked a set of seven community leaders—who come from different walks of life in the community—to offer a short meditation on the evolution of the profession. In this issue you will find comments from professionals such as an instructional designer, a CIO, an accessibility expert, and a librarian. We hope that this issue and the spotlight it casts on the evolution of our profession will encourage us to begin further conversations about where we are headed and how we can help one another to achieve our professional goals.
Chief information officers are fast becoming chief innovation officers. It is increasingly critical for the CIO to be an advocate and leader of transformational change on campus rather than a director and manager of IT operations.
A key "big picture" area is the mission of teaching and learning. How do the systems we select today enable improved learning opportunities over the next three years? Will this solution empower students and faculty for years to come or merely meet a tactical need today?
There are increasing opportunities for librarians to work as partners with faculty to develop challenging assignments that encourage students to create a project with an output of a video, podcast, website, data visualization, blog, or other format.
"Support" connotes a hierarchy that doesn't recognize that staff are valuable assets who play an important role in postsecondary education. We need to find a new language that promotes the ethos of service and servant leadership, within the context of describing ourselves as non-faculty educators and alternative academics.
Once, we thought the faculty role was expanding such that instructors would become learning designers and proto-technologists. Instead, an increasingly competitive and austere landscape is putting competing pressures on faculty, either around research expectations or expanded teaching responsibilities, preventing most from expanding their roles. 
On 05/03/2017, in 21st century, collaboration, communications, education, education technology, emerging technologies, Microsoft, Mixed reality, multimedia, teachers, teaching & learning, tools, Using teams, vendors, videoconferencing, web-based collaboration, by Daniel Christian
Microsoft Announces New Laptops and OS Perfect for 21st-Century Students — from edtechmagazine.com by Meghan Bogardus Cortez
Windows 10 S, Surface Laptop and other updates are coming to classrooms in the fall.
Excerpt:
Surface Laptop Introduces Seamless Technology
Perhaps the biggest cheers from the crowd came from the announcement of the new Surface Laptop, which will be available in June 2017.
…
The laptop checks in at 2.76 pounds with a 13.5-inch PixelSense display and 3:2 aspect ratio. Equipped with a fabric overlay on the backlit keyboard, the laptop is so seamless it doesn't even have speaker grills. Instead, Panay says users can be immersed in sound while working on things like video. With a Surface Pen and the laptop's LCD touch module, annotation is easy, even on videos.
Microsoft Debuts Surface Laptops, Windows 10 S for Education, Teams for Office 365 for Education — from campustechnology.com by David Nagel
Excerpt:
Microsoft has unveiled several new offerings for education, including the forthcoming Surface Laptop and a new version of Windows 10 designed for school environments — Windows 10 S.
Also see:
Also see:
From Mixed Reality to New Minecraft and OS, Microsoft Unleashes a Flurry of EDU Upgrades — from edsurge.com by Jenny AbamuMay
Excerpt:
"How can technology create more opportunity, not for a few but for all," asked Nadella, noting how his own grandfather was not able to go to school because of the limited resources his family had. "Democratizing education must be something that is for everyone and not just for a select few, this is something that is deeply personal."
His passionate and personal plea set the tone for the flurry of announcements and updates that followed. By the end of the whirlwind showcase, educators were weary but excited about future possibilities.
Also  see: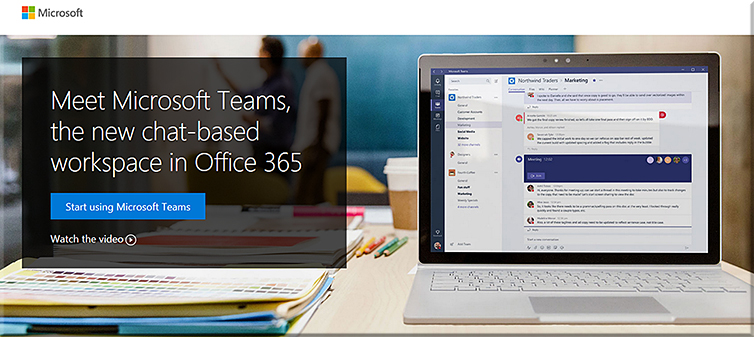 Microsoft Unveils K-12 Operating System, Tools to Challenge Google — from edweek.org by Sean Cavanagh
Excerpt:
Microsoft unveiled a new, streamlined operating system, a slim laptop and a bevy of classroom tools, a group of products that in design and spirit seem aimed at competing with ascendant Chromebooks and other Google offerings in the school market.
At a product announcement on Tuesday crowded with company employees and tech journalists, Microsoft executives repeatedly touted a theme in describing the new operating system, Windows 10 S, and the accompanying products: simplicity.
The goal is "simplify to magnify," Terry Myerson, Microsoft's executive vice president of the Windows and devices group, told the assembled crowd. "Simplicity is power."
"Technology should help, not hinder, teachers' work in the classroom," Microsoft CEO Satya Nadella said. It should make educators' jobs easier, and "spark students' creativity."