The Importance of Curiosity and Tension to Storytelling — from janefriedman.com by Stefan Emunds
Today's post is excerpted from The Eight Crafts of Writing by Stefan Emunds (@StefanEmunds).
Excerpt:
To maintain reader curiosity, you can raise and answer multiple questions on multiple levels—for example, a story question, an act question, a chapter question, and a scene question. Try to keep two to three questions open at any given time. Raise two questions in your opening and answer one. Then, raise two new questions and answer one. Then raise two new questions and answer two.
Take the world of TV and movie writing: screenplays have seven or eight sequences, and each sequence begins with a challenge/question and ends with an answer—success or failure. You can do the same thing with chapters and acts.
On 03/17/2014, in 21st century, copyright/ownership/NFTs, cost of getting a degree, digital learning, digital textbooks, new business models, open courseware and systems, publishing, textbooks, by Daniel Christian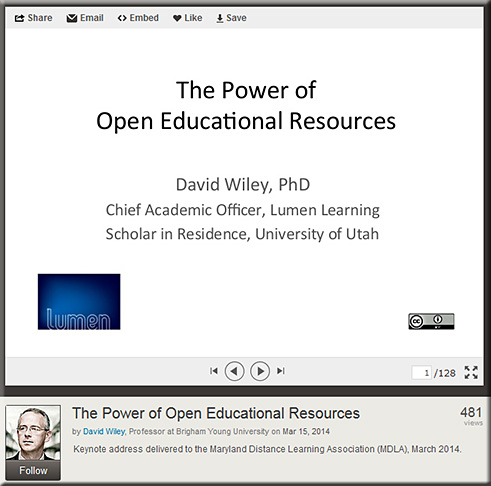 Excerpted slides: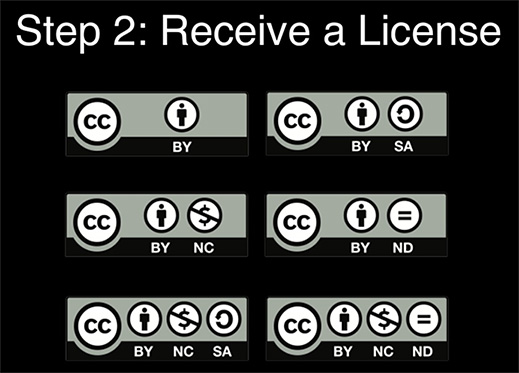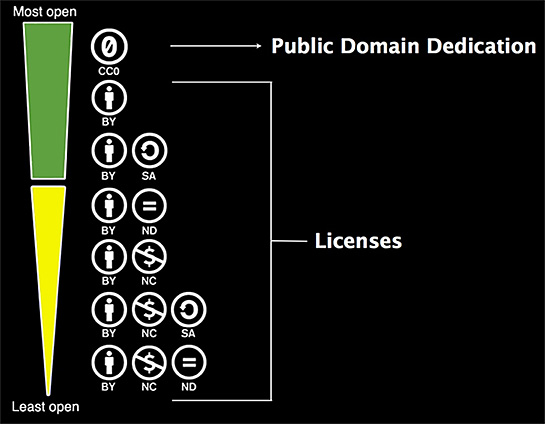 This was a keynote address that was delivered
to the Maryland Distance Learning Association (MDLA), March 2014.
With thanks to Volkmar Langer for his Scoop on this.
On 02/01/2014, in Artificial Intelligence / Machine Learning / Deep Learning, business side of he, changing business models, dangers of the status quo, Daniel S. Christian, education reform, education technology, experimentation, future of higher education, game-changing environment, higher education, IBM, more choice more control, new business models, online learning, publishing, vendors, by Daniel Christian
The End of Higher Education's Golden Age — from Clay Shirky
Excerpts:
Interest in using the internet to slash the price of higher education is being driven in part by hope for new methods of teaching, but also by frustration with the existing system. The biggest threat those of us working in colleges and universities face isn't video lectures or online tests. It's the fact that we live in institutions perfectly adapted to an environment that no longer exists.
…
Our current difficulties are not the result of current problems. They are the bill coming due for 40 years of trying to preserve a set of practices that have outlived the economics that made them possible.
…
Of the twenty million or so students in the US, only about one in ten lives on a campus. The remaining eighteen million—the ones who don't have the grades for Swarthmore, or tens of thousands of dollars in free cash flow, or four years free of adult responsibility—are relying on education after high school not as a voyage of self-discovery but as a way to acquire training and a certificate of hireability.
…
It will also require us to abandon any hope of restoring the Golden Age. It was a nice time, but it wasn't stable, and it didn't last, and it's not coming back. It's been gone ten years more than it lasted, in fact, and in the time since it ended, we've done more damage to our institutions, and our students, and our junior colleagues, by trying to preserve it than we would have by trying to adapt. Arguing that we need to keep the current system going just long enough to get the subsidy the world owes us is really just a way of preserving an arrangement that works well for elites—tenured professors, rich students, endowed institutions—but increasingly badly for everyone else.
4 platforms that will disrupt higher education — from hastac.org by Kevin Browne
Excerpts:
Straighterline
Udemy
Mozilla's Open Badges Project
Pearson
The textbook publisher Pearson is now able to offer degrees of its own in the UK.  If their venture is a success it will certainly inspire others to petition to do this and it will certainly spread to other countries.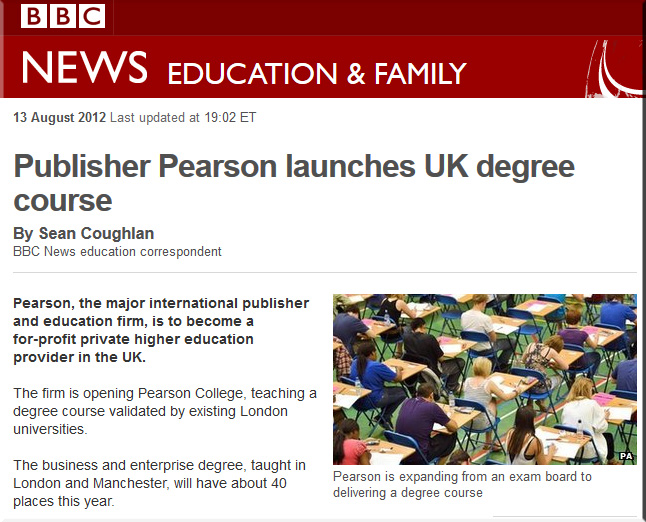 The rise of alternatives to university continuing education (part 1) — from higheredmanagement.net by Keith Hampson
Excerpt:
Let's be clear, we need these new learning providers. We are living through what appears to be a "jobless" economic recovery and people need a way range of options – at different price points – in order to quickly retrain themselves for a rapidly changing job market. A robust and diverse continuing education market is a priority for the 21st century and our government leaders and regulators should be crafting policy to make it happen.
Higher education technology predictions for 2014 — from masmithers.com by Mark Smithers
Excerpt:
In summary, we'll have another contentious year. We'll see big growth in higher education services from outside of the university sector, a continued gnashing of teeth from established providers. Some new services and platforms will emerge to cater for different forms of learning, MOOCs will evolve and improve and open badges will be hot. Look out for rhizomatic learning.
The New Normal isn't what you think — from nextberlin.eu by Adam Tinworth (the quote below, though targeting at the corporate world, applies to higher ed as well)
Their yearning is doomed. There will be no return to business as usual. We have begun a process of continuous change that will last decades – perhaps for much of the rest of our lifetimes.
Related items:
Watson is coming for your (professional) jobs — from IEEE.org by John Niman
Excerpt:
Published on Jan 17, 2014 IEET Affiliate Scholar John Niman talks about IBM's computer system, Watson and how AI may be able to take "Professional" Jobs.
Mass unemployment fears over Google artificial intelligence plans — from telegraph.co.uk by Miranda Prynne
The development of artificial intelligence – thrown into spotlight this week after Google spent hundreds of millions on new technology – could mean computers take over human jobs at a faster rate than new roles can be created, experts have warned
Addendum:
Excerpt:
Higher education is in the midst of a process of transformational change. For the department chair, leadership today must include breadth of vision and the skill to bring the single individuals who make up a department into a group that can think collaboratively about the questions facing their discipline, department, and institution. Chair leadership now depends heavily on the ability to create collaborative habits of thought and dialogue among a group of individuals, none of whom may have had experience in effective teamwork. Skill in this area will derive in large part from the chair's ability to structure the department's dialogue to be conscious of the connections among its members and the links between the department's work and the institution's goals. Ultimately, the habits of dialogue must also include consciousness of the transformational
currents in higher education as an enterprise. Subsequent articles will examine these issues as they pertain to faculty, students, pedagogy, and other key topics being remodeled in the transformational process.
Speeding up on curves — from educause.com by Bradley Wheeler
Excerpt:
Higher education faces a number of important curves, but I'll focus first on just two:
1) The finance of higher education is increasingly moving from a public to a private good, leading to increasing cost and price pressures (particularly for state-supported institutions).
2) The increasing digitization of education and research favors greater scale while it also enables potential new substitutes for colleges and universities.
What's the point of academic publishing? — from chroniclevitae.com by Sarah Kendzior
Excerpt (emphasis DSC):
In December 2013, Nobel Prize-winning physicist Peter Higgs made a startling announcement. "Today I wouldn't get an academic job," he told The Guardian. "It's as simple as that. I don't think I would be regarded as productive enough."
Higgs noted that quantity, not quality, is the metric by which success in the sciences in measured.
…
In order to maintain her professional viability, Day stopped work that she and the public found meaningful—work that directly relates to her role as a teacher—in order to have time to produce work that "counts" to a small number of academics. To "count" is not to spread knowledge, as Day did, or develop new ideas, as Higgs did. To "count" is to preserve your professional viability by shoring up disciplinary norms. In most fields, it means to publish behind a paywall, removed from the public eye—and from broader influence and relevance. To "count" is to conform.
…
Making your work "count" on its own intellectual merit helps rescue you from the sense of personal failure that accompanies loss on the job market. When you orient your scholarship toward a future that never comes, it can start to feel like you have no future. When you orient your scholarship toward its obvious yet overlooked purpose—furthering human knowledge—its value does not need to be determined by others, because the value lies in the work itself. This is what counts.
Academic publishing is no guarantee of anything, except possibly the paywalled obsolescence of your work.
Also see: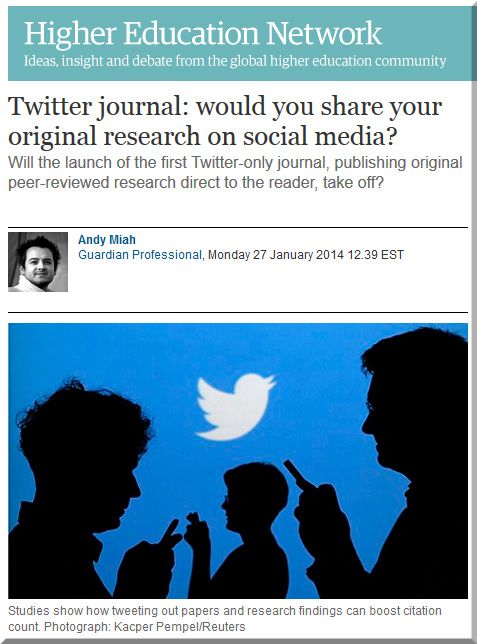 Excerpt:
This is why it makes sense to create a Twitter-only journal, which would publish original, peer-reviewed research, direct to the reader. And that is what I have done: introducing the world's first Twitter journal of academic research, aka @TwournalOf. Part philosophical provocation, part genuine intervention, I want to explore the willingness of researchers to share their original findings in a new format.
From DSC:
This Twitter account is just getting started. So there's not much to see there…yet.  I subscribed to it though, because it's a potentially very useful idea; I like it because it takes education to where it belongs — to the public.
My thanks to Sidneyeve Matrix
(@sidneyeve) for the Tweet on this item.