On 06/17/2020, in 21st century, 24x7x365 access, algorithms, Amazon, Artificial Intelligence / Machine Learning / Deep Learning, Daniel S. Christian, emerging technologies, engineering, ethics, IBM, legislatures / government / legal, Microsoft, platforms, policy, society, the downsides of technology, tools, by Daniel Christian
IBM, Amazon, and Microsoft abandon law enforcement face recognition market — from which-50.com by Andrew Birmingham
Excerpt:
Three global tech giants — IBM, Amazon, and Microsoft — have all announced that they will no longer sell their face recognition technology to police in the USA, though each announcement comes with its own nuance.
The new policy comes in the midst of ongoing national demonstrations in the US about police brutality and more generally the subject of racial inequality in the country under the umbrella of the Black Lives Matter movement.
From DSC:
While I didn't read the fine print (so I don't know all of the "nuances" they are referring to) I see this as good news indeed! Well done whomever at those companies paused, and thought…
…just because we can…

…doesn't mean we should.

Addendum on 6/18/20:
Why Microsoft and Amazon are calling on Congress to regulate facial recognition tech — from finance.yahoo.com by Daniel HowleyExcerpt:
The technology, which can be used to identify suspects in things like surveillance footage, has faced widespread criticism after studies found it can be biased against women and people of color. And according to at least one expert, there needs to be some form of regulation put in place if these technologies are going to be used by law enforcement agencies."If these technologies were to be deployed, I think you cannot do it in the absence of legislation," explained Siddharth Garg, assistant professor of computer science and engineering at NYU Tandon School of Engineering, told Yahoo Finance.
On 02/18/2020, in algorithms, Artificial Intelligence / Machine Learning / Deep Learning, Blockchain, career development, change, changing business models, emerging technologies, engineering, innovation, law schools, legal technologies, legislatures / government / legal, platforms, programming, UK, universities, using teams, vendors, by Daniel Christian
Deloitte Legal to work with academic tech venture group — from artificiallawyer.com
Excerpt:
Deloitte Legal is to collaborate with Conception X, a nine-month programme designed to train PhD students in technology entrepreneurship and to support them in building ventures based on their original research during their degree.
Conception X accepts applications across several research areas including artificial intelligence, machine learning, genetic engineering, blockchain and quantum computing. The first two cohorts, prior to the link-up with Deloitte, have seen the start-ups incorporated by PhD teams collectively raising a total of £5m and generating revenues of £2m.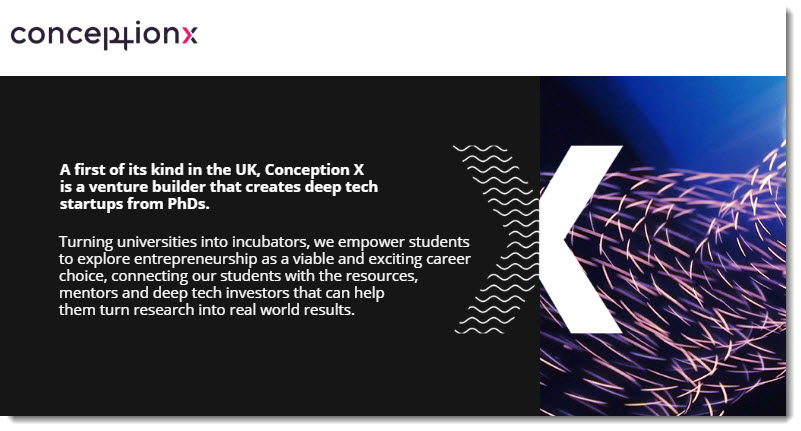 ---
From DSC:
How's this for your next gift for that person in your life who loves books!?! 🙂
---
The Bookwheel Allowed 16th-Century Scholars to Read Multiple Books at One Time — from interestingengineering.com by Trevor English
This contraption allowed engineers to read multiple books at the same time.
On 01/24/2020, in architecture, engineering, learning hubs, learning spaces, tools, user experience (UX), vendors, Virtual Reality (VR) / worlds / learning, XR - extended reality, by Daniel Christian
Explore Revit models in VR with Unity Reflect — from by Nick Davis
Unity Reflect makes it easy to bring Building Information Modeling (BIM) data into virtual reality (VR). Learn how you can use the Unity Reflect VR Viewer to conduct immersive design reviews with Autodesk Revit models.
Excerpt (emphasis DSC):
The value of VR in the architecture, engineering, and construction (AEC) industry is well documented. It provides an unrivaled medium for gathering rich feedback, catching design flaws, and reducing the need for physical mockups. Studies have shown construction professionals are twice as likely to spot design errors when reviewing designs in VR versus PCs.
Today, 60% of AR and VR content is powered by Unity. Unity's AEC customers use VR for a wide range of use cases, from conducting immersive walkthroughs that help their clients catch errors pre-construction and save hundreds of thousands of dollars on individual projects, to creating immersive training programs that lead to safer job sites.
On 12/21/2019, in Artificial Intelligence / Machine Learning / Deep Learning, emerging technologies, engineering, ethics, innovation, law schools, legal technologies, legislatures / government / legal, mathematics, morals/values, platforms, society, technology (general), the downsides of technology, trends, United States, by Daniel Christian
Don't trust AI until we build systems that earn trust — from economist.com
Progress in artificial intelligence belies a lack of transparency that is vital for its adoption, says Gary Marcus, coauthor of "Rebooting AI"
Excerpts:
Mr Marcus argues that it would be foolish of society to put too much stock in today's AI techniques since they are so prone to failures and lack the transparency that researchers need to understand how algorithms reached their conclusions.
…
As part of The Economist's Open Future initiative, we asked Mr Marcus about why AI can't do more, how to regulate it and what teenagers should study to remain relevant in the workplace of the future.
Trustworthy AI has to start with good engineering practices, mandated by laws and industry standards, both of which are currently largely absent. Too much of AI thus far has consisted of short-term solutions, code that gets a system to work immediately, without a critical layer of engineering guarantees that are often taken for granted in other field. The kinds of stress tests that are standard in the development of an automobile (such as crash tests and climate challenges), for example, are rarely seen in AI. AI could learn a lot from how other engineers do business.
The assumption in AI has generally been that if it works often enough to be useful, then that's good enough, but that casual attitude is not appropriate when the stakes are high. It's fine if autotagging people in photos turns out to be only 90 percent reliable—if it is just about personal photos that people are posting to Instagram—but it better be much more reliable when the police start using it to find suspects in surveillance photos.
On 12/02/2019, in 21st century, 24x7x365 access, A/V -- audio/visual, algorithms, Amazon, Artificial Intelligence / Machine Learning / Deep Learning, computer science, corporate / business world, dangers of the status quo, Daniel S. Christian, data mining, emerging technologies, engineering, ethics, freelancing, law schools, leadership, legislatures / government / legal, morals/values, platforms, privacy, programming, society, United States, vendors, by Daniel Christian
Amazon's Ring planned neighborhood "watch lists" built on facial recognition — from theintercept.com by Sam Biddle
Excerpts (emphasis DSC):
Ring, Amazon's crime-fighting surveillance camera division, has crafted plans to use facial recognition software and its ever-expanding network of home security cameras to create AI-enabled neighborhood "watch lists," according to internal documents reviewed by The Intercept.
…
Previous reporting by The Intercept and The Information revealed that Ring has at times struggled to make facial recognition work, instead relying on remote workers from Ring's Ukraine office to manually "tag" people and objects found in customer video feeds.
…
Legal scholars have long criticized the use of governmental watch lists in the United States for their potential to ensnare innocent people without due process. "When corporations create them," said Tajsar, "the dangers are even more stark." As difficult as it can be to obtain answers on the how and why behind a federal blacklist, American tech firms can work with even greater opacity: "Corporations often operate in an environment free from even the most basic regulation, without any transparency, with little oversight into how their products are built and used, and with no regulated mechanism to correct errors," Tajsar said.
From DSC:
Those working or teaching within the legal realm — this one's for you. But it's also for the leadership of the C-Suites in our corporate world — as well as for all of those programmers, freelancers, engineers, and/or other employees working on AI within the corporate world.
By the way, and not to get all political here…but who's to say what happens with our data when it's being reviewed in Ukraine…?
Also see:
Opinion: AI for good is often bad — from wired.com by Mark Latonero
Trying to solve poverty, crime, and disease with (often biased) technology doesn't address their root causes.
On 10/19/2019, in algorithms, bots, computer science, emerging technologies, engineering, ethics, Google, leadership, morals/values, platforms, policy, programming, psychology, society, sociology, technologies for your home, the downsides of technology, tools, United States, vendors, by Daniel Christian
YouTube's algorithm hacked a human vulnerability, setting a dangerous precedent — from which-50.com by Andrew Birmingham
Excerpt (emphasis DSC):
Even as YouTube's recommendation algorithm was rolled out with great fanfare, the fuse was already burning. A project of The Google Brain and designed to optimise engagement, it did something unforeseen — and potentially dangerous.
Today, we are all living with the consequences.
As Zeynep Tufekci, an associate professor at the University of North Carolina, explained to attendees of Hitachi Vantara's Next 2019 conference in Las Vegas this week, "What the developers did not understand at the time is that YouTube' algorithm had discovered a human vulnerability. And it was using this [vulnerability] at scale to increase YouTube's engagement time — without a single engineer thinking, 'is this what we should be doing?'"
The consequence of the vulnerability — a natural human tendency to engage with edgier ideas — led to YouTube's users being exposed to increasingly extreme content, irrespective of their preferred areas of interest.
…
"What they had done was use machine learning to increase watch time. But what the machine learning system had done was to discover a human vulnerability. And that human vulnerability is that things that are slightly edgier are more attractive and more interesting."

From DSC:
Just because we can…