On 03/08/2019, in 21st century, algorithms, Amazon, analytics, Apple, Artificial Intelligence / Machine Learning / Deep Learning, Asia, bots, cognitive computing, collaboration, colleges, communities of practice, community colleges, computer science, corporate / business world, dangers of the status quo, data mining, emerging technologies, ethics, Facebook, future, game-changing environment, global / globalization, Google, higher education, intelligent systems, IT in HE, liberal arts, machine-to-machine communications, Microsoft, morals/values, platforms, political science, the downsides of technology, tools, trends, UK, United States, universities, vendors, by Daniel Christian
Why AI is a threat to democracy — and what we can do to stop it — from technologyreview.com by Karen Hao and Amy Webb
Excerpt:
Universities must create space in their programs for hybrid degrees. They should incentivize CS students to study comparative literature, world religions, microeconomics, cultural anthropology and similar courses in other departments. They should champion dual degree programs in computer science and international relations, theology, political science, philosophy, public health, education and the like. Ethics should not be taught as a stand-alone class, something to simply check off a list. Schools must incentivize even tenured professors to weave complicated discussions of bias, risk, philosophy, religion, gender, and ethics in their courses.
One of my biggest recommendations is the formation of GAIA, what I call the Global Alliance on Intelligence Augmentation. At the moment people around the world have very different attitudes and approaches when it comes to data collection and sharing, what can and should be automated, and what a future with more generally intelligent systems might look like. So I think we should create some kind of central organization that can develop global norms and standards, some kind of guardrails to imbue not just American or Chinese ideals inside AI systems, but worldviews that are much more representative of everybody.
Most of all, we have to be willing to think about this much longer-term, not just five years from now. We need to stop saying, "Well, we can't predict the future, so let's not worry about it right now." It's true, we can't predict the future. But we can certainly do a better job of planning for it.
On 01/09/2019, in 1:1 / 1:World, 21st century, A/V -- audio/visual, accessibility, adjunct faculty, adult learning, Artificial Intelligence / Machine Learning / Deep Learning, business, career development, change, changing business models, cloud-based computing / apps / other cloud-related, collaboration, colleges, communications, communities of practice, community colleges, computer science, content development, corporate / business world, corporate universities / corporate training, cost of getting a degree, dangers of the status quo, Daniel S. Christian, disruption, distance education, education, education technology, emerging technologies, engagement / engaging students, faculty, future, future of higher education, game-changing environment, global / globalization, higher education, homeschooling/homeschoolers, human-computer interaction (HCI), ideas, innovation, Languages and translation, learner profiles, learning, learning ecosystem, learning from the living [class] room, learning spaces, Microsoft, online learning, personalized/customized learning, platforms, productivity / tips and tricks, second screen apps, special needs, teachers, teaching & learning, tools, training / L&D, universities, usability, user experience (UX), vendors, Walmart of Education --> New Amazon.com of Higher Education, web-based collaboration, by Daniel Christian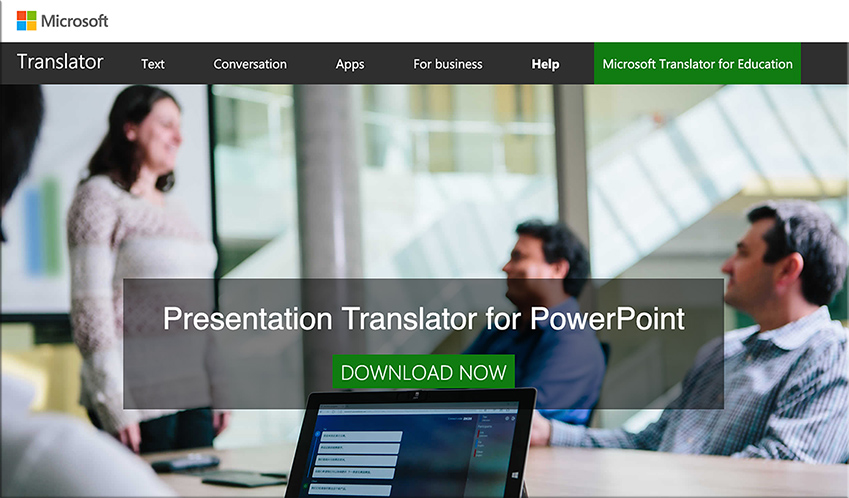 Presentation Translator for PowerPoint — from Microsoft (emphasis below from DSC:)
Presentation Translator breaks down the language barrier by allowing users to offer live, subtitled presentations straight from PowerPoint. As you speak, the add-in powered by the Microsoft Translator live feature, allows you to display subtitles directly on your PowerPoint presentation in any one of more than 60 supported text languages. This feature can also be used for audiences who are deaf or hard of hearing.
Additionally, up to 100 audience members in the room can follow along with the presentation in their own language, including the speaker's language, on their phone, tablet or computer.
From DSC:
Up to 100 audience members in the room can follow along with the presentation in their own language! Wow!
Are you thinking what I'm thinking?! If this could also address learners and/or employees outside the room as well, this could be an incredibly powerful piece of a next generation, global learning platform! 
Automatic translation with subtitles — per the learner's or employee's primary language setting as established in their cloud-based learner profile. Though this posting is not about blockchain, the idea of a cloud-based learner profile reminds me of the following graphic I created in January 2017.
A couple of relevant quotes here:
A number of players and factors are changing the field. Georgia Institute of Technology calls it "at-scale" learning; others call it the "mega-university" — whatever you call it, this is the advent of the very large, 100,000-plus-student-scale online provider. Coursera, edX, Udacity and FutureLearn (U.K.) are among the largest providers. But individual universities such as Southern New Hampshire, Arizona State and Georgia Tech are approaching the "at-scale" mark as well. One could say that's evidence of success in online learning. And without question it is.

But, with highly reputable programs at this scale and tuition rates at half or below the going rate for regional and state universities, the impact is rippling through higher ed. Georgia Tech's top 10-ranked computer science master's with a total expense of less than $10,000 has drawn more than 10,000 qualified majors. That has an impact on the enrollment at scores of online computer science master's programs offered elsewhere. The overall online enrollment is up, but it is disproportionately centered in affordable scaled programs, draining students from the more expensive, smaller programs at individual universities. The dominoes fall as more and more high-quality at-scale programs proliferate.
Education goes omnichannel. In today's connected world, consumers expect to have anything they want available at their fingertips, and education is no different. Workers expect to be able to learn on-demand, getting the skills and knowledge they need in that moment, to be able to apply it as soon as possible. Moving fluidly between working and learning, without having to take time off to go to – or back to – school will become non-negotiable.
From DSC:
Is there major change/disruption ahead? Could be…for many, it can't come soon enough.