On 03/23/2017, in 21st century, adjunct faculty, adult learning, algorithms, analytics, augmented reality, Blockchain, career development, change, colleges, community colleges, competency-based learning/education, data mining, digital learning, educational games / serious games, faculty, higher education, personalized/customized learning, tools, trends, Universal Design for Learning (UDL), universities, virtual reality / worlds / learning, workplace, by Daniel Christian
Description:
A portrait of the tools and technology that students of the future might encounter.
On 03/17/2017, in Asia, Australia, Canada, change, creativity, Daniel S. Christian, design, digital learning, emerging technologies, Europe, future, game-changing environment, generational differences, Geography / Geology, global / globalization, human-computer interaction (HCI), ideas, innovation, interaction design, political science, trends, UK, United States, user experience, user interface design, UX, vendors, virtual reality / worlds / learning, vision, visualizing information, by Daniel Christian
From DSC:
Can you imagine this as a virtual reality or a mixed reality-based app!?! Very cool.
This resource is incredible on multiple levels:
For their interface/interaction design

For their insights and ideas

For their creativity

For their graphics

…and more!
The number of VR companies grew 40% in 2016 — from venturebeat.com by Dean Takahashi
Excerpt:
The Venture Reality Fund reported that the landscape of companies it tracks in the virtual reality market grew more than 40 percent in 2016. The largest area of growth was in content companies that create apps for head-mounted VR displays, said Marco DeMiroz, cofounder of The Venture Reality Fund with Tipatat Chennavasin. The fund invests in VR and augmented reality startups. Gaming and entertainment nearly doubled in size, with major players as well as well-funded new companies in both the U.S. and Asia, he said.
Also see:
Also see:
Also see:
Millions pour into China's virtual reality industry –from scmp.com by He Huifeng
Excerpt:
More than a dozen Chinese virtual-reality (VR) start-ups raised fresh funding of at least 10 million yuan each last month as venture capitalists continue to flock to this nascent market. The Nanfang Daily also reported on Monday that 60 listed domestic companies have entered the VR industry since July last year through investments in content developers and device makers. The VR consumer market will explode within a year in China, according to a white paper released by the Ministry of Industry and Information Technology (MIIT) last week. The market size of China's VR industry will triple this year to 5.66 billion yuan from 1.54 billion yuan last year, according to the white paper. It also estimates the industry revenue is on track to cross 55 billion yuan by 2020.
From DSC:
Vinay Narayan, from HTC Vive, described 2016 as "ground zero" for VR (i.e., it's just getting started).
So while there certainly is hype going on (and there often is when we're talking about potentially-promising emerging technologies), so are the investment dollars. It may take a few years to get there, but I don't see these new forms of Human Computer Interaction (HCI) going away (here's another reason why).
On 03/04/2017, in 21st century, Artificial Intelligence / Machine Learning / Deep Learning, Blockchain, career development, cloud-based computing / apps / other cloud-related, colleges, community colleges, competency-based learning/education, Daniel S. Christian, data mining, emerging technologies, experimentation, freelancing, higher education, ideas, innovation, learner profiles, Learning Agents, learning ecosystem, learning from the living [class] room, Lifelong learning, Microsoft, MOOCs -- Massive Open Online Courses, traditional / tradition, training / L&D, trends, universities, vendors, workplace, by Daniel Christian
From DSC:
At the recent Next Generation Learning Spaces Conference, in my introductory piece for our panel discussion, I relayed several ideas/areas that should be on our institutions' radars. That is, at least someone at each of our institutions of higher education should be aware of these things and be pulse-checking them as time goes by.
One of these ideas/areas involved the use of blockchain technologies:
If #blockchain technologies are successful within the financial/banking world, then it's highly likely that other use cases will be developed as well (i.e., the trust in blockchain-enabled applications will be there already).
Along those lines, if that occurs, then colleges and universities are likely to become only 1 of the feeds into someone's cloud-based, lifelong learning profile. I've listed several more sources of credentials below:
Given the trend towards more competency-based education (CBE) and the increased experimentation with badges, blockchain could increasingly move onto the scene.
In fact, I could see a day when an individual learner will be able to establish who can and can't access their learner profile, and who can and can't feed information and updates into it.
Artificial intelligence and big data also come to mind here…and I put Microsoft on my radar a while back in this regard; as Microsoft (via LinkedIn and Lynda.com) could easily create online-based marketplaces matching employers with employees/freelancers.
---
Along these lines, see:
---
The Mainstreaming of Alternative Credentials in Postsecondary Education — from by Deborah Keyek-Franssen
Excerpt:

The Context of Alternative Credentials
The past few years have seen a proliferation of new learning credentials ranging from badges and bootcamp certifications to micro-degrees and MOOC certificates. Although alternative credentials have been part of the fabric of postsecondary education and professional development for decades—think prior learning assessments like Advanced Placement or International Baccalaureate exams, or industry certifications—postsecondary institutions are increasingly unbundling their degrees and validating smaller chunks of skills and learning to provide workplace value to traditional and non-traditional students alike.Many are experimenting with alternative credentials to counter the typical binary nature of a degree. Certifications of learning or skills are conferred after the completion of a course or a few short courses in a related field. Students do not have to wait until all requirements for a degree are met before receiving a certificate of learning, but instead can receive one after a much shorter period of study. "Stackable" credentials are combined to be the equivalent of an undergraduate or graduate certificate (a micro-degree), or even a degree.
The National Discussion of Alternative Credentials
Discussions of alternative credentials are often responses to a persistent and growing critique of traditional higher educational institutions' ability to meet workforce needs, especially because the cost to students for a four-year degree has grown dramatically over the past several decades. The increasing attention paid to alternative credentials brings to the fore questions such as what constitutes a postsecondary education, what role universities in particular should play vis-à-vis workforce development, and how we can assess learning and mastery.
---
Addendums added on 3/4/17, that show that this topic isn't just for higher education, but could involve K-12 as well:
---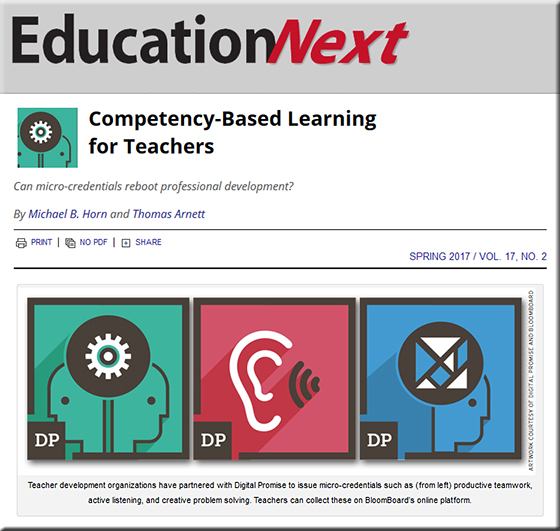 Review: From Revit to VR — from aecmag.com
Greg Corke gets hands-on with three Virtual Reality (VR) applications that work seamlessly with Autodesk Revit, weighing up their capabilities and assessing how well they combine with the HTC Vive and workstation GPUs
Excerpt:
Virtual Reality (VR) is one of the most exciting technologies to hit the AEC market in years. Architects, engineers and clients alike can experience a realistic virtual prototype of a building long before it is built.
A fully immersive VR experience gives you a sense of scale, depth and spatial awareness that simply cannot be matched by a rendering, walkthrough or physicalscale model. The feeling of presence – of existing inside the 3D model – is quite incredible. Users have the freedom to explore a building at their own pace, to understand how it will feel and function. Walking across rooms, teleporting through doors, peering around corners – it's all possible with a fully tracked roomscale experience.
The impact on the design process can be huge – but only if VR can be used at the precise moments where it adds most value.