On 04/10/2017, in A/V -- audio/visual, Apple, digital audio, digital storytelling, digital video, Media/film, Mobile learning, multimedia, new media literacies, story, storytelling, tools, by Daniel Christian
On 11/30/2016, in 21st century, business, corporate / business world, corporate universities / corporate training, digital storytelling, education technology, emerging technologies, engagement / engaging students, Microlearning, story, storytelling, tools, trends, United States, virtual reality / worlds / learning, workplace, by Daniel Christian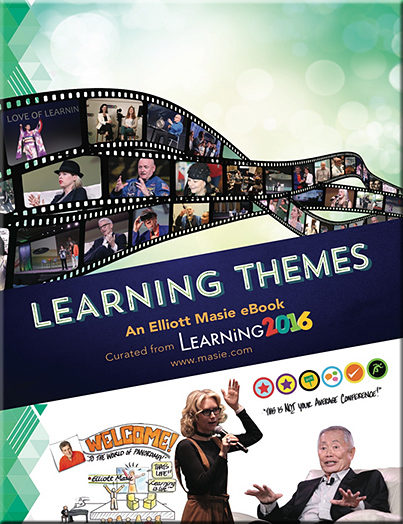 Learning Themes
Curated Content from Learning 2016
Open Source eBook – No Cost
http://www.masie.com/eBookL16
From an email from Elliott Masie and the Masie Center:
This 35-page eBook is packed with content, context, conversations, video links, and curated resources that include:
Learning Perspectives from Anderson Cooper, Scott Kelly, Tiffany Shlain, George Takei, Richard Culatta, Karl Kapp, Nancy DeViney, and other Learning 2016 Keynotes
Graphic Illustrations from Deirdre Crowley, Crowley & Co.
Video Links for Content Segments
Learning Perspectives from Elliott Masie
Segments focusing on:

Brain & Cognitive Science
Gamification & Gaming
Micro-Learning
Visual Storytelling
Connected & Flipped Classrooms
Compliance & Learning
Engagement in Virtual Learning
Video & Learning
Virtual Reality & Learning

And much more!
We have created this as an open source, shareable resource that will extend the learning from Learning 2016 to our colleagues around the world. We are using the Open Creative Commons license, so feel free to share!
We believe that CURATION, focusing on extending and organizing follow-up content, is a growing and critical dimension of any learning event. We hope that you find your eBook of value!
On 09/16/2016, in 24x7x365 access, A/V -- audio/visual, attention, blended learning, corporate / business world, corporate universities / corporate training, creativity, Daniel S. Christian, design, digital audio, digital learning, digital photography, digital storytelling, digital video, drama/theater, education technology, educational games / serious games, elearning, emerging technologies, engagement / engaging students, experimentation, hybrid learning, ideas, innovation, interaction design, interactivity, online learning, pedagogy, play, story, storytelling, teaching & learning, tools, training / L&D, user experience, user interface design, Using teams, vendors, vision, by Daniel Christian
From DSC:
Interactive video — a potentially very powerful medium to use, especially for blended and online-based courses or training-related materials! This interactive piece from Heineken is very well done, even remembering how you answered and coming up with their evaluation of you from their 12-question "interview."
But notice again, a TEAM of specialists are needed to create such a piece. Neither a faculty member, a trainer, nor an instructional designer can do something like this all on their own. Some of the positions I could imagine here are:
Script writer(s)

Editor(s)

Actors and actresses

Those skilled in stage lighting and sound / audio recording

Digital video editors

Programmers

Graphic designers

Web designers

Producers

Product marketers

…and perhaps others
This is the kind of work that I wish we saw more of in the world of online and blended courses!  Also, I appreciated their use of humor. Overall, a very engaging, fun, and informative piece!

On 06/29/2016, in 24x7x365 access, A/V -- audio/visual, change, communications, digital learning, digital storytelling, health, hearts -- matters of the heart, higher education, human-computer interaction (HCI), ideas, immersion, innovation, journalism, learning, learning ecosystem, platforms, psychology, relationships, research, society, story, storytelling, surviving, United States, universities, user experience, UX, virtual field trips, virtual reality / worlds / learning, by Daniel Christian
Stanford's virtual reality lab cultivates empathy for the homeless — from kqed.org by Rachael Myrow
Excerpt:
The burgeoning field of Virtual Reality — or VR as it is commonly known — is a vehicle for telling stories through 360-degree visuals and sound that put you right in the middle of the action, be it at a crowded Syrian refugee camp, or inside the body of an 85-year-old with a bad hip and cataracts.  Because of VR's immersive properties, some people describe the medium as "the ultimate empathy machine." But can it make people care about something as fraught and multi-faceted as homelessness?
A study in progress at Stanford's Virtual Human Interaction Lab explores that question, and I strapped on an Oculus Rift headset (one of the most popular devices people currently use to experience VR) to look for an answer.
A new way of understanding homelessness
The study, called Empathy at Scale, puts participants in a variety of scenes designed to help them imagine the experience of being homeless themselves.
On 06/15/2016, in 21st century, 3D, A/V -- audio/visual, Artificial Intelligence / Machine Learning / Deep Learning, attention, cognitive computing, communications, digital audio, digital learning, digital storytelling, digital video, education technology, emerging technologies, engagement / engaging students, higher education, history, human-computer interaction (HCI), ideas, innovation, intelligent systems, intelligent tutoring, interaction design, interactivity, learning ecosystem, Microsoft, Mixed reality, platforms, story, storytelling, United States, universities, user experience, by Daniel Christian
Holographic storytelling — from jwtintelligence.com by Jade Perry
Excerpt (emphasis DSC):
The stories of Holocaust survivors are brought to life with the help of interactive 3D technologies.
'New Dimensions in Testimony' is a new way of preserving history for future generations. The project brings to life the stories of Holocaust survivors with 3D video, revealing raw first-hand accounts that are more interactive than learning through a history book.
Holocaust survivor Pinchas Gutter, the first subject of the project, was filmed answering over 1000 questions, generating approximately 25 hours of footage. By incorporating natural language processing from Conscience Display, viewers were able to ask Gutter's holographic image questions that triggered relevant responses.
From DSC:
I wonder…is this an example of a next generation, visually-based chatbot*?
With the growth of artificial intelligence (AI), intelligent systems, and new types of human computer interaction (HCI), this type of concept could offer an on-demand learning approach that's highly engaging — and accessible from face-to-face settings as well as from online-based learning environments. (If it could be made to take in some of the context of a particular learner and where a learner is in the relevant Zone of Proximal Development (via web-based learner profiles/data), it would be even better.)

As an aside, is this how we will obtain
customer service from the businesses of the future? See below.
---
*The complete beginner's guide to chatbots — from chatbotsmagazine.com by Matt Schlicht
Everything you need to know.
Excerpt (emphasis DSC):
What are chatbots? Why are they such a big opportunity? How do they work? How can I build one? How can I meet other people interested in chatbots?
These are the questions we're going to answer for you right now.
…
What is a chatbot?
A chatbot is a service, powered by rules and sometimes artificial intelligence, that you interact with via a chat interface. The service could be any number of things, ranging from functional to fun, and it could live in any major chat product (Facebook Messenger, Slack, Telegram, Text Messages, etc.).
…
A chatbot is a service, powered by rules and sometimes artificial intelligence, that you interact with via a chat interface.
Examples of chatbots
Weather bot. Get the weather whenever you ask.
Grocery bot. Help me pick out and order groceries for the week.
News bot. Ask it to tell you when ever something interesting happens.
Life advice bot. I'll tell it my problems and it helps me think of solutions.
Personal finance bot. It helps me manage my money better.
Scheduling bot. Get me a meeting with someone on the Messenger team at Facebook.
A bot that's your friend. In China there is a bot called Xiaoice, built by Microsoft, that over 20 million people talk to.