On 10/23/2019, in art, creativity, Daniel S. Christian, design, faith, global / globalization, hearts -- matters of the heart, relationships, society, by Daniel Christian
On 08/27/2019, in 24x7x365 access, A/V -- audio/visual, algorithms, Amazon, Artificial Intelligence / Machine Learning / Deep Learning, Asia, cloud-based computing / apps / other cloud-related, corporate / business world, dangers of the status quo, Daniel S. Christian, data mining, emerging technologies, ethics, face-to-face, Facebook, future, game-changing environment, generational differences, Google, hearts -- matters of the heart, intelligent systems, internet, Law Schools, legislatures / government / legal, Microsoft, morals/values, platforms, policy, political science, Privacy, society, surviving, the downsides of technology, tools, trends, United States, vendors, by Daniel Christian
Uh-oh: Silicon Valley is building a Chinese-style social credit system — from fastcompany.com by Mike Elgan
In China, scoring citizens' behavior is official government policy. U.S. companies are increasingly doing something similar, outside the law.
Excerpts (emphasis DSC):
Have you heard about China's social credit system? It's a technology-enabled, surveillance-based nationwide program designed to nudge citizens toward better behavior. The ultimate goal is to "allow the trustworthy to roam everywhere under heaven while making it hard for the discredited to take a single step," according to the Chinese government.
In place since 2014, the social credit system is a work in progress that could evolve by next year into a single, nationwide point system for all Chinese citizens, akin to a financial credit score. It aims to punish for transgressions that can include membership in or support for the Falun Gong or Tibetan Buddhism, failure to pay debts, excessive video gaming, criticizing the government, late payments, failing to sweep the sidewalk in front of your store or house, smoking or playing loud music on trains, jaywalking, and other actions deemed illegal or unacceptable by the Chinese government.
…
IT CAN HAPPEN HERE
Many Westerners are disturbed by what they read about China's social credit system. But such systems, it turns out, are not unique to China. A parallel system is developing in the United States, in part as the result of Silicon Valley and technology-industry user policies, and in part by surveillance of social media activity by private companies.
Here are some of the elements of America's growing social credit system.
If current trends hold, it's possible that in the future a majority of misdemeanors and even some felonies will be punished not by Washington, D.C., but by Silicon Valley. It's a slippery slope away from democracy and toward corporatocracy.
From DSC:
Who's to say what gains a citizen points and what subtracts from their score? If one believes a certain thing, is that a plus or a minus? And what might be tied to someone's score? The ability to obtain food? Medicine/healthcare? Clothing? Social Security payments? Other?
We are giving a huge amount of power to a handful of corporations…trust comes into play…at least for me. Even internally, the big tech co's seem to be struggling as to the ethical ramifications of what they're working on (in a variety of areas). 
Is the stage being set for a "Person of Interest" Version 2.0?
Philippians 2:5-11 New International Version (NIV) — from biblegateway.com
5 In your relationships with one another, have the same mindset as Christ Jesus:
6 Who, being in very nature[a] God,
    did not consider equality with God something to be used to his own advantage;
7 rather, he made himself nothing
    by taking the very nature[b] of a servant,
    being made in human likeness.
8 And being found in appearance as a man,
    he humbled himself
    by becoming obedient to death—
        even death on a cross!
9 Therefore God exalted him to the highest place
    and gave him the name that is above every name,
10 that at the name of Jesus every knee should bow,
    in heaven and on earth and under the earth,
11 and every tongue acknowledge that Jesus Christ is Lord,
    to the glory of God the Father.
Mark 1:1-4 New International Version (NIV)
John the Baptist Prepares the Way
1 The beginning of the good news about Jesus the Messiah,[a] the Son of God,[b]2 as it is written in Isaiah the prophet:
"I will send my messenger ahead of you,
    who will prepare your way"[c]—
3 "a voice of one calling in the wilderness,
'Prepare the way for the Lord,
    make straight paths for him.'"[d]
4 And so John the Baptist appeared in the wilderness, preaching a baptism of repentance for the forgiveness of sins.
On 07/22/2019, in 21st century, Artificial Intelligence / Machine Learning / Deep Learning, corporate / business world, digital audio, digital video, emerging technologies, ethics, hearts -- matters of the heart, Law Schools, legislatures / government / legal, society, the downsides of technology, tools, United States, vendors, workplace, by Daniel Christian
The coming deepfakes threat to businesses — from axios.com by Kaveh Waddell and Jennifer Kingson
Excerpt:
In the first signs of a mounting threat, criminals are starting to use deepfakes — starting with AI-generated audio — to impersonate CEOs and steal millions from companies, which are largely unprepared to combat them.
Why it matters: Nightmare scenarios abound. As deepfakes grow more sophisticated, a convincing forgery could send a company's stock plummeting (or soaring), to extract money or to ruin its reputation in a viral instant.
Imagine a convincing fake video or audio clip of Elon Musk, say, disclosing a massive defect the day before a big Tesla launch — the company's share price would crumple.
Psalm 150 — from biblegateway.com
Praise God in his sanctuary;
    praise him in his mighty heavens.
2 Praise him for his acts of power;
    praise him for his surpassing greatness.
3 Praise him with the sounding of the trumpet,
    praise him with the harp and lyre,
4 praise him with timbrel and dancing,
    praise him with the strings and pipe,
5 praise him with the clash of cymbals,
    praise him with resounding cymbals.
6 Let everything that has breath praise the Lord.
On 07/08/2019, in 21st century, Artificial Intelligence / Machine Learning / Deep Learning, emerging technologies, ethics, hearts -- matters of the heart, legal technologies, legislatures / government / legal, Privacy, society, the downsides of technology, tools, trends, United States, vendors, by Daniel Christian
I opted out of facial recognition at the airport — it wasn't easy — from wired.com by Allie Funk
Excerpt (emphasis DSC):
As a privacy-conscious person, I was uncomfortable boarding this way. I also knew I could opt out. Presumably, most of my fellow fliers did not: I didn't hear a single announcement alerting passengers how to avoid the face scanners.
…
As I watched traveler after traveler stand in front of a facial scanner before boarding our flight, I had an eerie vision of a new privacy-invasive status quo. With our faces becoming yet another form of data to be collected, stored, and used, it seems we're sleepwalking toward a hyper-surveilled environment, mollified by assurances that the process is undertaken in the name of security and convenience. I began to wonder: Will we only wake up once we no longer have the choice to opt out?
Until we have evidence that facial recognition is accurate and reliable—as opposed to simply convenient—travelers should avoid the technology where they can.
To figure out how to do so, I had to leave the boarding line, speak with a Delta representative at their information desk, get back in line, then request a passport scan when it was my turn to board. 
From DSC:
Readers of this blog will know that I am generally a pro-technology person. That said, there are times when I don't trust humankind to use the power of some of these emerging technologies appropriately and ethically. Along these lines, I don't like where facial recognition could be heading…and citizens don't seem to have effective ways to quickly weigh in on this emerging technology. I find this to be a very troubling situation. How about you?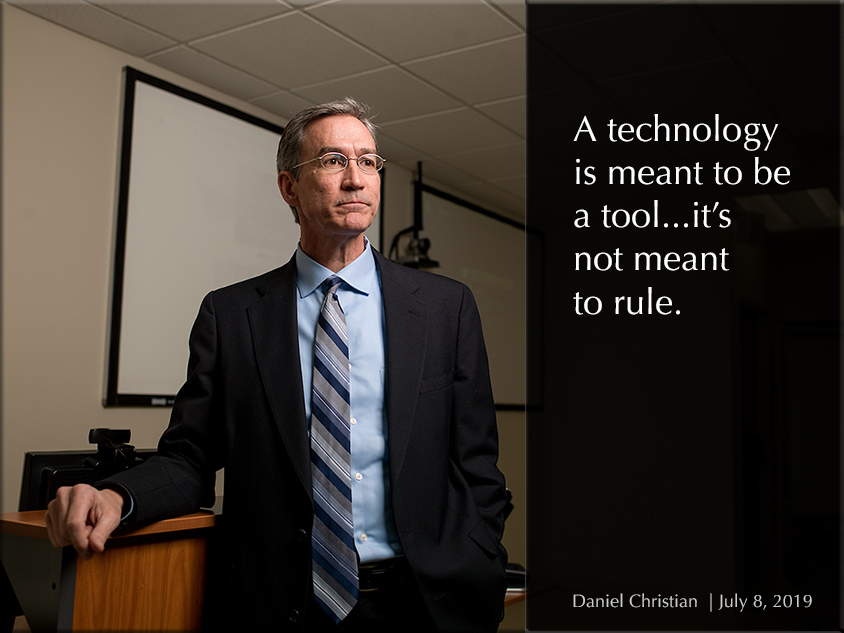 On 06/11/2019, in 21st century, 24x7x365 access, A/V -- audio/visual, algorithms, Artificial Intelligence / Machine Learning / Deep Learning, dangers of the status quo, Daniel S. Christian, data mining, digital audio, digital video, emerging technologies, ethics, hearts -- matters of the heart, intelligent systems, internet, morals/values, platforms, society, the downsides of technology, tools, by Daniel Christian
Facial recognition smart glasses could make public surveillance discreet and ubiquitous — from theverge.com by James Vincent; with thanks to Mr. Paul Czarapata, Ed.D. out on Twitter for this resource
A new product from UAE firm NNTC shows where this tech is headed next. <– From DSC: though hopefully not!!!
Excerpt:
From train stations and concert halls to sport stadiums and airports, facial recognition is slowly becoming the norm in public spaces. But new hardware formats like these facial recognition-enabled smart glasses could make the technology truly ubiquitous, able to be deployed by law enforcement and private security any time and any place.
The glasses themselves are made by American company Vuzix, while Dubai-based firm NNTC is providing the facial recognition algorithms and packaging the final product.
From DSC…I commented out on Twitter:
Thanks Paul for this posting – though I find it very troubling. Emerging technologies race out ahead of society. It would be interested in knowing the age of the people developing these technologies and if they care about asking the tough questions…like "Just because we can, should we be doing this?"
Addendum on 6/12/19:
1 Chronicles 29:11 New International Version (NIV)
11 Yours, Lord, is the greatness and the power
and the glory and the majesty and the splendor,
for everything in heaven and earth is yours.
Yours, Lord, is the kingdom;
you are exalted as head over all.
Revelation 21:2-4 New International Version (NIV) — from biblegateway.com
2 I saw the Holy City, the new Jerusalem, coming down out of heaven from God,prepared as a bride beautifully dressed for her husband. 3 And I heard a loud voice from the throne saying, "Look! God's dwelling place is now among the people, and he will dwell with them. They will be his people, and God himself will be with them and be their God. 4 'He will wipe every tear from their eyes. There will be no more death' or mourning or crying or pain, for the old order of things has passed away."
From DSC:
My dad used to sign a song that had the highlighted scripture in it. It represents a wonderful, desirable, powerful vision…especially after listening to NPR for a while (which I do several times a week).
On 05/16/2019, in 21st century, algorithms, Amazon, Artificial Intelligence / Machine Learning / Deep Learning, emerging technologies, ethics, future, hearts -- matters of the heart, Law Schools, legislatures / government / legal, Microsoft, morals/values, platforms, society, the downsides of technology, United States, by Daniel Christian
San Francisco becomes first city to bar police from using facial recognition— from cnet.com by Laura Hautala
It won't be the last city to consider a similar law.
Excerpt:
The city of San Francisco approved an ordinance on Tuesday [5/14/19] barring the police department and other city agencies from using facial recognition technology on residents. It's the first such ban of the technology in the country.
The ordinance, which passed by a vote of 8 to 1, also creates a process for the police department to disclose what surveillance technology they use, such as license plate readers and cell-site simulators that can track residents' movements over time. But it singles out facial recognition as too harmful to residents' civil liberties to even consider using.
"Facial surveillance technology is a huge legal and civil liberties risk now due to its significant error rate, and it will be worse when it becomes perfectly accurate mass surveillance tracking us as we move about our daily lives," said Brian Hofer, the executive director of privacy advocacy group Secure Justice.
For example, Microsoft asked the federal government in July to regulate facial recognition technology before it gets more widespread, and said it declined to sell the technology to law enforcement. As it is, the technology is on track to become pervasive in airports and shopping centers and other tech companies like Amazon are selling the technology to police departments.
Also see:
On 05/14/2019, in 21st century, Artificial Intelligence / Machine Learning / Deep Learning, business, ethics, hearts -- matters of the heart, innovation, Law Schools, legislatures / government / legal, morals/values, society, tools, UK, United States, workplace, by Daniel Christian
People, Power and Technology: The Tech Workers' View — from doteveryone.org.uk
Excerpt:
People, Power and Technology: The Tech Workers' View is the first in-depth research into the attitudes of the people who design and build digital technologies in the UK. It shows that workers are calling for an end to the era of moving fast and breaking things.
Significant numbers of highly skilled people are voting with their feet and leaving jobs they feel could have negative consequences for people and society. This is heightening the UK's tech talent crisis and running up employers' recruitment and retention bills. Organisations and teams that can understand and meet their teams' demands to work responsibly will have a new competitive advantage.
While Silicon Valley CEOs have tried to reverse the "techlash" by showing their responsible credentials in the media, this research shows that workers:
need guidance and skills to help navigate new dilemmas
have an appetite for more responsible leadership
want clear government regulation so they can innovate with awareness
Also see:
U.K. Tech Staff Quit Over Work On 'Harmful' AI Projects — from forbes.com by Sam Shead
Excerpt:
An alarming number of technology workers operating in the rapidly advancing field of artificial intelligence say they are concerned about the products they're building. Some 59% of U.K. tech workers focusing on AI have experience of working on products that they felt might be harmful for society, according to a report published on Monday by Doteveryone, the think tank set up by lastminute.com cofounder and Twitter board member Martha Lane Fox.