On 08/29/2019, in A/V -- audio/visual, attention, biology, chemistry, communications, education technology, emerging technologies, engagement / engaging students, history, human-computer interaction (HCI), innovation, interactivity, user experience (UX), vendors, virtual reality / worlds / learning, XR - extended reality, youth, by Daniel Christian
Best 15 Free Virtual Reality Apps for Education — from vudream.com by Mark Metry
On 08/01/2019, in change, colleges, community colleges, dangers of the status quo, Daniel S. Christian, education, future, future of higher education, game-changing environment, global / globalization, higher education, history, learning from the living [class] room, United States, universities, Walmart of Education --> New Amazon.com of Higher Education, workplace, youth, by Daniel Christian
Stanford profs: U.S. income inequality is only getting worse. Now what? — from fastcompany.com by
An economist and a business adviser discuss what might happen if the gap between rich and poor continues to grow.
Excerpt:
The U.S. economy hit a historic high in 2018, and today unemployment is at its lowest rate in five decades. Yet wage growth for the vast majority of Americans has stalled, and more people are struggling to afford housing, healthcare, education, and other basics.
From DSC:
If this trend continues, it will present more heat in higher education's kitchen. It will further the need for an online-based, lifelong learning, next generation learning platform.
Genesis 1:1 — from biblegateway.com
1 In the beginning God created the heavens and the earth.
Full moon over Bangkok, Thailand | Photography by ©?Dotz Soh pic.twitter.com/ZtYTSSyKyY

— Earth Pics (@AwesomeEarthPix) March 16, 2019
From DSC:
And He did/does/will do AWESOME work!
On 02/21/2019, in 21st century, Artificial Intelligence / Machine Learning / Deep Learning, business, corporate / business world, emerging technologies, future, game-changing environment, history, society, tools, United States, universities, vendors, workplace, by Daniel Christian
Getting smart about the future of AI — from technologyreview.com by MIT Technology Review Insights
Artificial intelligence is a primary driver of possibilities and promise as the Fourth Industrial Revolution unfolds.
Excerpts:
The Industrial Revolution conjures up images of steam engines, textile mills, and iron workers. This was a defining period during the late 18th and early 19th centuries, as society shifted from primarily agrarian to factory-based work. A second phase of rapid industrialization occurred just before World War I, driven by growth in steel and oil production, and the emergence of electricity.
Fast-forward to the 1980s, when digital electronics started having a deep impact on society—the dawning Digital Revolution. Building on that era is what's called the Fourth Industrial Revolution. Like its predecessors, it is centered on technological advancements—this time it's artificial intelligence (AI), autonomous machines, and the internet of things—but now the focus is on how technology will affect society and humanity's ability to communicate and remain connected.
That's what AI technologies represent in the current period of technological change. It is now critical to carefully consider the future of AI, what it will look like, the effect it will have on human life, and what challenges and opportunities will arise as it evolves.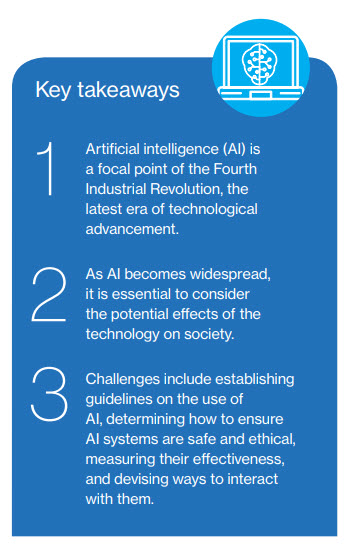 Also see:
Where Next for AI In Business? An overview for C-level executives — from techrevolution.asia by Bernard Marr
Excerpt:
The AI revolution is now well underway. In finance, marketing, medicine and manufacturing, machines are learning to monitor and adapt to real-world inputs in order to operate more efficiently, without human intervention. In our everyday lives, AI kicks in whenever we search the internet, shop online or settle down on the sofa to watch Netflix or listen to Spotify. At this point, it's safe to say that AI is no longer the preserve of science fiction, but has already changed our world in a huge number of different ways.So: what next? Well, the revolution is showing no signs of slowing down. Research indicates that businesses, encouraged by the initial results they have seen, are now planning on stepping up investment and deployment of AI.One of the most noticeable advances will be the ongoing "democratization" of AI. What this means, put simply, is that AI-enabled business tools will increasingly become available to all of us, no matter what jobs we do.
You'll no longer need to be an expert in computer science to use AI to do your job efficiently – this is the "democratization" of AI and it's a trend which will impact more and more businesses going forward.
On 12/31/2018, in higher education, history, human-computer interaction (HCI), innovation, IT in HE, learning, learning ecosystem, liberal arts, library / librarians, Lifelong learning, Michigan, United States, universities, virtual reality / worlds / learning, by Daniel Christian
Want to retire and then hit the books? 10 great college towns for retirees — from cnbc.com by Kenneth Kiesnoski
Excerpt:
Kalamazoo, Michigan
University: Western Michigan University
There's plenty to do in Kalamazoo, such as visits to Bell's Brewery, the Kalamazoo Air Zoo, the Gilmore Car Museum and the W.K. Kellogg Bird Sanctuary. The city of some 75,000 is also home to four campuses of Western Michigan University. Budget-wise, Kalamazoo is easy on retiree pocketbooks; GoBankingRates found that Michigan residents pay 10.3 percent less, on average, for common living expenses than other Americans.
Also see:
WMU a leader in offering learning by virtual reality — from wmich.edu by Deanna Puca
Excerpt:
KALAMAZOO, Mich.—Travel the world for history class and actually see the culture. Practice surgery or accurately design a 3D car.
Western Michigan University offers significant opportunities in the areas of teaching, learning and research at one of the largest virtual reality laboratories at an institution of higher education.
The VR Lab at WMU Libraries was started to explore this revolutionary technology as a collaborative effort of the Office of Information Technology and Waldo Library. Opening the door to broad collaborative possibilities and feeding the curiosities of varied audiences, users have experienced both the entertainment and educational side of VR content in the lab's first year.
"Libraries are in a huge state of change with technology," says Lou Ann Morgan, senior marketing specialist for University Libraries.
Luke 2 New International Version (NIV)
The Birth of Jesus
2 In those days Caesar Augustus issued a decree that a census should be taken of the entire Roman world. 2 (This was the first census that took place while[a]Quirinius was governor of Syria.) 3 And everyone went to their own town to register.
4 So Joseph also went up from the town of Nazareth in Galilee to Judea, to Bethlehem the town of David, because he belonged to the house and line of David. 5 He went there to register with Mary, who was pledged to be married to him and was expecting a child. 6 While they were there, the time came for the baby to be born, 7 and she gave birth to her firstborn, a son. She wrapped him in cloths and placed him in a manger, because there was no guest room available for them.
8 And there were shepherds living out in the fields nearby, keeping watch over their flocks at night. 9 An angel of the Lord appeared to them, and the glory of the Lord shone around them, and they were terrified. 10 But the angel said to them, "Do not be afraid. I bring you good news that will cause great joy for all the people.11 Today in the town of David a Savior has been born to you; he is the Messiah, the Lord. 12 This will be a sign to you: You will find a baby wrapped in cloths and lying in a manger."
13 Suddenly a great company of the heavenly host appeared with the angel, praising God and saying,
14 "Glory to God in the highest heaven,
and on earth peace to those on whom his favor rests."
15 When the angels had left them and gone into heaven, the shepherds said to one another, "Let's go to Bethlehem and see this thing that has happened, which the Lord has told us about."
16 So they hurried off and found Mary and Joseph, and the baby, who was lying in the manger. 17 When they had seen him, they spread the word concerning what had been told them about this child, 18 and all who heard it were amazed at what the shepherds said to them. 19 But Mary treasured up all these things and pondered them in her heart. 20 The shepherds returned, glorifying and praising God for all the things they had heard and seen, which were just as they had been told.
21 On the eighth day, when it was time to circumcise the child, he was named Jesus, the name the angel had given him before he was conceived.
Jesus Presented in the Temple
22 When the time came for the purification rites required by the Law of Moses,Joseph and Mary took him to Jerusalem to present him to the Lord 23 (as it is written in the Law of the Lord, "Every firstborn male is to be consecrated to the Lord"[b]), 24 and to offer a sacrifice in keeping with what is said in the Law of the Lord: "a pair of doves or two young pigeons."[c]
25 Now there was a man in Jerusalem called Simeon, who was righteous and devout. He was waiting for the consolation of Israel, and the Holy Spirit was on him. 26 It had been revealed to him by the Holy Spirit that he would not die before he had seen the Lord's Messiah. 27 Moved by the Spirit, he went into the temple courts. When the parents brought in the child Jesus to do for him what the custom of the Law required, 28 Simeon took him in his arms and praised God, saying:
29 "Sovereign Lord, as you have promised,
you may now dismiss[d] your servant in peace.
30 For my eyes have seen your salvation,
31 

    

which you have prepared in the sight of all nations:
32 a light for revelation to the Gentiles,
and the glory of your people Israel."
33 The child's father and mother marveled at what was said about him. 34 Then Simeon blessed them and said to Mary, his mother: "This child is destined to cause the falling and rising of many in Israel, and to be a sign that will be spoken against, 35 so that the thoughts of many hearts will be revealed. And a sword will pierce your own soul too."
36 There was also a prophet, Anna, the daughter of Penuel, of the tribe of Asher. She was very old; she had lived with her husband seven years after her marriage,37 and then was a widow until she was eighty-four.[e] She never left the temple but worshiped night and day, fasting and praying. 38 Coming up to them at that very moment, she gave thanks to God and spoke about the child to all who were looking forward to the redemption of Jerusalem.
39 When Joseph and Mary had done everything required by the Law of the Lord, they returned to Galilee to their own town of Nazareth. 40 And the child grew and became strong; he was filled with wisdom, and the grace of God was on him.
The Boy Jesus at the Temple
41 Every year Jesus' parents went to Jerusalem for the Festival of the Passover.42 When he was twelve years old, they went up to the festival, according to the custom. 43 After the festival was over, while his parents were returning home, the boy Jesus stayed behind in Jerusalem, but they were unaware of it. 44 Thinking he was in their company, they traveled on for a day. Then they began looking for him among their relatives and friends. 45 When they did not find him, they went back to Jerusalem to look for him. 46 After three days they found him in the temple courts, sitting among the teachers, listening to them and asking them questions.47 Everyone who heard him was amazed at his understanding and his answers.48 When his parents saw him, they were astonished. His mother said to him, "Son, why have you treated us like this? Your father and I have been anxiously searching for you."
49 "Why were you searching for me?" he asked. "Didn't you know I had to be in my Father's house?"[f] 50 But they did not understand what he was saying to them.
51 Then he went down to Nazareth with them and was obedient to them. But his mother treasured all these things in her heart. 52 And Jesus grew in wisdom and stature, and in favor with God and man.
On 11/30/2018, in architecture, Asia, attention, augmented reality, biology, digital learning, education, education technology, educational games / serious games, emerging technologies, engagement / engaging students, entrepreneurship, Europe, health, history, ideas, innovation, Media/film, Microsoft, Mixed reality, tools, United States, universities, vendors, virtual reality / worlds / learning, XR - extended reality, by Daniel Christian
100 voices of AR/VR in education — from virtualiteach.com
Ambitious VR experience restores 7,000 Roman buildings, monuments to their former glory  — from smithsonianmag.com by Meilan Solly
You can take an aerial tour of the city circa 320 A.D. or stop by specific sites for in-depth exploration
Excerpt:
Ever wish you could step into a hot air balloon, travel back in time to 320 A.D., and soar over the streets of Ancient Rome? Well, that oddly specific fantasy is achievable in a new virtual reality experience called "Rome Reborn."
The ambitious undertaking, painstakingly built by a team of 50 academics and computer experts over a 22-year period, recreates 7,000 buildings and monuments scattered across a 5.5 square mile stretch of the famed Italian city. The project, according to Tom Kington of the Times, is being marketed as the largest digital reconstruction of Rome to date.
VR Isn't a Novelty: Here's How to Integrate it Into the Curriculum — from edsurge.com by Jan Sikorsky
Excerpt:
While the application of VR to core academics remains nascent, early returns are promising: research now suggests students retain more information and can better synthesize and apply what they have learned after participating in virtual reality exercises.
And the technology is moving within the reach of classroom teachers. While once considered high-end and cost-prohibitive, virtual reality is becoming more affordable. Discovery VR and Google Expeditions offer several virtual reality experiences for free. Simple VR viewers now come in relatively low-cost DIY cardboard view boxes, like Google Cardboard, that fit a range of VR-capable smartphones.
…
Still, teachers may remain unsure of how they might implement such cutting-edge technology in their classrooms. Their concerns are well founded. Virtual reality takes careful planning and implementation for success. It's not simply plug-and-play technology. It also takes a lot of work to develop.

From DSC:
Reduced costs & greater development efficiencies needed here:
"In our case, to create just 10 minutes of simulation, a team of six developers logged almost 1,000 hours of development time."
Unveiling RLab: the First-City Funded VR/AR Center in the Country Opens Doors at Brooklyn Navy Yard — from prnewswire.com
New York City's Virtual and Augmented Reality Center Will Fuel Innovation, Entrepreneurship, and Education, While Creating Hundreds of Well-Paying Jobs
Excerpt:
BROOKLYN, N.Y., Oct. 24, 2018 /PRNewswire/ — New York City Economic Development Corporation (NYCEDC), the Mayor's Office of Media and Entertainment (MOME), the NYU Tandon School of Engineering and the Brooklyn Navy Yard today announced the launch of RLab – the first City-funded virtual and augmented reality (VR/AR) lab in the country. Administered by NYU Tandon with a participating consortium of New York City universities, including Columbia University, CUNY and The New School, RLab will operate out of Building 22 in the Brooklyn Navy Yard and will cement New York City's status as a global leader in VR/AR, creating over 750 jobs in the industry.
New virtual reality lab at UNMC — from wowt.com
This VR-live actor mashup is like your best absinthe-fueled nightmare — from cnet.com by Joan Solsman
Chained, an immersive reimagining of Dickens' A Christmas Carol, weds virtual reality with a motion-capture live actor. Could it be the gateway that makes VR a hit?
Also see:
…and this as well:
See the results of a months-long effort to create a HoloLens experience that pays homage to Mont-Saint-Michel, in Normandy, France, in all its forms – as a physical relief map and work of art; as a real place visited by millions of people over the centuries; and as a remarkable digital story of resilience. In this three-part Today in Technology series, they examine how AI and mixed reality can open a new window into French culture by using technology like HoloLens.
On 11/29/2018, in 21st century, emerging technologies, history, internet, Law Schools, legislatures / government / legal, machine-to-machine communications, platforms, society, technology (general), the downsides of technology, tools, by Daniel Christian
On 11/05/2018, in higher education, history, innovation, IT in HE, Law Schools, legislatures / government / legal, library / librarians, open courseware and systems, society, United States, by Daniel Christian
Caselaw Access Project (CAP) Launches API and Bulk Data Service — from the Library Innovation Lab at the Harvard Law School Library by Kelly Fitzpatrick
Excerpt:
[On 10/29/18] the Library Innovation Lab at the Harvard Law School Library is excited to announce the launch of its Caselaw Access Project (CAP) API and bulk data service, which puts the full corpus of published U.S. case law online for anyone to access for free.
Between 2013 and 2018, the Library digitized over 40 million pages of U.S. court decisions, transforming them into a dataset covering almost 6.5 million individual cases. The CAP API and bulk data service puts this important dataset within easy reach of researchers, members of the legal community and the general public.
To learn more about the project, the data and how to use the API and bulk data service, please visit case.law.
Also see:
From DSC:
For those of you who celebrated it, I hope that you had a great Easter! The scripture below speaks to one of the things that Christians hold dear – i.e., that the tomb was empty. So glad that it was! 
---
Luke 24 New International Version (NIV)
Jesus Has Risen
24 On the first day of the week, very early in the morning, the women took the spices they had prepared and went to the tomb. 2 They found the stone rolled away from the tomb, 3 but when they entered, they did not find the body of the Lord Jesus. 4 While they were wondering about this, suddenly two men in clothes that gleamed like lightning stood beside them. 5 In their fright the women bowed down with their faces to the ground, but the men said to them, "Why do you look for the living among the dead? 6 He is not here; he has risen! Remember how he told you, while he was still with you in Galilee: 7 'The Son of Man must be delivered over to the hands of sinners, be crucified and on the third day be raised again.' " 8 Then they remembered his words.
9 When they came back from the tomb, they told all these things to the Eleven and to all the others. 10 It was Mary Magdalene, Joanna, Mary the mother of James, and the others with them who told this to the apostles. 11 But they did not believe the women, because their words seemed to them like nonsense. 12 Peter, however, got up and ran to the tomb. Bending over, he saw the strips of linen lying by themselves, and he went away, wondering to himself what had happened.
On the Road to Emmaus
13 Now that same day two of them were going to a village called Emmaus, about seven miles[a] from Jerusalem. 14 They were talking with each other about everything that had happened. 15 As they talked and discussed these things with each other, Jesus himself came up and walked along with them; 16 but they were kept from recognizing him.
17 He asked them, "What are you discussing together as you walk along?"
They stood still, their faces downcast. 18 One of them, named Cleopas,asked him, "Are you the only one visiting Jerusalem who does not know the things that have happened there in these days?"
19 "What things?" he asked.
"About Jesus of Nazareth," they replied. "He was a prophet, powerful in word and deed before God and all the people. 20 The chief priests and our rulers handed him over to be sentenced to death, and they crucified him; 21 but we had hoped that he was the one who was going to redeem Israel. And what is more, it is the third day since all this took place. 22 In addition, some of our women amazed us. They went to the tomb early this morning 23 but didn't find his body. They came and told us that they had seen a vision of angels, who said he was alive. 24 Then some of our companions went to the tomb and found it just as the women had said, but they did not see Jesus."
25 He said to them, "How foolish you are, and how slow to believe all that the prophets have spoken! 26 Did not the Messiah have to suffer these things and then enter his glory?" 27 And beginning with Moses and all the Prophets, he explained to them what was said in all the Scriptures concerning himself.
28 As they approached the village to which they were going, Jesus continued on as if he were going farther. 29 But they urged him strongly, "Stay with us, for it is nearly evening; the day is almost over." So he went in to stay with them.
30 When he was at the table with them, he took bread, gave thanks, broke it and began to give it to them. 31 Then their eyes were opened and they recognized him, and he disappeared from their sight. 32 They asked each other, "Were not our hearts burning within us while he talked with us on the road and opened the Scriptures to us?"
33 They got up and returned at once to Jerusalem. There they found the Eleven and those with them, assembled together 34 and saying, "It is true! The Lord has risen and has appeared to Simon." 35 Then the two told what had happened on the way, and how Jesus was recognized by them when he broke the bread.
Jesus Appears to the Disciples
36 While they were still talking about this, Jesus himself stood among them and said to them, "Peace be with you."
37 They were startled and frightened, thinking they saw a ghost. 38 He said to them, "Why are you troubled, and why do doubts rise in your minds? 39 Look at my hands and my feet. It is I myself! Touch me and see; a ghost does not have flesh and bones, as you see I have."
40 When he had said this, he showed them his hands and feet. 41 And while they still did not believe it because of joy and amazement, he asked them, "Do you have anything here to eat?" 42 They gave him a piece of broiled fish, 43 and he took it and ate it in their presence.
44 He said to them, "This is what I told you while I was still with you:Everything must be fulfilled that is written about me in the Law of Moses, the Prophets and the Psalms."
45 Then he opened their minds so they could understand the Scriptures.46 He told them, "This is what is written: The Messiah will suffer and rise from the dead on the third day, 47 and repentance for the forgiveness of sins will be preached in his name to all nations, beginning at Jerusalem.48 You are witnesses of these things. 49 I am going to send you what my Father has promised; but stay in the city until you have been clothed with power from on high."
The Ascension of Jesus
50 When he had led them out to the vicinity of Bethany, he lifted up his hands and blessed them. 51 While he was blessing them, he left them and was taken up into heaven. 52 Then they worshiped him and returned to Jerusalem with great joy. 53 And they stayed continually at the temple,praising God.
On 02/19/2018, in 21st century, attention, augmented reality, business, corporate / business world, elearning, emerging technologies, engagement / engaging students, Europe, health, higher education, history, human-computer interaction (HCI), ideas, innovation, Mixed reality, tools, user experience (UX), vendors, virtual reality / worlds / learning, workplace, XR - extended reality, by Daniel Christian
5 benefits of using Augmented & Virtual Reality Technologies in eLearning — from elearningindustry.com by Christoper Pappas
Are you looking for ways to make your eLearning course stand out from the crowd? What if I told you there is technology that can help you achieve not only that but also increase online learner engagement and motivation? In this article, I'll share the most notable benefits of using Augmented and Virtual Reality technologies in your eLearning course.
Excerpt:
Although their full implications are yet to be explored, alternate reality technologies make eLearning more engaging and productive. They are here to stay, and who knows what benefits they will bring to future learners. As the technology evolves, so too will the applications in eLearning. Which is why it's essential for eLearning pros to keep up with cutting-edge tech and think of new and innovative uses for AR and VR tools.
National Museum of Finland Offers Virtual Time Travel — from vrfocus.com by
Visitors can step into the world of Finland in 1863 with the power of virtual reality.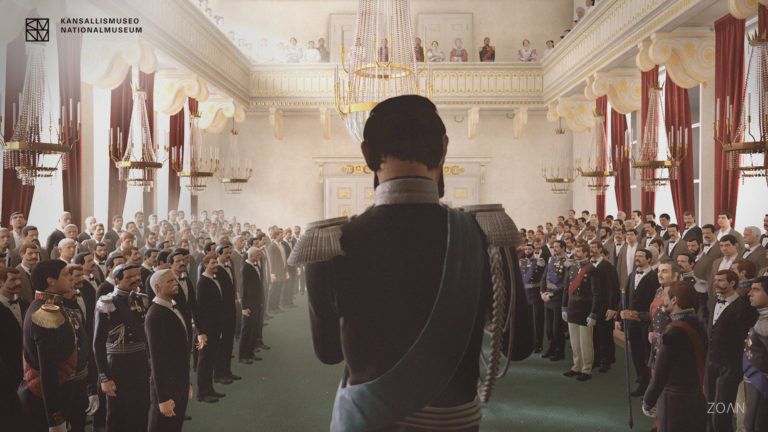 Every type of AR and VR explained, from Rift to HoloLens and beyond — from t3.com by David Nield
Know your augmented from your virtual
Augmented reality lets doctors peer inside the body like never before — from nbcnews.com by Tom Metcalfe
New devices will end 'historic disconnect' in doctors' treatments of patients.
Excerpt:
Augmented reality (AR) technologies that blend computer-generated images and data from MRI and CT scans with real-world views are making it possible for doctors to "see under the skin" of their patients to visualize bones, muscles, and internal organs without having to cut open a body.
Experts say AR will transform medical care by improving precision during operations, reducing medical errors, and giving doctors and patients alike a better understanding of complex medical problems.
Healthcare VR innovations are healing patients — from cio.com by Peter Nichol
Virtual reality is healing patients with augmented technologies. The patient experience has been transformed. Welcome to the era of engaged recovery — the new world of healing.
Excerpt:
Three emerging realities will change the hospital experience with unparalleled possibilities:
Virtual reality (VR): full immersion, a simulated reality.
Mixed reality: partial immersion, virtual objects in a real world.
Augmented reality (AR): information overlay, simulated information on top of the real world.
Today, we'll explore how advances in virtual reality are creating worlds that heal.
…
The next generation of clinical education
The list of possibilities for VR is endless. Augmented and virtual reality medical solutions are removing distractions, improving the quality of critical thinking, and maturing learning solutions, saving time and money while supercharging the learning experience. Explosive developments in 3D virtual and augmented reality have taken clinical education and hands-on learning to the next level.
…
Innovation is ever present in the virtual reality space for healthcare.
Digital reality A technical primer — from deloitte.com
Excerpt:
Digital reality is generally defined as the wide spectrum of technologies and capabilities that inhere in AR, VR, MR, 360° video, and the immersive experience, enabling simulation of reality in various ways (see figure 1).
Key players in digital reality
In terms of key players, the digital reality space can be divided into areas of activity:
Tools/content—platforms, apps, capture tools, etc.
Application content—information from industry, analytics, social, etc.
Infrastructure—hardware, data systems, HMDs, etc.
Increasing investment in infrastructure may drive the growth of software and content, leading to new practical applications and, possibly, an infusion of digital reality software development talent.
This All-Female Founders Pitch Event Was Held in VR — from vrscout.com by Malia Probst
Hailing from 26 countries across the world, people came together in virtual reality to cheer on these top female founders in the XR industry.
How AR, VR and MR can Revolutionise Consumer Tech — from kazendi.com by Pauline Hohl
Excerpt:
Enterprise leading consumer tech adoption
Concerning the need for a VR/AR eco system Max referred to the challenge of technology adoption: people need to be able to try different use cases and be convinced about the potential of AR ,VR and MR. In order to become available (and affordable) for consumers, the technology would have to be adapted by businesses first as the story of 3D printing shows as one example.
He also highlighted the importance of the right training for users to reduce the general learning curve for immersive technology. Poor instructions in the first instance can lead to bad user experiences and cause doubt and even a dismissall of 'new' technologies.
We see this firsthand at Kazendi when users try out Microsoft HoloLens for the first time. Max commented that: 'When people try to make the basic hand gestures and fail they often take the device off and say it's broken.'
We do have a robust entry demo process to combat this but at the consumer level, and this is as true for VR as much as it is for MR and AR, there is little room for error when learning curves are concerned.
On 01/06/2018, in 21st century, A/V -- audio/visual, augmented reality, emerging technologies, health, history, human-computer interaction (HCI), ideas, Mixed reality, society, Technologies for your home, tools, training / L&D, trends, user experience (UX), vendors, virtual reality / worlds / learning, by Daniel Christian
3 ways augmented reality will find its way into your life in 2018 and beyond — from entrepreneur.com by Han-Gwon Lung
Up to 40 percent of nurses miss the patient's vein on their first attempt at taking blood. That's changing, because of augmented reality.
Excerpt:
A pair of glasses you can't live without
More immersive (and personalized) marketing
Less guesswork in health care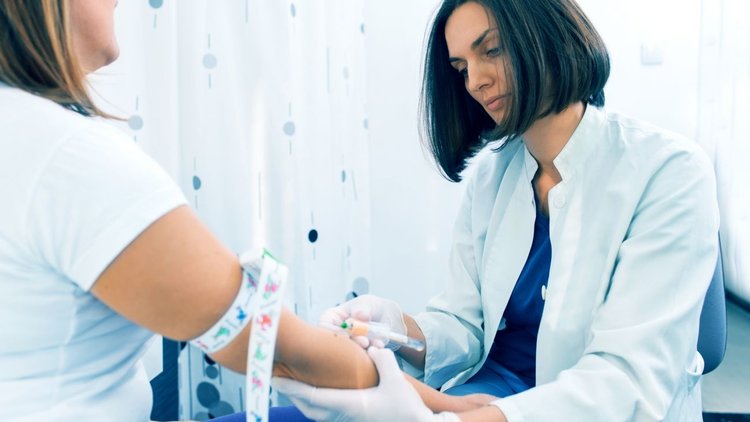 The race for AR glasses starts now — from wired.com by Steven Levy
Excerpt:
Though the Next Big Thing won't appear for a while, we know pretty much what it will look like: a lightweight, always-on wearable that obliterates the divide between the stuff we see on screens and the stuff we see when we look up from our screens.
…
Not every company working on post-reality glasses shares an identical vision; some have differing views of how immersive it should be. But all have quietly adopted the implicit assumption that a persistent, wearable artificial reality is the next big thing. The pressure of the competition has forced them to begin releasing interim products, now.
And he added that "these glasses will offer AR, VR, and everything in between, and we'll wear them all day and we'll use them in every aspect of our lives."
Meet the scientists immortalizing African heritage in virtual reality — from by Chris Giles
Excerpt:
Concerned with the decay of African heritage sites, The Zamani Project, based at the University of Cape Town, South Africa, is seeking to immortalize historic spots in three-dimensional, virtual reality-ready models.
Professor Heinz Ruther steers the project. He ventures up and down the continent — visiting Ghana, Tanzania, Mali, Ethiopia, Kenya and elsewhere — recording in remarkable detail the structure and condition of tombs, churches and other buildings.
"I've seen how sites are deteriorating visibly," Ruther told CNN.
The project's aim is to build a database of complex, lifelike 3-D models. Presently, they've mapped around 16 sites including Lalibela in Ethiopia, Timbuktu in Mali and Kilwa in Tanzania.
4 augmented and virtual reality projects that point to the future of education — from edsurge.com by Justin Hendrix
Excerpt:
Education has been a recurring theme throughout the many programs of the NYC Media Lab, a public-private partnership where I serve as an Executive Director. How will virtual and augmented reality change the classroom? How can teachers use immersive media to educate citizens and keep our communities vibrant? In what ways can enterprises leverage innovation to better train employees and streamline workflows?
These are just a few of the top-of-mind questions that NYC Media Lab's consortium is thinking about as we enter the next wave of media transformation.
Researchers and professionals at work across the VR/AR community in New York City are excited for what comes next. At NYC Media Lab's recent Exploring Future Reality conference, long-time educators including Agnieszka Roginska of New York University and Columbia University's Steven Feiner pointed to emerging media as a way to improve multi-modal learning for students and train computer systems to understand the world around us.
NYC Media Lab merges engineering and design research happening at the city's universities with resources and opportunities from the media and technology industry—to produce new prototypes, launch new companies and advocate for the latest thinking.
In the past year, the Lab has completed dozens of rapid prototyping projects; exhibited hundreds of demos from the corporate, university and entrepreneurship communities; helped new startups make their mark; and hosted three major events, all to explore emerging media technologies and their evolving impact.
4 virtual reality desktops for Vive, Rift, and Windows VR compared — from roadtovr.com by Dominic Brennan
Excerpt:
While it's all too easy to lose ourselves in the countless VR worlds at our fingertips, sometimes we just need to access the desktop and get things done in Windows. Thanks to a few innovative apps, this is possible without removing your headset.