On 10/23/2019, in art, creativity, Daniel S. Christian, design, faith, global / globalization, hearts -- matters of the heart, relationships, society, by Daniel Christian
On 10/16/2019, in 21st century, business side of he, change, changing business models, colleges, community colleges, cost of getting a degree, dangers of the status quo, Daniel S. Christian, education reform, future of higher education, game-changing environment, higher education, Law Schools, learning from the living [class] room, liberal arts, Michigan, United States, universities, Walmart of Education --> New Amazon.com of Higher Education, by Daniel Christian
In case you missed it, WMU-Cooley's President and Board of Directors took a look at our tuition rates and made the decision to reduce them by 21 percent starting Fall 2020! https://t.co/FjC6hk4vnE pic.twitter.com/NkCMAzoomE

— WMU-Cooley Law School (@WMUcooleylaw) October 16, 2019
From DSC:
Regular readers of this blog will know that for years, I've made it one of my goals to try and raise awareness of the need for institutions of higher education to lower their tuitions! For example, Yohan Na and I designed the graphic below way back in 2009.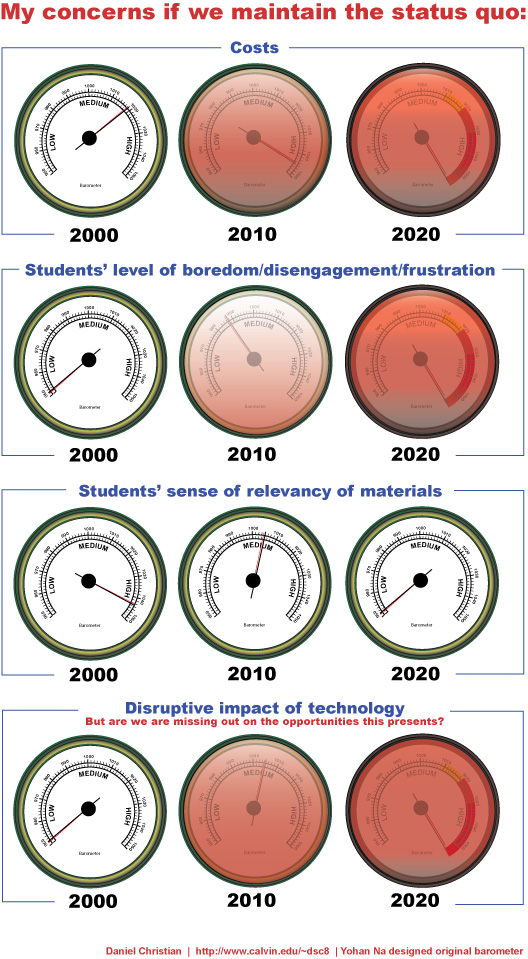 Through those years, I cringed when I kept hearing various Boards say, "We only increased our tuition by ___ % — the lowest percentage increase in our state." The direction was completely wrong! It needed to go down, not up. If you work in higher ed, I encourage you to find a way for that to happen at your own institution.
So I'm very pleased to report that the WMU-Thomas M. Cooley Law School — where I work — was able to reduce tuition by 21%!!! 
Don't get me wrong, some tough decisions were made to pave the way for that to occur. But this will be the case no matter which institution of higher education that you look at. An institution will have to make some tough choices to reduce their tuition. But it HAS to occur. We can't keep this upward trajectory going.
If we don't change this trajectory, we will continue to put enormous gorillas (of debt) on our graduates' backs! Such debt will take our graduates decades to pay off. 
We need to be aware of these invisible gorillas of debt. That is, our students move on…and we don't see them. But their gorillas remain.
---
---
Addendum on 10/18/19:
Victoria Vuletich, the assistant dean at the Grand Rapids, Michigan campus of Western Michigan University Cooley Law School, was interviewed by the State Bar of Michigan's Legal Talk Network to discuss what the law school experience is like for the current generation of students. 
---
---
On 10/02/2019, in 21st century, 24x7x365 access, 3D, A/V -- audio/visual, analytics, Artificial Intelligence / Machine Learning / Deep Learning, assistive technologies, augmented reality, Blockchain, change, cloud-based computing / apps / other cloud-related, cognitive computing, computer science, corporate / business world, Daniel S. Christian, data mining, emerging technologies, future, human-computer interaction (HCI), innovation, internet, IT in HE, Law Schools, leadership, legislatures / government / legal, Natural Language Processing (NLP), pace of change, platforms, programming, society, Technologies for your home, technology (general), telecommunications, tools, trends, United States, virtual reality / worlds / learning, vision, XR - extended reality, by Daniel Christian
The 7 biggest technology trends in 2020 everyone must get ready for now — from forbes.com by Bernard Marr
Excerpts:
AI-as-a-service
5G data networks
Autonomous Driving
Personalized and predictive medicine
Computer Vision
Extended Reality
Blockchain Technology
From DSC:
I appreciate this list from Bernard. I would also add voice-enabled interfaces/products (NLP) to this list, as well as more integration of AI into learning-related applications and services. 
For the federal agencies, state representatives, senators, law schools, students in law school, lawyers, legislators, CIO's, and CEO's etc. out there: Are you/we ready for these? Given the pace of exponential change, how are you seeking to keep a pulse-check on these types of emerging technologies and their impacts on our society? How are you/we guiding the development of these emerging technologies?
On 09/28/2019, in Artificial Intelligence / Machine Learning / Deep Learning, bots, career development, cloud-based computing / apps / other cloud-related, cognitive computing, communications, computer science, corporate / business world, corporate universities / corporate training, Daniel S. Christian, learning, learning ecosystem, learning from the living [class] room, learning hubs, learning preferences, learning spaces, Lifelong learning, Microlearning, Natural Language Processing (NLP), platforms, productivity / tips and tricks, programming, tools, training / L&D, trends, usability, user experience (UX), vendors, voice recognition / voice enabled interfaces, by Daniel Christian
On 09/27/2019, in adjunct faculty, Artificial Intelligence / Machine Learning / Deep Learning, career development, change, collaboration, computer science, Cost of legal services - including access, Daniel S. Christian, data mining, ethics, faculty, future, higher education, Law Schools, learning, learning ecosystem, legal technologies, legislatures / government / legal, Lifelong learning, online learning, platforms, professional development, programming, society, teaching online, technology (general), tools, training / L&D, Using teams, vision, by Daniel Christian
---
From DSC:
The two postings below show the need for more collaboration and the use of teams:
---
The future of law and computational technologies: Two sides of the same coin — from legaltechlever.com by Daniel Linna Jr.
Excerpt (emphasis DSC):
An increasing number of lawyers today work with allied professionals to improve processes, better manage projects, embrace data-driven methods, and leverage technology to improve legal services and systems. Legal-services and lawyer regulations are evolving. And basic technologies and AI are slowly making their way into the legal industry, from legal aid organizations and courts to large law firms, corporate legal departments, and governments.
If we are to realize the potential to improve society with computational technologies, law, regulation, and ethical principles must be front and center at every stage, from problem definition, design, data collection, and data cleaning to training, deployment, and monitoring and maintenance of products and systems. To achieve this, technologists and lawyers must collaborate and share a common vocabulary. Lawyers must learn about technology, and technologists must learn about law. Multidisciplinary teams with a shared commitment to law, regulation, and ethics can proactively address today's AI challenges, and advance our collaborative problem-solving capabilities to address tomorrow's increasingly complex problems. Lawyers and technologists must work together to create a better future for everyone.
From DSC:
As with higher education in general, we need more team-based efforts in the legal realm as well as more TrimTab Groups.
Excerpts:
Why does this distinction matter? Because law—like so many industries—is undergoing a tectonic shift. It is morphing from a lawyer dominated, practice-centric, labor-intensive guild to a tech-enabled, process and data-driven, multi-disciplinary global industry. The career paths, skills, and expectations of lawyers are changing. So too are how, when, and on what financial terms they are engaged; with whom and from what delivery models they work; their performance metrics, and the resources—human and machine—they collaborate with.  Legal practice is shrinking and the business of delivering legal services is expanding rapidly.
Law is no longer the exclusive province of lawyers. Legal knowledge is not the sole element of legal delivery—business and technological competencies are equally important. It's a new ballgame—one that most lawyers are unprepared for.
…
How did we get here and are legal careers  for most a dead end? Spoiler alert: there's tremendous opportunity in the legal industry. The caveat: all lawyers must have basic business and technological competency whether they pursue practice careers or leverage their legal knowledge as a skill in legal delivery and/or allied professional careers.
Upskilling the legal profession is already a key issue, a requisite for career success. Lawyers must learn new skills like project management, data analytics, deployment of technology, and process design to leverage their legal knowledge. Simply knowing the law will not cut it anymore.
From DSC:
I really appreciate the work of the above two men whose articles I'm highlighting here. I continue to learn a lot from them and am grateful for their work.
That said, just like it's a lot to expect a faculty member (in higher ed) who teaches online to not only be a subject matter expert, but also to be skilled in teaching, web design, graphic design, navigation design, information design, audio design, video editing, etc…it's a lot to expect for a lawyer to be a skilled lawyer, business person, and technician. I realize that Mark was only saying a basic level of competency…but even that can be difficult to achieve at times. Why? Because people have different skillsets, passions, and interests. One might be a good lawyer, but not a solid technician…or vice versa. One might be a solid professor, but isn't very good with graphic design. 
On 08/27/2019, in 24x7x365 access, A/V -- audio/visual, algorithms, Amazon, Artificial Intelligence / Machine Learning / Deep Learning, Asia, cloud-based computing / apps / other cloud-related, corporate / business world, dangers of the status quo, Daniel S. Christian, data mining, emerging technologies, ethics, face-to-face, Facebook, future, game-changing environment, generational differences, Google, hearts -- matters of the heart, intelligent systems, internet, Law Schools, legislatures / government / legal, Microsoft, morals/values, platforms, policy, political science, Privacy, society, surviving, the downsides of technology, tools, trends, United States, vendors, by Daniel Christian
Uh-oh: Silicon Valley is building a Chinese-style social credit system — from fastcompany.com by Mike Elgan
In China, scoring citizens' behavior is official government policy. U.S. companies are increasingly doing something similar, outside the law.
Excerpts (emphasis DSC):
Have you heard about China's social credit system? It's a technology-enabled, surveillance-based nationwide program designed to nudge citizens toward better behavior. The ultimate goal is to "allow the trustworthy to roam everywhere under heaven while making it hard for the discredited to take a single step," according to the Chinese government.
In place since 2014, the social credit system is a work in progress that could evolve by next year into a single, nationwide point system for all Chinese citizens, akin to a financial credit score. It aims to punish for transgressions that can include membership in or support for the Falun Gong or Tibetan Buddhism, failure to pay debts, excessive video gaming, criticizing the government, late payments, failing to sweep the sidewalk in front of your store or house, smoking or playing loud music on trains, jaywalking, and other actions deemed illegal or unacceptable by the Chinese government.
…
IT CAN HAPPEN HERE
Many Westerners are disturbed by what they read about China's social credit system. But such systems, it turns out, are not unique to China. A parallel system is developing in the United States, in part as the result of Silicon Valley and technology-industry user policies, and in part by surveillance of social media activity by private companies.
Here are some of the elements of America's growing social credit system.
If current trends hold, it's possible that in the future a majority of misdemeanors and even some felonies will be punished not by Washington, D.C., but by Silicon Valley. It's a slippery slope away from democracy and toward corporatocracy.
From DSC:
Who's to say what gains a citizen points and what subtracts from their score? If one believes a certain thing, is that a plus or a minus? And what might be tied to someone's score? The ability to obtain food? Medicine/healthcare? Clothing? Social Security payments? Other?
We are giving a huge amount of power to a handful of corporations…trust comes into play…at least for me. Even internally, the big tech co's seem to be struggling as to the ethical ramifications of what they're working on (in a variety of areas). 
Is the stage being set for a "Person of Interest" Version 2.0?
Mark 2:1-12 (NIV) — from biblegateway.com
2 A few days later, when Jesus again entered Capernaum, the people heard that he had come home. 2 They gathered in such large numbers that there was no room left, not even outside the door, and he preached the word to them. 3 Some men came, bringing to him a paralyzed man, carried by four of them. 4 Since they could not get him to Jesus because of the crowd, they made an opening in the roof above Jesus by digging through it and then lowered the mat the man was lying on. 5 When Jesus saw their faith, he said to the paralyzed man, "Son, your sins are forgiven."
6 Now some teachers of the law were sitting there, thinking to themselves, 7 "Why does this fellow talk like that? He's blaspheming! Who can forgive sins but God alone?"
8 Immediately Jesus knew in his spirit that this was what they were thinking in their hearts, and he said to them, "Why are you thinking these things? 9 Which is easier: to say to this paralyzed man, 'Your sins are forgiven,' or to say, 'Get up, take your mat and walk'? 10 But I want you to know that the Son of Man has authority on earth to forgive sins." So he said to the man, 11 "I tell you, get up, take your mat and go home." 12 He got up, took his mat and walked out in full view of them all. This amazed everyone and they praised God, saying, "We have never seen anything like this!"
From DSC:
"…what they were thinking in their hearts…" Wow….that wording hasn't caught my attention the way it just did this morning. It doesn't refer to thinking as I/we tend to view it — i.e., with our minds — but rather, thinking in our hearts. Hmmm….