On 03/08/2019, in 21st century, algorithms, Amazon, analytics, Apple, Artificial Intelligence / Machine Learning / Deep Learning, Asia, bots, cognitive computing, collaboration, colleges, communities of practice, community colleges, computer science, corporate / business world, dangers of the status quo, data mining, emerging technologies, ethics, Facebook, future, game-changing environment, global / globalization, Google, higher education, intelligent systems, IT in HE, liberal arts, machine-to-machine communications, Microsoft, morals/values, platforms, political science, the downsides of technology, tools, trends, UK, United States, universities, vendors, by Daniel Christian
Why AI is a threat to democracy — and what we can do to stop it — from technologyreview.com by Karen Hao and Amy Webb
Excerpt:
Universities must create space in their programs for hybrid degrees. They should incentivize CS students to study comparative literature, world religions, microeconomics, cultural anthropology and similar courses in other departments. They should champion dual degree programs in computer science and international relations, theology, political science, philosophy, public health, education and the like. Ethics should not be taught as a stand-alone class, something to simply check off a list. Schools must incentivize even tenured professors to weave complicated discussions of bias, risk, philosophy, religion, gender, and ethics in their courses.
One of my biggest recommendations is the formation of GAIA, what I call the Global Alliance on Intelligence Augmentation. At the moment people around the world have very different attitudes and approaches when it comes to data collection and sharing, what can and should be automated, and what a future with more generally intelligent systems might look like. So I think we should create some kind of central organization that can develop global norms and standards, some kind of guardrails to imbue not just American or Chinese ideals inside AI systems, but worldviews that are much more representative of everybody.
Most of all, we have to be willing to think about this much longer-term, not just five years from now. We need to stop saying, "Well, we can't predict the future, so let's not worry about it right now." It's true, we can't predict the future. But we can certainly do a better job of planning for it.
On 02/16/2019, in 21st century, algorithms, Artificial Intelligence / Machine Learning / Deep Learning, Asia, bots, Daniel S. Christian, data mining, ethics, Google, Law Schools, legislatures / government / legal, Microsoft, morals/values, society, technology (general), the downsides of technology, tools, by Daniel Christian
Google and Microsoft warn that AI may do dumb things — from wired.com by Tom Simonite
Excerpt:
Alphabet likes to position itself as a leader in AI research, but it was six months behind rival Microsoft in warning investors about the technology's ethical risks. The AI disclosure in Google's latest filing reads like a trimmed down version of much fuller language Microsoft put in its most recent annual SEC report, filed last August:
"AI algorithms may be flawed. Datasets may be insufficient or contain biased information. Inappropriate or controversial data practices by Microsoft or others could impair the acceptance of AI solutions. These deficiencies could undermine the decisions, predictions, or analysis AI applications produce, subjecting us to competitive harm, legal liability, and brand or reputational harm."
Chinese company leaves Muslim-tracking facial recognition database exposed online — from by Catalin Cimpanu
Researcher finds one of the databases used to track Uyghur Muslim population in Xinjiang.
Excerpt:
One of the facial recognition databases that the Chinese government is using to track the Uyghur Muslim population in the Xinjiang region has been left open on the internet for months, a Dutch security researcher told ZDNet.
The database belongs to a Chinese company named SenseNets, which according to its website provides video-based crowd analysis and facial recognition technology.
…
The user data wasn't just benign usernames, but highly detailed and highly sensitive information that someone would usually find on an ID card, Gevers said. The researcher saw user profiles with information such as names, ID card numbers, ID card issue date, ID card expiration date, sex, nationality, home addresses, dates of birth, photos, and employer.
…
Some of the descriptive names associated with the "trackers" contained terms such as "mosque," "hotel," "police station," "internet cafe," "restaurant," and other places where public cameras would normally be found.
From DSC:
Readers of this blog will know that I'm generally pro-technology. But especially focusing in on that last article, to me, privacy is key here. For which group of people from which nation is next? Will Country A next be tracking Christians? Will Country B be tracking people of a given sexual orientation? Will Country C be tracking people with some other characteristic?
Where does it end? Who gets to decide? What will be the costs of being tracked or being a person with whatever certain characteristic one's government is tracking? What forums are there for combating technologies or features of technologies that we don't like or want?
We need forums/channels for raising awareness and voting on these emerging technologies. We need informed legislators, senators, lawyers, citizens…we need new laws here…asap.
On 02/13/2019, in 21st century, algorithms, analytics, Artificial Intelligence / Machine Learning / Deep Learning, bots, business, cognitive computing, computer science, emerging technologies, ethics, Facebook, Google, morals/values, professional development, programming, society, the downsides of technology, tools, United States, vendors, by Daniel Christian
The real reason tech struggles with algorithmic bias — from wired.com by Yael Eisenstat
Excerpts:
ARE MACHINES RACIST? Are algorithms and artificial intelligence inherently prejudiced? Do Facebook, Google, and Twitter have political biases? Those answers are complicated.
But if the question is whether the tech industry doing enough to address these biases, the straightforward response is no.
…
Humans cannot wholly avoid bias, as countless studies and publications have shown. Insisting otherwise is an intellectually dishonest and lazy response to a very real problem.
…
In my six months at Facebook, where I was hired to be the head of global elections integrity ops in the company's business integrity division, I participated in numerous discussions about the topic. I did not know anyone who intentionally wanted to incorporate bias into their work. But I also did not find anyone who actually knew what it meant to counter bias in any true and methodical way.
But the company has created its own sort of insular bubble in which its employees' perception of the world is the product of a number of biases that are engrained within the Silicon Valley tech and innovation scene.
On 02/13/2019, in 1:1 / 1:World, 21st century, 24x7x365 access, A/V -- audio/visual, augmented reality, computer science, emerging technologies, Google, Law Schools, legislatures / government / legal, XR - extended reality, by Daniel Christian
AR will spark the next big tech platform — call it Mirrorworld — from wired.com by Kevin Kelly
Excerpt:
It is already under construction. Deep in the research labs of tech companies around the world, scientists and engineers are racing to construct virtual places that overlay actual places. Crucially, these emerging digital landscapes will feel real; they'll exhibit what landscape architects call place­ness. The Street View images in Google Maps are just facades, flat images hinged together. But in the mirrorworld, a virtual building will have volume, a virtual chair will exhibit chairness, and a virtual street will have layers of textures, gaps, and intrusions that all convey a sense of "street."
The mirrorworld—a term first popularized by Yale computer scientist David Gelernter—will reflect not just what something looks like but its context, meaning, and function. We will interact with it, manipulate it, and experience it like we do the real world.
Also see:
Google Maps in augmented reality points you in the right direction — from mashable.com by Sasha Lekach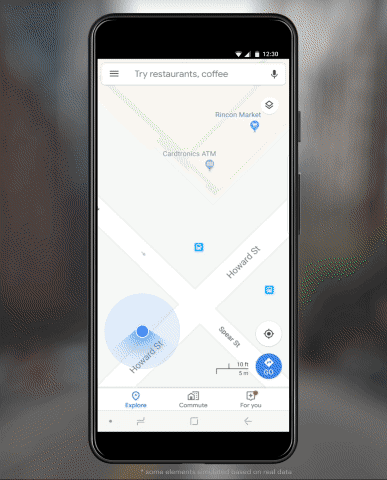 Bobst launches augmented reality helpline — from proprint.com.au by Sheree Young
Excerpt:
Swiss packaging and label equipment supplier Bobst has launched a new augmented reality smart headset to help answer customer questions.
Rapid problem solving thanks to a new augmented reality helpline service introduced by Swiss packaging and label equipment supplier Bobst stands to save printers time and money, the company says.
The Helpline Plus AR innovation provides a remote assistance service to Bobst's customers using a smart headset with augmented reality glasses. The technology is being gradually rolled out globally, Bobst says.
Customers can use the headset to contact technical experts and iron out any issues they may be having as well as receive real time advice and support.
Making New Drugs With a Dose of Artificial Intelligence — from nytimes.com by Cade Metz
Excerpt:
DeepMind specializes in "deep learning," a type of artificial intelligence that is rapidly changing drug discovery science. A growing number of companies are applying similar methods to other parts of the long, enormously complex process that produces new medicines. These A.I. techniques can speed up many aspects of drug discovery and, in some cases, perform tasks typically handled by scientists.
"It is not that machines are going to replace chemists," said Derek Lowe, a longtime drug discovery researcher and the author of In the Pipeline, a widely read blog dedicated to drug discovery. "It's that the chemists who use machines will replace those that don't."
On 02/08/2019, in 21st century, A/V -- audio/visual, algorithms, Artificial Intelligence / Machine Learning / Deep Learning, bots, Google, innovation, Languages and translation, Natural Language Processing (NLP), platforms, Technologies for your home, voice recognition / voice enabled interfaces, by Daniel Christian
Google is bringing translation to its Home speakers — from businessinsider.com by Peter Newman
Excerpt:
Google has added real-time translation capabilities to its Google Home smart speakers, the Home Hub screened speaker, as well as other screened devices from third parties, according to Android Police.
Also see:
On 02/01/2019, in 21st century, Apple, data mining, ethics, Facebook, Google, hearts -- matters of the heart, Law Schools, legislatures / government / legal, morals/values, platforms, Technologies for your home, the downsides of technology, United States, by Daniel Christian
Why Facebook's banned "Research" app was so invasive — from wired.com by Louise Matsakislo
Excerpts:
Facebook reportedly paid users between the ages of 13 and 35 $20 a month to download the app through beta-testing companies like Applause, BetaBound, and uTest.
…
Apple typically doesn't allow app developers to go around the App Store, but its enterprise program is one exception. It's what allows companies to create custom apps not meant to be downloaded publicly, like an iPad app for signing guests into a corporate office. But Facebook used this program for a consumer research app, which Apple says violates its rules. "Facebook has been using their membership to distribute a data-collecting app to consumers, which is a clear breach of their agreement with Apple," a spokesperson said in a statement. "Any developer using their enterprise certificates to distribute apps to consumers will have their certificates revoked, which is what we did in this case to protect our users and their data." Facebook didn't respond to a request for comment.
Facebook needed to bypass Apple's usual policies because its Research app is particularly invasive. First, it requires users to install what is known as a "root certificate." This lets Facebook look at much of your browsing history and other network data, even if it's encrypted. The certificate is like a shape-shifting passport—with it, Facebook can pretend to be almost anyone it wants.
To use a nondigital analogy, Facebook not only intercepted every letter participants sent and received, it also had the ability to open and read them. All for $20 a month!
Facebook's latest privacy scandal is a good reminder to be wary of mobile apps that aren't available for download in official app stores. It's easy to overlook how much of your information might be collected, or to accidentally install a malicious version of Fortnite, for instance. VPNs can be great privacy tools, but many free ones sell their users' data in order to make money. Before downloading anything, especially an app that promises to earn you some extra cash, it's always worth taking another look at the risks involved.
On 01/29/2019, in 21st century, Amazon, Apple, business, corporate / business world, data mining, ethics, Facebook, Google, Law Schools, legislatures / government / legal, Microsoft, platforms, society, United States, by Daniel Christian
A landmark ruling gives new power to sue tech giants for privacy harms — from fastcompany.com by Katharine Schwab
Excerpt:
A unanimous ruling by the Illinois Supreme Court says that companies that improperly gather people's data can be sued for damages even without proof of concrete injuries, opening the door to legal challenges that Facebook, Google, and other businesses have resisted.