On 08/29/2019, in A/V -- audio/visual, attention, biology, chemistry, communications, education technology, emerging technologies, engagement / engaging students, history, human-computer interaction (HCI), innovation, interactivity, user experience (UX), vendors, virtual reality / worlds / learning, XR - extended reality, youth, by Daniel Christian
Best 15 Free Virtual Reality Apps for Education — from vudream.com by Mark Metry
On 07/05/2019, in 21st century, 24x7x365 access, algorithms, Artificial Intelligence / Machine Learning / Deep Learning, career development, change, colleges, community colleges, cost of getting a degree, Daniel S. Christian, digital learning, distance education, education technology, elearning, emerging technologies, future, future of higher education, game-changing environment, global / globalization, higher education, human-computer interaction (HCI), ideas, innovation, instructional design, intelligent systems, intelligent tutoring, interactivity, IT in HE, learning, Learning Agents, learning ecosystem, learning from the living [class] room, learning preferences, Lifelong learning, online learning, personalized/customized learning, platforms, society, tools, trends, universities, user experience (UX), vendors, by Daniel Christian
On 03/07/2019, in 21st century, 24x7x365 access, A/V -- audio/visual, algorithms, Artificial Intelligence / Machine Learning / Deep Learning, corporate / business world, Daniel S. Christian, digital audio, emerging technologies, human-computer interaction (HCI), ideas, innovation, intelligent systems, interaction design, interactivity, learning from the living [class] room, multimedia, Natural Language Processing (NLP), Technologies for your home, technology (general), telecommunications, tools, trends, usability, user experience (UX), vendors, voice recognition / voice enabled interfaces, by Daniel Christian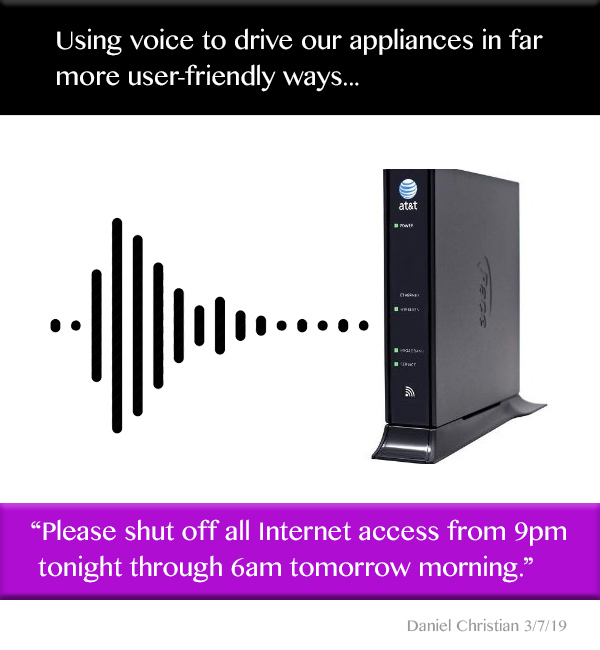 From DSC:
Our family uses AT&T for our smartphones and for our Internet access. What I would really like from AT&T is to be able to speak into an app — either located on a smartphone or have their routers morph into Alexa-type of devices — to be able to speak to what I want my router to do:
"Turn off Internet access tonight from 9pm until 6am tomorrow morning."
"Only allow Internet access for parents' accounts."
"Upgrade my bandwidth for the next 2 hours."
Upon startup, the app would ask whether I wanted to setup any "admin" types of accounts…and, if so, would recognize that voice/those voices as having authority and control over the device.
Would you use this type of interface? I know I would!
P.S. I'd like to be able to speak to our
thermostat in that sort of way as well.
On 12/31/2018, in 21st century, algorithms, Amazon, Artificial Intelligence / Machine Learning / Deep Learning, computer science, convergence, digital audio, future, Google, human-computer interaction (HCI), innovation, interactivity, music, Natural Language Processing (NLP), society, Technologies for your home, tools, trends, usability, user experience (UX), voice recognition / voice enabled interfaces, by Daniel Christian
Smart speakers hit critical mass in 2018 — from techcrunch.com by Sarah Perez
Excerpt (emphasis DSC):
We already know Alexa had a good Christmas — the app shot to the top of the App Store over the holidays, and the Alexa service even briefly crashed from all the new users. But Alexa, along with other smart speaker devices like Google Home, didn't just have a good holiday — they had a great year, too. The smart speaker market reached critical mass in 2018, with around 41 percent of U.S. consumers now owning a voice-activated speaker, up from 21.5 percent in 2017.
In the U.S., there are now more than 100 million Alexa-enabled devices installed — a key milestone for Alexa to become a "critical mass platform," the report noted.
On 11/28/2018, in business, creativity, digital learning, digital video, distance education, education technology, global / globalization, higher education, ideas, innovation, interactivity, learning, learning ecosystem, learning from the living [class] room, learning hubs, learning spaces, MBA, online learning, platforms, smart classrooms, teaching online, tools, UK, universities, vendors, videoconferencing, web-based collaboration, by Daniel Christian
Creating an Immersive, Global Experience for Business Education — from campustechnology.com by Meg Lloyd
The University of Oxford's Saïd Business School is using cutting-edge videoconferencing technology to connect students and academic scholars in a truly global classroom.
On 10/26/2018, in 21st century, A/V -- audio/visual, algorithms, Amazon, Apple, Artificial Intelligence / Machine Learning / Deep Learning, bots, cognitive computing, emerging technologies, Facebook, future, global / globalization, Google, human-computer interaction (HCI), ideas, innovation, interactivity, internet, Microsoft, Natural Language Processing (NLP), platforms, usability, user experience (UX), vendors, voice recognition / voice enabled interfaces, by Daniel Christian

Global installed base of smart speakers to surpass 200 million in 2020, says GlobalData
The global installed base for smart speakers will hit 100 million early next year, before surpassing the 200 million mark at some point in 2020, according to GlobalData, a leading data and analytics company.
The company's latest report: 'Smart Speakers – Thematic Research' states that nearly every leading technology company is either already producing a smart speaker or developing one, with Facebook the latest to enter the fray (launching its Portal device this month). The appetite for smart speakers is also not limited by geography, with China in particular emerging as a major marketplace.
Ed Thomas, Principal Analyst for Technology Thematic Research at GlobalData, comments: "It is only four years since Amazon unveiled the Echo, the first wireless speaker to incorporate a voice-activated virtual assistant. Initial reactions were muted but the device, and the Alexa virtual assistant it contained, quickly became a phenomenon, with the level of demand catching even Amazon by surprise."
Smart speakers give companies like Amazon, Google, Apple, and Alibaba access to a vast amount of highly valuable user data. They also allow users to get comfortable interacting with artificial intelligence (AI) tools in general, and virtual assistants in particular, increasing the likelihood that they will use them in other situations, and they lock customers into a broader ecosystem, making it more likely that they will buy complementary products or access other services, such as online stores.
Thomas continues: "Smart speakers, particularly lower-priced models, are gateway devices, in that they give consumers the opportunity to interact with a virtual assistant like Amazon's Alexa or Google's Assistant, in a "safe" environment. For tech companies serious about competing in the virtual assistant sector, a smart speaker is becoming a necessity, hence the recent entry of Apple and Facebook into the market and the expected arrival of Samsung and Microsoft over the next year or so."
In terms of the competitive landscape for smart speakers, Amazon was the pioneer and is still a dominant force, although its first-mover advantage has been eroded over the last year or so. Its closest challenger is Google, but neither company is present in the fastest-growing geographic market, China. Alibaba is the leading player there, with Xiaomi also performing well.
Thomas concludes: "With big names like Samsung and Microsoft expected to launch smart speakers in the next year or so, the competitive landscape will continue to fluctuate. It is likely that we will see two distinct markets emerge: the cheap, impulse-buy end of the spectrum, used by vendors to boost their ecosystems; and the more expensive, luxury end, where greater focus is placed on sound quality and aesthetics. This is the area of the market at which Apple has aimed the HomePod and early indications are that this is where Samsung's Galaxy Home will also look to make an impact."
Information based on GlobalData's report: Smart Speakers – Thematic Research