On 11/25/2020, in Alternatives, career development, change, changing business models, colleges, community colleges, cost of getting a degree, credentialing, dangers of the status quo, Daniel S. Christian, disruption, economics, future, future of higher education, game-changing environment, higher education, intelligent systems, learning ecosystem, Learning from the Living [Class] Room, marketplaces, parents, society, trends, United States, workplace, by Daniel Christian
On 11/02/2020, in business side of he, change, changing business models, colleges, community colleges, digital learning, distance education, education technology, future of higher education, game-changing environment, higher education, ideas, innovation, IT in HE, law schools, leadership, learning, learning ecosystem, liberal arts, new business models, online learning, remote teaching and learning, strategy, teaching online, United States, universities, by Daniel Christian
Top IT Issues, 2021: Emerging from the Pandemic — from educause.edu
Excerpt:
The EDUCAUSE Top IT Issues list has been refactored for 2021 to help higher education shape the role technology will play in the recovery from the pandemic. What different directions might institutional leaders take in their recovery strategy? How can technology help our ecosystem emerge stronger and fitter for the future?
The 2021 EDUCAUSE IT Issues project explores these questions using a very different approach from previous years. Anticipating potential ways institutions might emerge from the pandemic, this year we offer three Top IT Issues lists and examine the top 5 issues within three scenarios that may guide institutional leaders' use of technology: restore, evolve, and transform.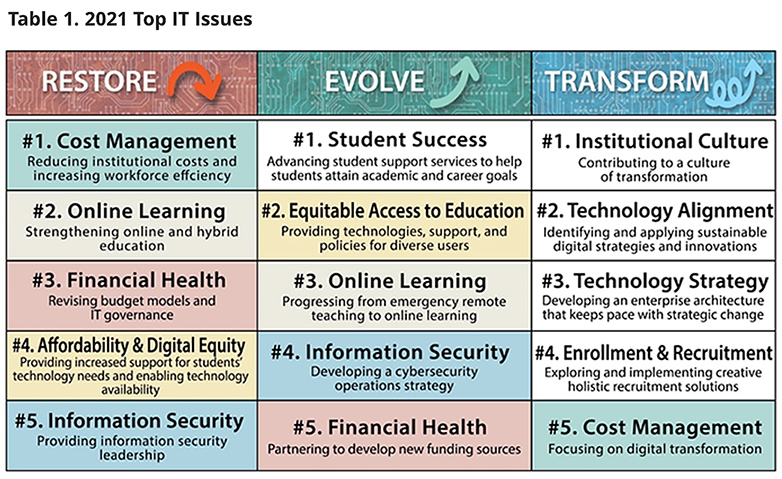 Also see:
On 10/07/2020, in 21st century, 24x7x365 access, adjunct faculty, algorithms, Alternatives, analytics, Artificial Intelligence / Machine Learning / Deep Learning, business, business side of he, career development, change, changing business models, cloud-based computing / apps / other cloud-related, colleges, community colleges, competency-based learning/education, corporate / business world, cost of getting a degree, credentialing, curriculum, data mining, faculty, future of higher education, game-changing environment, generational differences, higher education, ideas, instructional design, IT in HE, law schools, learning, learning ecosystem, Learning Experience Design, Learning from the Living [Class] Room, learning hubs & pods, learning preferences, liberal arts, MOOCs -- Massive Open Online Courses, more choice more control, New "Amazon.com" of Higher Education, online learning, Uncategorized, United States, universities, by Daniel Christian
The pandemic pushed universities online. The change was long overdue. — from hbr-org.cdn.ampproject.org by Sean Gallagher and Jason Palmer; with thanks to Mike Mathews for his posting on LinkedIn re: this item
Excerpt:
A number of elite institutions — such as Princeton University, Williams College, Spelman College, and American University — have substantially discounted tuition for their fully online experience in an historically unprecedented fashion, highlighting pricing pressures and opening up Pandora's box. This comes after a decade of growth in postsecondary alternatives, including "massively open online courses" (MOOCs), industry-driven certification programs, and coding bootcamps.
This moment is likely to be remembered as a critical turning point between the "time before," when analog on-campus degree-focused learning was the default, to the "time after," when digital, online, career-focused learning became the fulcrum of competition between institutions.
On 10/07/2020, in 21st century, adjunct faculty, adult learning, business side of he, career development, colleges, community colleges, cost of getting a degree, dangers of the status quo, faculty, future, future of higher education, generational differences, higher education, learning, learning ecosystem, lifelong learning, United States, universities, vendors, by Daniel Christian
Some resources mentioned by Goldie Blumenstyk out at "The Edge" — in her posting entitled "How to Keep Old Debts From Deterring Returning Students"
Institute for College Access & Success (Ticas) has just released its annual report on what college graduates owe in student debt. 
Excerpt:
Student Debt and the Class of 2019 is TICAS' fifteenth annual report on the student loan debt of recent graduates from four-year colleges, documenting changes and variation in student debt across states and colleges. Unless otherwise noted, the figures in this report are only for public and private nonprofit colleges because virtually no for-profit colleges report what their graduates owe.Nationally, more than six in ten (62%) college seniors who graduated from public and nonprofit colleges in 2019 had student loan debt, down from the Class of 2018 (65%). Borrowers from the Class of 2019 owed an average of $28,950, a 0.9 percent decline from the average of $29,200 in 2018, continuing a trend of relatively flat student debt levels in recent years.
Solving Stranded Credits: Assessing the Scope and Effects of Transcript Withholding on Students, States, and Institutions — from sr.ithaka.org by Julia Karon, James Dean Ward, Catharine Bond Hill, & Martin Kurzweil
Excerpt:
Attention to the burden of U.S. educational debt, now at $1.7 trillion, has grown in recent years.[1] For too many former postsecondary students—especially Black students—debt they took on to improve their lives and career prospects has instead become a financial hindrance, delaying or undermining their efforts to buy homes, build savings, or provide for their families.[2] The debt burden is especially severe for those who never completed their postsecondary program and therefore did not receive the credentials that might have boosted their careers and incomes enough to justify taking on the debt.
Also see:
The pandemic has pushed hundreds of thousands of workers out of higher education — from chronicle.com by Dan Bauman
Excerpt:
The work-force that serves much of higher education in America has shrunk by at least 7 percent since Covid-19 arrived on American shores — a staggering, unprecedented contraction, according to federal data. And like the national economic downturn that is running parallel to this unprecedented viral outbreak, much also remains uncertain about what a "recovery" will actually look like for higher education.