On 02/21/2019, in 21st century, Artificial Intelligence / Machine Learning / Deep Learning, business, cognitive computing, corporate / business world, emerging technologies, future, game-changing environment, history, society, tools, United States, universities, vendors, workplace, by Daniel Christian
Getting smart about the future of AI — from technologyreview.com by MIT Technology Review Insights
Artificial intelligence is a primary driver of possibilities and promise as the Fourth Industrial Revolution unfolds.
Excerpts:
The Industrial Revolution conjures up images of steam engines, textile mills, and iron workers. This was a defining period during the late 18th and early 19th centuries, as society shifted from primarily agrarian to factory-based work. A second phase of rapid industrialization occurred just before World War I, driven by growth in steel and oil production, and the emergence of electricity.
Fast-forward to the 1980s, when digital electronics started having a deep impact on society—the dawning Digital Revolution. Building on that era is what's called the Fourth Industrial Revolution. Like its predecessors, it is centered on technological advancements—this time it's artificial intelligence (AI), autonomous machines, and the internet of things—but now the focus is on how technology will affect society and humanity's ability to communicate and remain connected.
That's what AI technologies represent in the current period of technological change. It is now critical to carefully consider the future of AI, what it will look like, the effect it will have on human life, and what challenges and opportunities will arise as it evolves.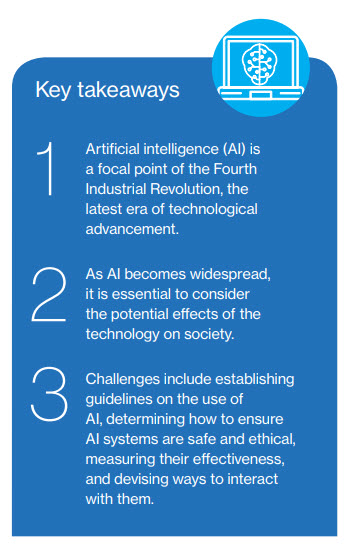 Also see:
Where Next for AI In Business? An overview for C-level executives — from techrevolution.asia by Bernard Marr
Excerpt:
The AI revolution is now well underway. In finance, marketing, medicine and manufacturing, machines are learning to monitor and adapt to real-world inputs in order to operate more efficiently, without human intervention. In our everyday lives, AI kicks in whenever we search the internet, shop online or settle down on the sofa to watch Netflix or listen to Spotify. At this point, it's safe to say that AI is no longer the preserve of science fiction, but has already changed our world in a huge number of different ways.So: what next? Well, the revolution is showing no signs of slowing down. Research indicates that businesses, encouraged by the initial results they have seen, are now planning on stepping up investment and deployment of AI.One of the most noticeable advances will be the ongoing "democratization" of AI. What this means, put simply, is that AI-enabled business tools will increasingly become available to all of us, no matter what jobs we do.
You'll no longer need to be an expert in computer science to use AI to do your job efficiently – this is the "democratization" of AI and it's a trend which will impact more and more businesses going forward.
On 02/15/2019, in ideas, immersion, innovation, Law Schools, leadership, legislatures / government / legal, multimedia, teaching & learning, universities, by Daniel Christian
Law firms either keep up with tech or get left behind — from abajournal.com by Gabriel Teninbaum
Excerpts:
I spend a lot of time thinking about a version of that classic interview question where applicants are asked to envision their future. But, instead of thinking about my own future, I think of the legal profession's future. If you haven't done it, give it a try: What will legal work look like in 15 years?
There is a reason to think it'll look very different from it does now. E-discovery software now does the work once handled by new associates. Legal process outsourcing (LPO) companies have pulled due diligence work, and much more, to offshore locations (and away from domestic midsize firms). LegalZoom—now valued at $2 billion—is drawing millions of consumers every year choosing to handle legal matters without local attorneys.
If your vision includes the idea that the biggest legal employers may someday not even be law firms, then you're correct. It's already happened: The largest private provider of legal services in the world today is no longer a multinational law firm. It's Deloitte, the Big Four accounting firm. Looming super-technologies—like AI and blockchain—are somewhere on the horizon, with the potential to upend legal work in ways that some believe will be unprecedented.
Also see:
Students create immersive videos to enhance criminal justice courses — from news.psu.edu by Emma Gosalvez
Excerpt:
Immersive technologies such as 360-degree videos could revolutionize the future of forensic science, giving police and criminologists a tool to visualize different crime scenes and ultimately, become better investigators. Through a Berks Teaching & Learning Innovation Partnership Grant, Penn State Berks students in the course CRIMJ 210: Policing in America are learning to create 360-degree videos of crime-scene scenarios.
These videos are viewed by their peers in CRIMJ 100: Introduction to Criminal Justice to learn about topics such as self-defense, defense of others, and defense of property.
"The project transforms student learning on two levels: It allows students to engage in creative collaboration related to a course topic, and students get to 'experience' the scenarios presented by the 360-degree videos created by their peers," said Mary Ann Mengel, an instructional multimedia designer for Penn State Berks' Center for Learning & Teaching.
On 02/13/2019, in accessibility, adjunct faculty, analytics, blended learning, colleges, community colleges, competency-based learning/education, data mining, digital learning, higher education, hybrid learning, instructional design, learning, learning ecosystem, learning spaces, multimedia, new media literacies, online learning, online media, open courseware and systems, teaching & learning, universities, user experience (UX), by Daniel Christian
Learning and Student Success: Presenting the Results of the 2019 Key Issues Survey — from er.educause.edu by Malcolm Brown
Excerpts:
Here are some results that caught (Malcolm's) eye, with a few speculations tossed in:
The issue of faculty development reclaimed the top spot.
Academic transformation, previously a consistent top-three finisher, took a tumble in 2019 down to 10th.
After falling to 16th last year, the issue of competency-based education and new methods of learning assessment jumped up to 6th for 2019.
The issues of accessibility and universal design for learning (UDL) and of digital and information literacy held more or less steady.
Online and blended learning has rebounded significantly.