On 06/25/2013, in 21st century, Apple, business side of he, cloud-based computing / apps / other cloud-related, cost of getting a degree, Daniel S. Christian, education technology, experimentation, future of higher education, game-changing environment, innovation, by Daniel Christian
On 06/10/2013, in Apple, cloud-based computing / apps / other cloud-related, computer science, convergence, digital audio, digital video, multimedia, music, platforms, technologies for your home, by Daniel Christian

Also see:
The Best Features Of iOS 7 — from techcrunch.com by Sarah Perez


.

Everything You Need to Know about iOS 7 — from hongkiat.com
Excerpts:
iBooks is now available on the Mac, giving users access to 1.8 million books including interactive textbooks.


.


AirDrop Sharing Between iOS Devices <– potential uses in the Smart Classrooms…?
AirDrop is now available for transfers between iOS devices via peer-to-peer WiFI connection. Turning on the Share Sheet on an app, you can find users who are nearby and tap items to share. A notification will appear on their device and when they open it, it will open to the relevent app and show the content that you shared.


.

Apple's WWDC 2013 Keynote: Highlights, Summary & History — from hongkiat.com by Singyin Lee
Excerpt:
Multiple Display <– potential uses in the Smart Classrooms…?
Multiple Display support allow you to work on, multiple screens, even though only one device is physically connected, even if it means you are using Apple TV as one of your screens. Full screen spaces can be pulled from one display to the next and the dock and other menus will be displayed on each connected screen as well.


.



.
Apple TV needs apps — from money.cnn.com by Adrian Covert
If there was ever a time for Apple to open up its Apple TV platform to third-party apps, that time is [today] at Apple's annual Worldwide Developers Conference.
.
.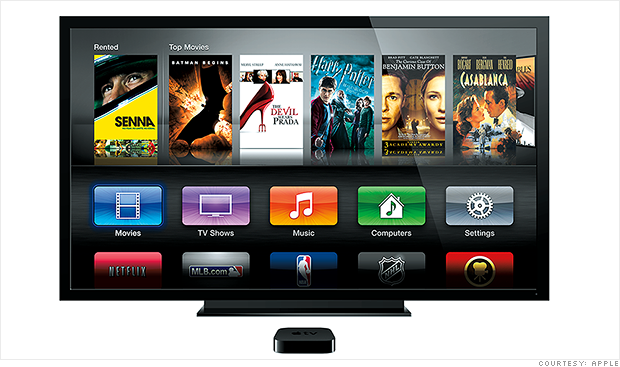 Nuance: Virtual Assistants will work across platforms within two years (video) — from allthingsd.com by Ina Fried
Excerpt:
Siri is good at predicting the weather on your iPhone. And Google Now can tell you a few interesting things.
But within two years, virtual assistants will be able to do a wide range of tasks from handling all types of media to making reservations to offering full control of devices. More importantly, they will work across tablets, televisions and phones.
"I think we will see virtual assistants within two years that are quite robust," Nuance CEO Paul Ricci said, speaking at D11. "I also believe that within two years we will see that virtual assistants will work across platforms."
IT does not love iPads — from by Michelle Fredette
Students and faculty may love them, but IT personnel get a major headache when they try to integrate Apple tablets–and the company's TV technology–in an enterprise setting.
.
From DSC:
The Bring Your Own Device (BYOD) train has arrived.   As such, this is a huge issue and as you can tell from reading Michelle's article, there is no silver bullet out there (at least not as of 5/9/13).  I sure wish all of the relevant vendors could get behind a secure, efficient, reliable standard here…or at least have Apple come up with something that would get past the multi-cast issues for wireless networks (i.e. what works great for the consumer at home doesn't work well on a campus or throughout an enterprise). It also adds to the already difficult job we in IT have when the targets are constantly moving — and moving faster than ever.  Add to that the need to consider entire ecosystems/platforms these days.
On 04/26/2013, in Apple, business, corporate / business world, Daniel S. Christian, Google, learning ecosystem, Microsoft, platforms, tools, workplace, by Daniel Christian
Apple Inc. (AAPL), Google Inc (GOOG), Amazon.com, Inc. (AMZN): Ecosystems are widening moats — from insidermonkey.com
Apple smartphone strategy: It's the ecosystem — news.investors.com
The strength of Apple's ecosystem remains its greatest asset and will secure customers and profits despite slowing growth and margin dips — from tbrnewsommentary.wordpress.com by Beau Skonieczny, Analyst
iPad continued to fuel growth and healthy margins for Apple despite headwinds
From DSC:
Those of us working in the tech side of the house know how difficult it is to navigate this space. The targets are always moving, and determining which tool to go with has changed through these last few years.  It used to be about individual tools (and sometimes still is).  But increasingly, one needs to fly at the 50,00-foot level and ask how the ecosystems are playing out and how an individual tool fits into a greater ecosystem or platform.  Some ecosystems that come to my mind right now include: Apple, Google, Amazon, and Microsoft.
On 02/21/2013, in Adobe, Apple, corporate / business world, corporate universities / corporate training, digital learning, elearning, India, mobile learning, mobile technologies, tablets, training / L&D, ubiquitous learning, UK, by Daniel Christian
The question of why (not) eLearning on iPads or tablets? — from upsidelearning.com by Amit Garg
Excerpt:
2012 saw the re-emergence of 'Mobile learning' or 'mLearning' as "new" (ok, not really new) buzzwords in L&D and Training circles around the world. But largely in the wrong context! Mobile Learning is being loosely attributed to any learning activity that is not location bound, which is very surprising! And even more surprising is, more often than not, it is not even referring to mLearning at all! But to things like, making an LMS available on an USB drive so you can track courses while on a plane! Certainly not mobile learning in my opinion.
I believe 'real' mobile learning is much more than just learning on a mobile device. I also believe that "tablet" learning is neither mobile nor eLearning, but actually occupies a position between mLearning and eLearning. So let me lay out my argument for why I believe this!
Also see Amit's presentation at LT13uk — the full presentation is available here:
http://www.slideshare.net/UpsideLearning/designing-elearning-for-ipads
.