Meticulously carved wooden sculpture of man and nature — from mymodernmet.com by Paul Baliker
.
First a definition:
A digital audio workstation (DAW) is an electronic system designed solely or primarily for recording, editing and playing back digital audio. DAWs were originally tape-less, microprocessor-based systems such as the Synclavier. Modern DAWs are software running on computers with audio interface hardware.
Secondly, some items from Adam Dachis on LifeHacker.com:

From DSC:
For those who want to dip their feet into the pool quickly to see what it's like, I would recommend checking out Garageband — it's a powerful tool that can give you some nice results — and the learning curve is far better/easier than the more complex tools out there.
Game changers + kids — from live.huffingtonpost.com
Excerpt:
What happens when you bring business innovators together with today's youth? Choose2Matter is about to find out. We talk to the people behind Choose2Matter and leaders of the business world about the power of the idea that everyone matters.
Also see:
.
On 05/07/2013, in A/V -- audio/visual, Adobe, Bring your own device (BYOD), cloud-based computing / apps / other cloud-related, collaboration, creativity, Daniel S. Christian, emerging technologies, experimentation, future, future of higher education, innovation, interactivity, journalism, learning ecosystem, learning from the living [class] room, learning spaces, MOOCs -- Massive Open Online Courses, multi-touch, multimedia, publishing, smart classrooms, tools, web-based collaboration, workplace, by Daniel Christian
From DSC: re: Adobe's Project Context:
This is the type of hardware/software combination that I've been hoping for and envisioning! Excellent!
It appears to be the type of setup whereby students could quickly and easily collaborate with one another — in a face-to-face setting (and ideally in remote locations as well) — by not just displaying files but also being able to share files with one another.  Files can be sent up to the interactive, multi-touch displays as well as to an interactive table. So it's not just displaying files, but actually sharing files and being able to collaboratively work on a project.
Eventually, I see this being able to be done in your living room.  What if MOOCs could integrate this type of web-based collaboration into their projects?
But for now, this is a HUGE step forward in this vision. Great work Adobe! This is innovative! Very helpful!
Example screenshots: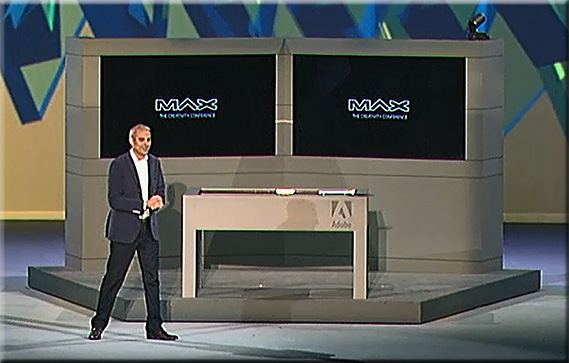 .
.
.
..
Also see:
Adobe's hardware experiments are more than just hobbies: Hands-on with Project Context –– from techcrunch.com by Frederic Lardinois
Excerpt (

emphasis DSC

):
At its MAX conference in Los Angeles [on 5/6/13], Adobe showed  quite a few products that will soon be available to its customers, but it also highlighted a number of hardware experiments, including Project Context, a totally re-imagined way for creating magazine layouts, as well as an advanced stylus and a ruler for touchscreens.
.