On 05/09/2017, in 21st century, 24x7x365 access, A/V -- audio/visual, algorithms, Amazon, Artificial Intelligence / Machine Learning / Deep Learning, bots, change, cloud-based computing / apps / other cloud-related, cognitive computing, communications, cost of getting a degree, credentialing, Daniel S. Christian, digital audio, digital learning, digital storytelling, digital video, disruption, distance education, education, education technology, emerging technologies, experimentation, future, future of higher education, game-changing environment, global / globalization, heutagogy, higher education, human-computer interaction (HCI), ideas, innovation, intelligent systems, intelligent tutoring, learner profiles, learning, Learning Agents, learning ecosystem, learning from the living [class] room, learning hubs, learning spaces, Microlearning, Mobile learning, MOOCs -- Massive Open Online Courses, more choice more control, multimedia, music, Natural Language Processing (NLP), new business models, online learning, online media, online tutoring, participation, personalized/customized learning, platforms, smart classrooms, Smart/Connected TV, streams of content, Technologies for your home, telepresence, television, tools, trends, user experience, UX, vendors, virtual tutoring, voice recognition / voice enabled interfaces, Walmart of Education --> New Amazon.com of Higher Education, web-based collaboration, by Daniel Christian
Amazon introduces Echo Show
The description reads:
Echo Show brings you everything you love about Alexa, and now she can show you things. Watch video flash briefings and YouTube, see music lyrics, security cameras, photos, weather forecasts, to-do and shopping lists, and more. All hands-free—just ask.

Introducing a new way to be together. Make hands-free video calls to friends and family who have an Echo Show or the Alexa App, and make voice calls to anyone who has an Echo or Echo Dot.

See lyrics on-screen with Amazon Music. Just ask to play a song, artist or genre, and stream over Wi-Fi. Also, stream music on Pandora, Spotify, TuneIn, iHeartRadio, and more.

Powerful, room-filling speakers with Dolby processing for crisp vocals and extended bass response

Ask Alexa to show you the front door or monitor the baby's room with compatible cameras from Ring and Arlo. Turn on lights, control thermostats and more with WeMo, Philips Hue, ecobee, and other compatible smart home devices.

With eight microphones, beam-forming technology, and noise cancellation, Echo Show hears you from any direction—even while music is playing

Always getting smarter and adding new features, plus thousands of skills like Uber, Jeopardy!, Allrecipes, CNN, and more
---
---
From DSC:
Now we're seeing a major competition between the heavy-hitters to own one's living room, kitchen, and more. Voice controlled artificial intelligence. But now, add the ability to show videos, text, graphics, and more. Play music. Control the lights and the thermostat. Communicate with others via hands-free video calls.

Hmmm….very interesting times indeed.
Developers and corporates released 4,000 new skills for the voice assistant in just the last quarter. (source)
…with the company adding about 100 skills per day. (source)
---
---
Addendum on 5/10/17:
---
---
On 05/03/2017, in 21st century, collaboration, communications, education, education technology, emerging technologies, Microsoft, Mixed reality, multimedia, teachers, teaching & learning, tools, Using teams, vendors, videoconferencing, web-based collaboration, by Daniel Christian
Microsoft Announces New Laptops and OS Perfect for 21st-Century Students — from edtechmagazine.com by Meghan Bogardus Cortez
Windows 10 S, Surface Laptop and other updates are coming to classrooms in the fall.
Excerpt:
Surface Laptop Introduces Seamless Technology
Perhaps the biggest cheers from the crowd came from the announcement of the new Surface Laptop, which will be available in June 2017.
…
The laptop checks in at 2.76 pounds with a 13.5-inch PixelSense display and 3:2 aspect ratio. Equipped with a fabric overlay on the backlit keyboard, the laptop is so seamless it doesn't even have speaker grills. Instead, Panay says users can be immersed in sound while working on things like video. With a Surface Pen and the laptop's LCD touch module, annotation is easy, even on videos.
Microsoft Debuts Surface Laptops, Windows 10 S for Education, Teams for Office 365 for Education — from campustechnology.com by David Nagel
Excerpt:
Microsoft has unveiled several new offerings for education, including the forthcoming Surface Laptop and a new version of Windows 10 designed for school environments — Windows 10 S.
Also see:
Also see:
From Mixed Reality to New Minecraft and OS, Microsoft Unleashes a Flurry of EDU Upgrades — from edsurge.com by Jenny AbamuMay
Excerpt:
"How can technology create more opportunity, not for a few but for all," asked Nadella, noting how his own grandfather was not able to go to school because of the limited resources his family had. "Democratizing education must be something that is for everyone and not just for a select few, this is something that is deeply personal."
His passionate and personal plea set the tone for the flurry of announcements and updates that followed. By the end of the whirlwind showcase, educators were weary but excited about future possibilities.
Also  see: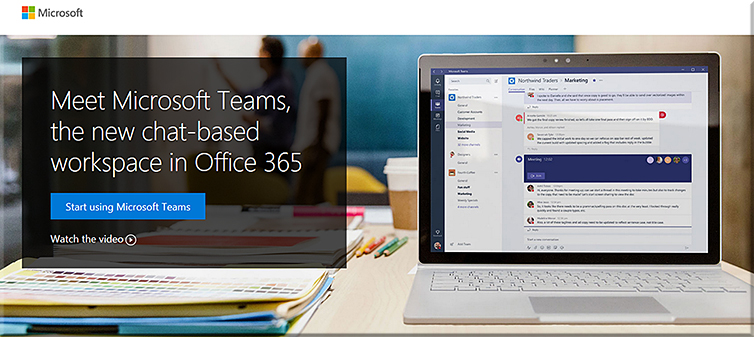 Microsoft Unveils K-12 Operating System, Tools to Challenge Google — from edweek.org by Sean Cavanagh
Excerpt:
Microsoft unveiled a new, streamlined operating system, a slim laptop and a bevy of classroom tools, a group of products that in design and spirit seem aimed at competing with ascendant Chromebooks and other Google offerings in the school market.
At a product announcement on Tuesday crowded with company employees and tech journalists, Microsoft executives repeatedly touted a theme in describing the new operating system, Windows 10 S, and the accompanying products: simplicity.
The goal is "simplify to magnify," Terry Myerson, Microsoft's executive vice president of the Windows and devices group, told the assembled crowd. "Simplicity is power."
"Technology should help, not hinder, teachers' work in the classroom," Microsoft CEO Satya Nadella said. It should make educators' jobs easier, and "spark students' creativity."