On 06/15/2017, in attention, education technology, emerging technologies, engagement / engaging students, Facebook, innovation, library / librarians, society, teaching & learning, Technologies for your home, tools, United States, user experience, UX, vendors, virtual reality / worlds / learning, by Daniel Christian
Oculus Education Pilot Kicks Off in 90 California Libraries — from oculus.com
Excerpt:
Books, like VR, open the door to new possibilities and let us experience worlds that would otherwise be beyond reach. Today, we're excited to bring the two together through a new partnership with the California State Library. This pilot program will place 100 Rifts and Oculus Ready PCs in 90 libraries throughout the state, letting even more people step inside VR and see themselves as part of the revolution.
"It's pretty cool to imagine how many people will try VR for the very first time—and have that 'wow' moment—in their local libraries," says Oculus Education Program Manager Cindy Ball. "We hope early access will cause many people to feel excited and empowered to move beyond just experiencing VR and open their minds to the possibility of one day joining the industry."
Also see:
Oculus Brings Rift to 90 Libraries in California for Public Access VR — from roadtovr.com by Dominic Brennan
Excerpt:
Oculus has announced a pilot program to place 100 Rifts and Oculus Ready PCs in 90 libraries throughout the state of California, from the Oregon border down to Mexico. Detailed on the Oculus Blog, the new partnership with the California State Library hopes to highlight the educational potential of VR, as well as provide easy access to VR hardware within the heart of local communities.
"Public libraries provide safe, supportive environments that are available and welcoming to everyone," says Oculus Education Program Manager Cindy Ball. "They help level the playing field by providing educational opportunities and access to technology that may not be readily available in the community households. Libraries share the love—at scale."
On 06/13/2017, in Artificial Intelligence / Machine Learning / Deep Learning, Asia, Australia, Canada, cognitive computing, collaboration, communications, corporate / business world, Daniel S. Christian, digital audio, education technology, emerging technologies, Europe, global / globalization, human-computer interaction (HCI), IBM, ideas, innovation, intelligent systems, intelligent tutoring, Languages and translation, learning from the living [class] room, Mobile technologies, MOOCs -- Massive Open Online Courses, Natural Language Processing (NLP), online learning, online tutoring, platforms, Technologies for your home, tools, UK, United States, user experience, UX, vendors, videoconferencing, voice recognition / voice enabled interfaces, web-based collaboration, workplace, by Daniel Christian
Australian start-up taps IBM Watson to launch language translation earpiece — from prnewswire.com
World's first available independent translation earpiece, powered by AI to be in the hands of consumers by July
Excerpts:
SYDNEY, June 12, 2017 /PRNewswire/ — Lingmo International, an Australian technology start-up, has today launched Translate One2One, an earpiece powered by IBM Watson that can efficiently translate spoken conversations within seconds, being the first of its kind to hit global markets next month.
…
Unveiled at last week's United Nations Artificial Intelligence (AI) for Good Summit in Geneva, Switzerland, the Translate One2One earpiece supports translations across English, Japanese, French, Italian, Spanish, Brazilian Portuguese, German and Chinese. Available to purchase today for delivery in July, the earpiece carries a price tag of $179 USD, and is the first independent translation device that doesn't rely on Bluetooth or Wi-Fi connectivity.
Lingmo International, an Australian technology start-up, has today launched Translate One2One, an earpiece powered by IBM Watson that can efficiently translate spoken conversations within seconds.
From DSC:
How much longer before this sort of technology gets integrated into videoconferencing and transcription tools that are used in online-based courses — enabling global learning at a scale never seen before? (Or perhaps NLP-based tools are already being integrated into global MOOCs and the like…not sure.) It would surely allow for us to learn from each other in a variety of societies throughout the globe.
On 05/22/2017, in 21st century, colleges, community colleges, cost of getting a degree, digital learning, disruption, distance education, education, education technology, future, future of higher education, higher education, ideas, innovation, leadership, learning, learning ecosystem, online learning, strategy, United States, universities, vision, by Daniel Christian
Online Learning—from Innovation to Adoption: Introducing the CHLOE Survey   — from eduventures.com by Richard Garrett & Ron Legon

Excerpt:
It's now more than 20 years since online learning came on the scene. At the outset, many skeptics questioned its quality and reliability. Online learning faced widespread resistance among faculty conditioned by centuries-old, classroom-based education and lacking in computer skills. There were substantial start-up costs, technical deficiencies, and regulatory uncertainty to overcome.
With all these obstacles, many doubted whether online learning would gain a permanent foothold in U.S. higher education. The former Babson Survey Research Group/Sloan-C survey of chief academic officers focused on the fundamental issues of counting online students and attitudes for or against its adoption.
Today, the number of online students is no longer a mystery, and there is wide acceptance of the delivery mode among administrators and faculty. This innovation, in the means of delivering higher education, is here to stay. It is no longer experimental, but a fixture in mainstream institutions, accounting for a large and still growing proportion of total postsecondary enrollment.
…
Online learning has changed higher education, but higher education has also shaped online learning. There is no doubt that online learning is here to stay, but what is far less clear is the balance between innovation and consolidation, transformation and integration within institutions and across the field as a whole going forward. The planned series of annual CHLOE Surveys will provide much-needed insight.
Signs of a Ceiling in Online Ed Market — from insidehighered.com by Carl Straumsheim
Report on online education landscape suggests potentially leaner times ahead for colleges hoping to profit in the market. Community colleges are already seeing it.
Excerpt:
Is the community college sector the canary in the coal mine for the online education market?
A new survey of online education administrators at 104 colleges and universities released today shows — as other studies have suggested — that public and private four-year institutions saw healthy enrollment growth in their fully online programs in spring 2016 compared to the year before, and that they are showing few signs of slowing their investments in the space.
The situation is not the same at two-year colleges. Online programs at all institutions grew on average by 9 percent year over year, but at community colleges, growth typically registered 1 to 2 percent. And while only a handful of the public or private four-year institutions surveyed said their online enrollments shrank from 2015 to 2016, findings at community colleges were mixed: 33 percent saw growth, 27 percent decline and 40 percent stability.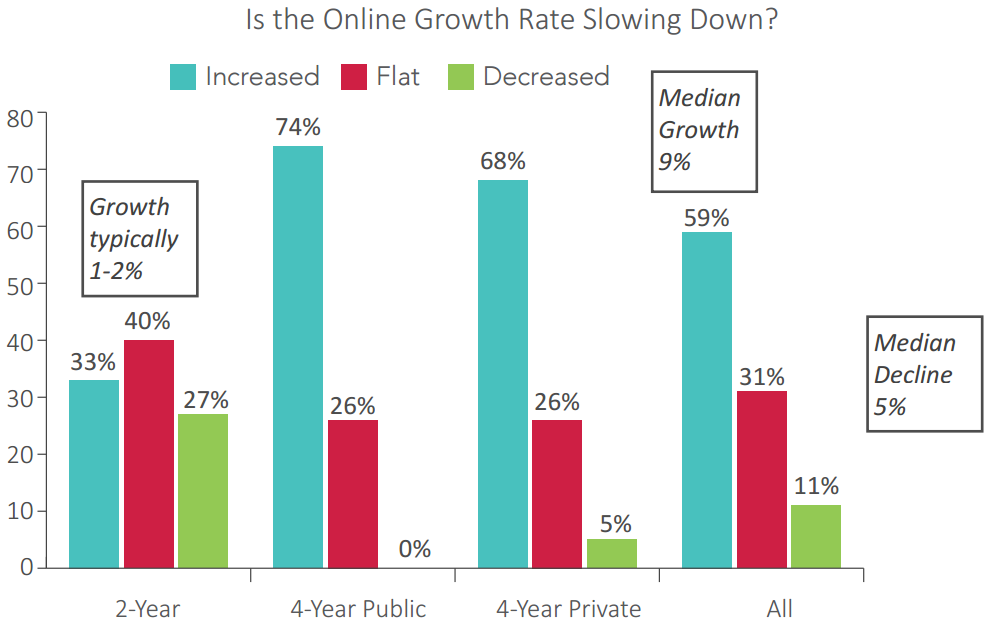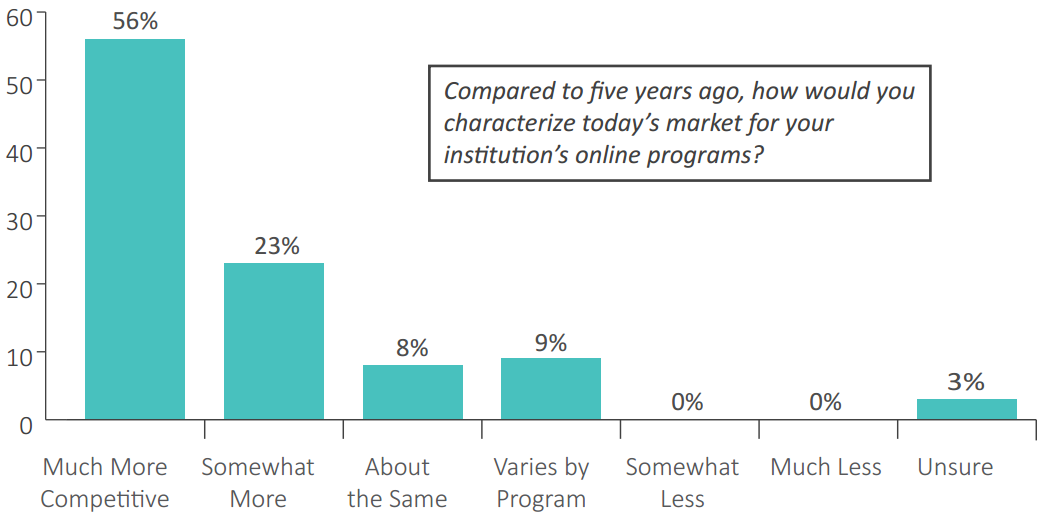 From DSC:
It appears that the concept of "windows of opportunity" is also true with online learning; and the key thing for all community colleges, colleges and universities to reflect upon is that these windows don't stay open forever. 
But another thing is that the world is going increasingly digital/virtual — especially in regards to the increasingly common usage of automation, robotics, and artificial intelligence. Our forms of Human Computer Interaction (HCI) continue to morph (AR, VR, Alexa and other personal assistants, etc.)
So some questions come to my mind:
If one's institution doesn't offer a healthy assortment of online/virtually-based courses in the future, how might that situation impact the public's perception of that particular institution? How might that situation impact recruitment and retention?


.

What's going to happen when online-based learning experiences provide far more personalization, customization, and efficiency than our face-to-face courses can provide? Ask any faculty member speaking to 40-250+ students if they truly know the learning preferences, academic goals, and career goals of any given student — and I'll bet you they have no idea. There's simply not enough time to get to that level of information in many cases, and this situation is only getting tougher to do so. Don't get me wrong. Many people will always prefer to learn in a physical environment, surrounded by other learners. But if the innovations continue to take place in the online learning-based environments, then Clayton Christensen's theories of disruption could prove to be spot on — especially if the most innovative institutions of the future will be able to offer degrees at significantly reduced prices.
On 04/29/2017, in 21st century, algorithms, Amazon, analytics, business, corporate / business world, entrepreneurship, experimentation, face-to-face, ideas, innovation, reading, reinvent, United States, user experience, UX, vendors, workplace, by Daniel Christian
Amazon's new bricks-&-mortar bookstore nails what the web couldn't — from hackernoon.com by Pat Ryan
or
A title from DSC:
How Amazon uses its vast data resources to reinvent the bookstore
Excerpt (emphasis DSC):
Amazon's First Foray into Physical Retail — While Utilitarian — Takes Discovery to New Levels
As a long time city dweller living in a neighborhood full of history, I had mixed feelings about the arrival of Amazon's first bricks-and-mortar bookstore in a city neighborhood (the first four are located in malls). Like most of my neighbors around Chicago's Southport Corridor, I prefer the charm of owner operated boutiques. Yet as a tech entrepreneur who holds Amazon founder Jeff Bezos in the highest esteem, I was excited to see how Amazon would reimagine the traditional bookstore given their customer obsession and their treasure trove of user data. Here's what I discovered…
…
The Bottom Line:
I will still go to Amazon.com for the job of ordering a book that I already know that I want (and to the local Barnes and Noble if I need it today). But when I need to discover a book for gifts (Father's Day is coming up soon enough) or for my own interest, nothing that I have seen compares to Amazon Books. We had an amazing experience and discovered more books in 20 minutes than we had in the past month or two.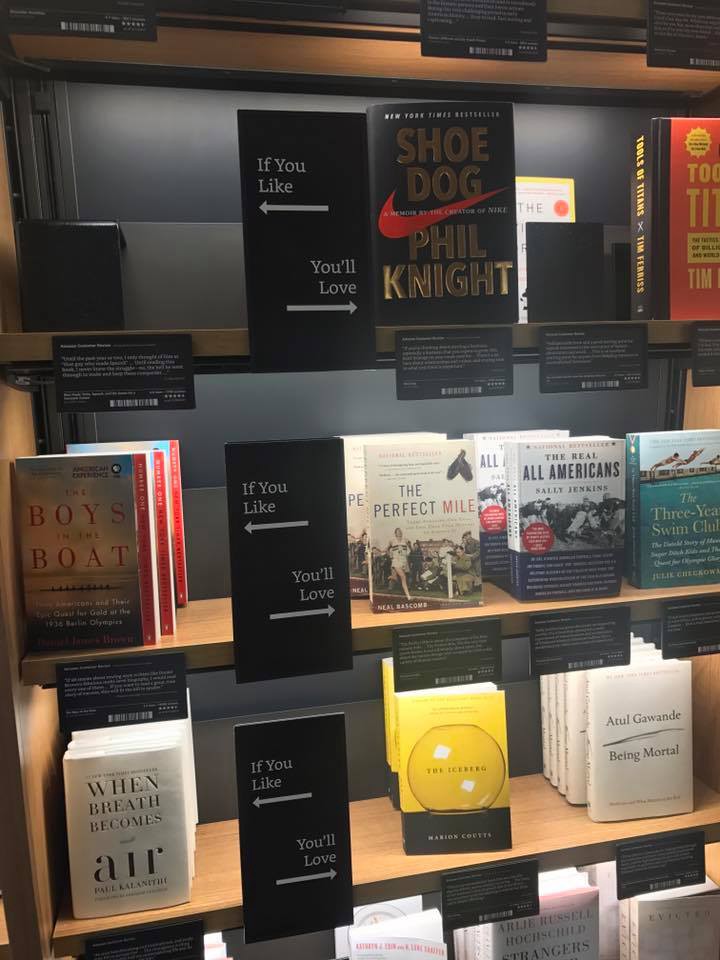 The physical manifestation of the "if you like…then you'll love…"
The ultra metric combining insights from disparate sources seems more compelling than standard best seller lists
On 04/28/2017, in adult learning, business side of he, changing business models, leadership, Lifelong learning, new business models, online learning, strategy, United States, universities, vendors, by Daniel Christian
Purdue University to Acquire Kaplan University — from wsj.com by Douglas Belkin and Melissa Korn
Purdue President Mitch Daniels calls deal major push into online education
Excerpt:
Purdue University, a flagship public institution in Indiana, is jumping into online education by buying for-profit Kaplan University with the aim of creating a new, public online university.
Also see:
Purdue Buys For-Profit Kaplan University for $1 to Create New Kind of Public University — from edsurge.com by Jeffrey R. Young
Excerpt:
It's kind of a head-spinner. Purdue University agreed today to buy one of the largest for-profit universities, Kaplan University, and turn it into a public, non-profit university in the Purdue system. Except that this new public university will apparently operate without state funding (though financial aid will be available to students).
The sale price for Kaplan University's 15 campuses was $1, though with one important catch: The new nonprofit university operated by Purdue promised to give a percentage of its revenue back to its former owner, Kaplan, Inc., for the next 30 years.
---
---
Addendum on 5/3/17:
---
---