On 06/25/2013, in 21st century, Apple, business side of he, cloud-based computing / apps / other cloud-related, cost of getting a degree, Daniel S. Christian, education technology, experimentation, future of higher education, game-changing environment, innovation, by Daniel Christian
4 ways higher ed has changed, post recession — from the Associated Press (via ABC News in this case) by Justin Pope, AP Education Writer
Excerpt:
More urgent. More crowded. More expensive. Also, more flexible and accessible to millions.

That, in a nutshell, is how higher education has changed around the world in the wake of the global financial crisis that struck five years ago, and the Great Recession that followed.

Here's how it happened…
On 06/04/2013, in 21st century, career development, change, corporate / business world, dangers of the status quo, future, global / globalization, innovation, society, workplace, by Daniel Christian
The future of jobs and work — from futurist.com by Glen Hiemstra
.
Also see:
I'd like to thank Canada's George Siemens, Stephen Downes, Alec Couros, and Dave Cormier – as well as David Wiley over at BYU — for being the true pioneers of MOOCs.
I'd like to thank them for their innovative, entrepreneurial spirits and for their hard work in helping others build their own learning ecosystems.  It isn't easy to  be change agents within the realm of higher education.  They have pressed the envelop many times.  Thanks all — and keep up the great work you guys!  (Now can you help integrate IBM's Watson into what MOOCs morph into?! Please…?)
Also I'd like to thank to Audrey Watters over at the Hack Education blog for her recent keynote address at Canada's Ed-Tech Innovation Conference where she minces no words to straighten the record out. It was her article — and Professor Wang's comments from earlier today — that made me realize that I needed to post this item.
On 05/29/2013, in change, changing business models, corporate / business world, dangers of the status quo, Daniel S. Christian, digital learning, elearning, Google, learning ecosystem, MOOCs -- Massive Open Online Courses, more voice more choice more control, online learning, workplace, by Daniel Christian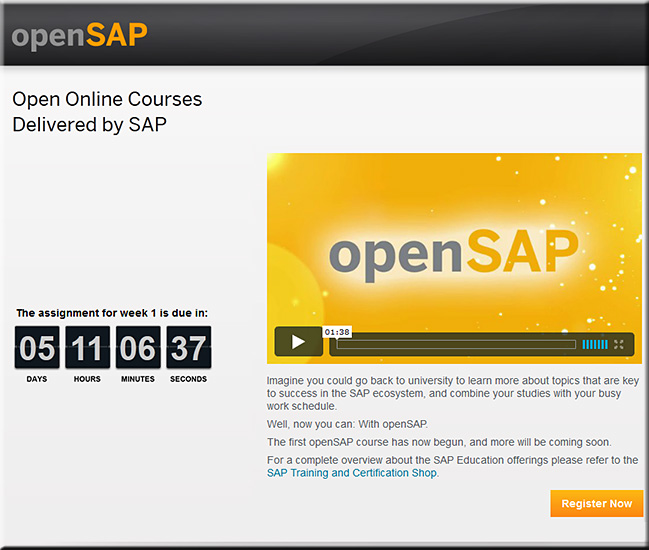 .
SAP launches MOOC style online courseware — from technorati.com by Adi Gaskell
Excerpt:
Last year I looked at the impact of Massive Online Open Courses and other forms of online learning were having on learning in the workplace.
So it's interesting to read that software giant SAP are to launch their own MOOC style platform.
The site, called Open.SAP.com, aims to offer employees and other people interested in the SAP environment, a range of courses on topics that the company believe are key to success in the SAP world.
For instance, the first module available is an introduction to software development on SAP HANA.  SAP recommend that people spend around 5 hours per week for six weeks on the course, which has thus far attracted around 20,000 students.
.
Excerpt (emphasis DSC):
Discover new ways to navigate the world around you with Google Maps and Google Earth.
Improve your use of new and existing features of Google's mapping tools.
Choose your own path. Complete a project using Google Maps, Google Earth, or both, and earn a certificate of completion.
From DSC:
When I first saw the graphs (below) from Mary Meeker's 2012 KPCB Internet Trends Year-End Update — as a technologist — my mind/focus went to the increasing pace of change/adoption of technologies. But another way to view these graphs would be to ask:
What does this say about society's expectations? About society's use of technology?
Are folks willing to wait around as long as they used to? Apparently, not as much these days.

.
.
.
On 04/19/2013, in 21st century, 24x7x365 access, business, business side of he, change, changing business models, dangers of the status quo, education technology, educational games / serious games, elearning, emerging technologies, entrepreneurship, innovation, learning ecosystem, Learning from the Living [Class] Room, New "Amazon.com" of Higher Education, personalized/customized learning, by Daniel Christian
40 years coming, the revolution is here — from gettingsmart.com by Tom Vander Ark
Excerpt:
Moe sees learners creating a "personalized knowledge portfolio," an unbundled sequence of learning experiences from multiple providers.
Moe sees an innovation ecosystem emerging, and calls it KaizenEDU. In this emerging ecosystem, it's the "return on education" that matters. Moe argues the entrepreneurs that help create great learning gains are the ones that will create great shareholder value.
Healthcare gives us a picture of what that could mean for edtech. In 1970 there were 3 companies worth more than $1 billion. Last year, health care made up 13% of U.S. GDP and there were 398 companies with a market cap of more than $1 billion. Education is about 9% of GDP but there are only 5 public companies worth more than $1 billion. The difference is a result of dramatic under investment in R&D, but that's changing!
…
The three emerging areas requiring more attention, according to Shelton, are early learning tools and resources, summer and out of school learning, and course redesign in higher education.