Expanding Bard's understanding of YouTube videos — via AI Valley
What: We're taking the first steps in Bard's ability to understand YouTube videos. For example, if you're looking for videos on how to make olive oil cake, you can now also ask how many eggs the recipe in the first video requires.
Why: We've heard you want deeper engagement with YouTube videos. So we're expanding the YouTube Extension to understand some video content so you can have a richer conversation with Bard about it.
---
Reshaping the tree: rebuilding organizations for AI — from oneusefulthing.org by Ethan Mollick
Technological change brings organizational change.
I am not sure who said it first, but there are only two ways to react to exponential change: too early or too late. Today's AIs are flawed and limited in many ways. While that restricts what AI can do, the capabilities of AI are increasing exponentially, both in terms of the models themselves and the tools these models can use. It might seem too early to consider changing an organization to accommodate AI, but I think that there is a strong possibility that it will quickly become too late.
From DSC:
Readers of this blog have seen the following graphic for several years now, but there is no question that we are in a time of exponential change. One would have had an increasingly hard time arguing the opposite of this perspective during that time.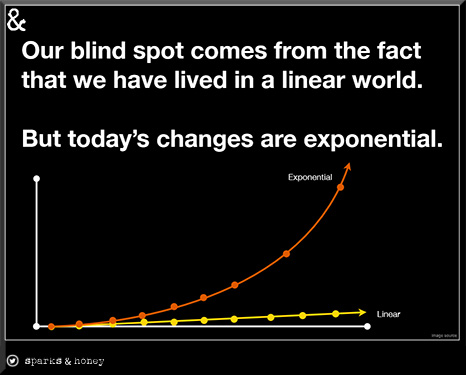 ---
---
---
Nvidia's revenue triples as AI chip boom continues — from cnbc.com by Jordan Novet; via GSV
KEY POINTS
Nvidia's results surpassed analysts' projections for revenue and income in the fiscal fourth quarter.
Demand for Nvidia's graphics processing units has been exceeding supply, thanks to the rise of generative artificial intelligence.
Nvidia announced the GH200 GPU during the quarter.
Here's how the company did, compared to the consensus among analysts surveyed by LSEG, formerly known as Refinitiv:
Earnings: $4.02 per share, adjusted, vs. $3.37 per share expected
Revenue: $18.12 billion, vs. $16.18 billion expected
Nvidia's revenue grew 206% year over year during the quarter ending Oct. 29, according to a statement. Net income, at $9.24 billion, or $3.71 per share, was up from $680 million, or 27 cents per share, in the same quarter a year ago.
---
DC: Anyone surprised? This is why the U.S. doesn't want high-powered chips going to China. History repeats itself…again. The ways of the world/power continue on.

Pentagon's AI initiatives accelerate hard decisions on lethal autonomous weapons https://t.co/PTDmJugiE2

— Daniel Christian (he/him/his) (@dchristian5) November 27, 2023
---