On 08/02/2017, in 21st century, Artificial Intelligence / Machine Learning / Deep Learning, career development, change, computer science, emerging technologies, future, game-changing environment, pace of change, platforms, programming, strategy, user experience (UX), vendors, by Daniel Christian
Report: AI will be in nearly all new software by 2020 — from thejournal.com by Joshua Bolkan
Excerpt:
Artificial intelligence will be in nearly all new software products by 2020 and a top five investment priority for more than 30 percent of chief information officers, according to a new report from Gartner.
…
The company lists three keys to successfully exploiting AI technologies over the next few years:
Many vendors are "AI washing" their products, or applying the term artificial intelligence to tools that don't really merit it. Vendors should use the term wisely and be clear about what differentiates their AI products and what problems they solve;
Forego more complicated or cutting-edge AI techniques in favor of simpler, proven approaches; and
Organizations do not have the skills to evaluate, build or deploy AI and are looking for embedded or packaged AI rather than custom building their own.
On 07/27/2017, in Australia, Canada, career development, change, corporate / business world, economics, Europe, future, game-changing environment, global / globalization, Google, professional development, training / L&D, trends, vendors, workplace, by Daniel Christian
Making the future work for everyone — from blog.google by Jacquelline Fuller
Excerpt:
Help ensure training is as effective and as wide-reaching as possible.
Millions are spent each year on work skills and technical training programs, but there isn't much visibility into how these programs compare, or if the skills being taught truly match what will be needed in the future. So some of our funding will go into research to better understand which trainings will be most effective in getting the most people the jobs of the future. Our grantee Social Finance is looking at which youth training programs most effectively use contributions from trainees, governments and future employers to give people the best chance of
success.
Helping prepare for the future of work — from google.org
Work is changing. That's why Google.org is committing $50 million to support nonprofits that are expanding economic opportunity for everyone.
Excerpt (emphasis DSC):
The way we work is changing. As new technologies continue to unfold in the workplace, more than a third of jobs are likely to require skills that are uncommon in today's workforce. Workers are increasingly working independently. Demographic changes and shifts in labor participation in developed countries will mean future generations will find new ways to sustain economic growth. These changes create opportunities to think about how work can continue to be a source of not just income, but purpose and meaning for individuals and communities.Technology can help seize these opportunities. We recently launched Google for Jobs, which is designed to help better connect people to jobs, and today we're announcing Google.org's $50 million commitment to help people prepare for the changing nature of work. We'll support nonprofits who are taking innovative approaches to tackling this challenge in three ways: (1) training people with the skills they need, (2) connecting job-seekers with positions that match their skills and talents, and (3) supporting workers in low-wage employment. We'll start by focusing on the US, Canada, Europe, and Australia, and hope to expand to other countries over time.
On 07/22/2017, in 21st century, adult learning, attention, augmented reality, career development, corporate / business world, corporate universities / corporate training, digital learning, education technology, emerging technologies, engagement / engaging students, future, game-changing environment, human-computer interaction (HCI), learning, learning ecosystem, Lifelong learning, platforms, productivity / tips and tricks, professional development, tools, training / L&D, trends, user experience (UX), workplace, by Daniel Christian
4 ways augmented reality could change corporate training forever –from by Jay Samit
Excerpt:
In the coming years, machine learning and augmented reality will likely take both educational approaches to the next level by empowering workers to have the latest, most accurate information available in context, when and where they need it most.
Here are four ways that digital reality can revolutionize corporate training…
…augmented reality (AR) is poised not only to address issues faced by our aging workforce, but to fundamentality increase productivity by changing how all employees are trained in the future.
On 07/22/2017, in 21st century, algorithms, Amazon, Apple, Artificial Intelligence / Machine Learning / Deep Learning, bots, business, career development, change, cloud-based computing / apps / other cloud-related, cognitive computing, colleges, community colleges, computer science, emerging technologies, Facebook, future, game-changing environment, Google, IBM, ideas, innovation, intelligent systems, intelligent tutoring, IT in HE, MBA, new business models, platforms, productivity / tips and tricks, society, tools, trends, universities, vendors, workplace, by Daniel Christian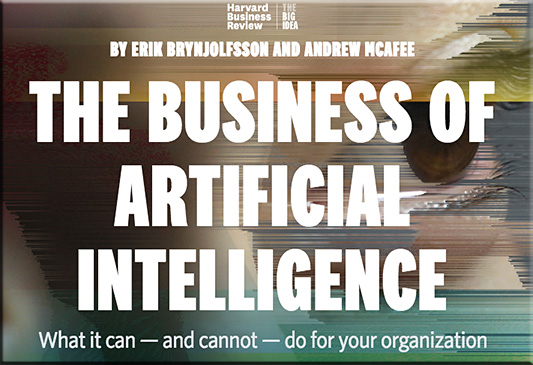 The Business of Artificial Intelligence — from hbr.org by Erik Brynjolfsson & Andrew McAfee
Excerpts (emphasis DSC):
The most important general-purpose technology of our era is artificial intelligence, particularly machine learning (ML) — that is, the machine's ability to keep improving its performance without humans having to explain exactly how to accomplish all the tasks it's given. Within just the past few years machine learning has become far more effective and widely available. We can now build systems that learn how to perform tasks on their own.
Why is this such a big deal? Two reasons. First, we humans know more than we can tell: We can't explain exactly how we're able to do a lot of things — from recognizing a face to making a smart move in the ancient Asian strategy game of Go. Prior to ML, this inability to articulate our own knowledge meant that we couldn't automate many tasks. Now we can.
Second, ML systems are often excellent learners. They can achieve superhuman performance in a wide range of activities, including detecting fraud and diagnosing disease. Excellent digital learners are being deployed across the economy, and their impact will be profound.
In the sphere of business, AI is poised have a transformational impact, on the scale of earlier general-purpose technologies. Although it is already in use in thousands of companies around the world, most big opportunities have not yet been tapped. The effects of AI will be magnified in the coming decade, as manufacturing, retailing, transportation, finance, health care, law, advertising, insurance, entertainment, education, and virtually every other industry transform their core processes and business models to take advantage of machine learning. The bottleneck now is in management, implementation, and business imagination.
…
The machine learns from examples, rather than being explicitly programmed for a particular outcome.
Let's start by exploring what AI is already doing and how quickly it is improving. The biggest advances have been in two broad areas: perception and cognition. …For instance, Aptonomy and Sanbot, makers respectively of drones and robots, are using improved vision systems to automate much of the work of security guards. 
Machine learning is driving changes at three levels: tasks and occupations, business processes, and business models. 
You may have noticed that Facebook and other apps now recognize many of your friends' faces in posted photos and prompt you to tag them with their names.