On 01/04/2022, in attention, Augmented Reality (AR), content development, corporate / business world, corporate universities / corporate training, creativity, digital learning, digital storytelling, Emotion, engagement / engaging students, experimentation, immersion, India, instructional design, learning, learning ecosystem, Learning Experience Design, love of learning, microlearning, mobile learning, multi-touch, personalized/customized learning, simulations, skills, story, storytelling, training / L&D, Virtual Reality (VR) / worlds / learning, XR - extended reality, by Daniel Christian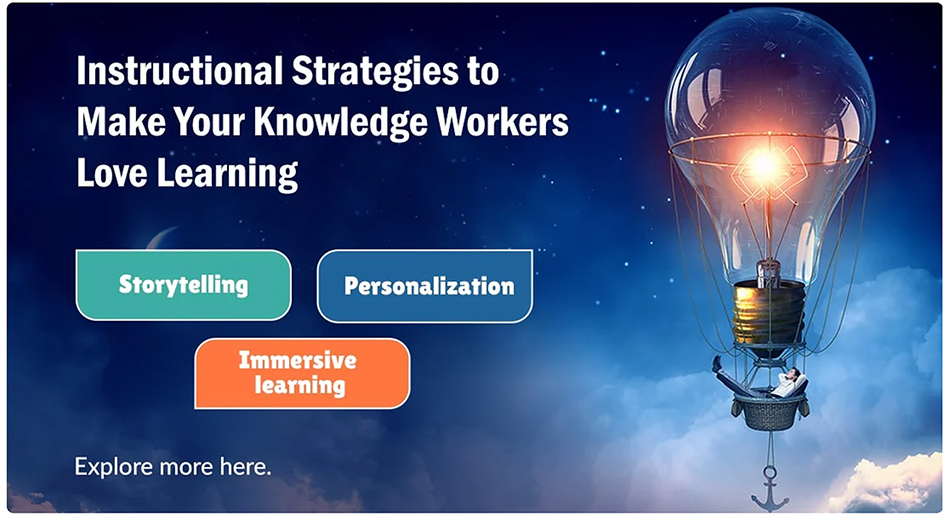 Instructional strategies to make your knowledge workers love learning — from blog.commlabindia.com
Excerpt:
As a training manager, you need to step up your game to cater to the corporate training needs of these thinkers. Functional and creative instructional strategies should be used to engage learners and offer sticky learning, in the classroom and online. The strategies need to involve learners emotionally, offer an experiential set up, and appeal to their creative side.
On 12/16/2021, in Adobe, art, business, communities of practice, content development, design, digital audio, digital photography, digital storytelling, digital video, engagement / engaging students, graphics, by Daniel Christian
Adobe's Creative Cloud Express brings content editing to the masses — from protocol.com by Lizzy Lawrence
It's competing directly with Canva, a template-builder for non-professionals.
Excerpt:
Historically, Adobe's software was made for the pros. Applications like Photoshop, Illustrator and Premiere Pro all require a paid Creative Cloud subscription and a certain level of expertise. But with Monday's launch of Creative Cloud Express, Adobe is targeting anyone who might find graphic design useful: small businesses, students and social media influencers.
Also see:
Also see:
On 12/13/2021, in 21st century, 24x7x365 access, A/V -- audio/visual, art, colleges, community colleges, content development, culture, Daniel S. Christian, digital audio, digital learning, digital video, drama/theater, education technology, engagement / engaging students, experimentation, higher education, history, ideas, instructional design, languages and translation, learning, learning ecosystem, Learning Experience Design, Learning from the Living [Class] Room, learning hubs & pods, learning preferences, learning spaces, liberal arts, library / librarians, lifelong learning, love of learning, MOOCs -- Massive Open Online Courses, music, New "Amazon.com" of Higher Education, new business models, online learning, participation, platforms, religion, society, United States, universities, user experience (UX), vendors, videoconferencing, vision/possibilities, web-based collaboration, webinars, writing, by Daniel Christian
The Humanities May Be Declining at Universities — But They're Thriving on Zoom — from edsurge.com by Rebecca Koenig
Excerpt:
Throughout the pandemic, versions of this close-reading conversation have taken place week after week. Organized through new nonprofits and small startups including the Catherine Project, Night School Bar and Premise, they bring together adults who want to spend their free time talking to strangers about literature and philosophy.
It sounds at first like an ambitious book club—except for the fact that many of these seminars are organized and led by college professors, some so eager to participate that they do it for free.
"Mostly it's a way for them to do a kind of teaching they can't do at their regular jobs," explains Zena Hitz, founder of the Catherine Project and a tutor (faculty member) at St. John's College in Annapolis, Maryland.
From DSC:
I've often thought that online-based learning may be the thing that saves the liberal arts (i.e., available throughout one's lifetime and would be far less expensive). It would be ironic though, as many liberal arts institutions have not been proponents of online-based learning.