On 06/21/2019, in biology, chemistry, colleges, communications, communities of practice, community colleges, creativity, Daniel S. Christian, design, education, education technology, engineering, faculty, Graphics, higher education, ideas, innovation, instructional design, journalism, mathematics, productivity / tips and tricks, research, science, society, universities, usability, user experience (UX), user interface design, vision, by Daniel Christian
Research Posters Are a Staple of Academic Conferences. Could a New Design Speed Discovery? — from edsurge.com by Jeff Young
Excerpts:
Scholars around the world share their latest research findings with a decidedly low-tech ritual: printing a 48-inch by 36-inch poster densely packed with charts, graphs and blocks of text describing their research hypothesis, methods and findings. Then they stand with the poster in an exhibit hall for an hour, surrounded by rows of other researchers presenting similar posters, while hundreds of colleagues from around the world walk by trying to skim the displays.
…
Not only does the exercise deflate the morale of the scholars sharing posters, the ritual is incredibly inefficient at communicating science, Morrison argues.
…
Morrison says he has a solution: A better design for those posters, plus a dash of tech.
To make up for all the nuance and detail lost in this approach, the template includes a QR code that viewers can scan to get to the full research paper.
From DSC:
Wouldn't this be great if more journal articles would do the same thing?  That is, give us the key findings, conclusions (with some backbone to them), and recommendations right away! Abstracts don't go far enough, and often scholars/specialists are talking amongst themselves…not to the world. They could have a far greater reach/impact with this kind of approach.
(The QR code doesn't make as much sense if one is already reading the full journal article…but the other items make a great deal of sense!)
On 04/12/2019, in architecture, art, creativity, digital learning, digital textbooks, Graphics, tools, usability, user experience (UX), user interface design, vendors, by Daniel Christian
Helvetica, the world's most famous typeface, gets a makeover — from fastcompany.com by Mark Wilson
Helvetica is one of the most popular typefaces on the planet. Here's why Monotype decided to remake it.
Excerpt:
Helvetica Now is the product of two dozen type designers, and when you see everything it can do, you'll see why. First and foremost, Helvetica Now offers three separate "masters" (or three separate Helvetica variations) for various use cases. Its "Micro" version is for small screens. "Display" is for signage. And "Text" is for more standard sizes in written materials. Each of these options will cause the letters to be both drawn and spaced differently.
Also see:
Bauhaus architecture and design from A to Z — from dezeen.com by Tom Ravenscroft
Excerpt:
To conclude our Bauhaus 100 series, celebrating the centenary of the hugely influential design school, we round out everything you need to know about the Bauhaus, from A to Z.
On 09/22/2018, in 21st century, 24x7x365 access, A/V -- audio/visual, algorithms, Amazon, Artificial Intelligence / Machine Learning / Deep Learning, bots, communications, computer science, corporate / business world, digital audio, emerging technologies, future, human-computer interaction (HCI), innovation, intelligent systems, internet, Microsoft, Natural Language Processing (NLP), platforms, programming, Technologies for your home, telecommunications, tools, trends, United States, usability, user experience (UX), user interface design, vendors, voice recognition / voice enabled interfaces, Walmart of Education --> New Amazon.com of Higher Education, web-based collaboration, by Daniel Christian
Skype chats are coming to Alexa devices — from engadget.com by Richard Lawlor
Voice controlled internet calls to or from any device with Amazon's system in it.
Excerpt:
Aside from all of the Alexa-connected hardware, there's one more big development coming for Amazon's technology: integration with Skype. Microsoft and Amazon said that voice and video calls via the service will come to Alexa devices (including Microsoft's Xbox One) with calls that you can start and control just by voice.
Amazon Hardware Event 2018
From techcrunch.com

Echo HomePod? Amazon wants you to build your own — by Brian Heater
One of the bigger surprises at today's big Amazon event was something the company didn't announce. After a couple of years of speculation that the company was working on its own version of the Home…
The long list of new Alexa devices Amazon announced at its hardware event — by Lucas Matney
Everyone's favorite trillion-dollar retailer hosted a private event today where they continued to…
Amazon introduces APL, a new design language for building Alexa skills for devices with screensSarah Perez
Along with the launch of the all-new Echo Show, the Alexa-powered device with a screen, Amazon also introduced a new design language for developers who want to build voice skills that include multimedia…
Excerpt:
Called Alexa Presentation Language, or APL, developers will be able to build voice-based apps that also include things like images, graphics, slideshows and video, and easily customize them for different device types – including not only the Echo Show, but other Alexa-enabled devices like Fire TV, Fire Tablet, and the small screen of the Alexa alarm clock, the Echo Spot.
From DSC:
This is a great move by Amazon — as NLP and our voices become increasingly important in how we "drive" and utilize our computing devices.
Amazon's new Echo lineup targets Google, Apple and Sonos — from engadget.com by Nicole Lee
Alexa, dominate the industry.
The business plan from here is clear: Companies pay a premium to be activated when users pose questions related to their products and services. "How do you cook an egg?" could pull up a Food Network tutorial; "How far is Morocco?" could enable the Expedia app.

Also see how Alexa might be a key piece of smart classrooms in the future: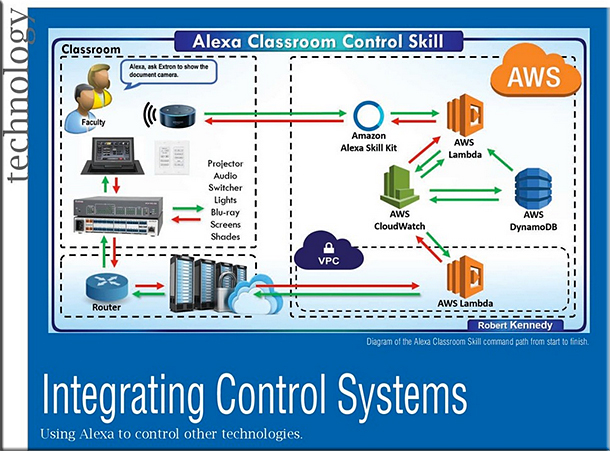 On 08/31/2018, in algorithms, Artificial Intelligence / Machine Learning / Deep Learning, computer science, human-computer interaction (HCI), ideas, innovation, intelligent systems, interaction design, interface design, Microsoft, productivity / tips and tricks, tools, user interface design, vendors, web design and production, by Daniel Christian
Microsoft's AI-powered Sketch2Code builds websites and apps from drawings — from alphr.com by Bobby Hellard
Microsoft Released on GitHub, Microsoft's AI-powered developer tool can shave hours off web and app building
Excerpt:
Microsoft has developed an AI-powered web design tool capable of turning sketches of websites into functional HTML code.
Called Sketch2Code, Microsoft AI's senior product manager Tara Shankar Jana explained that the tool aims to "empower every developer and every organisation to do more with AI". It was born out of the "intrinsic" problem of sending a picture of a wireframe or app designs from whiteboard or paper to a designer to create HTML prototypes.
On 08/28/2018, in A/V -- audio/visual, Adobe, augmented reality, corporate / business world, corporate universities / corporate training, elearning, emerging technologies, engagement / engaging students, health, human-computer interaction (HCI), ideas, immersion, Media/film, Microsoft, Mixed reality, platforms, robotics, society, tools, training / L&D, user experience (UX), user interface design, vendors, virtual reality / worlds / learning, workplace, XR - extended reality, by Daniel Christian
Adobe Announces the 2019 Release of Adobe Captivate, Introducing Virtual Reality for eLearning Design — from theblog.adobe.com
Excerpt:
Immersive learning with VR experiences: Design learning scenarios that your learners can experience in Virtual Reality using VR headsets. Import 360° media assets and add hotspots, quizzes and other interactive elements to engage your learners with near real-life scenarios
Interactive videos: Liven up demos and training videos by making them interactive with the new Adobe Captivate. Create your own or bring in existing YouTube videos, add questions at specific points and conduct knowledge checks to aid learner remediation
Fluid Boxes 2.0: Explore the building blocks of Smart eLearning design with intelligent containers that use white space optimally. Objects placed in Fluid Boxes get aligned automatically so that learners always get fully responsive experience regardless of their device or browser.
360° learning experiences: Augment the learning landscape with 360° images and videos and convert them into interactive eLearning material with customizable overlay items such as information blurbs, audio content & quizzes.
Blippar unveils indoor visual positioning system to anchor AR — from martechtoday.com by Barry Levine
Employing machine vision to recognize mapped objects, the company says it can determine which way a user is looking and can calculate positioning down to a centimeter.
The Storyteller's Guide to the Virtual Reality Audience — from medium.com by Katy Newton
Excerpt:
To even scratch the surface of these questions, we need to better understand the audience's experience in VR — not just their experience of the technology, but the way that they understand story and their role within it.
Hospital introducing HoloLens augmented reality into the operating room — from medgadget.com
Excerpt:
HoloLens technology is being paired with Microsoft's Surface Hub, a kind of digital whiteboard. The idea is that the surgical team can gather together around a Surface Hub to review patient information, discuss the details of a procedure, and select what information should be readily accessible during surgery. During the procedure, a surgeon wearing a HoloLens would be able to review a CT or MRI scan, access other data in the electronic medical records, and to be able to manipulate these so as to get a clear picture of what is being worked on and what needs to be done.
Raleigh Fire Department invests in virtual reality to enrich training — from vrfocus.com by Nikholai Koolon
New system allows department personnel to learn new skills through immersive experiences.
Excerpt:
The VR solution allows emergency medical services (EMS) personnel to dive into a rich and detailed environment which allows them to pinpoint portions of the body to dissect. This then allows them then see each part of the body in great detail along with viewing it from any angle. The goal is to allow for users to gain the experience to diagnose injuries from a variety of vantage points all where working within an virtual environment capable of displaying countless scenarios.
For another emerging technology, see:
Someday this tiny spider bot could perform surgery inside your body — from fastcompany.com by Jesus Diaz
The experimental robots could also fix airplane engines and find disaster victims.
Excerpt:
A team of Harvard University researchers recently achieved a major breakthrough in robotics, engineering a tiny spider robot using tech that could one day work inside your body to repair tissues or destroy tumors. Their work could not only change medicine–by eliminating invasive surgeries–but could also have an impact on everything from how industrial machines are maintained to how disaster victims are rescued.
Until now, most advanced, small-scale robots followed a certain model: They tend to be built at the centimeter scale and have only one degree of freedom, which means they can only perform one movement. Not so with this new 'bot, developed by scientists at Harvard's Wyss Institute for Biologically Inspired Engineering, the John A. Paulson School of Engineering and Applied Sciences, and Boston University. It's built at the millimeter scale, and because it's made of flexible materials–easily moved by pneumatic and hydraulic power–the critter has an unprecedented 18 degrees of freedom.
---
Plus some items from a few weeks ago
---
After almost a decade and billions in outside investment, Magic Leap's first product is finally on sale for $2,295. Here's what it's like. — from
Excerpts (emphasis DSC):
I liked that it gave a new perspective to the video clip I'd watched: It threw the actual game up on the wall alongside the kind of information a basketball fan would want, including 3-D renderings and stats. Today, you might turn to your phone for that information. With Magic Leap, you wouldn't have to.
…
Abovitz also said that intelligent assistants will play a big role in Magic Leap's future. I didn't get to test one, but Abovitz says he's working with a team in Los Angeles that's developing high-definition people that will appear to Magic Leap users and assist with tasks. Think Siri, Alexa or Google Assistant, but instead of speaking to your phone, you'd be speaking to a realistic-looking human through Magic Leap. Or you might be speaking to an avatar of someone real.
"You might need a doctor who can come to you," Abovitz said. "AI that appears in front of you can give you eye contact and empathy."
And I loved the idea of being able to place a digital TV screen anywhere I wanted.
Magic Leap One Available For Purchase, Starting At $2,295 — from vrscout.com by Kyle Melnick
Excerpt:
December of last year U.S. startup Magic Leap unveiled its long-awaited mixed reality headset, a secretive device five years and $2.44B USD in the making.
This morning that same headset, now referred to as the Magic Leap One Creator Edition, became available for purchase in the U.S. On sale to creators at a hefty starting price of $2,275, the computer spatial device utilizes synthetic lightfields to capture natural lightwaves and superimpose interactive, 3D content over the real-world.
Magic Leap One First Hands-On Impressions for HoloLens Developers — from magic-leap.reality.news
Excerpt:
After spending about an hour with the headset running through set up and poking around its UI and a couple of the launch day apps, I thought it would be helpful to share a quick list of some of my first impressions as someone who's spent a lot of time with a HoloLens over the past couple years and try to start answering many of the burning questions I've had about the device.
World Campus researches effectiveness of VR headsets and video in online classes — from news.psu.edu
Excerpt:
UNIVERSITY PARK, Pa. — Penn State instructional designers are researching whether using virtual reality and 360-degree video can help students in online classes learn more effectively.
Designers worked with professors in the College of Nursing to incorporate 360-degree video into Nursing 352, a class on Advanced Health Assessment. Students in the class, offered online through Penn State World Campus, were offered free VR headsets to use with their smartphones to create a more immersive experience while watching the video, which shows safety and health hazards in a patient's home.
Bill Egan, the lead designer for the Penn State World Campus RN to BSN nursing program, said students in the class were surveyed as part of a study approved by the Institutional Review Board and overwhelmingly said that they enjoyed the videos and thought they provided educational value. Eighty percent of the students said they would like to see more immersive content such as 360-degree videos in their online courses, he said.
7 Practical Problems with VR for eLearning — from learnupon.com
Excerpt:
In this post, we run through some practical stumbling blocks that prevent VR training from being feasible for most.
…
There are quite a number of practical considerations which prevent VR from totally overhauling the corporate training world. Some are obvious, whilst others only become apparent after using the technology a number of times. It's important to be made aware of these limitations so that a large investment isn't made in tech that isn't really practical for corporate training.
Augmented reality – the next big thing for HR? — from hrdconnect.com
Augmented reality (AR) could have a huge impact on HR, transforming long-established processes into engaging and exciting something. What will this look like? How can we shape this into our everyday working lives?
Excerpt (emphasis DSC):
AR also has the potential to revolutionise our work lives, changing the way we think about office spaces and equipment forever.
Most of us still commute to an office every day, which can be a time-consuming and stressful experience. AR has the potential to turn any space into your own customisable workspace, complete with digital notes, folders and files – even a digital photo of your loved ones. This would give you access to all the information and tools that you would typically find in an office, but wherever and whenever you need them.
And instead of working on a flat, stationary, two-dimensional screen, your workspace would be a customisable three-dimensional space, where objects and information are manipulated with gestures rather than hardware. All you would need is an AR headset.
AR could also transform the way we advertise brands and share information. Imagine if your organisation had an AR stand at a conference – how engaging would that be for potential customers? How much more interesting and fun would meetings be if we used AR to present information instead of slides on a projector?
AR could transform the on-boarding experience into something fun and interactive – imagine taking an AR tour of your office, where information about key places, company history or your new colleagues pops into view as you go from place to place. 
RETINA Are Bringing Augmented Reality To Air Traffic Control Towers — from vrfocus.com by Nikholai Koolonavi
Excerpt:
A new project is aiming to make it easier for staff in airport control towers to visualize information to help make their job easier by leveraging augmented reality (AR) technology. The project, dubbed RETINA, is looking to modernise Europe's air traffic management for safer, smarter and even smoother air travel.