On 03/16/2023, in 21st century, 24x7x365 access, Artificial Intelligence / Machine Learning / Deep Learning / Algorithms, change, education, education technology, emerging technologies, engagement / engaging students, experimentation, future, game-changing environment, human-computer interaction (HCI), ideas, innovation, instructional design, intelligent systems, intelligent tutoring, languages and translation, learning, learning ecosystem, Learning Experience Design, Learning from the Living [Class] Room, learning preferences, vendors, by Daniel Christian
HOW DUOLINGO'S AI LEARNS WHAT YOU NEED TO LEARN — from spectrum.ieee.org by Klinton Bicknell, Claire Brust, and Burr Settles
The AI that powers the language-learning app today could disrupt education tomorrow
Excerpt:
It's lunchtime when your phone pings you with a green owl who cheerily reminds you to "Keep Duo Happy!" It's a nudge from Duolingo, the popular language-learning app, whose algorithms know you're most likely to do your 5 minutes of Spanish practice at this time of day. The app chooses its notification words based on what has worked for you in the past and the specifics of your recent achievements, adding a dash of attention-catching novelty. When you open the app, the lesson that's queued up is calibrated for your skill level, and it includes a review of some words and concepts you flubbed during your last session.
The AI systems we continue to refine are necessary to scale the learning experience beyond the more than 50 million active learners who currently complete about 1 billion exercises per day on the platform.
Although Duolingo is known as a language-learning app, the company's ambitions go further. We recently launched apps covering childhood literacy and third-grade mathematics, and these expansions are just the beginning. We hope that anyone who wants help with academic learning will one day be able to turn to the friendly green owl in their pocket who hoots at them, "Ready for your daily lesson?"
---
Also relevant/see:
Duolingo turned to OpenAI's GPT-4 to advance the product with two new features: Role Play, an AI conversation partner, and Explain my Answer, which breaks down the rules when you make a mistake, in a new subscription tier called Duolingo Max. 

"We wanted AI-powered features that were deeply integrated into the app and leveraged the gamified aspect of Duolingo that our learners love," says Bodge.
---
Also relevant/see:
The following is a quote from Donald Clark's posting on LinkedIn.com today:
The whole idea of AI as a useful teacher is here. Honestly it's astounding. They have provided a Socratic approach to an algebra problem that is totally on point. Most people learn in the absence of a teacher or lecturer. They need constant scaffolding, someone to help them move forward, with feedback. This changes our whole relationship with what we need to know, and how we get to know it. Its reasoning ability is also off the scale.

We now have human teachers, human learners but also AI teachers and AI that learns. It used to be a diad, it is now a tetrad – that is the basis of the new pedAIgogy.

Personalised, tutor-led learning, in any subject, anywhere, at any time for anyone. That has suddenly become real.
Also relevant/see:
Introducing Duolingo Max, a learning experience powered by GPT-4 — from blog.duolingo.com
Excerpts:
We believe that AI and education make a great duo, and we've leveraged AI to help us deliver highly-personalized language lessons, affordable and accessible English proficiency testing, and more. Our mission to make high-quality education available to everyone in the world is made possible by advanced AI technology.

Explain My Answer offers learners the chance to learn more about their response in a lesson (whether their answer was correct or incorrect!)
…
Roleplay allows learners to practice real-world conversation skills with world characters in the app.
On 03/16/2023, in Artificial Intelligence / Machine Learning / Deep Learning / Algorithms, business, content development, aggregation, repositories, corporate / business world, corporate universities / corporate training, experimentation, future, human-computer interaction (HCI), ideas, innovation, instructional design, intelligent systems, intelligent tutoring, learning ecosystem, Learning Experience Design, multimedia, training / L&D, workplace, by Daniel Christian
Six Important Disciplines for Using AI in Learning & Development — from linkedin.com by Josh Cavalier
Excerpts (emphasis DSC):
In practice, L&D professionals must responsibly use AI-based tools. AI outputs that introduce bias or falsehoods may adversely affect the learning process of individual associates as well as the company's overall efficiency. A human must review all content before being implemented in a learning solution.
…
AI will revolutionize corporate learning and development because of the ability to analyze and process large amounts of data. These capabilities will enable learners to acquire knowledge and skills more efficiently while providing personalized learning pathways customized to their current skill levels and goals.
For example, AI-powered chatbots can provide immediate feedback to front-line sales looking for specific client solutions or trying to learn about new products. By fine-tuning models, AI can ingest vendor opportunities and dynamically priced products at scale, allowing a sales team to focus on data-driven solutions for their customers.
The creation of educational media will be automated through generative AI, including training videos, podcasts, and, eventually, eLearning courses. This new reality will level the playing field for instructional designers needing more media creation skills, ultimately allowing Learning & Development to create personalized, immersive learning experiences representing the entire learning journey. 
---
Also relevant/see:
How artificial intelligence can support knowledge management in organizations — from realkm.com by Bruce Boyes
Examples of use cases:
Forecast sales probabilities
Discover organization inefficiencies by analyzing CRM records
Organize and summarize legal precedents relevant to a new case
Retrieve dispersed nuggets of information related to a troubleshooting situation
Facilitate feedback and peer review on communication systems (e.g., Slack)
Facilitate real-time smart sharing between marketing channels and sales pipelines
Find and apply question-answer pairs in online manuals to manage service knowledge
Provide more human-centered and accessible applications of knowledge through chatbots
---
On 03/06/2023, in 21st century, 24x7x365 access, Artificial Intelligence / Machine Learning / Deep Learning / Algorithms, bots, change, Daniel S. Christian, emerging technologies, experimentation, future, hearts -- matters of the heart, innovation, intelligent systems, learning ecosystem, lifelong learning, more voice more choice more control, relationships, research, robotics, society, sociology, surviving, the downsides of technology, tools, workplace, by Daniel Christian
How ChatGPT is going to change the future of work and our approach to education — from livemint.com
From DSC: 
I thought that the article made a good point when it asserted:
The pace of technological advancement is booming aggressively and conversations around ChatGPT snatching away jobs are becoming more and more frequent. The future of work is definitely going to change and that makes it clear that the approach toward education is also demanding a big shift.
…
A report from Dell suggests that 85% of jobs that will be around in 2030 do not exist yet. The fact becomes important as it showcases that the jobs are not going to vanish, they will just change and most of the jobs by 2030 will be new.
The Future of Human Agency — from pewresearch.org by Janna Anderson and Lee Rainie
Excerpt:
Thus the question: What is the future of human agency? Pew Research Center and Elon University's Imagining the Internet Center asked experts to share their insights on this; 540 technology innovators, developers, business and policy leaders, researchers, academics and activists responded. Specifically, they were asked:
By 2035, will smart machines, bots and systems powered by artificial intelligence be designed to allow humans to easily be in control of most tech-aided decision-making that is relevant to their lives?
The results of this nonscientific canvassing:
56% of these experts agreed with the statement that by 2035 smart machines, bots and systems will not be designed to allow humans to easily be in control of most tech-aided decision-making.
44% said they agreed with the statement that by 2035 smart machines, bots and systems will be designed to allow humans to easily be in control of most tech-aided decision-making.
What are the things humans really want agency over? When will they be comfortable turning to AI to help them make decisions? And under what circumstances will they be willing to outsource decisions altogether to digital systems?
The next big threat to AI might already be lurking on the web — from zdnet.com by Danny Palmer; via Sam DeBrule
Artificial intelligence experts warn attacks against datasets used to train machine-learning tools are worryingly cheap and could have major consequences.
Excerpts:
Data poisoning occurs when attackers tamper with the training data used to create deep-learning models. This action means it's possible to affect the decisions that the AI makes in a way that is hard to track.
By secretly altering the source information used to train machine-learning algorithms, data-poisoning attacks have the potential to be extremely powerful because the AI will be learning from incorrect data and could make 'wrong' decisions that have significant consequences.
Why AI Won't Cause Unemployment — from pmarca.substack.com by Marc Andreessen
Excerpt:
Normally I would make the standard arguments against technologically-driven unemployment — see good summaries by Henry Hazlitt (chapter 7) and Frédéric Bastiat (his metaphor directly relevant to AI). And I will come back and make those arguments soon. But I don't even think the standand arguments are needed, since another problem will block the progress of AI across most of the economy first.
Which is: AI is already illegal for most of the economy, and will be for virtually all of the economy.
How do I know that? Because technology is already illegal in most of the economy, and that is becoming steadily more true over time.
How do I know that? Because: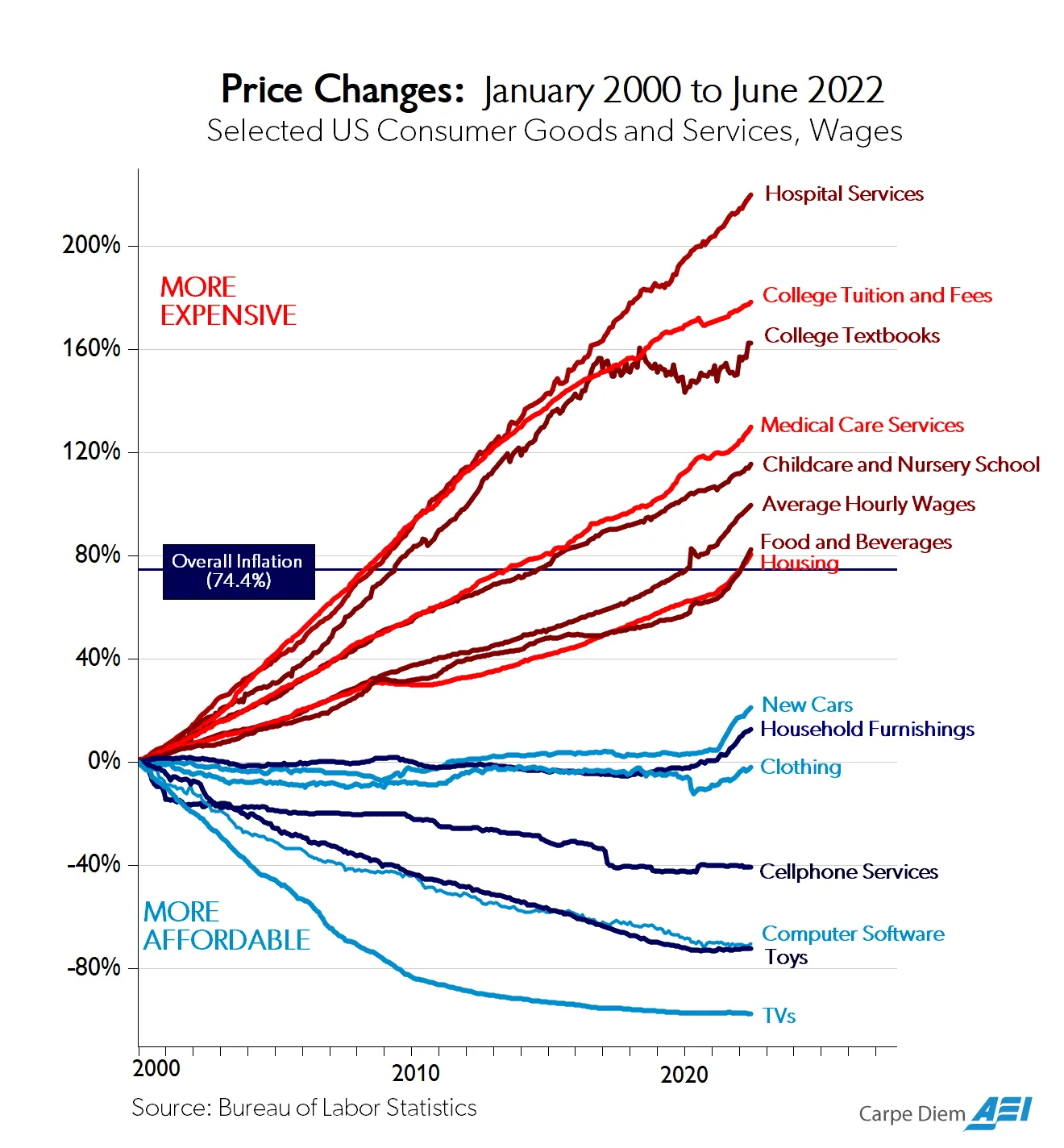 ---
From DSC:
And for me, it boils down to an inconvenient truth: What's the state of our hearts and minds?
AI, ChatGPT, Large Language Models (LLMs), and the like are tools. How we use such tools varies upon what's going on in our hearts and minds. A fork can be used to eat food. It can also be used as a weapon. I don't mean to be so blunt, but I can't think of another way to say it right now.
Do we care about one another…really?

Has capitalism gone astray?

Have our hearts, our thinking, and/or our mindsets gone astray?

Do the products we create help or hurt others? It seems like too many times our perspective is, "We will sell whatever they will buy, regardless of its impact on others — as long as it makes us money and gives us the standard of living that we want." Perhaps we could poll some former executives from Philip Morris on this topic.
Or we will develop this new technology because we can develop this new technology. Who gives a rat's tail about the ramifications of it?
---
On 02/28/2023, in 21st century, 24x7x365 access, adult learning, business, change, corporate / business world, corporate universities / corporate training, ideas, innovation, instructional design, intelligent systems, learning, learning agents, learning ecosystem, Learning Experience Design, Learning from the Living [Class] Room, training / L&D, workplace, by Daniel Christian
Donald Clark's recent thoughts regarding how ChatGPT is and will impact the Learning & Development world — from linkedin.com by Donald Clark
Excerpts:
Fascinating chat with three people heading up L&D in a major international company. AI has led them to completely re-evaluate their strategy. Key concepts were performance, process and data. What I liked was their focus on that oft-quoted issue of aligning L&D with the business goals – unlike most, they really meant it.
The technology that puts that in the hands of learners has arrived. Performance support will be a teacher or trainer at your fingertips.
We also talked about prompting, the need to see it as 'CHAT'gpt, an iterative process, where you need to understand how to speak to the tech. It's a bit like speaking to an alien from space, as it has no comprehension or consciousness but it is still competent and smart. We have put together 100 prompt tips for learning professionals and taking it out on the road soon. All good in the hood.
Also from Donald Clark, see:
OpenAI releases massive wave of innovation — from donaldclarkplanb.blogspot.com
Excerpt:
With LLMs, OpenAI's ChatGPT, based on GPT 3.5, started a race where:
AI is integrated into mainstream tools like Teams
Larger LLMs are being built
LLMs are changing 'search'
LLMs are being used on a global scale in real businesses
Real businesses are being built on the back of LLMs
LLMs as part of ensembes of other tools are being researched to solve accuracy, updatability & provenance issues
Open, transparent LLMs (Bloom) are being built
On 02/10/2023, in 21st century, 24x7x365 access, Africa, Artificial Intelligence / Machine Learning / Deep Learning / Algorithms, Asia, Australia, Canada, change, changing business models, cloud-based computing / apps / other cloud-related, computer science, content development, aggregation, repositories, Daniel S. Christian, disruption, emerging technologies, Europe, future, game-changing environment, generational differences, global / globalization, human-computer interaction (HCI), innovation, intelligent systems, intelligent tutoring, internet, pace of change, platforms, society, tools, UK, United States, vision/possibilities, by Daniel Christian
ChatGPT sets record for fastest-growing user base – analyst note — from reuters.com by Krystal Hu
Excerpt (emphasis DSC):
Feb 1 (Reuters) – ChatGPT, the popular chatbot from OpenAI, is estimated to have reached 100 million monthly active users in January, just two months after launch, making it the fastest-growing consumer application in history, according to a UBS study on Wednesday.
The report, citing data from analytics firm Similarweb, said an average of about 13 million unique visitors had used ChatGPT per day in January, more than double the levels of December.
"In 20 years following the internet space, we cannot recall a faster ramp in a consumer internet app," UBS analysts wrote in the note.
---
From DSC:
This reminds me of the current exponential pace of change that we are experiencing…
..and how we struggle with that kind of pace.