On 07/03/2022, in 21st century, 24x7x365 access, 3D, A/V -- audio/visual, Artificial Intelligence / Machine Learning / Deep Learning, business, career development, creativity, data mining, digital audio, digital storytelling, digital video, drama/theater, emerging technologies, Emotion, human-computer interaction (HCI), ideas, immersion, innovation, interaction design, interactivity, media/film, multimedia, participation, platforms, play, vision/possibilities, XR - extended reality, by Daniel Christian
On 07/03/2022, in digital storytelling, emerging technologies, Emotion, engagement / engaging students, platforms, presentations, simulations, story, storytelling, United States, universities, Virtual Reality (VR) / worlds / learning, by Daniel Christian
Virtual reality gives humans a turtle's-eye view of wildlife — from phys.org by Laurel Hamers, University of Oregon
Excerpt:
A virtual reality simulation designed by a University of Oregon (UO) professor could help spur people to environmental action.
Participants in Project Shell don a virtual reality headset and take on the body of a loggerhead sea turtle, sporting flippers instead of arms. During a 15-minute immersive experience, they journey from a hatchling to an adult turtle, dodging hazards like ships and wayward fishing gear.
Participating in the simulation increased people's empathy and concern for environmental issues, new research shows. 
…
"Embodiment of non-human bodies is a powerful tool that environmental storytellers can use," said Daniel Pimentel, a professor in the UO's School of Journalism and Communication who led the work. "I hope that this experience can help raise awareness and hopefully engage the public in a way that trickles down to more support."
From DSC:
While we're talking turtles, see these miniature creations!
On 06/23/2022, in 21st century, algorithms, Artificial Intelligence / Machine Learning / Deep Learning, bots, business, career development, change, changing business models, cloud-based computing / apps / other cloud-related, colleges, community colleges, creativity, emerging technologies, Emotion, engineering, ethics, Europe, future, future of higher education, higher education, human-computer interaction (HCI), innovation, learning ecosystem, liberal arts, mathematics, new business models, pace of change, research, robotics, science, technology (general), United States, by Daniel Christian
We need to go beyond the focus on STEM (science, tech, engineering, math) towards HECI (humanity, ethics, creativity, imagination) — from futuristgerd.com by Gerd Leonhard
…an important realisation that recently dawned on me. What will our schools, colleges and universities do about this?
---
"It wasn't raining when Noah built the ark."

Gerd Leonhard
---
Also see:
On 05/04/2022, in 21st century, Alternatives, business side of he, change, changing business models, colleges, community colleges, content development, corporate / business world, cost of getting a degree, culture, curriculum, dangers of the status quo, Daniel S. Christian, Emotion, engagement / engaging students, experimentation, faculty, future of higher education, game-changing environment, health, higher education, leadership, learning ecosystem, Learning from the Living [Class] Room, more choice more control, New "Amazon.com" of Higher Education, traditional / tradition, by Daniel Christian
From DSC:
After seeing the item below, I thought, "Hmmm…traditional institutions of higher education better look out if alternatives continue to gain momentum." Perhaps it's wise to double down on efforts to gather feedback from students, families, parents, businesses, and other stakeholders in the workplace regarding what they want and need — vs. what the faculty members of institution ABC want to teach.
---
A Third of U.S. College Students Consider Withdrawing — from news.gallup.com by Stephanie Marken
Excerpt:
Editor's Note: The research below was conducted in partnership between the Lumina Foundation and Gallup.
About a third (32%) of currently enrolled students pursuing a bachelor's degree report they have considered withdrawing from their program for a semester or more in the past six months. A slightly higher percentage of students pursuing their associate degree, 41%, report they have considered stopping out in the past six months. These are similar to 2020 levels when 33% of bachelor's degree students reported they had considered stopping out and 38% of associate degree students said the same.
On 05/03/2022, in 21st century, analytics, Artificial Intelligence / Machine Learning / Deep Learning, bots, business, corporate / business world, data mining, education technology, emerging technologies, Emotion, higher education, privacy, society, the downsides of technology, tools, United States, universities, vendors, workplace, youth, by Daniel Christian
12 examples of artificial intelligence in everyday life — from itproportal.com by Christopher Oldman
Excerpt:
4. Plagiarism
The college students' (or is it professor's?) nightmare. Whether you are a content manager or a teacher grading essays, you have the same problem – the internet makes plagiarism easier.
There is a nigh unlimited amount of information and data out there, and less-than-scrupulous students and employees will readily take advantage of that.
Indeed, no human could compare and contrast somebody's essay with all the data out there. AIs are a whole different beast.
They can sift through an insane amount of information, compare it with the relevant text, and see if there is a match or not.
Furthermore, thanks to advancement and growth in this area, some tools can actually check sources in foreign languages, as well as images and audio.
Intel calls its AI that detects student emotions a teaching tool. Others call it 'morally reprehensible.' — from protocol.com by Kate Kaye
Virtual school software startup Classroom Technologies will test the controversial "emotion AI" technology.
Excerpts:
But Intel and Classroom Technologies, which sells virtual school software called Class, think there might be a better way. The companies have partnered to integrate an AI-based technology developed by Intel with Class, which runs on top of Zoom. Intel claims its system can detect whether students are bored, distracted or confused by assessing their facial expressions and how they're interacting with educational content.
…
But critics argue that it is not possible to accurately determine whether someone is feeling bored, confused, happy or sad based on their facial expressions or other external signals.
…
The classroom is just one arena where controversial "emotion AI" is finding its way into everyday tech products and generating investor interest. It's also seeping into delivery and passenger vehicles and virtual sales and customer service software.
MIT's FutureMakers programs help kids get their minds around — and hands on — AI — from news.mit.edu by Kim Patch
The programs are designed to foster an understanding of how artificial intelligence technologies work, including their social implications.
Excerpt:
During one-week, themed FutureMakers Workshops organized around key topics related to AI, students learn how AI technologies work, including social implications, then build something that uses AI.
"AI is shaping our behaviors, it's shaping the way we think, it's shaping the way we learn, and a lot of people aren't even aware of that," says Breazeal. "People now need to be AI literate given how AI is rapidly changing digital literacy and digital citizenship."
AI can now kill those annoying cookie pop-ups — from thenextweb.com by Thomas Macaulay
The notifications have been put on notice
Excerpt:
After years of suffering this digital torture, a new AI tool has finally offered hope of an escape.
Named CookieEnforcer, the system was created by researchers from Google and the University of Wisconsin-Madison.
The system was created to stop cookies from manipulating people into making website-friendly choices that put their privacy at risk. Yet it could also end the constant hassle of navigating the notices.
Using machine learning to improve student success in higher education — from mckinsey.com
Deploying machine learning and advanced analytics thoughtfully and to their full potential may support improvements in student access, success, and the overall student experience.
Excerpt:
Yet higher education is still in the early stages of data capability building. With universities facing many challenges (such as financial pressures, the demographic cliff, and an uptick in student mental-health issues) and a variety of opportunities (including reaching adult learners and scaling online learning), expanding use of advanced analytics and machine learning may prove beneficial.
Below, we share some of the most promising use cases for advanced analytics in higher education to show how universities are capitalizing on those opportunities to overcome current challenges, both enabling access for many more students and improving the student experience.
Artificial intelligence (AI): 7 roles to prioritize now — from enterprisersproject.com by Marc Lewis
Which artificial intelligence (AI) jobs are hottest now? Consider these seven AI/ML roles to prioritize in your organization
Excerpt:
Rather than a Great Resignation, this would suggest a Great Reallocation of the workforce. As a global search consultant, we are seeing this precipitous shift in positions, with great demand for skills in artificial intelligence and machine learning (AI/ML).
With that in mind, here are seven artificial intelligence (AI)-related roles to consider prioritizing right now as the workforce reallocates talent to new jobs that drive economic value for leading companies…
4 ways AI will be a great teaching assistant — from thetechedvocate.org by Matthew Lynch
On 05/01/2022, in 21st century, 24x7x365 access, 3D, A/V -- audio/visual, Australia, communications, digital audio, digital storytelling, digital video, Emotion, experimentation, health, history, Holographic comms, ideas, innovation, parents, Uncategorized, United States, Virtual Reality (VR) / worlds / learning, XR - extended reality, by Daniel Christian
Grandpa Creates Hologram Twin For Future Grandkids Using VR — from vrscout.com by Kyle Melnick
Not even death will stop this tech-savvy grandfather from meeting his great-grandchildren.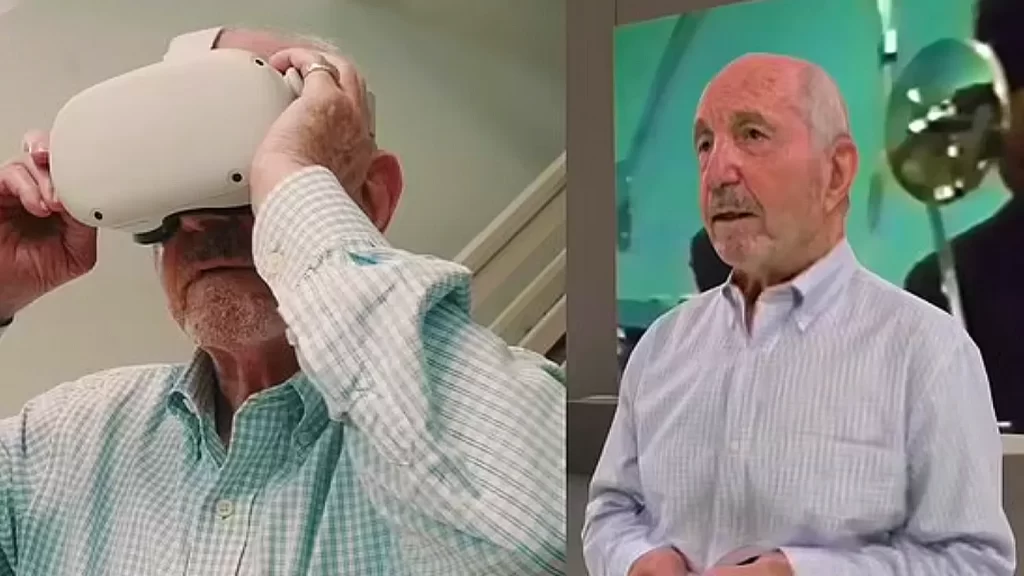 "I think it is a wonderful way to preserve my family's history for future generations," said Jerry while speaking to Jam Press. "To see myself like that, is just mind-blowing — it feels like watching a movie. By not just reading the words as in my memoir but to actually get the chance to see and hear me recalling the stories is just magical."
Also from Kyle Melnick:
How VR/AR Technology Is Being Used To Treat Autism
XRHealth brings its unique VR/AR therapy to the United States.

Excerpt:
Previously available in Australia, the technology has been used to treat the effects of autism, from anxiety and stress to attention, memory, mobility/coordination, and frustration tolerance. XRHealth's healthcare platform offers a variety of professional services. This includes one-on-one meet-ups with XRHealth therapists as well as virtual group sessions, all of which accessible remotely using modern VR headsets.
On 04/21/2022, in Access to Justice (A2J), adult learning, change, collaboration, colleges, communities of practice, community colleges, education, education reform, Emotion, hearts -- matters of the heart, higher education, law schools, learning ecosystem, learning hubs & pods, learning spaces, legal reform, legislatures / government / legal, lifelong learning, motivation, participation, reinvent, skills, society, sociology, by Daniel Christian
I Grew Up Believing I Was Dumb. A College Education Behind Bars Healed That Wound https://t.co/PsUZ2LyOxa via @MarshallProj

— Paul Czarapata (@pczarapata) April 21, 2022
Seeing the possibilities, I finally took a chance. I studied English, political science and finite math, and each class I passed deepened my confidence and self-love.

This growing self-love was key to my academic development. Growing up, I didn't experience much real love, outside of my mother and a few family members. I most often encountered the kind of false love expressed through violence and monetary possessions. College changed the way I thought about myself and others. I worked hand-in-hand with men from all backgrounds to complete assignments, and even taught other students. Before I knew it, I was getting A's on my essays and solving quadratic equations in math class.
…
When people question why it's important to educate prisoners, I remind them that to see change, we must support change. We must give individuals the opportunity to see themselves as more than the harm they've caused, more than what was once broken within them.


Christopher Blackwell
Also relevant/see: