On 10/03/2018, in Apple, Blackboard, higher education, learning spaces, machine-to-machine communications, United States, universities, usability, user experience (UX), vendors, wearables, by Daniel Christian
Blackboard, Apple mobile student ID has arrived — from cr80news.com by Andrew Hudson
Mobile Credential officially goes live at launch campuses
Excerpt:
We've officially reached the kickoff of Blackboard's long-standing vision for the mobile student ID. Starting today on the campuses of the University of Alabama, Duke University and the University of Oklahoma, Blackboard with the aid of Apple is enabling students to use mobile credentials everywhere their plastic ID card was previously accepted.
[On 10/2/18], for the first time, iPhones and Apple Watches are enabling users to navigate the full range of transactions both on and off campus. At these three launch institutions, students can add their official student ID card to Apple Wallet to make purchases, authenticate for privileges, as well as enable physical access to dorms, rec centers, libraries and academic buildings.
On 09/26/2018, in 21st century, A/V -- audio/visual, algorithms, Amazon, Apple, Artificial Intelligence / Machine Learning / Deep Learning, assistive technologies, bots, cloud-based computing / apps / other cloud-related, corporate / business world, corporate universities / corporate training, Daniel S. Christian, digital learning, education technology, emerging technologies, face-to-face, formal learning, future, future of higher education, game-changing environment, heutagogy, higher education, human-computer interaction (HCI), ideas, innovation, intelligent systems, intelligent tutoring, learning, learning ecosystem, learning from the living [class] room, learning hubs, learning spaces, Lifelong learning, Microsoft, Natural Language Processing (NLP), online learning, platforms, productivity / tips and tricks, smart classrooms, tools, training / L&D, universities, user experience (UX), voice recognition / voice enabled interfaces, Walmart of Education --> New Amazon.com of Higher Education, web-based collaboration, webinars, by Daniel Christian
From DSC:
Microsoft's conference room of the future "listens" to the conversations of the team and provides a transcript of the meeting. It also is using "artificial intelligence tools to then act on what meeting participants say. If someone says 'I'll follow up with you next week,' then they'll get a notification in Microsoft Teams, Microsoft's Slack competitor, to actually act on that promise."
This made me wonder about our learning spaces in the future. Will an #AI-based device/cloud-based software app — in real-time — be able to "listen" to the discussion in a classroom and present helpful resources in the smart classroom of the future (i.e., websites, online-based databases, journal articles, and more)?
Will this be a feature of a next generation learning platform as well (i.e., addressing the online-based learning realm)? Will this be a piece of an intelligent tutor or an intelligent system?
Hmmm…time will tell.
---
Also see this article out at Forbes.com entitled, "There's Nothing Artificial About How AI Is Changing The Workplace." 
Here is an excerpt:
The New Meeting Scribe: Artificial Intelligence
As I write this, AI has already begun to make video meetings even better. You no longer have to spend time entering codes or clicking buttons to launch a meeting. Instead, with voice-based AI, video conference users can start, join or end a meeting by simply speaking a command (think about how you interact with Alexa).
Voice-to-text transcription, another artificial intelligence feature offered by Otter Voice Meeting Notes (from AISense, a Zoom partner), Voicefox and others, can take notes during video meetings, leaving you and your team free to concentrate on what's being said or shown. AI-based voice-to-text transcription can identify each speaker in the meeting and save you time by letting you skim the transcript, search and analyze it for certain meeting segments or words, then jump to those mentions in the script. Over 65% of respondents from the Zoom survey said they think AI will save them at least one hour a week of busy work, with many claiming it will save them one to five hours a week.
On 09/22/2018, in 21st century, 24x7x365 access, A/V -- audio/visual, algorithms, Amazon, Artificial Intelligence / Machine Learning / Deep Learning, bots, communications, computer science, corporate / business world, digital audio, emerging technologies, future, human-computer interaction (HCI), innovation, intelligent systems, internet, Microsoft, Natural Language Processing (NLP), platforms, programming, Technologies for your home, telecommunications, tools, trends, United States, usability, user experience (UX), user interface design, vendors, voice recognition / voice enabled interfaces, Walmart of Education --> New Amazon.com of Higher Education, web-based collaboration, by Daniel Christian
Skype chats are coming to Alexa devices — from engadget.com by Richard Lawlor
Voice controlled internet calls to or from any device with Amazon's system in it.
Excerpt:
Aside from all of the Alexa-connected hardware, there's one more big development coming for Amazon's technology: integration with Skype. Microsoft and Amazon said that voice and video calls via the service will come to Alexa devices (including Microsoft's Xbox One) with calls that you can start and control just by voice.
Amazon Hardware Event 2018
From techcrunch.com

Echo HomePod? Amazon wants you to build your own — by Brian Heater
One of the bigger surprises at today's big Amazon event was something the company didn't announce. After a couple of years of speculation that the company was working on its own version of the Home…
The long list of new Alexa devices Amazon announced at its hardware event — by Lucas Matney
Everyone's favorite trillion-dollar retailer hosted a private event today where they continued to…
Amazon introduces APL, a new design language for building Alexa skills for devices with screensSarah Perez
Along with the launch of the all-new Echo Show, the Alexa-powered device with a screen, Amazon also introduced a new design language for developers who want to build voice skills that include multimedia…
Excerpt:
Called Alexa Presentation Language, or APL, developers will be able to build voice-based apps that also include things like images, graphics, slideshows and video, and easily customize them for different device types – including not only the Echo Show, but other Alexa-enabled devices like Fire TV, Fire Tablet, and the small screen of the Alexa alarm clock, the Echo Spot.
From DSC:
This is a great move by Amazon — as NLP and our voices become increasingly important in how we "drive" and utilize our computing devices.
Amazon's new Echo lineup targets Google, Apple and Sonos — from engadget.com by Nicole Lee
Alexa, dominate the industry.
The business plan from here is clear: Companies pay a premium to be activated when users pose questions related to their products and services. "How do you cook an egg?" could pull up a Food Network tutorial; "How far is Morocco?" could enable the Expedia app.

Also see how Alexa might be a key piece of smart classrooms in the future: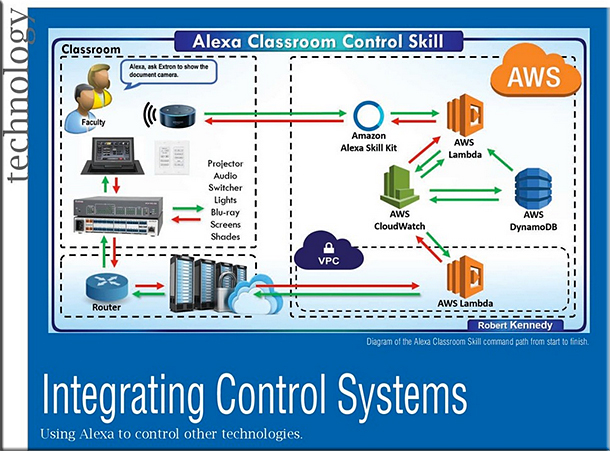 On 09/15/2018, in adjunct faculty, attention, blended learning, digital audio, digital learning, education technology, engagement / engaging students, faculty, flipping -- inverted learning, online learning, podcasting, productivity / tips and tricks, story, teachers, teaching online, training / L&D, user experience (UX), writing, by Daniel Christian
Production Values for Audio Podcasts, Part I — from learningsolutionsmag.com by Jeff D'Anza
Excerpts:
There are a number of production values that narrative podcasters find effective for grabbing listener attention and keeping their audiences engaged in the story; you could think of these as technical elements of professional audio quality. They range from techniques for improving content when applied to script writing to methods applied to audio recording and editing. The most successful professional podcasters use these elements to create immersion in the audio environment and to eliminate audio distraction. The result is the creation of a kind of audio theater. Here are four basic practices to embrace while creating your narrative podcasts.
Set the scene first
Hook the audience
Vary character voices
Talk like real people
Production Values for Audio Podcasts, Part II — from learningsolutionsmag.com by Jeff D'Anza
Excerpts:
In this article, I will continue with more production tricks that can substantially increase the quality of your narrative podcasts.
Use music to reset scenes
It's not revolutionary to suggest that learners tend to have short attention spans, and the case is no different when it comes to narrative podcasts. Every so often you need to reset your learners' brains in order to keep their attention level high.
One excellent way to accomplish this is through the use of musical breaks. Music breaks can function as a type of auditory palate cleanser, allowing the brain a few moments to stop focusing on information that is being presented and prepare the learner to be ready for the next section of content.
Also:
Host/producer structure
Get out of the studio
Don't fear insignificant details

From DSC:
Seems to me there's some wisdom here for instructional designers as well as professors, teachers, and trainers who are creating learning/training related content and/or who are flipping their classrooms.
On 08/28/2018, in A/V -- audio/visual, Adobe, augmented reality, corporate / business world, corporate universities / corporate training, elearning, emerging technologies, engagement / engaging students, health, human-computer interaction (HCI), ideas, immersion, Media/film, Microsoft, Mixed reality, platforms, robotics, society, tools, training / L&D, user experience (UX), user interface design, vendors, virtual reality / worlds / learning, workplace, XR - extended reality, by Daniel Christian
Adobe Announces the 2019 Release of Adobe Captivate, Introducing Virtual Reality for eLearning Design — from theblog.adobe.com
Excerpt:
Immersive learning with VR experiences: Design learning scenarios that your learners can experience in Virtual Reality using VR headsets. Import 360° media assets and add hotspots, quizzes and other interactive elements to engage your learners with near real-life scenarios
Interactive videos: Liven up demos and training videos by making them interactive with the new Adobe Captivate. Create your own or bring in existing YouTube videos, add questions at specific points and conduct knowledge checks to aid learner remediation
Fluid Boxes 2.0: Explore the building blocks of Smart eLearning design with intelligent containers that use white space optimally. Objects placed in Fluid Boxes get aligned automatically so that learners always get fully responsive experience regardless of their device or browser.
360° learning experiences: Augment the learning landscape with 360° images and videos and convert them into interactive eLearning material with customizable overlay items such as information blurbs, audio content & quizzes.
Blippar unveils indoor visual positioning system to anchor AR — from martechtoday.com by Barry Levine
Employing machine vision to recognize mapped objects, the company says it can determine which way a user is looking and can calculate positioning down to a centimeter.
The Storyteller's Guide to the Virtual Reality Audience — from medium.com by Katy Newton
Excerpt:
To even scratch the surface of these questions, we need to better understand the audience's experience in VR — not just their experience of the technology, but the way that they understand story and their role within it.
Hospital introducing HoloLens augmented reality into the operating room — from medgadget.com
Excerpt:
HoloLens technology is being paired with Microsoft's Surface Hub, a kind of digital whiteboard. The idea is that the surgical team can gather together around a Surface Hub to review patient information, discuss the details of a procedure, and select what information should be readily accessible during surgery. During the procedure, a surgeon wearing a HoloLens would be able to review a CT or MRI scan, access other data in the electronic medical records, and to be able to manipulate these so as to get a clear picture of what is being worked on and what needs to be done.
Raleigh Fire Department invests in virtual reality to enrich training — from vrfocus.com by Nikholai Koolon
New system allows department personnel to learn new skills through immersive experiences.
Excerpt:
The VR solution allows emergency medical services (EMS) personnel to dive into a rich and detailed environment which allows them to pinpoint portions of the body to dissect. This then allows them then see each part of the body in great detail along with viewing it from any angle. The goal is to allow for users to gain the experience to diagnose injuries from a variety of vantage points all where working within an virtual environment capable of displaying countless scenarios.
For another emerging technology, see:
Someday this tiny spider bot could perform surgery inside your body — from fastcompany.com by Jesus Diaz
The experimental robots could also fix airplane engines and find disaster victims.
Excerpt:
A team of Harvard University researchers recently achieved a major breakthrough in robotics, engineering a tiny spider robot using tech that could one day work inside your body to repair tissues or destroy tumors. Their work could not only change medicine–by eliminating invasive surgeries–but could also have an impact on everything from how industrial machines are maintained to how disaster victims are rescued.
Until now, most advanced, small-scale robots followed a certain model: They tend to be built at the centimeter scale and have only one degree of freedom, which means they can only perform one movement. Not so with this new 'bot, developed by scientists at Harvard's Wyss Institute for Biologically Inspired Engineering, the John A. Paulson School of Engineering and Applied Sciences, and Boston University. It's built at the millimeter scale, and because it's made of flexible materials–easily moved by pneumatic and hydraulic power–the critter has an unprecedented 18 degrees of freedom.
---
Plus some items from a few weeks ago
---
After almost a decade and billions in outside investment, Magic Leap's first product is finally on sale for $2,295. Here's what it's like. — from
Excerpts (emphasis DSC):
I liked that it gave a new perspective to the video clip I'd watched: It threw the actual game up on the wall alongside the kind of information a basketball fan would want, including 3-D renderings and stats. Today, you might turn to your phone for that information. With Magic Leap, you wouldn't have to.
…
Abovitz also said that intelligent assistants will play a big role in Magic Leap's future. I didn't get to test one, but Abovitz says he's working with a team in Los Angeles that's developing high-definition people that will appear to Magic Leap users and assist with tasks. Think Siri, Alexa or Google Assistant, but instead of speaking to your phone, you'd be speaking to a realistic-looking human through Magic Leap. Or you might be speaking to an avatar of someone real.
"You might need a doctor who can come to you," Abovitz said. "AI that appears in front of you can give you eye contact and empathy."
And I loved the idea of being able to place a digital TV screen anywhere I wanted.
Magic Leap One Available For Purchase, Starting At $2,295 — from vrscout.com by Kyle Melnick
Excerpt:
December of last year U.S. startup Magic Leap unveiled its long-awaited mixed reality headset, a secretive device five years and $2.44B USD in the making.
This morning that same headset, now referred to as the Magic Leap One Creator Edition, became available for purchase in the U.S. On sale to creators at a hefty starting price of $2,275, the computer spatial device utilizes synthetic lightfields to capture natural lightwaves and superimpose interactive, 3D content over the real-world.
Magic Leap One First Hands-On Impressions for HoloLens Developers — from magic-leap.reality.news
Excerpt:
After spending about an hour with the headset running through set up and poking around its UI and a couple of the launch day apps, I thought it would be helpful to share a quick list of some of my first impressions as someone who's spent a lot of time with a HoloLens over the past couple years and try to start answering many of the burning questions I've had about the device.
World Campus researches effectiveness of VR headsets and video in online classes — from news.psu.edu
Excerpt:
UNIVERSITY PARK, Pa. — Penn State instructional designers are researching whether using virtual reality and 360-degree video can help students in online classes learn more effectively.
Designers worked with professors in the College of Nursing to incorporate 360-degree video into Nursing 352, a class on Advanced Health Assessment. Students in the class, offered online through Penn State World Campus, were offered free VR headsets to use with their smartphones to create a more immersive experience while watching the video, which shows safety and health hazards in a patient's home.
Bill Egan, the lead designer for the Penn State World Campus RN to BSN nursing program, said students in the class were surveyed as part of a study approved by the Institutional Review Board and overwhelmingly said that they enjoyed the videos and thought they provided educational value. Eighty percent of the students said they would like to see more immersive content such as 360-degree videos in their online courses, he said.
7 Practical Problems with VR for eLearning — from learnupon.com
Excerpt:
In this post, we run through some practical stumbling blocks that prevent VR training from being feasible for most.
…
There are quite a number of practical considerations which prevent VR from totally overhauling the corporate training world. Some are obvious, whilst others only become apparent after using the technology a number of times. It's important to be made aware of these limitations so that a large investment isn't made in tech that isn't really practical for corporate training.
Augmented reality – the next big thing for HR? — from hrdconnect.com
Augmented reality (AR) could have a huge impact on HR, transforming long-established processes into engaging and exciting something. What will this look like? How can we shape this into our everyday working lives?
Excerpt (emphasis DSC):
AR also has the potential to revolutionise our work lives, changing the way we think about office spaces and equipment forever.
Most of us still commute to an office every day, which can be a time-consuming and stressful experience. AR has the potential to turn any space into your own customisable workspace, complete with digital notes, folders and files – even a digital photo of your loved ones. This would give you access to all the information and tools that you would typically find in an office, but wherever and whenever you need them.
And instead of working on a flat, stationary, two-dimensional screen, your workspace would be a customisable three-dimensional space, where objects and information are manipulated with gestures rather than hardware. All you would need is an AR headset.
AR could also transform the way we advertise brands and share information. Imagine if your organisation had an AR stand at a conference – how engaging would that be for potential customers? How much more interesting and fun would meetings be if we used AR to present information instead of slides on a projector?
AR could transform the on-boarding experience into something fun and interactive – imagine taking an AR tour of your office, where information about key places, company history or your new colleagues pops into view as you go from place to place. 
RETINA Are Bringing Augmented Reality To Air Traffic Control Towers — from vrfocus.com by Nikholai Koolonavi
Excerpt:
A new project is aiming to make it easier for staff in airport control towers to visualize information to help make their job easier by leveraging augmented reality (AR) technology. The project, dubbed RETINA, is looking to modernise Europe's air traffic management for safer, smarter and even smoother air travel.
On 08/26/2018, in adjunct faculty, blended learning, changing business models, Christian education, colleges, community colleges, Daniel S. Christian, digital learning, education technology, face-to-face, faculty, higher education, instructional design, United States, universities, user experience (UX), Using teams, by Daniel Christian