On 07/05/2020, in architecture, art, collaboration, creativity, design, Europe, innovation, learning spaces, library / librarians, by Daniel Christian
Atelier Oslo and Lundhagem unveil Oslo's "huge but intimate" central library — from dezeen.com by Tom Ravenscroft
Stunning minimalist series with warm colors — from fubiz.net by Al Mefer
On 06/11/2020, in 21st century, Asia, Canada, colleges, community colleges, digital learning, education, education technology, Europe, global / globalization, higher education, India, learning ecosystem, learning preferences, multimedia, online learning, platforms, trends, UK, United States, universities, by Daniel Christian
On 06/04/2020, in 21st century, 24x7x365 access, Asia, data mining, emerging technologies, ethics, Europe, future, internet, leadership, legislatures / government / legal, machine-to-machine communications, morals/values, policy, political science, society, the downsides of technology, tools, trends, United States, vendors, by Daniel Christian
From DSC:
I can't help but reflect on how slippery the slope is when we start talking about using drones — especially as sponsored and used by governments, including our government here in the U.S. Consider the following from The Future Institute.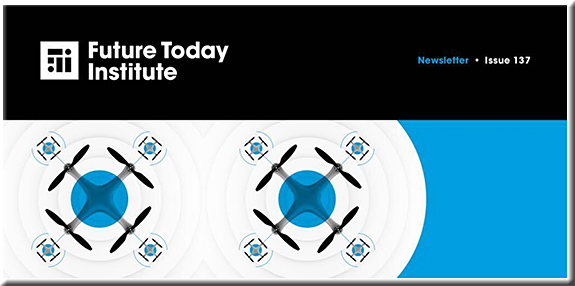 Excerpt:
Eyes in the sky
As nationwide racial justice protests continue, some journalists and protestors have noticed a new addition to the armed police officers and National Guard troops: a drone flying a hexagon-shaped route 20,000 feet above the streets in Minneapolis. The drone, flown by U.S. Customs and Border Protection, is called a Predator, and is a piece of military technology used for identifying and targeting terrorists overseas. Lately, it's become a more common sight domestically.
Last month, a number of New Yorkers witnessed a drone floating above them, barking orders to follow social distancing guidelines. The mysterious drone wasn't official police equipment, but rather a privately owned device piloted by a man named Xavier Arthur in Queens, who was frustrated that people weren't following stay-at-home orders. He claimed to represent the "Anti-Covid-19 Volunteer Drone Task Force. 
It's not an isolated incident. During the outbreak, drones have been used extensively to monitor residents and encourage them to stay indoors, to inspect traffic stops and hospitals, and to spray cities with disinfectants. In Paris and Mumbai, they're patrolling social distancing violators. In China, a video clip went viral, showing a drone breaking up a mahjong game—residents had defied local orders that they stay indoors. Drones with infrared cameras also allegedly flew overhead and checked for people with fevers.
Advanced drones can pinpoint certain behaviors in crowds from high altitudes, recognize and automatically follow targets, and communicate with each other or to command centers on the ground with remarkable precision and low latency. The pandemic and protests are playing to the strengths of an emerging real-time aerial surveillance ecosystem.
3 Things You Should Know
The Flying Internet of Things is taking off.
New drones can self-destruct.
Shareable drones may drive growth in the industry.
On 04/23/2020, in Asia, Australia, Canada, Europe, innovation, Legal operations, legal technologies, legislatures / government / legal, productivity / tips and tricks, technology (general), tools, UK, United States, by Daniel Christian
379 Innovations Added to Law Firm Innovation Catalog Version 1.03 — from legaltechlever.com by Daniel Linna
On 04/13/2020, in 21st century, 24x7x365 access, Asia, Daniel S. Christian, emerging technologies, Europe, health, ideas, law schools, leadership, legislatures / government / legal, platforms, policy, society, the downsides of technology, tools, United States, by Daniel Christian
From DSC:
As the ripples move outward from this time of the Coronavirus, we need to be very careful with #EmergingTechnologies. For example, where might the use of (police dept) drones equipped with #AI & #FacialRecognition flying overhead take us? What if you're of the "wrong religion" in a country? Hmm…
Social Distancing Enforcement Drones Arrive in the U.S. — from nymag.com by Adam Raymond
Excerpts:
In late January, a viral video from China showed people who'd wandered outside in the early days of the coronavirus outbreak getting scolded by a disembodied voice from a drone flying overhead. Last month, similar campaigns began in France, where locals flouting travel restrictions were gently reminded to "respectez les distances de sécurité s'il vous plaît."
Now, self-righteous flying robots have made their way to the U.S., with at least two American police departments deploying drones to tell people to disperse, go home, and stay there.
"These drones will be around the City with an automated message from the Mayor telling you to STOP gathering, disperse and go home," the police department wrote on Facebook. "Summonses HAVE AND WILL CONTINUE to be issued to those found in violation. Fines are up to $1000. You have been advised."
On 03/10/2020, in Asia, Australia, biology, Canada, colleges, community colleges, Europe, global / globalization, health, higher education, India, nursing, UK, United States, universities, by Daniel Christian
Johns Hopkins dashboard maps global coronavirus cases — from campustechnology.com by Rhea Kelly
Excerpt:
The Center for Systems Science and Engineering at Johns Hopkins University has developed an interactive, web-based dashboard that tracks the status of COVID-19 around the world. The resource provides a visualization of the "location and number of confirmed COVID-19 cases, deaths and recoveries for all affected countries," according to a university blog post.
CDC issues COVID-19 guidance to higher ed — from campustechnology.com by Dian Schaffhauser
Excerpt:
The Centers for Disease Control and Prevention have issued interim guidance for higher education administrators on how to respond to coronavirus (COVID-19). It's intended to prevent "community spread" of the virus in two ways: by telling colleges and universities how to keep students, staff and faculty safe and by providing information to academic experts who may be called upon by local health departments for help. The guidance is also intended to assist administrators in planning "for the continuity of teaching, learning and research" if COVID-19 shows up locally and to reduce the stigma attached to the illness for those who have been affected.
COVID-19 resources as listed out on Educause
Excerpt:
COVID-19, or Coronavirus 19, is a respiratory disease caused by a novel (new) coronavirus. This virus has been detected in the United States (CDC, COVID19 Summary). For further information concerning the source and spread of the disease, please see the WHO and CDC sites listed below.