On 07/27/2017, in Australia, Canada, career development, change, corporate / business world, economics, Europe, future, game-changing environment, global / globalization, Google, professional development, training / L&D, trends, vendors, workplace, by Daniel Christian
Making the future work for everyone — from blog.google by Jacquelline Fuller
Excerpt:
Help ensure training is as effective and as wide-reaching as possible.
Millions are spent each year on work skills and technical training programs, but there isn't much visibility into how these programs compare, or if the skills being taught truly match what will be needed in the future. So some of our funding will go into research to better understand which trainings will be most effective in getting the most people the jobs of the future. Our grantee Social Finance is looking at which youth training programs most effectively use contributions from trainees, governments and future employers to give people the best chance of
success.
Helping prepare for the future of work — from google.org
Work is changing. That's why Google.org is committing $50 million to support nonprofits that are expanding economic opportunity for everyone.
Excerpt (emphasis DSC):
The way we work is changing. As new technologies continue to unfold in the workplace, more than a third of jobs are likely to require skills that are uncommon in today's workforce. Workers are increasingly working independently. Demographic changes and shifts in labor participation in developed countries will mean future generations will find new ways to sustain economic growth. These changes create opportunities to think about how work can continue to be a source of not just income, but purpose and meaning for individuals and communities.Technology can help seize these opportunities. We recently launched Google for Jobs, which is designed to help better connect people to jobs, and today we're announcing Google.org's $50 million commitment to help people prepare for the changing nature of work. We'll support nonprofits who are taking innovative approaches to tackling this challenge in three ways: (1) training people with the skills they need, (2) connecting job-seekers with positions that match their skills and talents, and (3) supporting workers in low-wage employment. We'll start by focusing on the US, Canada, Europe, and Australia, and hope to expand to other countries over time.
On 06/13/2017, in Artificial Intelligence / Machine Learning / Deep Learning, Asia, Australia, Canada, cognitive computing, collaboration, communications, corporate / business world, Daniel S. Christian, digital audio, education technology, emerging technologies, Europe, global / globalization, human-computer interaction (HCI), IBM, ideas, innovation, intelligent systems, intelligent tutoring, Languages and translation, learning from the living [class] room, Mobile technologies, MOOCs -- Massive Open Online Courses, Natural Language Processing (NLP), online learning, online tutoring, platforms, Technologies for your home, tools, UK, United States, user experience (UX), vendors, videoconferencing, voice recognition / voice enabled interfaces, web-based collaboration, workplace, by Daniel Christian
Australian start-up taps IBM Watson to launch language translation earpiece — from prnewswire.com
World's first available independent translation earpiece, powered by AI to be in the hands of consumers by July
Excerpts:
SYDNEY, June 12, 2017 /PRNewswire/ — Lingmo International, an Australian technology start-up, has today launched Translate One2One, an earpiece powered by IBM Watson that can efficiently translate spoken conversations within seconds, being the first of its kind to hit global markets next month.
…
Unveiled at last week's United Nations Artificial Intelligence (AI) for Good Summit in Geneva, Switzerland, the Translate One2One earpiece supports translations across English, Japanese, French, Italian, Spanish, Brazilian Portuguese, German and Chinese. Available to purchase today for delivery in July, the earpiece carries a price tag of $179 USD, and is the first independent translation device that doesn't rely on Bluetooth or Wi-Fi connectivity.
Lingmo International, an Australian technology start-up, has today launched Translate One2One, an earpiece powered by IBM Watson that can efficiently translate spoken conversations within seconds.
From DSC:
How much longer before this sort of technology gets integrated into videoconferencing and transcription tools that are used in online-based courses — enabling global learning at a scale never seen before? (Or perhaps NLP-based tools are already being integrated into global MOOCs and the like…not sure.) It would surely allow for us to learn from each other in a variety of societies throughout the globe.
On 05/09/2017, in 24x7x365 access, A/V -- audio/visual, algorithms, Amazon, Artificial Intelligence / Machine Learning / Deep Learning, change, digital learning, emerging technologies, Europe, human-computer interaction (HCI), IBM, ideas, Microsoft, Natural Language Processing (NLP), vendors, voice recognition / voice enabled interfaces, by Daniel Christian
Microsoft Cortana-Powered Speaker Challenges Amazon's Echo With Skype Calls — from foxbusiness.com by y Jay Greene
Excerpt:
Microsoft Corp. is hoping to challenge Amazon.com Inc.'s Echo smart speaker for a spot on the kitchen counter with a device from Samsung Electronics Co. that can make phone calls. The Invoke, which will debut this fall, comes more two years after the release of the Echo, which has sold more 11 million units through late last year, according to estimates by Morgan Stanley. It also will compete with Alphabet Inc.'s Google Home, which was released last fall. The voice-controlled Invoke, made by Samsung's Harman Kardon unit, will use Microsoft's Cortana digital assistant to take commands.
Microsoft Screams 'Me Too' With Cortana-Powered Rival to Amazon Echo and Google Home — from gizmodo.com by Alex Cranz
Excerpt:
With Microsoft's Build developer conference just two days away, the company has revealed one of the most anticipated announcements from the event: A new Cortana-powered speaker made by German audio giant Harman Kardon.
Now, it's fair to see this speaker for what it is: An answer to the Google Home and Amazon Echo. Both assistant-powered speakers are already in homes across our great nation, listening to your noises, noting your habits, and in general invading your lives under the guise of smart home helpfulness. The new Microsoft speaker, dubbed "Invoke," one will presumably do the good stuff, let giving you updates on the weather and letting you turn on some soothing jazz for your dog with just a spoken command. Microsoft is also hoping that partnering with Harmon Kardon means its speaker can avoid one of the bigger problems with these devices—their tendency to sound cheap and tinny.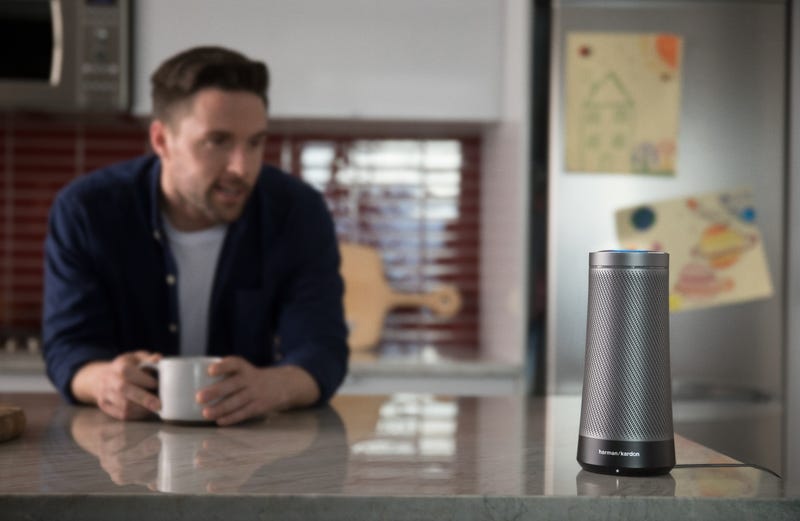 Harman Kardon's Invoke speaker is a Cortana-powered take on an Amazon Echo — from theverge.com by Chaim Gartenberg
Excerpt:
As teased earlier, the Invoke speaker will offer 360-degree speakers, Skype calling, and smart home control all through voice commands. Design-wise, the Invoke strongly resembles Amazon's Echo that its meant to compete with: both offer a similar cylindrical aluminum shape, light ring, and a seven-microphone array. That said, Harmon Kardon seems to be taking the "speaker" portion of its functionality more seriously than Amazon does, with the Invoke offering three woofers and three tweeters (compared to the Echo, which offers just a single of each driver). Microsoft is also highlighting the Invoke's ability to make and receive Skype calls to other Skype devices as well as cellphones and landlines, which is an interesting addition to a home assistant.
From DSC:
Here we see yet another example of the increasing use of voice as a means of communicating with our computing-related devices. AI-based applications continue to develop.
On 04/18/2017, in 21st century, algorithms, Amazon, Apple, Artificial Intelligence / Machine Learning / Deep Learning, bots, change, cognitive computing, data mining, emerging technologies, ethics, Europe, Google, human-computer interaction (HCI), ideas, innovation, morals/values, society, the downsides of technology, tools, trends, United States, by Daniel Christian
The Dark Secret at the Heart of AI — from technologyreview.com by Will Knight
No one really knows how the most advanced algorithms do what they do. That could be a problem.
Excerpt:
The mysterious mind of this vehicle points to a looming issue with artificial intelligence. The car's underlying AI technology, known as deep learning, has proved very powerful at solving problems in recent years, and it has been widely deployed for tasks like image captioning, voice recognition, and language translation. There is now hope that the same techniques will be able to diagnose deadly diseases, make million-dollar trading decisions, and do countless other things to transform whole industries.
But this won't happen—or shouldn't happen—unless we find ways of making techniques like deep learning more understandable to their creators and accountable to their users. Otherwise it will be hard to predict when failures might occur—and it's inevitable they will. That's one reason Nvidia's car is still experimental.
"Whether it's an investment decision, a medical decision, or maybe a military decision, you don't want to just rely on a 'black box' method."
…
This raises mind-boggling questions. As the technology advances, we might soon cross some threshold beyond which using AI requires a leap of faith. Sure, we humans can't always truly explain our thought processes either—but we find ways to intuitively trust and gauge people. Will that also be possible with machines that think and make decisions differently from the way a human would? We've never before built machines that operate in ways their creators don't understand. How well can we expect to communicate—and get along with—intelligent machines that could be unpredictable and inscrutable? These questions took me on a journey to the bleeding edge of research on AI algorithms, from Google to Apple and many places in between, including a meeting with one of the great philosophers of our time.
Lithodomosvr.com: Archaeology Virtual Reality Content for Tourism, Education and Entertainment

An excerpt from their website:
Head mounted virtual reality devices have an enormous potential to provide non-destructive immersive experiences for visitors to archaeological sites and museums as well as for researchers and educators. By creating a model that suggests an anastylosis of a building, the user can simply put on a headset and view the streetscape and its suggested reconstruction.
VR simulations are a much cheaper and more flexible solution than on-site physical reconstruction. Of course, necessary checks and measures are important to signify what is certain and what is guesswork, and as such, Lithodomos adheres to section 2.4 of the ICOMOS Charter for the Interpretation and Presentation of Cultural Heritage Sites.
By using photogrammetry, texturing and mesh modelling, Lithodomos VR creates immersive experiences of the Greek and Roman worlds for viewing on Virtual Reality Head Mounted devices, for example: the Oculus Rift, Samsung Gear VR, Google Cardboard and many others. Unlike many VR content creators, our point of difference is that we specialse in VR content for the Greek and Roman worlds. Our reconstructions stem from years of research and firsthand knowledge, and they reflect the best academic practices to ensure that the end product is both as accurate as can be possible and informative for the viewer.