The Future of the AR Cloud — a Thousand Walled Gardens Bloom — from next.reality.news by Adario Strange
Excerpts:
But, in general, it's all the same thing, data in the cloud tied to mobile devices that will allow AR devices to become the gateways for our avatars in this new landscape of reality layered with virtual interactive information.
So while many are talking about the AR cloud in the coming months and years as being enhanced by 5G speeds and amazing AR applications, ultimately, there is only one product feature that will be the most valuable differentiator: trust. The AR cloud that can best sell privacy and security is the AR cloud that will rain on all the others, and compel us to seek shelter within a trusted, secure, and convenient virtual space we carry with us everywhere.
2 Great are the works of the Lord;
    they are pondered by all who delight in them.
3 Glorious and majestic are his deeds,
    and his righteousness endures forever.
4 He has caused his wonders to be remembered;
    the Lord is gracious and compassionate.
Loch Leven in California | Photo by Danny Sanculi pic.twitter.com/Mby0KZHtH0

— Earth Daily (@EarthPixDaiIy) July 6, 2018
Luke 18:9-14 (NIV) — from biblegateway.com
The Parable of the Pharisee and the Tax Collector
9 To some who were confident of their own righteousness and looked down on everyone else, Jesus told this parable: 10 "Two men went up to the temple to pray, one a Pharisee and the other a tax collector. 11 The Pharisee stood by himself and prayed: 'God, I thank you that I am not like other people—robbers, evildoers, adulterers—or even like this tax collector. 12 I fast twice a week and give a tenth of all I get.'
13 "But the tax collector stood at a distance. He would not even look up to heaven, but beat his breast and said, 'God, have mercy on me, a sinner.'
14 "I tell you that this man, rather than the other, went home justified before God. For all those who exalt themselves will be humbled, and those who humble themselves will be exalted."
Psalm 103:1-12
Of David.
1 Praise the Lord, my soul;
all my inmost being, praise his holy name.
2 Praise the Lord, my soul,
and forget not all his benefits—
3 who forgives all your sins
and heals all your diseases,
4 who redeems your life from the pit
and crowns you with love and compassion,
5 who satisfies your desires with good things
so that your youth is renewed like the eagle's.
6 The Lord works righteousness
and justice for all the oppressed.
7 He made known his ways to Moses,
his deeds to the people of Israel:
8 The Lord is compassionate and gracious,
slow to anger, abounding in love.
9 He will not always accuse,
nor will he harbor his anger forever;
10 he does not treat us as our sins deserve
or repay us according to our iniquities.
11 For as high as the heavens are above the earth,
so great is his love for those who fear him;
12 as far as the east is from the west,
so far has he removed our transgressions from us.
University of Michigan becomes country's first campus to use self-driving shuttles — from wbur.org
Excerpt:
This fall students at the University of Michigan will have a new way of getting around campus. Two self-driving shuttles will cover a nearly two-mile route — a first on any campus around the country.
The project is a partnership with Mcity, a 32-acre testing facility on the campus where tech startups and automakers research self-driving vehicles. Mcity Director Huei Peng joins Here & Now's Robin Young to talk about the shuttle project.
Interview Highlights
"Autonomous vehicles operate largely in two different ways, generally speaking. No. 1 is fixed route: We've mapped the route in advance, driving very slowly, collecting a lot of data. The second type would be free routing. You can literally go anywhere there's a road on the map. So these shuttles largely rely on the GPS, the pre-planned route."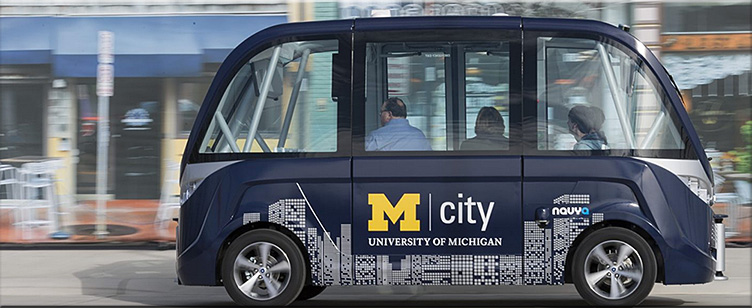 On 07/13/2017, in A/V -- audio/visual, art, attention, augmented reality, colleges, community colleges, education technology, emerging technologies, engagement / engaging students, experimentation, Facebook, health, higher education, history, human-computer interaction (HCI), ideas, immersion, innovation, teaching & learning, tools, trends, Uncategorized, user experience (UX), Using teams, vendors, virtual reality / worlds / learning, by Daniel Christian
More Than Just Cool? — from insidehighered.com by Nick Roll
Virtual and augmented realities make headway in courses on health care, art history and social work.
Excerpt:
When Glenn Gunhouse visits the Pantheon, you would think that the professor, who teaches art and architecture history, wouldn't be able to keep his eyes off the Roman temple's columns, statues or dome. But there's something else that always catches his eye: the jaws of the tourists visiting the building, and the way they all inevitably drop.
"Wow."
There's only one other way that Gunhouse has been able to replicate that feeling of awe for his students short of booking expensive plane tickets to Italy. Photos, videos and even three-dimensional walk-throughs on a computer screen don't do it: It's when his students put on virtual reality headsets loaded with images of the Pantheon.
…nursing schools are using virtual reality or augmented reality to bring three-dimensional anatomy illustrations off of two-dimensional textbook pages.
---
---
Also see:
Oculus reportedly planning $200 standalone wireless VR headset for 2018 — from techcrunch.com by Darrell Etherington
Excerpt:
Facebook is set to reveal a standalone Oculus virtual reality headset sometime later this year, Bloomberg reports, with a ship date of sometime in 2018. The headset will work without requiring a tethered PC or smartphone, according to the report, and will be branded with the Oculus name around the world, except in China, where it'll carry Xiaomi trade dress and run some Xiaomi software as part of a partnership that extends to manufacturing plans for the device.
---
---
Facebook Inc. is taking another stab at turning its Oculus Rift virtual reality headset into a mass-market phenomenon. Later this year, the company plans to unveil a cheaper, wireless device that the company is betting will popularize VR the way Apple did the smartphone.
---
---
On 04/06/2017, in business, design, emerging technologies, ideas, immersion, innovation, learning spaces, photography, platforms, society, Technologies for your home, trends, Uncategorized, user experience (UX), vendors, virtual reality / worlds / learning, visualizing information, by Daniel Christian
From DSC:
The use of virtual reality in industries such as architecture, construction, and real estate is growing. Below are some articles that speak to this trend.
In the future, it's highly likely we'll be able to get a nice VR-based tour of a space before building it, or renting it, or moving into it. Schools and universities will benefit from this as well, as they can use VR to refine the vision for a space with the appropriate stakeholders and donors.
---
Coming Soon: A Virtual Reality Revolution — from builderonline.com by Jennifer Goodman
American consumers will soon expect homes to be viewable before they are built. Are you ready?
Excerpt:
In what ways are builders using VR today?
There are two primary uses of the panoramic style VR that I mentioned above being used: 1) photography based experiences and 2) computer generated (CG) experiences. The former is getting quite a bit of traction right now through technologies like Matterport. They are what I consider a modern version of iPix, using a camera to photograph an existing environment and special software to move through the space. But it is limited to real world environments. The CG experiences don't require the environments to be built which gives builders a huge advantage to pre-market their properties. And since it is computer generated, there is a tremendous amount of flexibility in what is presented, such as various structural options or cabinet selections. And not only homes! Developers are using the technology to market the amenities of a new master planned community.
Local builders step further into virtual reality — from richmondbizsense.com by Jonathan Spiers
Excerpt:
While 3D modeling and online virtual tours have become more commonplace in the home design industry, at least one local builder is taking the custom home building and buying process into a new dimension.
At a recent preview event for this year's Homearama, an annual home design showcase to be held this May at Chesterfield County's NewMarket Estates, Midlothian-based Lifestyle Home Builders let attendees virtually walk through and look around a completed version of the house it is building – while standing within the same unfinished home under construction.
Participants were invited to wear virtual reality (VR) headsets for a full immersion, 360-degree experience, or they could navigate the finished product via a virtual tour on a computer screen. LifeStyle is using the technology, which it adapted from building information modeling (BIM) and off-the-shelf software, to allow homebuyers a chance to see their custom home before it is built and make any changes prior to construction starting.
How Virtual Reality Could Revolutionize The Real Estate Industry — from forbes.com by Azad Abbasi
Excerpt:
Consider the top two hurdles of the average real estate agent:
Agents have to manage the time it takes to go from one visit to the other, dealing with traffic among other elements out of their control.
The most commonly heard phrase in real estate is, "It doesn't look like the pictures."
Virtual reality can help immediately resolve both of these issues. It offers the possibility to virtually visit a lot more homes in a lot less time. This will naturally increase sales efficiency, as well as allow the ability to see more potential buyers.
Here are three different options you can explore using virtual reality to heighten real estate experiences:
On 03/28/2016, in 3D, A/V -- audio/visual, collaboration, communications, education technology, emerging technologies, Microsoft, Mixed reality, Technologies for your home, telecommunications, Uncategorized, vendors, web-based collaboration, by Daniel Christian
Holoportation is a new type of 3D capture technology that allows high-quality 3D models of people to be reconstructed, compressed and transmitted anywhere in the world in real time. When combined with mixed reality displays such as HoloLens, this technology allows users to see, hear, and interact with remote participants in 3D as if they are actually present in the same physical space. Communicating and interacting with remote users becomes as natural as face-to-face communication.
Team webpage:
http://research.microsoft.com/en-us/groups/i3d/

Video:
http://youtu.be/7d59O6cfaM0
holoportation is a new type of 3D capture technology that allows high quality 3D models of people to be reconstructed, compressed, and transmitted anywhere in the world in real-time. When combined with mixed reality displays such as HoloLens, this technology allows users to see and interact with remote participants in 3D as if they are actually present in their physical space. Communicating and interacting with remote users becomes as natural as face to face communication.
Some other items on this:
Addendum: