On 07/27/2017, in Australia, Canada, career development, change, corporate / business world, economics, Europe, future, game-changing environment, global / globalization, Google, professional development, training / L&D, trends, vendors, workplace, by Daniel Christian
Making the future work for everyone — from blog.google by Jacquelline Fuller
Excerpt:
Help ensure training is as effective and as wide-reaching as possible.
Millions are spent each year on work skills and technical training programs, but there isn't much visibility into how these programs compare, or if the skills being taught truly match what will be needed in the future. So some of our funding will go into research to better understand which trainings will be most effective in getting the most people the jobs of the future. Our grantee Social Finance is looking at which youth training programs most effectively use contributions from trainees, governments and future employers to give people the best chance of
success.
Helping prepare for the future of work — from google.org
Work is changing. That's why Google.org is committing $50 million to support nonprofits that are expanding economic opportunity for everyone.
Excerpt (emphasis DSC):
The way we work is changing. As new technologies continue to unfold in the workplace, more than a third of jobs are likely to require skills that are uncommon in today's workforce. Workers are increasingly working independently. Demographic changes and shifts in labor participation in developed countries will mean future generations will find new ways to sustain economic growth. These changes create opportunities to think about how work can continue to be a source of not just income, but purpose and meaning for individuals and communities.Technology can help seize these opportunities. We recently launched Google for Jobs, which is designed to help better connect people to jobs, and today we're announcing Google.org's $50 million commitment to help people prepare for the changing nature of work. We'll support nonprofits who are taking innovative approaches to tackling this challenge in three ways: (1) training people with the skills they need, (2) connecting job-seekers with positions that match their skills and talents, and (3) supporting workers in low-wage employment. We'll start by focusing on the US, Canada, Europe, and Australia, and hope to expand to other countries over time.
On 07/10/2017, in algorithms, Artificial Intelligence / Machine Learning / Deep Learning, digital citizenship, ethics, future, game-changing environment, global / globalization, ideas, innovation, intelligent systems, internet, IT in HE, machine-to-machine communications, morals/values, society, the downsides of technology, workplace, by Daniel Christian
The Internet's future is more fragile than ever, says one of its inventors — from fastcompany.com by Sean Captain
Vint Cerf, the co-creator of tech that makes the internet work, worries about hacking, fake news, autonomous software, and perishable digital history.
Excerpts:
The term "digital literacy" is often referred to as if you can use a spreadsheet or a text editor. But I think digital literacy is closer to looking both ways before you cross the street. It's a warning to think about what you're seeing, what you're hearing, what you're doing, and thinking critically about what to accept and reject . . . Because in the absence of this kind of critical thinking, it's easy to see how the phenomena that we're just now labeling fake news, alternative facts [can come about]. These [problems] are showing up, and they're reinforced in social media.
…
What are the criteria that we should apply to devices that are animated by software, and which we rely upon without intervention? And this is the point where autonomous software becomes a concern, because we turn over functionality to a piece of code. And dramatic examples of that are self-driving cars . . . Basically you're relying on software doing the right things, and if it doesn't do the right thing, you have very little to say about it.
I feel like we're moving into a kind of fragile future right now that we should be much more thoughtful about improving, that is to say making more robust.
Imagine a house that stops working when the internet connection goes away. That's not acceptable.
On 07/05/2017, in 21st century, Artificial Intelligence / Machine Learning / Deep Learning, business, economics, emerging technologies, entrepreneurship, freelancing, future, global / globalization, health, human-computer interaction (HCI), ideas, pace of change, society, trends, by Daniel Christian
Everyday Life in the Future — from hpmegatrends.com by Andrew Bolwell
Technology will play an increasingly vital role in our lives as we move into the future. Four major Megatrends — Rapid Urbanization, Changing Demographics, Hyper Globalization, and Accelerated Innovation — will have a sustained and transformative impact on businesses, societies, economies, cultures, and our personal lives.
On 06/29/2017, in 21st century, Blockchain, business, change, changing business models, colleges, community colleges, corporate / business world, credentialing, Daniel S. Christian, economics, emerging technologies, experimentation, future, game-changing environment, global / globalization, higher education, ideas, learner profiles, learning ecosystem, legislatures / government / legal, society, trends, universities, by Daniel Christian
Realizing the Potential of Blockchain: A Multistakeholder Approach to the Stewardship of Blockchain and Cryptocurrencies — from the World Economic Forum
Excerpts:
Like the first generation of the internet, this second generation promises to disrupt business models and transform industries. Blockchain (also called distributed ledger), the technology enabling cryptocurrencies like bitcoin and Ethereum, is pulling us into a new era of openness, decentralization and global inclusion. It leverages the resources of a global peer-to-peer network to ensure the integrity of the value exchanged among billions of devices without going through a trusted third party. Unlike the internet alone, blockchains are distributed, not centralized; open, not hidden; inclusive, not exclusive; immutable, not alterable; and secure. Blockchain gives us unprecedented capabilities to create and trade value in society. As the foundational platform of the Fourth Industrial Revolution, it enables such innovations as artificial intelligence (AI), machine learning, the internet of things (IoT), robotics and even technology in our bodies, so that more people can participate in the economy, create wealth and improve the state of the world.
However, this extraordinary technology may be stalled, sidetracked, captured or otherwise suboptimized depending on how all the stakeholders behave in stewarding this set of resources – i.e. how it is governed.
…
At the overall ecosystem level, we look at the need for a proper legal structure, regulatory restraint, diversity of viewpoints and scientific research in tandem with business development. We introduce each of the eight stakeholders in the ecosystem: innovators, venture capitalists, banks and financial services, developers, academics, non-governmental organizations (NGOs), government bodies, and users or citizens.
…
The internet is entering a second era that's based on blockchain. The last few decades brought us the internet of information. We are now witnessing the rise of the internet of value. Where the first era was sparked by a convergence of computing and communications technologies, this second era will be powered by a clever combination of cryptography, mathematics, software engineering and behavioural economics. It is blockchain technology, also called distributed ledger technology. Like the internet before it, the blockchain promises to upend business models and disrupt industries. It is pushing us to challenge how we have structured society, defined value and rewarded participation.
From DSC:
Institutions of higher education need to put the topic of blockchain-based technologies on their radars, as blockchain could impact how people get their credentials in the future. It could easily turn out to be the case that community colleges, colleges, and universities will join other organizations in terms of being able to offer credentials to their learners.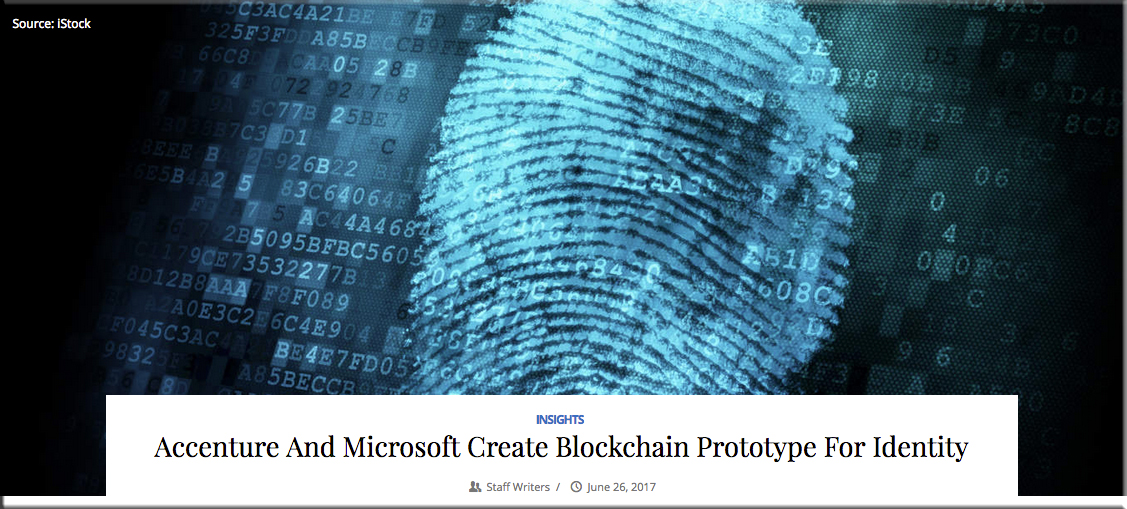 Accenture and Microsoft Create Blockchain Prototype for Identity — from which-50.com
Excerpt:
Accenture and Microsoft have created a prototype based on blockchain technology with the aim of creating a digital identity for 1.1 billion people around the world who don't have a formal ID.
Approximately one-sixth of the world's population cannot participate in cultural, political, economic and social life because they lack the most basic information: documented proof of their existence.
Establishing identity is critical to accessing a wide range of activities, including education, healthcare, voting, banking, mobile communications, housing, and family and childcare benefits.
The ID prototype, which builds on Accenture's capabilities in blockchain and its experience developing and deploying large-scale biometric systems, runs on Microsoft Azure's cloud platform.
Accenture and Microsoft demonstrated the prototype this week at the ID2020 Summit at the UN.