On 05/09/2017, in 21st century, 24x7x365 access, A/V -- audio/visual, algorithms, Amazon, Artificial Intelligence / Machine Learning / Deep Learning, bots, change, cloud-based computing / apps / other cloud-related, cognitive computing, communications, cost of getting a degree, credentialing, Daniel S. Christian, digital audio, digital learning, digital storytelling, digital video, disruption, distance education, education, education technology, emerging technologies, experimentation, future, future of higher education, game-changing environment, global / globalization, heutagogy, higher education, human-computer interaction (HCI), ideas, innovation, intelligent systems, intelligent tutoring, learner profiles, learning, Learning Agents, learning ecosystem, learning from the living [class] room, learning hubs, learning spaces, Microlearning, Mobile learning, MOOCs -- Massive Open Online Courses, more choice more control, multimedia, music, Natural Language Processing (NLP), new business models, online learning, online media, online tutoring, participation, personalized/customized learning, platforms, smart classrooms, Smart/Connected TV, streams of content, Technologies for your home, telepresence, television, tools, trends, user experience, UX, vendors, virtual tutoring, voice recognition / voice enabled interfaces, Walmart of Education --> New Amazon.com of Higher Education, web-based collaboration, by Daniel Christian
Amazon introduces Echo Show
The description reads:
Echo Show brings you everything you love about Alexa, and now she can show you things. Watch video flash briefings and YouTube, see music lyrics, security cameras, photos, weather forecasts, to-do and shopping lists, and more. All hands-free—just ask.

Introducing a new way to be together. Make hands-free video calls to friends and family who have an Echo Show or the Alexa App, and make voice calls to anyone who has an Echo or Echo Dot.

See lyrics on-screen with Amazon Music. Just ask to play a song, artist or genre, and stream over Wi-Fi. Also, stream music on Pandora, Spotify, TuneIn, iHeartRadio, and more.

Powerful, room-filling speakers with Dolby processing for crisp vocals and extended bass response

Ask Alexa to show you the front door or monitor the baby's room with compatible cameras from Ring and Arlo. Turn on lights, control thermostats and more with WeMo, Philips Hue, ecobee, and other compatible smart home devices.

With eight microphones, beam-forming technology, and noise cancellation, Echo Show hears you from any direction—even while music is playing

Always getting smarter and adding new features, plus thousands of skills like Uber, Jeopardy!, Allrecipes, CNN, and more
---
---
From DSC:
Now we're seeing a major competition between the heavy-hitters to own one's living room, kitchen, and more. Voice controlled artificial intelligence. But now, add the ability to show videos, text, graphics, and more. Play music. Control the lights and the thermostat. Communicate with others via hands-free video calls.

Hmmm….very interesting times indeed.
Developers and corporates released 4,000 new skills for the voice assistant in just the last quarter. (source)
…with the company adding about 100 skills per day. (source)
---
---
Addendum on 5/10/17:
---
---
On 04/01/2017, in 21st century, algorithms, analytics, Artificial Intelligence / Machine Learning / Deep Learning, bots, business, corporate / business world, corporate universities / corporate training, data mining, emerging technologies, ethics, global / globalization, morals/values, society, tools, trends, vendors, workplace, by Daniel Christian
Tech giants grapple with the ethical concerns raised by the AI boom — from technologyreview.com by Tom Simonite
As machines take over more decisions from humans, new questions about fairness, ethics, and morality arise.
Excerpt:
With great power comes great responsibility—and artificial-intelligence technology is getting much more powerful. Companies in the vanguard of developing and deploying machine learning and AI are now starting to talk openly about ethical challenges raised by their increasingly smart creations.
"We're here at an inflection point for AI," said Eric Horvitz, managing director of Microsoft Research, at MIT Technology Review's EmTech conference this week. "We have an ethical imperative to harness AI to protect and preserve over time."
Horvitz spoke alongside researchers from IBM and Google pondering similar issues. One shared concern was that recent advances are leading companies to put software in positions with very direct control over humans—for example in health care.
On 03/27/2017, in 21st century, Amazon, Artificial Intelligence / Machine Learning / Deep Learning, Asia, bots, computer science, data mining, emerging technologies, ethics, future, game-changing environment, global / globalization, health, human-computer interaction (HCI), IBM, ideas, innovation, intelligent systems, internet, Languages and translation, learning spaces, morals/values, Natural Language Processing (NLP), platforms, programming, robotics, smart classrooms, society, universities, vendors, voice recognition / voice enabled interfaces, web-based collaboration, by Daniel Christian
59 impressive things artificial intelligence can do today — from businessinsider.com by Ed Newton-Rex
Excerpt:
But what can AI do today? How close are we to that all-powerful machine intelligence? I wanted to know, but couldn't find a list of AI's achievements to date. So I decided to write one. What follows is an attempt at that list. It's not comprehensive, but it contains links to some of the most impressive feats of machine intelligence around. Here's what AI can do…

Recorded Saturday, February 25th, 2017 and published on Mar 16, 2017

Description:
Will progress in Artificial Intelligence provide humanity with a boost of unprecedented strength to realize a better future, or could it present a threat to the very basis of human civilization? The future of artificial intelligence is up for debate, and the Origins Project is bringing together a distinguished panel of experts, intellectuals and public figures to discuss who's in control. Eric Horvitz, Jaan Tallinn, Kathleen Fisher and Subbarao Kambhampati join Origins Project director Lawrence Krauss.
Description:
Elon Musk, Stuart Russell, Ray Kurzweil, Demis Hassabis, Sam Harris, Nick Bostrom, David Chalmers, Bart Selman, and Jaan Tallinn discuss with Max Tegmark (moderator) what likely outcomes might be if we succeed in building human-level AGI, and also what we would like to happen. The Beneficial AI 2017 Conference: In our sequel to the 2015 Puerto Rico AI conference, we brought together an amazing group of AI researchers from academia and industry, and thought leaders in economics, law, ethics, and philosophy for five days dedicated to beneficial AI. We hosted a two-day workshop for our grant recipients and followed that with a 2.5-day conference, in which people from various AI-related fields hashed out opportunities and challenges related to the future of AI and steps we can take to ensure that the technology is beneficial.
---
(Below emphasis via DSC)
IBM and Ricoh have partnered for a cognitive-enabled interactive whiteboard which uses IBM's Watson intelligence and voice technologies to support voice commands, taking notes and actions and even translating into other languages.
The Intelligent Workplace Solution leverages IBM Watson and Ricoh's interactive whiteboards to allow to access features via using voice. It makes sure that Watson doesn't just listen, but is an active meeting participant, using real-time analytics to help guide discussions.
Features of the new cognitive-enabled whiteboard solution include:
Global voice control of meetings: Once a meeting begins, any employee, whether in-person or located remotely in another country, can easily control what's on the screen, including advancing slides, all through simple voice commands using Watson's Natural Language API.

Translation of the meeting into another language:

The Intelligent Workplace Solution can translate speakers' words into several other languages and display them on screen or in transcript.
Easy-to-join meetings: With the swipe of a badge the Intelligent Workplace Solution can log attendance and track key agenda items to ensure all key topics are discussed.
Ability to capture side discussions: During a meeting, team members can also hold side conversations that are displayed on the same whiteboard.
---
From DSC:
Holy smokes!
If you combine the technologies that Ricoh and IBM are using with their new cognitive-enabled interactive whiteboard with what Bluescape is doing — by providing 160 acres of digital workspace that's used to foster collaboration (and to do so whether you are working remoting or working with others in the same physical space) — and you have one incredibly powerful platform! 
#NLP  |  #AI  |  #CognitiveComputing  | #SmartClassrooms
#LearningSpaces  |#Collaboration |  #Meetings 
---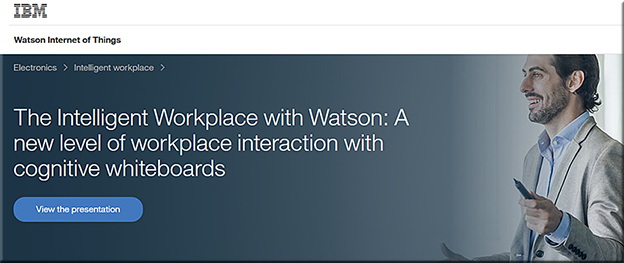 ---
AI Market to Grow 47.5% Over Next Four Years — from campustechnology.com by Richard Chang
Excerpt:
The artificial intelligence (AI) market in the United States education sector is expected to grow at a compound annual growth rate of 47.5 percent during the period 2017-2021, according to a new report by market research firm Research and Markets.
Amazon deepens university ties in artificial intelligence race — from by Jeffrey Dastin
Excerpt:
Amazon.com Inc has launched a new program to help students build capabilities into its voice-controlled assistant Alexa, the company told Reuters, the latest move by a technology firm to nurture ideas and talent in artificial intelligence research.
…
Amazon, Alphabet Inc's Google and others are locked in a race to develop and monetize artificial intelligence. Unlike some rivals, Amazon has made it easy for third-party developers to create skills for Alexa so it can get better faster – a tactic it now is extending to the classroom.

The WebMD skill for Amazon's Alexa can answer all your medical questions — from digitaltrends.com by Kyle Wiggers
WebMD is bringing its wealth of medical knowledge to a new form factor: Amazon's Alexa voice assistant.
Excerpt:
Alexa, Amazon's brilliant voice-activated smart assistant, is a capable little companion. It can order a pizza, summon a car, dictate a text message, and flick on your downstairs living room's smart bulb. But what it couldn't do until today was tell you whether that throbbing lump on your forearm was something that required medical attention. Fortunately, that changed on Tuesday with the introduction of a WebMD skill that puts the service's medical knowledge at your fingertips.
---
Addendum:
How artificial intelligence is taking Asia by storm — from techwireasia.com by Samantha Cheh
Excerpt:
Lately it seems as if everyone is jumping onto the artificial intelligence bandwagon. Everyone, from ride-sharing service Uber to Amazon's logistics branch, is banking on AI being the next frontier in technological innovation, and are investing heavily in the industry.

That's likely truest in Asia, where the manufacturing engine which drove China's growth is now turning its focus to plumbing the AI mine for gold.

Despite Asia's relatively low overall investment in AI, the industry is set to grow. Fifty percent of respondents in KPMG's AI report said their companies had plans to invest in AI or robotic technology.

Investment in AI is set to drive venture capital investment in China in 2017. Tak Lo, of Hong Kong's Zeroth, notes there are more mentions of AI in Chinese research papers than there are in the US.

China, Korea and Japan collectively account for nearly half the planet's shipments of articulated robots in the world.
Artificial Intelligence – Research Areas