On 10/06/2018, in Amazon, Apple, Artificial Intelligence / Machine Learning / Deep Learning, augmented reality, emerging technologies, Google, innovation, Natural Language Processing (NLP), tools, trends, vendors, voice recognition / voice enabled interfaces, by Daniel Christian
Jarvish's smart motorcycle helmets will offer Alexa and Siri support and an AR display — from the verge.com by Chaim Gartenberg
Excerpt:
The Jarvish X is the more basic of the two models. It offers integrated microphones and speakers for Siri, Google Assistant, and Alexa support so wearers have access things like directions, weather updates, and control music through voice control. There's also a 2K, front-facing camera built into the helmet so you can record your ride. It's set to cost $799 when it hits Kickstarter in January.
On 09/22/2018, in Apple, augmented reality, Daniel S. Christian, emerging technologies, Facebook, future, future of higher education, game-changing environment, human-computer interaction (HCI), ideas, immersion, innovation, interactivity, iPad, iPhone, learning spaces, smart classrooms, virtual reality / worlds / learning, XR - extended reality, by Daniel Christian
Excerpt:
Mae Jemison, the first woman of color to go into space, stood in the center of the room and prepared to become digital. Around her, 106 cameras captured her image in 3-D, which would later render her as a life-sized hologram when viewed through a HoloLens headset.
Jemison was recording what would become the introduction for a new exhibit at the Intrepid Sea, Air, and Space Museum, which opens tomorrow as part of the Smithsonian's annual Museum Day. In the exhibit, visitors will wear HoloLens headsets and watch Jemison materialize before their eyes, taking them on a tour of the Space Shuttle Enterprise—and through space history. They're invited to explore artifacts both physical (like the Enterprise) and digital (like a galaxy of AR stars) while Jemison introduces women throughout history who have made important contributions to space exploration.
Interactive museum exhibits like this are becoming more common as augmented reality tech becomes cheaper, lighter, and easier to create.
Oculus will livestream it's 5th Connect Conference on Oculus venues — from vrscout.com by Kyle Melnick
Excerpt (emphasis DSC):
Using either an Oculus Go standalone device or a mobile Gear VR headset, users will be able to login to the Oculus Venues app and join other users for an immersive live stream of various developer keynotes and adrenaline-pumping esports competitions.
From DSC:
What are the ramifications of this for the future of webinars, teaching and learning, online learning, MOOCs and more…?
10 new AR features in iOS 12 for iPhone & iPad — from mobile-ar.reality.news by Justin Meyers
Excerpt:
Apple's iOS 12 has finally landed. The big update appeared for everyone on Monday, Sept. 17, and hiding within are some pretty amazing augmented reality upgrades for iPhones, iPads, and iPod touches. We've been playing with them ever since the iOS 12 beta launched in June, and here are the things we learned that you'll want to know about.
For now, here's everything AR-related that Apple has included in iOS 12. There are some new features aimed to please AR fanatics as well as hook those new to AR into finally getting with the program. But all of the new AR features rely on ARKit 2.0, the latest version of Apple's augmented reality framework for iOS.
Berkeley College Faculty Test VR for Learning— from campustechnology.com by Dian Schaffhauser
Excerpt:
In a pilot program at Berkeley College, members of a Virtual Reality Faculty Interest Group tested the use of virtual reality to immerse students in a variety of learning experiences. During winter 2018, seven different instructors in nearly as many disciplines used inexpensive Google Cardboard headsets along with apps on smartphones to virtually place students in North Korea, a taxicab and other environments as part of their classwork.
Participants used free mobile applications such as Within, the New York Times VR, Discovery VR, Jaunt VR and YouTube VR. Their courses included critical writing, international business, business essentials, medical terminology, international banking, public speaking and crisis management.
This Android app lets you search for specific words in books & documents via augmented reality — from mobile-ar.reality.news by Tommy Palladino
Excerpt:
One of the neatest tricks available in Google Lens, an app that can identify and interpret real world information, is the ability to copy text from the app's camera view and paste it into a digital document.
And while the computer vision assistance of Google Lens takes care of the copy and paste function in augmented reality, a new mobile app from Find It Software fulfills the find function directly on printed documents in real time.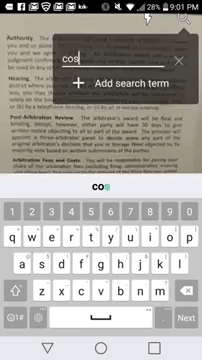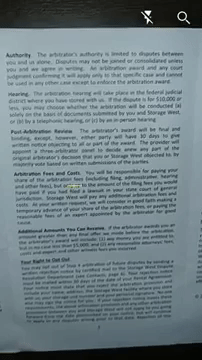 On 09/15/2018, in A/V -- audio/visual, Apple, Artificial Intelligence / Machine Learning / Deep Learning, Asia, attention, augmented reality, digital storytelling, education technology, emerging technologies, engagement / engaging students, immersion, Media/film, multimedia, pace of change, platforms, robotics, story, storytelling, tools, United States, Using teams, vendors, by Daniel Christian
The Mobile AR Leaders of 2018 — from next.reality.news
Excerpt:
This time last year, we were getting our first taste of what mobile app developers could do in augmented reality with Apple's ARKit, and most people had never heard of Animojis. Google's AR platform was still Tango. Snapchat had just introduced its World Lens AR experiences. Most mobile AR experiences existing in the wild were marker-based offerings from the likes of Blippar and Zappar, or generic Pokémon GO knock-offs.
In last year's NR50, published before the introduction of ARKit, only two of the top 10 professionals worked directly with mobile AR, and Apple CEO Tim Cook was ranked number 26, based primarily on his forward-looking statements about AR.
This year, Cook comes in at number one, with five others categorized under mobile AR in the overall top 10 of the NR30.
What a difference a year makes.
In just 12 months, we've seen mobile AR grow at a breakneck pace. Since Apple launched its AR toolkit, users have downloaded more than 13 million ARKit apps from the App Store, not including existing apps updated with ARKit capabilities. Apple has already updated its platform and will introduce even more new features to the public with the release of ARKit 2.0 this fall. Last year's iPhone X also introduced a depth-sensing camera and AR Animojis that captured the imaginations of its users.
The Weather Channel forecasts more augmented reality for its live broadcasts with Unreal Engine — from next.reality.news by Tommy Palladino
Excerpt:
Augmented reality made its live broadcast debut for The Weather Channel in 2015. The technology helps on-air talent at the network to explain the science behind weather phenomena and tell more immersive stories. Powered by Unreal Engine, The Future Group's Frontier platform will enable The Weather Channel to be able to show even more realistic AR content, such as accurately rendered storms and detailed cityscapes, all in real time.
From DSC:
Imagine this type of thing in online-based learning, MOOCs, and/or even in blended learning based learning environments (i.e., in situations where learning materials are designed/created by teams of specialists). If that were the case, who needs to be trained to create these pieces? Will students be creating these types of pieces in the future? Hmmm….
Winners announced of the 2018 Journalism 360 Challenge — from vrfocus.com
The question of "How might we experiment with immersive storytelling to advance the field of journalism?" looks to be answered by 11 projects.
Excerpt:
The eleven winners were announced on 9/11/18 of a contest being held by the Google News Initiative, Knight Foundation and Online News Association. The 2018 Journalism 360 Challenge asked people the question "How might we experiment with immersive storytelling to advance the field of journalism?" and it generated over 400 responses.
---
---
Addendum:
Educause Explores Future of Extended Reality on Campus — from campustechnology.com by Dian Schaffhauser
Among the findings:
VR makes people feel like they're really there. The "intellectual and physiological reactions" to constructs and events in VR are the same — "and sometimes identical" — to a person's reactions in the real world;
3D technologies facilitate active and experiential learning. AR, for example, lets users interact with an object in ways that aren't possible in the physical world — such as seeing through surfaces or viewing data about underlying objects. And with 3D printing, learners can create "physical objects that might otherwise exist only simulations"; and
Simulations allow for scaling up of "high-touch, high-cost learning experiences." Students may be able to go through virtual lab activities, for instance, even when a physical lab isn't available.
Common challenges included implementation learning curves, instructional design, data storage of 3D images and effective cross-departmental collaboration.
"One significant result from this research is that it shows that these extended reality technologies are applicable across a wide spectrum of academic disciplines," said Malcolm Brown, director of learning initiatives at Educause, in a statement. "In addition to the scientific disciplines, students in the humanities, for example, can re-construct cities and structures that no longer exist. I think this study will go a long way in encouraging faculty, instructional designers and educational technologists across higher education to further experiment with these technologies to vivify learning experiences in nearly all courses of study."
---
---
On 09/12/2018, in algorithms, Amazon, Artificial Intelligence / Machine Learning / Deep Learning, augmented reality, Australia, collaboration, future of higher education, game-changing environment, higher education, ideas, innovation, learning, learning ecosystem, Lifelong learning, platforms, teaching online, vendors, virtual reality / worlds / learning, XR - extended reality, by Daniel Christian
Courses in VR and AR will now be available thanks to Amazon Sumerian partnership — from vrfocus.com by Rebecca Hills-Duty
The Royal Melbourne Institute of Technology (RMIT) have announced a partnership with Amazon Web Services.
Excerpt:
Last year Amazon announced a new feature for its Amazon Web Services called Amazon Sumerian, a platform that would allow anyone to create full-featured virtual reality experiences. The Royal Melbourne Institute of Technology (RMIT) have now announced that it will be offering short courses in artificial intelligence (AI), augmented reality (AR) and VR thanks to a partnership with Amazon Web Services.
The new partnership between RMIT and Amazon Web Services was announced at the AWS Public Sector Summit and Canberra, Australia on Wednesday. The new courses will be using the Amazon Sumerian platform.
The newly launched courses includes Developing AI Strategy, Developing AR and VR Strategy and Developing AR and VR Applications. All of these have been adapted from the AWS Educate program, which was created to react to the changing nature of the workplace, and how immersive technology is increasingly relevant.
My team's mission is to build a community of lifelong learners, successfully navigating the world of work … yes, sometimes your degree is the right solution education wise for a person, but throughout our lives, certainly I know in my digital career, constantly we need to be updating our skills and understand the new, emerging technology and talk with experts."
On 08/28/2018, in A/V -- audio/visual, Adobe, augmented reality, corporate / business world, corporate universities / corporate training, elearning, emerging technologies, engagement / engaging students, health, human-computer interaction (HCI), ideas, immersion, Media/film, Microsoft, Mixed reality, platforms, robotics, society, tools, training / L&D, user experience (UX), user interface design, vendors, virtual reality / worlds / learning, workplace, XR - extended reality, by Daniel Christian
Adobe Announces the 2019 Release of Adobe Captivate, Introducing Virtual Reality for eLearning Design — from theblog.adobe.com
Excerpt:
Immersive learning with VR experiences: Design learning scenarios that your learners can experience in Virtual Reality using VR headsets. Import 360° media assets and add hotspots, quizzes and other interactive elements to engage your learners with near real-life scenarios
Interactive videos: Liven up demos and training videos by making them interactive with the new Adobe Captivate. Create your own or bring in existing YouTube videos, add questions at specific points and conduct knowledge checks to aid learner remediation
Fluid Boxes 2.0: Explore the building blocks of Smart eLearning design with intelligent containers that use white space optimally. Objects placed in Fluid Boxes get aligned automatically so that learners always get fully responsive experience regardless of their device or browser.
360° learning experiences: Augment the learning landscape with 360° images and videos and convert them into interactive eLearning material with customizable overlay items such as information blurbs, audio content & quizzes.
Blippar unveils indoor visual positioning system to anchor AR — from martechtoday.com by Barry Levine
Employing machine vision to recognize mapped objects, the company says it can determine which way a user is looking and can calculate positioning down to a centimeter.
The Storyteller's Guide to the Virtual Reality Audience — from medium.com by Katy Newton
Excerpt:
To even scratch the surface of these questions, we need to better understand the audience's experience in VR — not just their experience of the technology, but the way that they understand story and their role within it.
Hospital introducing HoloLens augmented reality into the operating room — from medgadget.com
Excerpt:
HoloLens technology is being paired with Microsoft's Surface Hub, a kind of digital whiteboard. The idea is that the surgical team can gather together around a Surface Hub to review patient information, discuss the details of a procedure, and select what information should be readily accessible during surgery. During the procedure, a surgeon wearing a HoloLens would be able to review a CT or MRI scan, access other data in the electronic medical records, and to be able to manipulate these so as to get a clear picture of what is being worked on and what needs to be done.
Raleigh Fire Department invests in virtual reality to enrich training — from vrfocus.com by Nikholai Koolon
New system allows department personnel to learn new skills through immersive experiences.
Excerpt:
The VR solution allows emergency medical services (EMS) personnel to dive into a rich and detailed environment which allows them to pinpoint portions of the body to dissect. This then allows them then see each part of the body in great detail along with viewing it from any angle. The goal is to allow for users to gain the experience to diagnose injuries from a variety of vantage points all where working within an virtual environment capable of displaying countless scenarios.
For another emerging technology, see:
Someday this tiny spider bot could perform surgery inside your body — from fastcompany.com by Jesus Diaz
The experimental robots could also fix airplane engines and find disaster victims.
Excerpt:
A team of Harvard University researchers recently achieved a major breakthrough in robotics, engineering a tiny spider robot using tech that could one day work inside your body to repair tissues or destroy tumors. Their work could not only change medicine–by eliminating invasive surgeries–but could also have an impact on everything from how industrial machines are maintained to how disaster victims are rescued.
Until now, most advanced, small-scale robots followed a certain model: They tend to be built at the centimeter scale and have only one degree of freedom, which means they can only perform one movement. Not so with this new 'bot, developed by scientists at Harvard's Wyss Institute for Biologically Inspired Engineering, the John A. Paulson School of Engineering and Applied Sciences, and Boston University. It's built at the millimeter scale, and because it's made of flexible materials–easily moved by pneumatic and hydraulic power–the critter has an unprecedented 18 degrees of freedom.
---
Plus some items from a few weeks ago
---
After almost a decade and billions in outside investment, Magic Leap's first product is finally on sale for $2,295. Here's what it's like. — from
Excerpts (emphasis DSC):
I liked that it gave a new perspective to the video clip I'd watched: It threw the actual game up on the wall alongside the kind of information a basketball fan would want, including 3-D renderings and stats. Today, you might turn to your phone for that information. With Magic Leap, you wouldn't have to.
…
Abovitz also said that intelligent assistants will play a big role in Magic Leap's future. I didn't get to test one, but Abovitz says he's working with a team in Los Angeles that's developing high-definition people that will appear to Magic Leap users and assist with tasks. Think Siri, Alexa or Google Assistant, but instead of speaking to your phone, you'd be speaking to a realistic-looking human through Magic Leap. Or you might be speaking to an avatar of someone real.
"You might need a doctor who can come to you," Abovitz said. "AI that appears in front of you can give you eye contact and empathy."
And I loved the idea of being able to place a digital TV screen anywhere I wanted.
Magic Leap One Available For Purchase, Starting At $2,295 — from vrscout.com by Kyle Melnick
Excerpt:
December of last year U.S. startup Magic Leap unveiled its long-awaited mixed reality headset, a secretive device five years and $2.44B USD in the making.
This morning that same headset, now referred to as the Magic Leap One Creator Edition, became available for purchase in the U.S. On sale to creators at a hefty starting price of $2,275, the computer spatial device utilizes synthetic lightfields to capture natural lightwaves and superimpose interactive, 3D content over the real-world.
Magic Leap One First Hands-On Impressions for HoloLens Developers — from magic-leap.reality.news
Excerpt:
After spending about an hour with the headset running through set up and poking around its UI and a couple of the launch day apps, I thought it would be helpful to share a quick list of some of my first impressions as someone who's spent a lot of time with a HoloLens over the past couple years and try to start answering many of the burning questions I've had about the device.
World Campus researches effectiveness of VR headsets and video in online classes — from news.psu.edu
Excerpt:
UNIVERSITY PARK, Pa. — Penn State instructional designers are researching whether using virtual reality and 360-degree video can help students in online classes learn more effectively.
Designers worked with professors in the College of Nursing to incorporate 360-degree video into Nursing 352, a class on Advanced Health Assessment. Students in the class, offered online through Penn State World Campus, were offered free VR headsets to use with their smartphones to create a more immersive experience while watching the video, which shows safety and health hazards in a patient's home.
Bill Egan, the lead designer for the Penn State World Campus RN to BSN nursing program, said students in the class were surveyed as part of a study approved by the Institutional Review Board and overwhelmingly said that they enjoyed the videos and thought they provided educational value. Eighty percent of the students said they would like to see more immersive content such as 360-degree videos in their online courses, he said.
7 Practical Problems with VR for eLearning — from learnupon.com
Excerpt:
In this post, we run through some practical stumbling blocks that prevent VR training from being feasible for most.
…
There are quite a number of practical considerations which prevent VR from totally overhauling the corporate training world. Some are obvious, whilst others only become apparent after using the technology a number of times. It's important to be made aware of these limitations so that a large investment isn't made in tech that isn't really practical for corporate training.
Augmented reality – the next big thing for HR? — from hrdconnect.com
Augmented reality (AR) could have a huge impact on HR, transforming long-established processes into engaging and exciting something. What will this look like? How can we shape this into our everyday working lives?
Excerpt (emphasis DSC):
AR also has the potential to revolutionise our work lives, changing the way we think about office spaces and equipment forever.
Most of us still commute to an office every day, which can be a time-consuming and stressful experience. AR has the potential to turn any space into your own customisable workspace, complete with digital notes, folders and files – even a digital photo of your loved ones. This would give you access to all the information and tools that you would typically find in an office, but wherever and whenever you need them.
And instead of working on a flat, stationary, two-dimensional screen, your workspace would be a customisable three-dimensional space, where objects and information are manipulated with gestures rather than hardware. All you would need is an AR headset.
AR could also transform the way we advertise brands and share information. Imagine if your organisation had an AR stand at a conference – how engaging would that be for potential customers? How much more interesting and fun would meetings be if we used AR to present information instead of slides on a projector?
AR could transform the on-boarding experience into something fun and interactive – imagine taking an AR tour of your office, where information about key places, company history or your new colleagues pops into view as you go from place to place. 
RETINA Are Bringing Augmented Reality To Air Traffic Control Towers — from vrfocus.com by Nikholai Koolonavi
Excerpt:
A new project is aiming to make it easier for staff in airport control towers to visualize information to help make their job easier by leveraging augmented reality (AR) technology. The project, dubbed RETINA, is looking to modernise Europe's air traffic management for safer, smarter and even smoother air travel.