On 09/03/2021, in A/V -- audio/visual, art, Augmented Reality (AR), creativity, design, innovation, interaction design, interactivity, multimedia, music, XR - extended reality, by Daniel Christian
On 08/17/2021, in A/V -- audio/visual, Amazon, Apple, Augmented Reality (AR), digital learning, education technology, engagement / engaging students, entrepreneurship, experimentation, Facebook, future, human-computer interaction (HCI), innovation, IT in HE, vision/possibilities, XR - extended reality, by Daniel Christian
The Hardware and Materials Innovations Enabling Consumer Augmented Reality — from luxresearchinc.com by Vladimir Roznyatovskiy
Excerpt:
Consumer mass-market augmented reality (AR) products and applications could become a fourth wave of modern technological progress, following the PC and smartphone in transformative impact on nearly all aspects of life and business.
However, making widespread consumer AR a reality will require significant innovations in optical components, light engines, and cameras and sensors to reduce size and weight while improving performance. These advances will create significant opportunities for materials and hardware developers. It will be five years to seven years before these efforts translate into viable mass-market devices, but once they do, the opportunities for consumer insights and engagement will be tremendous and a significant source of competitive differentiation.
On 07/30/2021, in A/V -- audio/visual, active learning, algorithms, Artificial Intelligence / Machine Learning / Deep Learning, attention, Augmented Reality (AR), communications, communities of practice, Daniel S. Christian, education technology, emerging technologies, engagement / engaging students, face-to-face, faculty, higher education, ideas, innovation, learning, learning agents, learning ecosystem, Learning Experience Design, learning hubs & pods, learning spaces, Natural Language Processing (NLP), online learning, participation, platforms, presentations, teaching & learning, United States, user experience (UX), vendors, vision/possibilities, visualizing information, voice recognition / voice enabled interfaces, web-based collaboration, XR - extended reality, by Daniel Christian
Will AR glasses provide this type of information in real-time? #AI, #NLP, smartclassrooms #edtech [Christian]
.
DSC:Modified image which was originally from Minerva.com > Forum Learning Environment
On 06/16/2021, in 21st century, A/V -- audio/visual, Augmented Reality (AR), business, corporate / business world, corporate universities / corporate training, future, immersion, learning, learning ecosystem, Learning Experience Design, learning preferences, Mixed Reality (MR), tools, training / L&D, Virtual Reality (VR) / worlds / learning, workplace, XR - extended reality, by Daniel Christian
Accenture Extended Reality (XR)
Immersive learning for the future workforce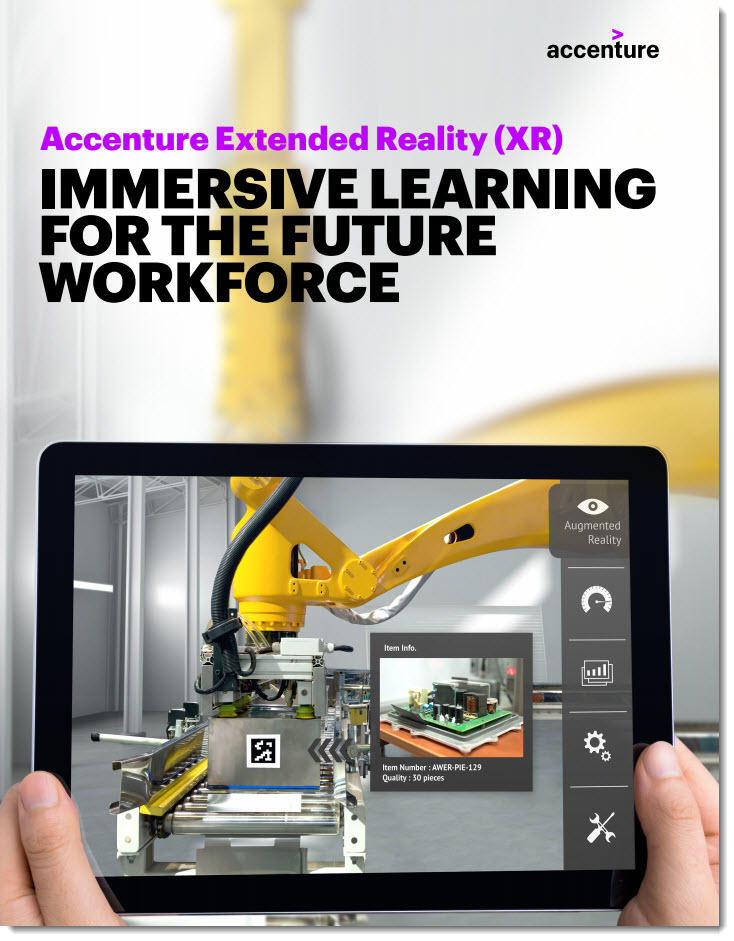 On 06/10/2021, in Adobe, Apple, Augmented Reality (AR), content development, corporate / business world, corporate universities / corporate training, health, human-computer interaction (HCI), ideas, innovation, productivity / tips and tricks, tools, training / L&D, Virtual Reality (VR) / worlds / learning, vision/possibilities, visualizing information, XR - extended reality, by Daniel Christian
Tips To Use Virtual Training For User Education & Immersive Site Tours — from elearningindustry.com by Stephanie Ivec
While virtual reality safety and equipment training have been around the longest, more and more organizations are seeing the benefits of virtual reality for new uses, like the site tours and user education.
Excerpt:
Software tools or systems, surgical devices, and even board games commonly require end user training or customer education in order for the customer to get the most out of the item they've purchased. Over the years, user education and training has evolved from lengthy user manuals to online videos to fully immersive experiences. Virtual and augmented reality videos are an engaging way to make customers feel more comfortable with a new product, procedure, or system.
Addendum on 6/11/21:
Assessing Extended Reality's Potential — from avnetwork.com by Margot Douaihy


VR and AR still mystify some integrators, but advocates say the potential of extended reality (XR) solutions is staggering.
VR costs continue to decrease as processing power increases. Tethered and wireless HMDs (head-mounted displays) are becoming more compact and easier to use. From the HTC Vive Pro 2 to Oculus Quest 2, there are solutions for various budgets. VR is no longer cost-prohibitive.

The AR ecosystem is evolving, too. Apple's ARKit and free AR mobile apps like Adobe Aero are inviting more people into the content creation space.

It's a different calculus for adoption in commercial sectors, however. Return on investment and utilization throughout the product lifecycle are primary concerns.
On 06/05/2021, in 21st century, architecture, art, Augmented Reality (AR), career development, creativity, design, drama/theater, ideas, innovation, universities, user experience (UX), Virtual Reality (VR) / worlds / learning, XR - extended reality, by Daniel Christian
Drawing on Ancient Arts and New Technology, Husson U. Launches Degree in Extended Reality — from edsurge.com by Rebecca Koenig
Excerpt:
The origins of the experience may come from an ancient artform: theater.
"As a set designer, I would think about experiences that are recreating augmented reality, essentially," says Brave Williams, an associate professor at Husson University in Maine. "It is an augmentation of reality that has been done for thousands of years."
Now, Williams is helping his institution push the boundaries of Shakespeare's famous line that "all the world's a stage."
…
To expand the center's reach, university leaders decided to build extended reality into the college curriculum. One example was the development of AR Stagecraft, an app that translates student set designs into an immersive experience of what the scenery would look and feel like if built on an empty stage.
Also see:
IEX CENTER — from husson.edu
An Innovation HubThe iEX Center /ai,?ks/ is an innovation hub that develops solutions using extended reality (XR) experiences such as virtual and augmented reality. Through the iEX Center, students learn how to solve real-world problems using the advanced technology associated with the emerging XR field.
These immersive and interactive experiences are developed with the involvement of students and faculty within the School of Technology and Innovation, as well as those from other colleges across campus as they work together on interdisciplinary XR projects.
On 05/31/2021, in algorithms, Artificial Intelligence / Machine Learning / Deep Learning, Augmented Reality (AR), Bias | Diversity Equity & Inclusion (DE&I), career development, change, data mining, economics, emerging technologies, engineering, ethics, future, game-changing environment, memory, physics, political science, society, sociology, workplace, youth, by Daniel Christian
21 jobs of the future: A guide to getting — and staying — employed over the next 10 years — from cognizant.com and  the Center for The Future of Work
Excerpt:
WHAT THE NEXT 10 YEARS WILL BRING: NEW JOBS
In this report, we propose 21 new jobs that will emerge over the next 10 years and will become cornerstones of the future of work. In producing this report, we imagined hundreds of jobs that could emerge within the major macroeconomic, political, demographic, societal, cultural, business and technology trends observable today, e.g., growing populations, aging populations, populism, environmentalism, migration, automation, arbitrage, quantum physics, AI, biotechnology, space exploration, cybersecurity, virtual reality.
Among the jobs we considered, some seemed further out on the horizon and are not covered here: carbon farmers, 3-D printing engineers, avatar designers, cryptocurrency arbitrageurs, drone jockeys, human organ developers, teachers of English as a foreign language for robots, robot spa owners, algae farmers, autonomous fleet valets, Snapchat addiction therapists, urban vertical farmers and Hyperloop construction managers. These are jobs that younger generations may do in the further off future.
Also see:
Here are the top 10 jobs of the future — from bigthink.com by Robert Brown
Say hello to your new colleague, the Workplace Environment Architect.
Excerpt:
6. Algorithm Bias Auditor – "All online, all the time" lifestyles for work and leisure accelerated the competitive advantage derived from algorithms by digital firms everywhere. But from Brussels to Washington, given the increasing statutory scrutiny on data, it's a near certainty that when it comes to how they're built, verification through audits will help ensure the future workforce is also the fair workforce.
On 05/26/2021, in Augmented Reality (AR), business, collaboration, creativity, emerging technologies, immersion, innovation, vendors, XR - extended reality, by Daniel Christian
Snap Spectacles Finally Evolve into Full AR Smartglasses with Standalone Immersive Superpowers — from next.reality.news by Tommy Palladino
Also see:
Snap Now Lets You Build Lego in AR Remotely with Others, Reveals AR Tie-Up with Disney, Plus AR Business Tools — from next.reality.news by Adario Strange
Excerpt:
On Thursday, during the company's Snap Partner Summit 2021, a wide range of tie-ups and new features were unveiled, with some of the biggest brands on the planet joining the AR fray.
Perhaps the most notable partnership is Snap's new effort with the Lego company. Although Lego is known for allowing kids of all ages to use plastic building blocks to create art, toys, and even robots, now Lego fans will be able to build Lego constructs together, remotely, via a new feature from Lens Studio called Connected Lens. The new feature is available immediately via Snapchat.
AirTags Are the Perfectly Boring, Functional Future of AR — from wired.com by Lauren Goode
Apple's new location-aware widgets point to the company's possible larger ambitions for augmented reality.
Excerpts:
APPLE'S AIRTAGS HAVE found their way to market. The long-rumored competitor to Tile—a tiny Bluetooth tag you attach to frequently lost items—was unveiled today during Apple's spring hardware announcement.
…
This latter feature points to another emerging platform for Apple: augmented reality. While the company didn't explicitly say AirTags will be used in AR apps, immersive computing experts point out that the AirTags technology is using ARKit, Apple's software framework for AR, and that tying digital information to nearby physical objects is an important step in the evolution of this tech.
Instead of seeing a flat, 2D image on your iPhone of where the keys are buried in the couch, a virtual arrow would be layered on top of the view through your phone's camera, guiding you to the exact location of your keys as you move closer.