On 05/09/2017, in 21st century, 24x7x365 access, A/V -- audio/visual, algorithms, Amazon, Artificial Intelligence / Machine Learning / Deep Learning, bots, change, cloud-based computing / apps / other cloud-related, cognitive computing, communications, cost of getting a degree, credentialing, Daniel S. Christian, digital audio, digital learning, digital storytelling, digital video, disruption, distance education, education, education technology, emerging technologies, experimentation, future, future of higher education, game-changing environment, global / globalization, heutagogy, higher education, human-computer interaction (HCI), ideas, innovation, intelligent systems, intelligent tutoring, learner profiles, learning, Learning Agents, learning ecosystem, learning from the living [class] room, learning hubs, learning spaces, Microlearning, Mobile learning, MOOCs -- Massive Open Online Courses, more choice more control, multimedia, music, Natural Language Processing (NLP), new business models, online learning, online media, online tutoring, participation, personalized/customized learning, platforms, smart classrooms, Smart/Connected TV, streams of content, Technologies for your home, telepresence, television, tools, trends, user experience, UX, vendors, virtual tutoring, voice recognition / voice enabled interfaces, Walmart of Education --> New Amazon.com of Higher Education, web-based collaboration, by Daniel Christian
Amazon introduces Echo Show
The description reads:
Echo Show brings you everything you love about Alexa, and now she can show you things. Watch video flash briefings and YouTube, see music lyrics, security cameras, photos, weather forecasts, to-do and shopping lists, and more. All hands-free—just ask.

Introducing a new way to be together. Make hands-free video calls to friends and family who have an Echo Show or the Alexa App, and make voice calls to anyone who has an Echo or Echo Dot.

See lyrics on-screen with Amazon Music. Just ask to play a song, artist or genre, and stream over Wi-Fi. Also, stream music on Pandora, Spotify, TuneIn, iHeartRadio, and more.

Powerful, room-filling speakers with Dolby processing for crisp vocals and extended bass response

Ask Alexa to show you the front door or monitor the baby's room with compatible cameras from Ring and Arlo. Turn on lights, control thermostats and more with WeMo, Philips Hue, ecobee, and other compatible smart home devices.

With eight microphones, beam-forming technology, and noise cancellation, Echo Show hears you from any direction—even while music is playing

Always getting smarter and adding new features, plus thousands of skills like Uber, Jeopardy!, Allrecipes, CNN, and more
---
---
From DSC:
Now we're seeing a major competition between the heavy-hitters to own one's living room, kitchen, and more. Voice controlled artificial intelligence. But now, add the ability to show videos, text, graphics, and more. Play music. Control the lights and the thermostat. Communicate with others via hands-free video calls.

Hmmm….very interesting times indeed.
Developers and corporates released 4,000 new skills for the voice assistant in just the last quarter. (source)
…with the company adding about 100 skills per day. (source)
---
---
Addendum on 5/10/17:
---
---
On 05/01/2017, in accreditation, Australia, Blockchain, credentialing, higher education, ideas, innovation, Microlearning, universities, by Daniel Christian
Melbourne University to pilot blockchain based micro-credentialing system — from
Excerpt:
The University of Melbourne is all set to become the first Australian institution to trial blockchain technology.
Last week, the university announced that it is teaming up with Learning Machine, a US-based company associated with the Massachusetts Institute of Technology (MIT) Media Lab, to pilot a blockchain based micro-credentialing system, which will enable employers to verify those credentials quickly.
Speaking at the annual meeting of a data portability consortium in Melbourne last week, Pro Vice-Chancellor (Teaching and Learning) Professor Gregor Kennedy said the decision to pilot Learning Machine's blockchain platform for micro-credentialing is based on supporting new types of learning recognition that are increasingly being demanded by students and employers in a globalised, digital world.
On 04/01/2017, in Artificial Intelligence / Machine Learning / Deep Learning, blended learning, business, career development, change, CMS/LMS, corporate / business world, corporate universities / corporate training, digital learning, digital video, elearning, emerging technologies, heutagogy, ideas, learning, learning ecosystem, Lifelong learning, Microlearning, Mobile technologies, MOOCs -- Massive Open Online Courses, online learning, pace of change, personalized/customized learning, platforms, professional development, reinvent, training / L&D, vendors, web-based collaboration, workplace, by Daniel Christian
The disruption of digital learning: Ten things we have learned — from joshbersin.com
Excerpt:
Over the last few months I've had a series of meetings with Chief Learning Officers, talent management leaders, and vendors of next generation learning tools. My goal has been simple: try to make sense of the new corporate learning landscape, which for want of a better word, we can now call "Digital Learning." In this article I'd like to share ten things to think about, with the goal of helping L&D professionals, HR leaders, and business leaders understand how the world of corporate learning has changed.
Digital Learning does not mean learning on your phone, it means "bringing learning to where employees are." 

It is a "way of learning" not a "type of learning."
The traditional LMS is no longer the center of corporate learning, and it's starting to go away.
What Josh calls a Distributed Learning Platform, I call a Learning Ecosystem: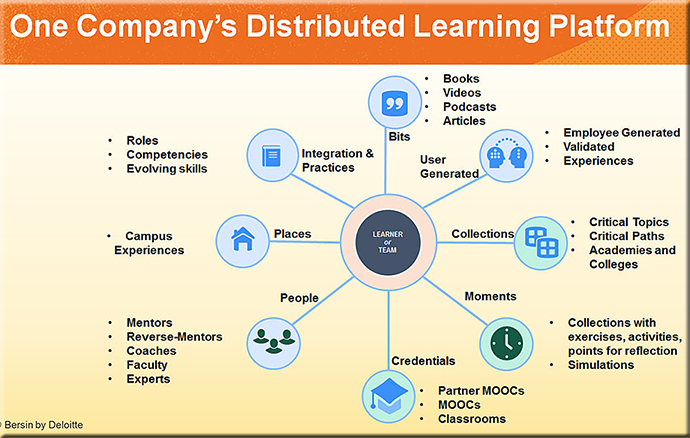 ---
---
Also see:
Watch Out, Corporate Learning: Here Comes Disruption — from forbes.com by Josh Bersin
Excerpt:
The corporate training market, which is over $130 billion in size, is about to be disrupted. Companies are starting to move away from their Learning Management Systems (LMS), buy all sorts of new tools for digital learning, and rebuild a whole new infrastructure to help employees learn. And the impact of GSuite,  Microsoft Teams, Slack, and Workplace by Facebook could be enormous.
…
We are living longer, jobs are changing faster than ever, and automation is impinging on our work lives more every day. If we can't look things up, learn quickly, and find a way to develop new skills at work, most of us would prefer to change jobs, rather than stay in a company that doesn't let us reinvent ourselves over time.
---
---