On 04/07/2018, in creativity, ideas, innovation, leadership, organizational change, pedagogy, productivity / tips and tricks, psychology, strategy, vision, by Daniel Christian
Better Brainstorming — from hbr.org by Hal Gregersen
Excerpt:
Brainstorming for questions, not answers, wasn't something I'd tried before.
…
Underlying the approach is a broader recognition that fresh questions often beget novel—even transformative—insights. Consider this example from the field of psychology: Before 1998 virtually all well-trained psychologists focused on attacking the roots of mental disorders and deficits, on the assumption that well-being came down to the absence of those negative conditions. But then Martin Seligman became president of the American Psychological Association, and he reframed things for his colleagues. What if, he asked in a speech at the APA's annual meeting, well-being is just as driven by the presence of certain positive conditions—keys to flourishing that could be recognized, measured, and cultivated? With that question, the positive psychology movement was born.
…
Brainstorming for questions rather than answers makes it easier to push past cognitive biases and venture into uncharted territory.
…
The methodology I've developed is essentially a process for recasting problems in valuable new ways. It helps people adopt a more creative habit of thinking and, when they're looking for breakthroughs, gives them a sense of control. There's actually something they can do other than sit and wait for a bolt from the blue. Here, I'll describe how and why this approach works. You can use it anytime you (in a group or individually) are feeling stuck or trying to imagine new possibilities. And if you make it a regular practice in your organization, it can foster a stronger culture of collective problem solving and truth seeking.
On 03/28/2018, in 21st century, 24x7x365 access, change, changing business models, colleges, community colleges, digital learning, distance education, higher education, instructional design, leadership, online learning, organizational change, strategy, teaching & learning, teaching online, universities, vision, by Daniel Christian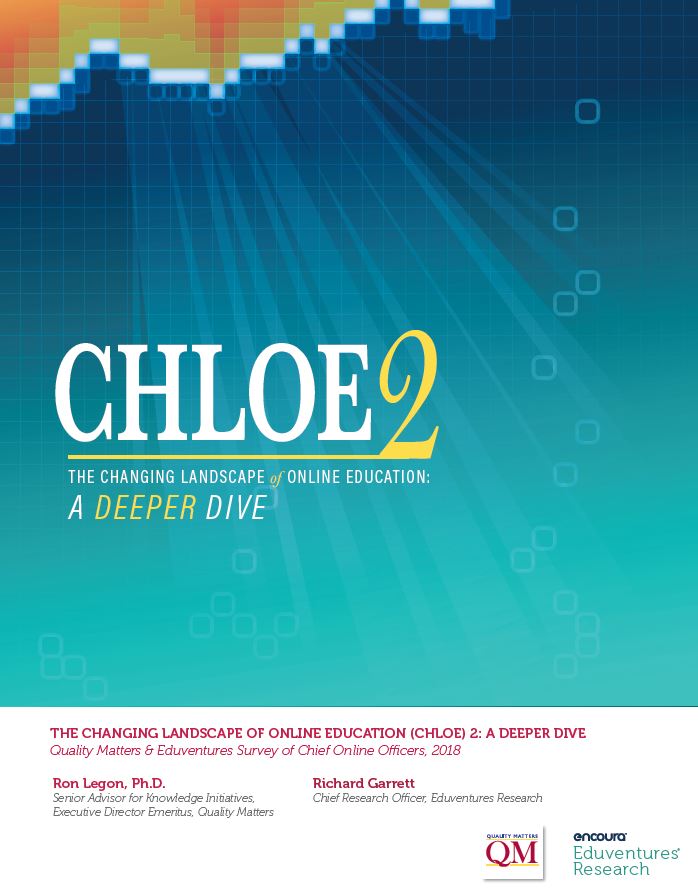 The Changing Landscape of Online Education (CHLOE)
QM and Eduventures have teamed up to conduct a multi-year study to examine the changing landscape of online education, provide results to those who can use them and help those involved with online education place their institution within a broader context and possibly influence strategic decisions and organizational changes. Please complete the form on this page to gain access to the 2018 CHLOE 2 Report.
The third iteration of CHLOE is scheduled for April 2018 and focuses on in-depth coverage of issues such as governance of online programs, blended learning and the influence of subject matter on the design and delivery of online programs. If you are a Chief Online Officer and wish to participate in the next CHLOE Survey, or if you wish to nominate the COO at your institution, please contact QM's Manager of Research & Development Barbra Burch.
Date Published:  Tue, 03/27/2018
Also see:
Online Learning's Complex, Fractured Landscape — from insidehighered.com by Doug Lederman — references new report from Quality Matters & Eduventures Research entitled "The Changing Landscape of Online Education: A Deeper Dive"
Survey of chief online officers shows enormous variation in how colleges define and structure digital education, in terms of pricing, program structure and use of instructional design.
Excerpt:
A new survey of those who oversee online learning programs at their institutions reveals significant diversity in the online education landscape, from differences in colleges' strategic goals in going online to how they structure and price their programs and how much they require/encourage faculty members to work with professional designers to craft their courses.
The report, "The Changing Landscape of Online Education: A Deeper Dive," is the second such report from Quality Matters and Eduventures Research, leading them to dub it CHLOE2. (Inside Higher Ed and "Inside Digital Learning" covered last year's report here and here.) One hundred eighty-two senior officials responsible for online education at their institutions responded to the survey (up from 104 last year), drawn roughly equivalently from four-year private, four-year public and two-year public colleges.
The survey explores a wide range of topics and issues, related to the administrative structure of online offerings, the economics of their programs and the role of instructional designers. Among the most interesting findings: