Antidote Health to Set Up Nation's First Virtual HMO — from innotechtoday.com by Corey Noles
Excerpt:
Antidote Health, a telehealth provider, announced it has raised $12 million in seed funding to build an AI-based virtual Health maintenance organization (HMO). The round was led by iAngels, Well-Tech Ventures, and Flint Capital, along with other angel investors.
Antidote Health is a B2C company that launched in January, providing uninsured and underinsured Americans with a virtual HMO via Artificial Intelligence that connects users to doctors with a smart chatbot and through video calls.
On 08/19/2021, in communications, Daniel S. Christian, ideas, innovation, law schools, Legal operations, legal reform, legal technologies, legislatures / government / legal, platforms, society, United States, vendors, videoconferencing, Virtual courts, vision/possibilities, voice recognition / voice enabled interfaces, web-based collaboration, by Daniel Christian
Interesting list re: #telehealth and #zoom –>https://t.co/cDDkTO9zSu

DC: How soon/long before #telelegal has its own category as well?#videoconferencing #communications #emergingtechnologies #Internet #telecommunications #platforms

— Daniel Christian (he/him/his) (@dchristian5) August 19, 2021
On 07/05/2021, in Artificial Intelligence / Machine Learning / Deep Learning, collaboration, emerging technologies, entrepreneurship, Europe, languages and translation, United States, vendors, videoconferencing, web-based collaboration, by Daniel Christian
On 06/28/2021, in business, collaboration, colleges, communications, communities of practice, community colleges, corporate / business world, corporate universities / corporate training, Daniel S. Christian, human-computer interaction (HCI), leadership, learning theories, multimedia, online learning, online media, online tutoring, participation, presentations, tools, UK, United States, videoconferencing, Virtual courts, virtual field trips, virtual K-12 schools, Virtual Reality (VR) / worlds / learning, virtual tutoring, web-based collaboration, webinars, workplace, by Daniel Christian
No, it doesn't need to be a Zoom — from wired.com by Chris Stokel-Walker
We're wasting hours of our lives on inefficient video calls. Here's how to decide when you should jump on a Zoom – and when not to
Excerpt:
Academic research has pinpointed four reasons why we're growing sick of video calls. For one thing, we're engaged in an unnaturally large amount of eye contact, which can prove exhausting, according to Jeremy Bailenson professor at Stanford University and founding director of the Stanford Virtual Human Interaction Lab. We're also stressed out by being confronted with our own face for hours on end (even if you can't stop staring at it). Bailenson compares it to be followed around with a mirror all day.
From DSC:
What comes to my mind here is that videoconferencing — and meeting in general — requires mental work — and thus energy. Why? Because, as I mentioned in this posting, we are constantly processing auditory and visual channels. 
From DSC:
So having to process auditory and visual information hour after hour takes major energy! And some presentations/presenters require a lot more energy than others.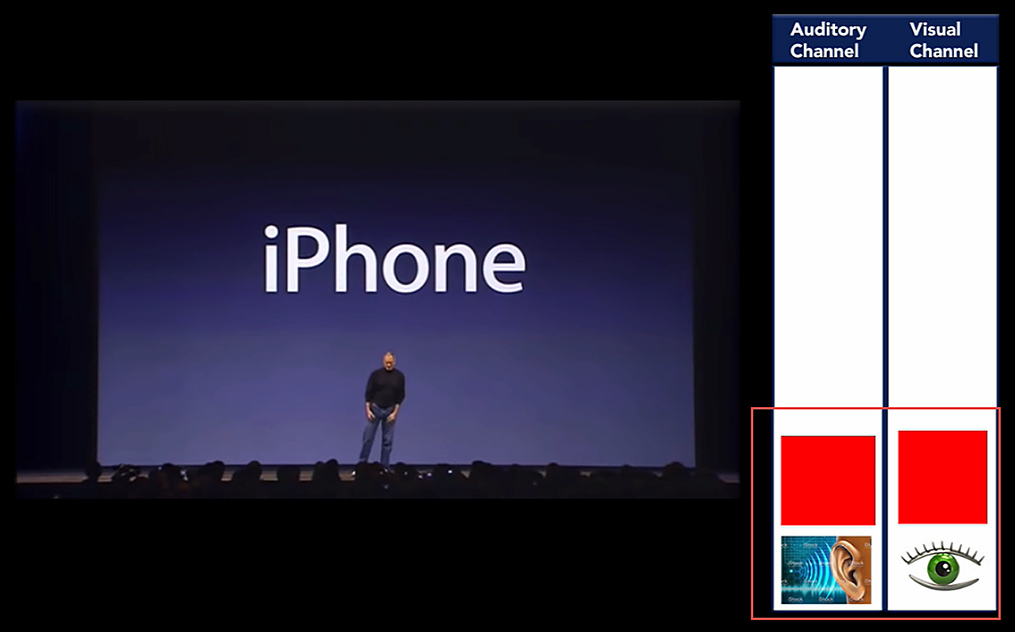 On 06/15/2021, in 21st century, business, career development, change, collaboration, corporate / business world, disruption, future, game-changing environment, law schools, Microsoft, society, sociology, technology (general), tools, trends, United States, using teams, vendors, videoconferencing, web-based collaboration, workplace, by Daniel Christian
The Next Great Disruption Is Hybrid Work—Are We Ready? — from Microsoft
"Over the past year, no area has undergone more rapid transformation than the way we work. Employee expectations are changing, and we will need to define productivity much more broadly — inclusive of collaboration, learning, and wellbeing to drive career advancement for every worker, including frontline and knowledge workers, as well as for new graduates and those who are in the workforce today. All this needs to be done with flexibility in when, where, and how people work."

Satya Nadella, CEO at Microsoft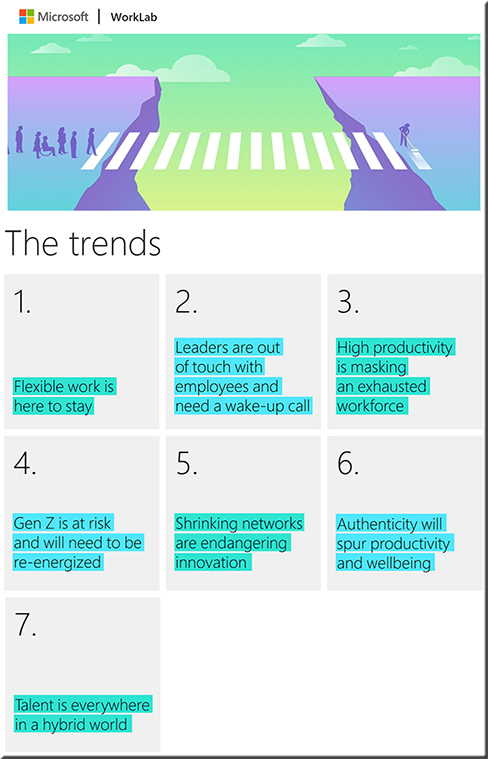 Also see:
What executives are saying about the future of hybrid work — from mckinsey.com by Andrea Alexander, Rich Cracknell, Aaron De Smet, Meredith Langstaff, Mihir Mysore, and Dan Ravid.
What's next for consumers, workers, and companies in the post-COVID-19 recovery — from mckinsey.com by Susan Lund, Anu Madgavkar, Jan Mischke, and Jaana Remes
For mothers in the workplace, a year (and counting) like no other — from mckinsey.com by Jess Huang, Alexis Krivkovich, Ishanaa Rambachan, and Lareina Yee
On 05/27/2021, in collaboration, communications, content aggregration, content development, content repositories, digital audio, digital learning, digital video, education technology, elearning, engagement / engaging students, microlearning, platforms, presentations, streams of content, teachers, teaching & learning, teaching online, tools, using teams, vendors, videoconferencing, vision/possibilities, web-based collaboration, by Daniel Christian
Record, transcribe, clip, and share video from Zoom in real-time. — This Grain tool/resource is from Jeremy Caplan's Wonder Tools newsletter. Thanks Jeremy for passing this info along!
From DSC:
These kinds of tools should make for interesting discussions in online-, hybrid-, and hyflex-based courses…as well as in microlearning-based streams of content perhaps.