On 07/03/2022, in 21st century, 24x7x365 access, 3D, A/V -- audio/visual, Artificial Intelligence / Machine Learning / Deep Learning, business, career development, creativity, data mining, digital audio, digital storytelling, digital video, drama/theater, emerging technologies, Emotion, human-computer interaction (HCI), ideas, immersion, innovation, interaction design, interactivity, media/film, multimedia, participation, platforms, play, vision/possibilities, XR - extended reality, by Daniel Christian
On 06/29/2022, in 3D, A/V -- audio/visual, architecture, art, career development, communities of practice, content development, creativity, digital audio, digital storytelling, digital video, drama/theater, educational games / serious games, media/film, tools, vendors, by Daniel Christian
From DSC:
For those of you college students who are trying to determine what you enjoy doing, I wanted to pass some items along that may be helpful if you are interested in game development, film, and/or TV-related production.
Some friends recommended knowing how to use the following tools, but I realize one could dive very deep with these tools:
---
---
Additional tip:
Stay within what your budget can provide. Making a film about five students on campus is doable. Making a Star Wars-type movie isn't — unless you are making a spoof or presenting a knowingly-bad movie.
I just wanted to pass these items along.
---
Also relevant/see:
---
Addendums on 7/3/22:
On 03/27/2022, in A/V -- audio/visual, blended learning, colleges, community colleges, distance education, drama/theater, education technology, Europe, face-to-face, higher education, hybrid learning, Hyflex learning, instructional design, law schools, learning, learning ecosystem, Learning from the Living [Class] Room, learning hubs & pods, learning spaces, multimedia, new media literacies, smart classrooms, teaching & learning, universities, vendors, videoconferencing, Virtual Reality (VR) / worlds / learning, by Daniel Christian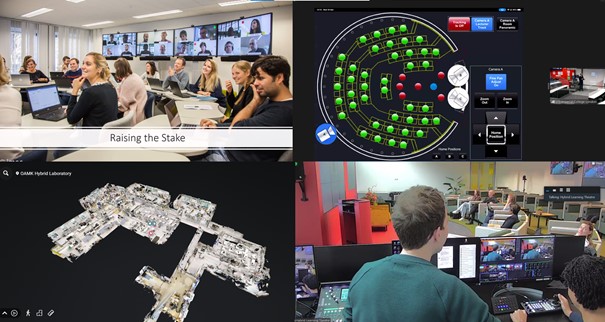 Clockwise from top left (KU Leuven, Imperial College London, University of Amsterdam,
Oulu University of Applied Sciences, Finland
.
A virtual tour of four advanced hybrid learning spaces — from zacwoolfitt.blogspot.com by Zac Woolfitt
Excerpt:
What are the next developments in the Hybrid Virtual Classroom? What kind of spaces might we be teaching in soon?
On March 16th we glimpsed the future. Colleagues from 4 higher education institutes gave virtual tours of their technology rich learning spaces in Belgium, England, Finland and the Netherlands. Media and Learning arranged the session [i]. (Disclosure: Zac is on their advisory panel of Media and Learning).
From DSC:
Here in the U.S., some would promote the use of the word "Hyflex" here instead of hybrid or blended learning — as it sounds like they are simultaneously teaching students in a physical classroom along with online-based learners.
On 03/07/2022, in 21st century, 24x7x365 access, A/V -- audio/visual, Augmented Reality (AR), career development, collaboration, creativity, Daniel S. Christian, digital learning, digital photography, drama/theater, educational games / serious games, emerging technologies, learning ecosystem, Learning Experience Design, learning spaces, participation, platforms, play, story, storytelling, Web3, writing, youth, by Daniel Christian
You Sleuth is a family-friendly outdoor game that requires a moderate amount of walking. You can play by yourself or with a group of friends or family. If you are looking for something new that will stimulate your mind while sneaking in a little exercise and fresh air then register today. Read the rest of the FAQ for more details about how You Sleuth works.
---
From DSC:
What might this look/work like for learning-related applications? Also, if you are studying to be an actor or actress, might there be some new opportunities for you here!? If you are a writer, might there be some new sorts of collaborations opening up here? As the next version of the internet is developed, what new affordances/opportunities might exist in this area?
---
On 01/27/2022, in art, change, changing business models, drama/theater, ideas, immersion, innovation, interactivity, UK, vendors, virtual field trips, Web3, XR - extended reality, by Daniel Christian
DC: This will be very interesting to see if this will turn out to be the case.

"The pandemic revolutionized theater and the performing arts. Get used to seeing plays with a VR headset on."https://t.co/vMYtFXQhiM#XR #VR #Theatre #acting #drama #innovation #arts

— Daniel Christian (he/him/his) (@dchristian5) January 27, 2022
Theater companies in the U.K., home to one of the world's oldest and grandest performing traditions, are increasingly integrating digital technology into interactive theater performances. They're even getting help from the government to do it, The New York Times reported.
Along these lines, also see:
Two of the art world's most famous paintings have been brought to life thanks to high technology at a Berlin show which delves into the mind of iconic painter, Leonardo da Vinci pic.twitter.com/JxEOq4iLFR

— Reuters (@Reuters) January 24, 2022
On 12/13/2021, in 21st century, 24x7x365 access, A/V -- audio/visual, art, colleges, community colleges, content development, culture, Daniel S. Christian, digital audio, digital learning, digital video, drama/theater, education technology, engagement / engaging students, experimentation, higher education, history, ideas, instructional design, languages and translation, learning, learning ecosystem, Learning Experience Design, Learning from the Living [Class] Room, learning hubs & pods, learning preferences, learning spaces, liberal arts, library / librarians, lifelong learning, love of learning, MOOCs -- Massive Open Online Courses, music, New "Amazon.com" of Higher Education, new business models, online learning, participation, platforms, religion, society, United States, universities, user experience (UX), vendors, videoconferencing, vision/possibilities, web-based collaboration, webinars, writing, by Daniel Christian
The Humanities May Be Declining at Universities — But They're Thriving on Zoom — from edsurge.com by Rebecca Koenig
Excerpt:
Throughout the pandemic, versions of this close-reading conversation have taken place week after week. Organized through new nonprofits and small startups including the Catherine Project, Night School Bar and Premise, they bring together adults who want to spend their free time talking to strangers about literature and philosophy.
It sounds at first like an ambitious book club—except for the fact that many of these seminars are organized and led by college professors, some so eager to participate that they do it for free.
"Mostly it's a way for them to do a kind of teaching they can't do at their regular jobs," explains Zena Hitz, founder of the Catherine Project and a tutor (faculty member) at St. John's College in Annapolis, Maryland.
From DSC:
I've often thought that online-based learning may be the thing that saves the liberal arts (i.e., available throughout one's lifetime and would be far less expensive). It would be ironic though, as many liberal arts institutions have not been proponents of online-based learning.
On 11/17/2021, in adult learning, art, corporate / business world, corporate universities / corporate training, creativity, drama/theater, learning, Learning Experience Design, participation, play, training / L&D, workplace, by Daniel Christian
Make Room for Creativity in Learning from Early Design Stage — from learningsolutionsmag.com by Bill Brandon
Excerpt:
Change the paradigm: Invite learners to create
Learning leaders can change this by encouraging their teams to add creative activities for the learners to participate in. Here are some examples of what participants in a learning program can create:
Stories from their own workplace or from the work they aspire to do
Presentations with diagrams showing new processes that can be put in place based on what was learned
Vision boards made from collages showing their hopes for an improved environment
Zoom improvs portraying interpersonal relationships in a playful way
Answers to a question from the facilitator in a chatroom
On 10/26/2021, in 3D, animation, architecture, art, communications, content development, creativity, design, digital learning, drama/theater, emerging technologies, engagement / engaging students, Europe, experimentation, graphics, innovation, Microsoft, multimedia, tools, user experience (UX), vendors, by Daniel Christian
Mental Canvas will unleash some serious creativity!
Also see:
Mental Canvas: App for drawing in 3D  — from microsoft.com in Germany; Google translated the excerpt below:
When I first saw Mental Canvas in action, I was instantly impressed. Drawings are created in 3D in the app. You can even fly through your own sketches and comics. Mental Canvas offers teachers completely new possibilities to design blackboard pictures, to illustrate content and to try out creative things. The tutorials and examples immediately make you want to draw in three dimensions. Mental Canvas is currently available as a free download. In this blog article you will get to know the app.