On 04/24/2019, in animation, assessment, corporate universities / corporate training, creativity, digital audio, digital learning, digital video, education technology, educational games / serious games, elearning, health, learning, learning ecosystem, online learning, tools, training / L&D, vendors, by Daniel Christian
On 01/03/2019, in 3D, augmented reality, design, digital learning, digital storytelling, education, education technology, educational games / serious games, emerging technologies, engagement / engaging students, Google, Graphics, health, Microsoft, Mixed reality, Nursing, story, storytelling, tools, United States, universities, user experience (UX), vendors, virtual reality / worlds / learning, XR - extended reality, by Daniel Christian
FDA approves HoloLens powered medical augmented reality system — from by Richard Devine
HoloLens might be about to make surgical procedures a whole lot different.
Excerpt:
OpenSight specifically utilizes the Microsoft HoloLens headset that allows simultaneous visualization of the 3D patient images in AR and the actual patient and their real-world surroundings. The technique may decrease operative times and improve surgical planning and the understanding of anatomic relationships.
Can virtual reality revolutionize education? — from cnn.com by Emma Kennedy
"Kids love to engage with [VR] lessons," said Guido Kovalskys, chief executive and co-founder of US-based edtech company Nearpod. "One minute, they are learning about Roman history, and the next, they are transported to ancient Rome and are exploring the Colosseum."
From DSC:
Ok, so the title is on the overhyped side, but I do think XR will positively impact learning, understanding.
University of Washington Researchers Demo Ability to Generate 3D Augmented Reality Content from 2D Images — from next.reality.news by Tommy Palladino
Age of Sail: Setting the course for virtual reality narratives in the future — from by Jose Antunes
The most ambitious project from Google Spotlight Stories is also the one that pushes the boundaries in terms of the creation of narratives in Virtual Reality: embark on Age of Sail.
Augmented Reality Remote Collaboration with Dense Reconstruction
Addendum:
VR & AR 2018: A year in review — from vrscout.com by Kyle Melnick
Excerpt:
If 2016 was the birth of modern VR/AR technology, than 2018 was its elementary school graduation. While this past year may have seemed like a quiet one when compared to the more exciting releases featured in 2017 and 2016, these past 12 months have been crucial in the development of the immersive entertainment sector.

Major hardware releases, vast improvements to software, and various other integral advancements have quietly solidified VR & AR as viable, long-term technological platforms for years to come. So while there may not have been any bombshell announcements or jaw-dropping reveals per sey, 2018 will still go down as a key, if not climactic, year for VR & AR technology regardless.

With a new year full of exciting possibilities ahead of us, let's hang back a second and take a look back at 2018's most pivotal moments.
On 11/30/2018, in architecture, Asia, attention, augmented reality, biology, digital learning, education, education technology, educational games / serious games, emerging technologies, engagement / engaging students, entrepreneurship, Europe, health, history, ideas, innovation, Media/film, Microsoft, Mixed reality, tools, United States, universities, vendors, virtual reality / worlds / learning, XR - extended reality, by Daniel Christian
100 voices of AR/VR in education — from virtualiteach.com
Ambitious VR experience restores 7,000 Roman buildings, monuments to their former glory  — from smithsonianmag.com by Meilan Solly
You can take an aerial tour of the city circa 320 A.D. or stop by specific sites for in-depth exploration
Excerpt:
Ever wish you could step into a hot air balloon, travel back in time to 320 A.D., and soar over the streets of Ancient Rome? Well, that oddly specific fantasy is achievable in a new virtual reality experience called "Rome Reborn."
The ambitious undertaking, painstakingly built by a team of 50 academics and computer experts over a 22-year period, recreates 7,000 buildings and monuments scattered across a 5.5 square mile stretch of the famed Italian city. The project, according to Tom Kington of the Times, is being marketed as the largest digital reconstruction of Rome to date.
VR Isn't a Novelty: Here's How to Integrate it Into the Curriculum — from edsurge.com by Jan Sikorsky
Excerpt:
While the application of VR to core academics remains nascent, early returns are promising: research now suggests students retain more information and can better synthesize and apply what they have learned after participating in virtual reality exercises.
And the technology is moving within the reach of classroom teachers. While once considered high-end and cost-prohibitive, virtual reality is becoming more affordable. Discovery VR and Google Expeditions offer several virtual reality experiences for free. Simple VR viewers now come in relatively low-cost DIY cardboard view boxes, like Google Cardboard, that fit a range of VR-capable smartphones.
…
Still, teachers may remain unsure of how they might implement such cutting-edge technology in their classrooms. Their concerns are well founded. Virtual reality takes careful planning and implementation for success. It's not simply plug-and-play technology. It also takes a lot of work to develop.

From DSC:
Reduced costs & greater development efficiencies needed here:
"In our case, to create just 10 minutes of simulation, a team of six developers logged almost 1,000 hours of development time."
Unveiling RLab: the First-City Funded VR/AR Center in the Country Opens Doors at Brooklyn Navy Yard — from prnewswire.com
New York City's Virtual and Augmented Reality Center Will Fuel Innovation, Entrepreneurship, and Education, While Creating Hundreds of Well-Paying Jobs
Excerpt:
BROOKLYN, N.Y., Oct. 24, 2018 /PRNewswire/ — New York City Economic Development Corporation (NYCEDC), the Mayor's Office of Media and Entertainment (MOME), the NYU Tandon School of Engineering and the Brooklyn Navy Yard today announced the launch of RLab – the first City-funded virtual and augmented reality (VR/AR) lab in the country. Administered by NYU Tandon with a participating consortium of New York City universities, including Columbia University, CUNY and The New School, RLab will operate out of Building 22 in the Brooklyn Navy Yard and will cement New York City's status as a global leader in VR/AR, creating over 750 jobs in the industry.
New virtual reality lab at UNMC — from wowt.com
This VR-live actor mashup is like your best absinthe-fueled nightmare — from cnet.com by Joan Solsman
Chained, an immersive reimagining of Dickens' A Christmas Carol, weds virtual reality with a motion-capture live actor. Could it be the gateway that makes VR a hit?
Also see:
…and this as well:
See the results of a months-long effort to create a HoloLens experience that pays homage to Mont-Saint-Michel, in Normandy, France, in all its forms – as a physical relief map and work of art; as a real place visited by millions of people over the centuries; and as a remarkable digital story of resilience. In this three-part Today in Technology series, they examine how AI and mixed reality can open a new window into French culture by using technology like HoloLens.
On 07/10/2018, in adult learning, blended learning, business, career development, corporate / business world, corporate universities / corporate training, digital learning, educational games / serious games, elearning, emerging technologies, formal learning, hybrid learning, informal learning, learning, learning ecosystem, Lifelong learning, Microlearning, Mobile learning, training / L&D, virtual reality / worlds / learning, webinars, workplace, by Daniel Christian
U.S. L&D Report – Benchmark Your Workplace Learning  — from findcourses.com, via Alexander Caplan
Topics covered include:
L&D Benchmarking Survey: 2018
Virtual Reality: A New Reality for L&D
How to Promote a Learning Culture in Your Organization
How to Calculate Meaningful ROI for Workplace Learning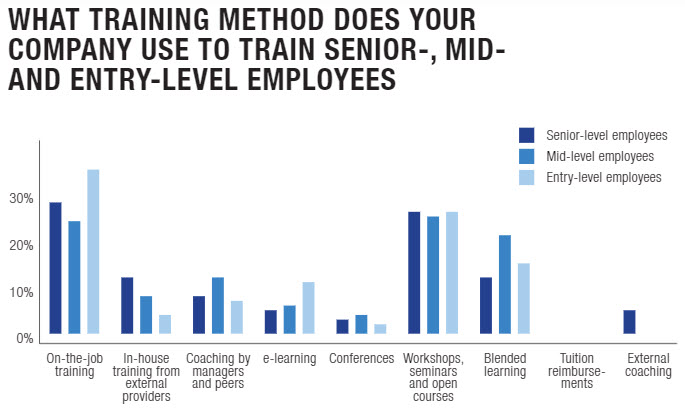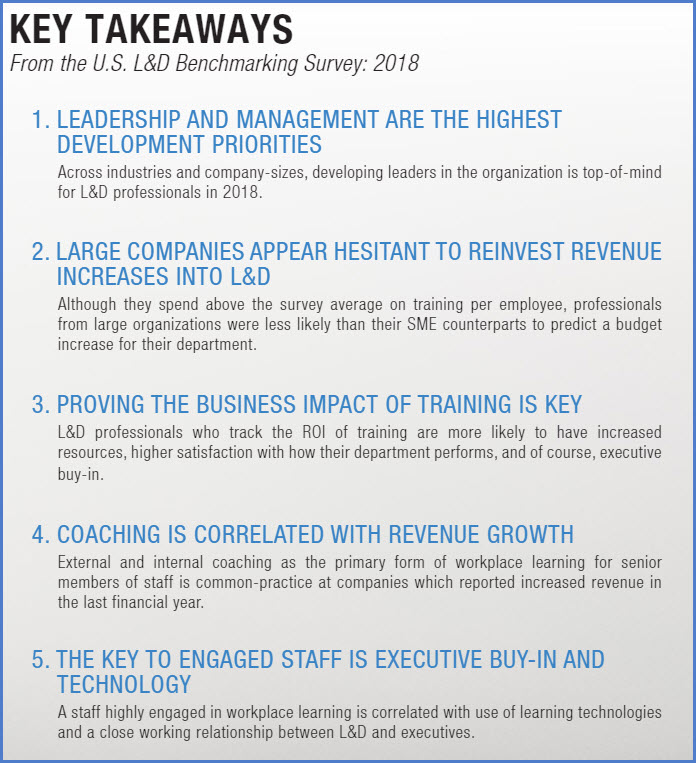 Also see: