On 06/23/2017, in 21st century, 24x7x365 access, Amazon, colleges, community colleges, corporate / business world, dangers of the status quo, Daniel S. Christian, digital learning, distance education, face-to-face, future of higher education, game-changing environment, higher education, ideas, innovation, leadership, learning hubs, learning spaces, strategy, universities, user experience (UX), vendors, vision, by Daniel Christian
How Amazon's purchase of Whole Foods highlights the hybrid, 'omnichannel' future of higher ed — from edsurge.com by Sean Gallagher
Excerpt:
The expectation that students can integrate their learning experiences across channels is now arriving in higher education. Online education has reached a tipping point where almost 30 percent of all students in U.S. higher education are enrolled in at least one online college course. A significant number of students are already blending their experience across online and offline channels—and numerous data points speak to the evolving value of blending online delivery with physical presence, as suggested by Amazon.
In national surveys of prospective adult students that we have conducted regularly at Northeastern University over recent years, we have consistently found that 60 percent of students prefer a blended or hybrid learning experience. In other words, the majority of the higher education student market is neglected by today's dominant approach that focuses on offering either online or in-person programs.
…
Like Amazon, the colleges and universities that are able to deliver across channels—leveraging the combination of physical presence and online algorithms—will be uniquely positioned to take advantage of the in-demand, destination nature of studying in certain cities; the local sourcing of faculty; and proximity to key employers, industries, and job opportunities.
Over the next decade, growth and competitive success in higher education will not be a function of who is able to offer online programs. Instead, the successful institutions will be those who can symbiotically integrate their placed-based educational operations and experiences with software-driven analytics, learning science, and machine learning to create a more personalized experience. A more Amazon-like experience.
---
From DSC:
A few side comments here:
The future won't be kind to those institutions who haven't built up their "street cred" in the digital/virtual space. For example, if you are working at a traditional institution of higher education that doesn't have online-based programs — nor does it have plans to create such programs in the future — you should get your resume up-to-date and start looking…now.


.




For data/analytics to have a significant impact and inform strategic or pedagogical decisions, one needs to collect the data. This is not hard to do online. But it's very difficult — at least at a granular level — to do in a face-to-face environment.




.

Coursera's

MeetUps around the world

— where their learners are encouraged to join study and discussion groups related to their online-only courses — make me wonder about the future of learning spaces and whether your local Starbucks might morph into a learning hub.
---
On 04/29/2017, in 21st century, algorithms, Amazon, analytics, business, corporate / business world, entrepreneurship, experimentation, face-to-face, ideas, innovation, reading, reinvent, United States, user experience (UX), vendors, workplace, by Daniel Christian
Amazon's new bricks-&-mortar bookstore nails what the web couldn't — from hackernoon.com by Pat Ryan
or
A title from DSC:
How Amazon uses its vast data resources to reinvent the bookstore
Excerpt (emphasis DSC):
Amazon's First Foray into Physical Retail — While Utilitarian — Takes Discovery to New Levels
As a long time city dweller living in a neighborhood full of history, I had mixed feelings about the arrival of Amazon's first bricks-and-mortar bookstore in a city neighborhood (the first four are located in malls). Like most of my neighbors around Chicago's Southport Corridor, I prefer the charm of owner operated boutiques. Yet as a tech entrepreneur who holds Amazon founder Jeff Bezos in the highest esteem, I was excited to see how Amazon would reimagine the traditional bookstore given their customer obsession and their treasure trove of user data. Here's what I discovered…
…
The Bottom Line:
I will still go to Amazon.com for the job of ordering a book that I already know that I want (and to the local Barnes and Noble if I need it today). But when I need to discover a book for gifts (Father's Day is coming up soon enough) or for my own interest, nothing that I have seen compares to Amazon Books. We had an amazing experience and discovered more books in 20 minutes than we had in the past month or two.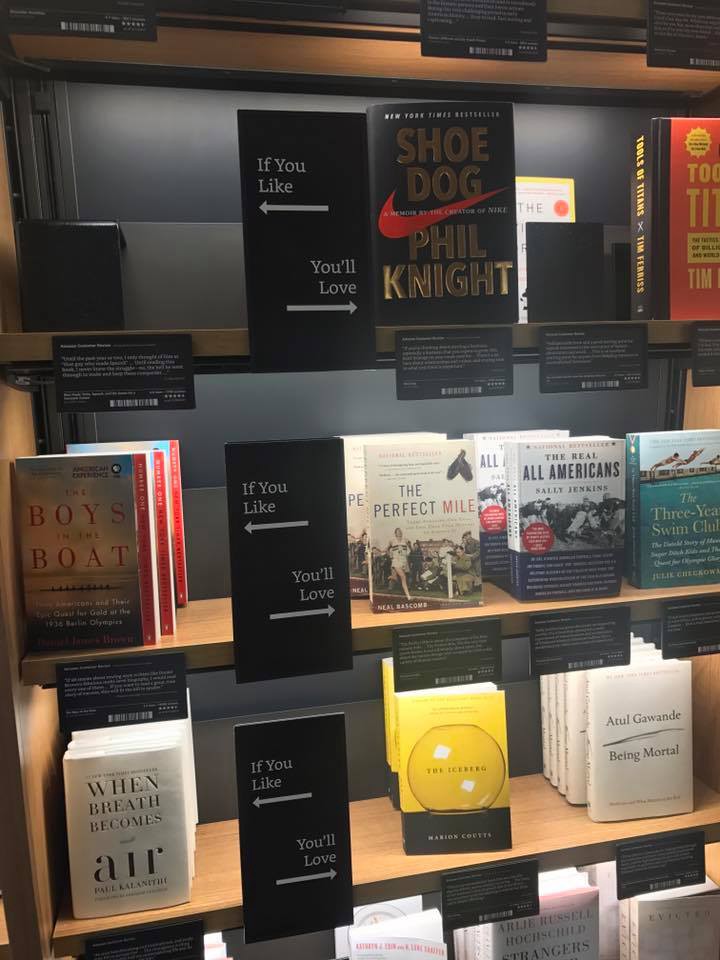 The physical manifestation of the "if you like…then you'll love…"
The ultra metric combining insights from disparate sources seems more compelling than standard best seller lists
On 03/25/2017, in 21st century, A/V -- audio/visual, Artificial Intelligence / Machine Learning / Deep Learning, cognitive computing, collaboration, Daniel S. Christian, distance education, education technology, emerging technologies, face-to-face, higher education, human-computer interaction (HCI), IBM, ideas, innovation, intelligent systems, interaction design, learning spaces, training / L&D, universities, user experience (UX), user interface design, vendors, voice recognition / voice enabled interfaces, web-based collaboration, workplace, by Daniel Christian
(Below emphasis via DSC)
IBM and Ricoh have partnered for a cognitive-enabled interactive whiteboard which uses IBM's Watson intelligence and voice technologies to support voice commands, taking notes and actions and even translating into other languages.
The Intelligent Workplace Solution leverages IBM Watson and Ricoh's interactive whiteboards to allow to access features via using voice. It makes sure that Watson doesn't just listen, but is an active meeting participant, using real-time analytics to help guide discussions.
Features of the new cognitive-enabled whiteboard solution include:
Global voice control of meetings: Once a meeting begins, any employee, whether in-person or located remotely in another country, can easily control what's on the screen, including advancing slides, all through simple voice commands using Watson's Natural Language API.

Translation of the meeting into another language:

The Intelligent Workplace Solution can translate speakers' words into several other languages and display them on screen or in transcript.
Easy-to-join meetings: With the swipe of a badge the Intelligent Workplace Solution can log attendance and track key agenda items to ensure all key topics are discussed.
Ability to capture side discussions: During a meeting, team members can also hold side conversations that are displayed on the same whiteboard.
---
From DSC:
Holy smokes!
If you combine the technologies that Ricoh and IBM are using with their new cognitive-enabled interactive whiteboard with what Bluescape is doing — by providing 160 acres of digital workspace that's used to foster collaboration (and to do so whether you are working remotely or working with others in the same physical space) — and you have one incredibly powerful platform! 
#NLP  |  #AI  |  #VoiceRecognition |  #CognitiveComputing
#SmartClassrooms  |  #LearningSpaces  |#Collaboration |  #Meetings 
---