The disruption of digital learning: Ten things we have learned — from joshbersin.com
Excerpt:
Over the last few months I've had a series of meetings with Chief Learning Officers, talent management leaders, and vendors of next generation learning tools. My goal has been simple: try to make sense of the new corporate learning landscape, which for want of a better word, we can now call "Digital Learning." In this article I'd like to share ten things to think about, with the goal of helping L&D professionals, HR leaders, and business leaders understand how the world of corporate learning has changed.
Digital Learning does not mean learning on your phone, it means "bringing learning to where employees are." 

It is a "way of learning" not a "type of learning."
The traditional LMS is no longer the center of corporate learning, and it's starting to go away.
What Josh calls a Distributed Learning Platform, I call a Learning Ecosystem: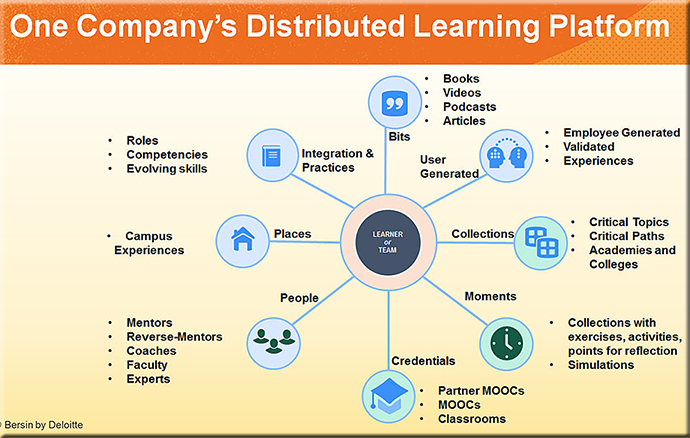 ---
---
Also see:
Watch Out, Corporate Learning: Here Comes Disruption — from forbes.com by Josh Bersin
Excerpt:
The corporate training market, which is over $130 billion in size, is about to be disrupted. Companies are starting to move away from their Learning Management Systems (LMS), buy all sorts of new tools for digital learning, and rebuild a whole new infrastructure to help employees learn. And the impact of GSuite,  Microsoft Teams, Slack, and Workplace by Facebook could be enormous.
…
We are living longer, jobs are changing faster than ever, and automation is impinging on our work lives more every day. If we can't look things up, learn quickly, and find a way to develop new skills at work, most of us would prefer to change jobs, rather than stay in a company that doesn't let us reinvent ourselves over time.
---
---