On 03/23/2017, in 21st century, adjunct faculty, adult learning, algorithms, analytics, augmented reality, Blockchain, career development, change, colleges, community colleges, competency-based learning/education, data mining, digital learning, educational games / serious games, faculty, higher education, personalized/customized learning, tools, trends, Universal Design for Learning (UDL), universities, virtual reality / worlds / learning, workplace, by Daniel Christian
Description:
A portrait of the tools and technology that students of the future might encounter.
On 03/08/2017, in Artificial Intelligence / Machine Learning / Deep Learning, Asia, Blockchain, business, business side of he, career development, change, competency-based learning/education, corporate / business world, corporate universities / corporate training, Daniel S. Christian, data mining, future, future of higher education, game-changing environment, Microsoft, United States, workplace, by Daniel Christian
From DSC:
In the future, will Microsoft — via data supplied by LinkedIn and Lynda.com — use artificial intelligence, big data, and blockchain-related technologies to match employers with employees/freelancers?  If so, how would this impact higher education? Badging? Credentialing?
It's something to put on our radars.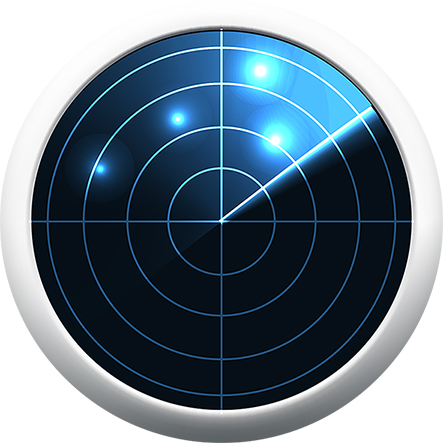 Excerpt:
A sneak peak on Recruitment in AI era
With global talent war at its peak, organisations are now looking at harnessing Artificial Intelligence (AI) capabilities, to use search optimisation tools, data analytics, and talent mapping to reach out to the right talent for crucial job roles. Technology has been revolutionising the way recruitment works with the entire process being now automated with ATS and other talent management softwares. This saves time and costs involved with recruiting for HR managers, whilst allowing them to do away with third-party service providers for talent sourcing such as employment bureaus and traditional recruitment agencies. With modern talent acquisition technology empowered by AI, the time taken for recruitment is halved and search narrowed to reach out to only the best talent that matches job requirements. There is no need for human intervention and manual personality matching to choose the best candidates for suitable job roles.
…
Talent mapping, with the help of big data, is definitely the next step in recruitment technology. With talent mapping, recruiters can determine their candidate needs well in advance and develop a strategic plan for hiring long-term. This includes filling any skill gaps, bolstering the team for sudden changes in the workplace, or just simply having suitable talent in mind for the future. All of these, when prepared ahead of time, can save companies the trouble and time in future. Recruiters who are able to understand how AI works, harness the technology to save on time and costs will be rewarded with improved quality of hires, enhanced efficiency, more productive workforce and less turnover.
On 03/04/2017, in 21st century, Artificial Intelligence / Machine Learning / Deep Learning, Blockchain, career development, cloud-based computing / apps / other cloud-related, colleges, community colleges, competency-based learning/education, Daniel S. Christian, data mining, emerging technologies, experimentation, freelancing, higher education, ideas, innovation, learner profiles, Learning Agents, learning ecosystem, learning from the living [class] room, Lifelong learning, Microsoft, MOOCs -- Massive Open Online Courses, traditional / tradition, training / L&D, trends, universities, vendors, workplace, by Daniel Christian
From DSC:
At the recent Next Generation Learning Spaces Conference, in my introductory piece for our panel discussion, I relayed several ideas/areas that should be on our institutions' radars. That is, at least someone at each of our institutions of higher education should be aware of these things and be pulse-checking them as time goes by.
One of these ideas/areas involved the use of blockchain technologies:
If #blockchain technologies are successful within the financial/banking world, then it's highly likely that other use cases will be developed as well (i.e., the trust in blockchain-enabled applications will be there already).
Along those lines, if that occurs, then colleges and universities are likely to become only 1 of the feeds into someone's cloud-based, lifelong learning profile. I've listed several more sources of credentials below:
Given the trend towards more competency-based education (CBE) and the increased experimentation with badges, blockchain could increasingly move onto the scene.
In fact, I could see a day when an individual learner will be able to establish who can and can't access their learner profile, and who can and can't feed information and updates into it.
Artificial intelligence and big data also come to mind here…and I put Microsoft on my radar a while back in this regard; as Microsoft (via LinkedIn and Lynda.com) could easily create online-based marketplaces matching employers with employees/freelancers.
---
Along these lines, see:
---
The Mainstreaming of Alternative Credentials in Postsecondary Education — from by Deborah Keyek-Franssen
Excerpt:

The Context of Alternative Credentials
The past few years have seen a proliferation of new learning credentials ranging from badges and bootcamp certifications to micro-degrees and MOOC certificates. Although alternative credentials have been part of the fabric of postsecondary education and professional development for decades—think prior learning assessments like Advanced Placement or International Baccalaureate exams, or industry certifications—postsecondary institutions are increasingly unbundling their degrees and validating smaller chunks of skills and learning to provide workplace value to traditional and non-traditional students alike.Many are experimenting with alternative credentials to counter the typical binary nature of a degree. Certifications of learning or skills are conferred after the completion of a course or a few short courses in a related field. Students do not have to wait until all requirements for a degree are met before receiving a certificate of learning, but instead can receive one after a much shorter period of study. "Stackable" credentials are combined to be the equivalent of an undergraduate or graduate certificate (a micro-degree), or even a degree.
The National Discussion of Alternative Credentials
Discussions of alternative credentials are often responses to a persistent and growing critique of traditional higher educational institutions' ability to meet workforce needs, especially because the cost to students for a four-year degree has grown dramatically over the past several decades. The increasing attention paid to alternative credentials brings to the fore questions such as what constitutes a postsecondary education, what role universities in particular should play vis-à-vis workforce development, and how we can assess learning and mastery.
---
Addendums added on 3/4/17, that show that this topic isn't just for higher education, but could involve K-12 as well:
---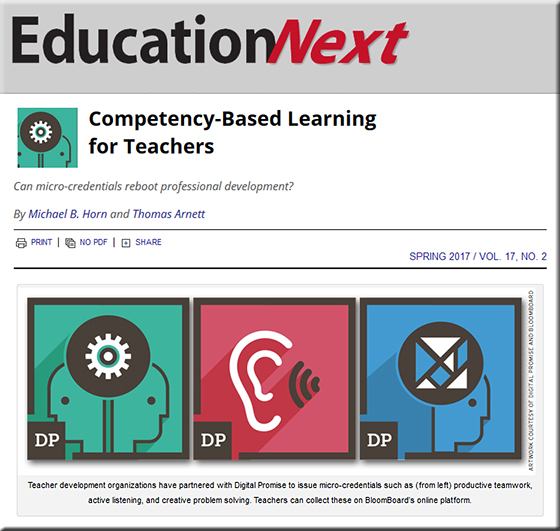 On 07/11/2016, in 21st century, Blockchain, career development, change, cognitive computing, colleges, community colleges, competency-based learning/education, Daniel S. Christian, data mining, exchanges, higher education, IBM, ideas, innovation, learner profiles, Lifelong learning, marketplaces, Microlearning, Microsoft, professional development, universities, workplace, by Daniel Christian
---
From DSC:
As I read the article below, I couldn't help but think of Microsoft's recent announcement to purchase LinkedIn.com (who had already acquired Lynda.com last year).  Perhaps Microsoft's purchase of LinkedIn (and with it, Lynda.com) will bring big data to lifelong learning, career building, and matching job providers with job seekers (i.e., online-based marketplaces/exchanges). If Microsoft doesn't do this, perhaps IBM's Watson will. But this is where blockchain could come in as well…to verify that someone actually took this or that module, course, training, etc.

---
How Microcredentials are Changing the Landscape of Higher and Technical Education — from evolllution.com by Michael Netzer, Associate Provost & SVP of Academic Program Development and Outreach, American Public University System
Excerpts:
Just ten years ago, one would never have considered the portability of credentials that could follow a person from location to location, allowing potential employers to verify a job candidate's fit for a position quickly. However, that is just what has happened, and the explosion of interest in digital badging and microcredentials is changing the landscape of higher education.
…
Digital badges encoded with microcredentials contain meta data that links back to the issuer, performance criteria, and verification of evidence.
…
Ultimately, badging offers portability of acknowledged skills and abilities that can be carried anywhere to demonstrate competency. Learners can accumulate badges across institutional platforms, and the badges can be sorted, shown, or hidden by the learner to reflect achievement in the particular skills or knowledge which the learner wishes to exhibit.