On 09/14/2020, in 21st century, 24x7x365 access, A/V -- audio/visual, algorithms, Amazon, Artificial Intelligence / Machine Learning / Deep Learning, business, change, corporate / business world, dangers of the status quo, Daniel S. Christian, emerging technologies, engineering, human-computer interaction (HCI), ideas, law schools, leadership, legislatures / government / legal, marketplaces, robotics, society, workplace, by Daniel Christian
Walmart just started delivering stuff with drones — from futurism.com by Victor Tangermann
Excerpt:
Walmart just kicked off its own drone delivery pilot, a collaboration with drone delivery company Flytrex. The pilot launched today in Fayetteville, North Carolina, and is limited to select grocery and household essential items from the retailer's local stores.
From DSC:
It starts off with an army of drones from Walmart joined by another army of drones from Amazon.
Then company XYZ chimes in. Then company ABC chimes in. And so on, and so on, and so on.
Then the armies of drones change to more powerful, louder, more "capable" delivery vehicles that can handle bigger, heavier deliveries.
And suddenly, the skies are full of noise-making, sun-blocking pieces of human-made machinery that, for the most part, are convenient but not necessary. 
We need to think — and act — very carefully these days.
What kind of future do we want to hand down to our children and to our grandchildren?

What will the skies look and sound like in 2030 if such armies of drones and other types of airborne delivery vehicles are released?

Are we willing to say that our kids won't mind paying the price?
Is this the future we want to create? Not me. I, for one, appreciate a quiet walk. I appreciate being able to look up at the skies, especially when they are clear.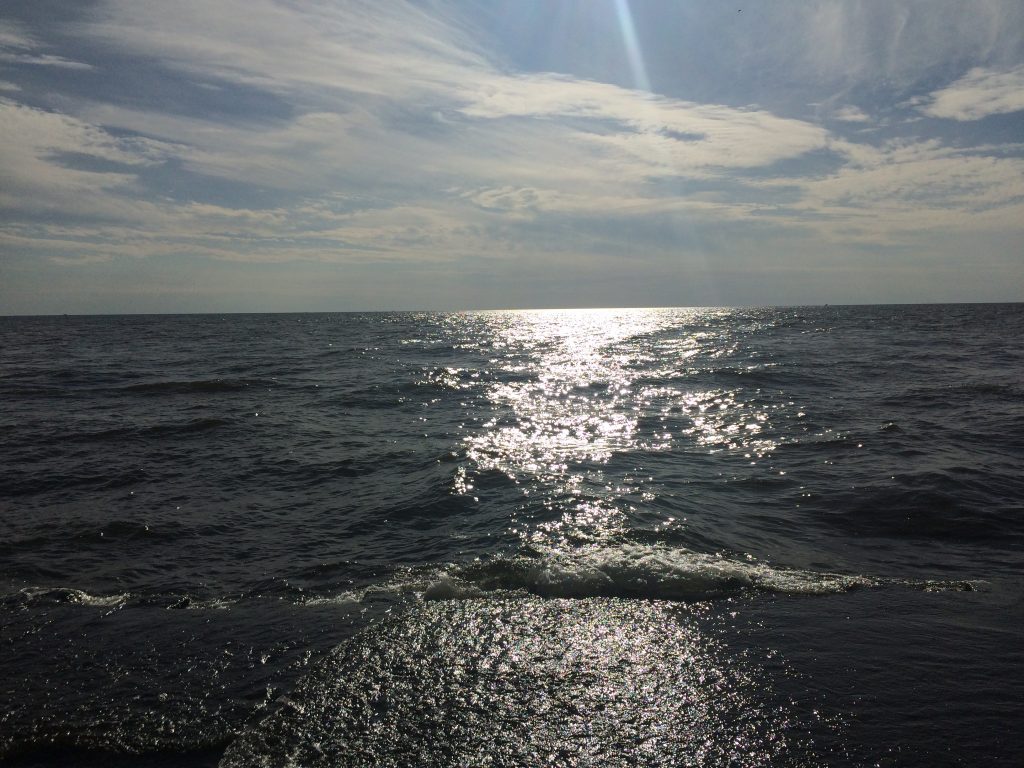 To the relevant engineers and C-Suites out there:
Just because we can, doesn't mean we should.

Please take more responsibility for what's being developed/brought to market.
Let's shut this down — now — before the momentum gets started. Let's follow Portland's example by shutting down facial recognition/AI:
Portland adopts landmark facial recognition ordinances — from thehill.com by Chris Mills Rodrigo
Excerpt:
"What makes Portland's legislation stand out from other cities is that we're prohibiting facial recognition technology use by private entities in public accommodations," Mayor Ted Wheeler (D) said during Wednesday's deliberations. "This is the first of its kind of legislation in the nation," he added.
Why Amazon tried to thwart Portland's historic facial recognition ban — from salon.com by Matt Rozsa
Amazon reportedly lobbied in secret to weaken Portland's ban on private use of facial recognition technology
On 08/04/2020, in 21st century, Artificial Intelligence / Machine Learning / Deep Learning, computer science, data mining, innovation, Natural Language Processing (NLP), robotics, society, technology (general), trends, Virtual Reality (VR) / worlds / learning, voice recognition / voice enabled interfaces, XR - extended reality, by Daniel Christian
Radar trends to watch: August 2020 — from oreilly.com
Trends in COVID-19, AI, data, robotics, programming, VR, technology and society, and security.
Excerpt:
A promising new voice separation model allows voice recognition to distinguish up to five voices speaking simultaneously without knowing the number of speakers in advance.
On 01/04/2020, in 21st century, algorithms, Artificial Intelligence / Machine Learning / Deep Learning, dangers of the status quo, Daniel S. Christian, emerging technologies, robotics, society, technologies for your home, the downsides of technology, trends, United States, user experience (UX), youth, by Daniel Christian
From pizza to transplant organs: What drones will be delivering in the 2020s — from digitaltrends.com by Luke Dormehl
Excerpt:
From drone racing to drone photography, quadcopters and other unmanned aerial vehicles rose to prominence in the 2010s. But in the decade to come they're going to become an even bigger thing in the next 10 years. Case in point: Deliveries by drone.
Who should you be watching in this space?

From DSC:
While I appreciate Luke's reporting on this, I am very much against darkening the skies with noisy machines. Again, we adults need to be very careful of the world that we are developing for our kids! If items could be delivered via a system of underground pipes, that would be a different, quieter, not visible, more agreeable approach for me.
Just because we can…
On 12/11/2019, in algorithms, analytics, Artificial Intelligence / Machine Learning / Deep Learning, Asia, Australia, career development, change, cloud-based computing / apps / other cloud-related, computer science, corporate / business world, corporate universities / corporate training, data mining, emerging technologies, Europe, freelancing, future, India, Microsoft, online learning, platforms, professional development, robotics, society, UK, United States, by Daniel Christian
The Jobs of Tomorrow: LinkedIn's 2020 Emerging Jobs Report — from blog.linkedin.com by Guy Berger
Excerpt:
Here's what you should know about this year's emerging jobs.
Artificial intelligence (AI) continues to make a strong showing on our Emerging Jobs lists, which is no surprise.
Professionals are on the move, likely a result of factors like housing costs, political and regulatory change, or more flexibility with remote work opportunities.
Demand for soft skills is likely to increase as automation becomes more widespread. Skills like communication, creativity, and collaboration are all virtually impossible to automate…
Also see these reports:
Online learning is here to stay.
The multibillion-dollar e-learning industry is taking off, and it's staffing up to prepare. LinkedIn data shows the industry is snapping up both sales and tech talent, indicating continued customer demand for these types of solutions.
On 11/20/2019, in 21st century, algorithms, analytics, Artificial Intelligence / Machine Learning / Deep Learning, bots, business, career development, change, cloud-based computing / apps / other cloud-related, collaboration, communities of practice, computer science, future, game-changing environment, IT in HE, platforms, productivity / tips and tricks, professional development, programming, robotics, society, United States, workplace, by Daniel Christian
6 critical IT skills for the next decade: Bay Area CIO of the Year winners share — from enterprisersproject.com by Ginny Hamilton
What skills will IT talent need most? Six award-winning CIOs discuss the top skills on their radar screens – from AI to emotional intelligence
I'd highly recommend all technology professionals build their external network and contribute to the external professional community as early in your career as possible. The wisdom of the tech community is incredibly important, and because you have to curate this over an extended period of time, there is no accelerated option you can tap at a later date. Technology professionals need to constantly be re-inventing themselves to stay relevant. As technology evolves, so too do the people and roles around it. Constant change is the steady state today and as I tell my team, "The pain of change is mandatory, it is the suffering that is optional. And if you don't like change, you are going to like irrelevance even less."
From DSC:
This is an especially good read for students who are considering going into a tech-focused career. If you decide to go that route, you had better be ready for constant change….constant, lifelong learning. And as you get older, you will face age discrimination. Enjoy the jobs that you get from ages 18-30 (perhaps even up to age 35). After that, it gets much tougher. Hopefully, that situation will change as more organizations get sued for allowing this discrimination to continue (perhaps implementing is the more appropriate word…vs. allowing it to occur). Here are some examples of those kinds of issues/suits. But for now, that's the state of things…at least here in the United States.
On 11/13/2019, in 21st century, algorithms, Artificial Intelligence / Machine Learning / Deep Learning, law schools, legislatures / government / legal, platforms, robotics, society, sociology, the downsides of technology, United States, workplace, by Daniel Christian
AI hiring could mean robot discrimination will head to courts — from news.bloomberglaw.com by Chris Opfer
Algorithm vendors, employers grappling with liability issues
EEOC already looking at artificial intelligence cases
Excerpt:
As companies turn to artificial intelligence for help making hiring and promotion decisions, contract negotiations between employers and vendors selling algorithms are being dominated by an untested legal question: Who's liable when a robot discriminates?
The predictive strength of any algorithm is based at least in part on the information it is fed by human sources. That comes with concerns the technology could perpetuate existing biases, whether it is against people applying for jobs, home loans, or unemployment insurance.
From DSC:
Are law schools and their faculty/students keeping up with these kinds of issues? Are lawyers, judges, attorney generals, and others informed about these emerging technologies?
On 10/01/2019, in Amazon, engineering, law schools, legislatures / government / legal, platforms, policy, robotics, society, trends, by Daniel Christian
UPS just beat out Amazon and Google to become America's first nationwide drone airline — from businessinsider.com by Rachel Premack
Key points:
The US Department of Transportation said Tuesday it granted its first full Part 135 certification for a drone airline to UPS.
UPS currently conducts drone deliveries at a large hospital in Raleigh, North Carolina.
It will now be able to operate drones anywhere in the country — an industry first.
Another drone operator — Wing, owned by Google's parent company Alphabet — also has Part 135 certification. But the scope of its operation is limited to Christiansburg, Virginia, about 210 miles southwest of the state capitol Richmond.
From DSC:
Add to that, these delivery bots, drones, pods, and more:
From DSC:
I wonder…will we be able to take a quiet walk in the future? That may not be the case if the building of these armies of drones continues — and becomes a full-fledged trend.
On 09/25/2019, in 21st century, algorithms, Artificial Intelligence / Machine Learning / Deep Learning, career development, change, emerging technologies, engineering, ethics, future, future of higher education, game-changing environment, robotics, Virtual Reality (VR) / worlds / learning, XR - extended reality, youth, by Daniel Christian
Top jobs in 2040 will involve virtual reality, artificial intelligence & robotics — from themanufacturer.com by Jonny Williamson
Emerging technologies such as virtual reality (VR), artificial intelligence (AI) and robotics will strongly influence the careers we do in the future, according to new research from BAE Systems.
Excerpt:
Almost half of young people (47%) aged between 16-24 believe that one day they will work in a role that doesn't exist yet, but only one-in-five (18%) think they are equipped with the skills required to future-proof their careers.


.

Three-quarters (74%) also feel that they are not getting enough information about careers that will be available in the future.