On 10/16/2019, in 21st century, business side of he, change, changing business models, colleges, community colleges, cost of getting a degree, dangers of the status quo, Daniel S. Christian, education reform, future of higher education, game-changing environment, higher education, Law Schools, learning from the living [class] room, liberal arts, Michigan, United States, universities, Walmart of Education --> New Amazon.com of Higher Education, by Daniel Christian
In case you missed it, WMU-Cooley's President and Board of Directors took a look at our tuition rates and made the decision to reduce them by 21 percent starting Fall 2020! https://t.co/FjC6hk4vnE pic.twitter.com/NkCMAzoomE

— WMU-Cooley Law School (@WMUcooleylaw) October 16, 2019
From DSC:
Regular readers of this blog will know that for years, I've made it one of my goals to try and raise awareness of the need for institutions of higher education to lower their tuitions! For example, Yohan Na and I designed the graphic below way back in 2009.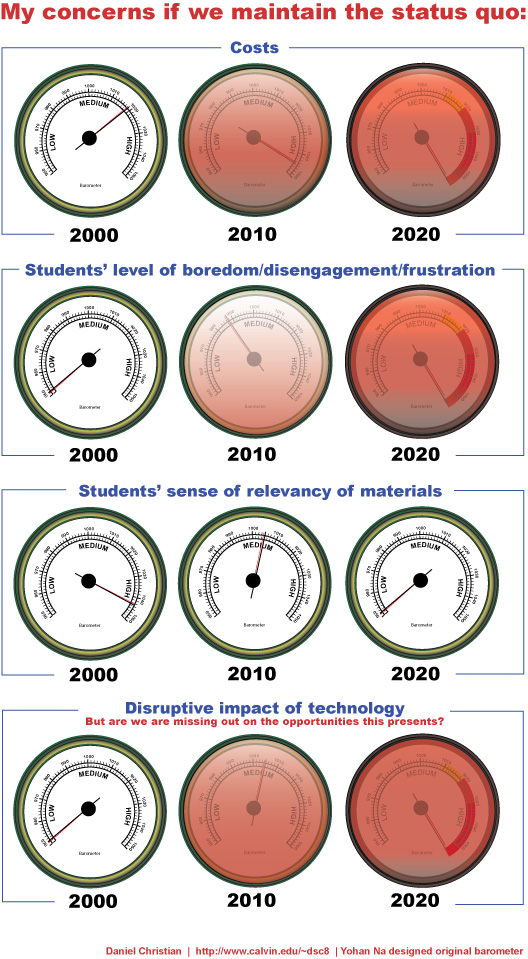 Through those years, I cringed when I kept hearing various Boards say, "We only increased our tuition by ___ % — the lowest percentage increase in our state." The direction was completely wrong! It needed to go down, not up. If you work in higher ed, I encourage you to find a way for that to happen at your own institution.
So I'm very pleased to report that the WMU-Thomas M. Cooley Law School — where I work — was able to reduce tuition by 21%!!! 
Don't get me wrong, some tough decisions were made to pave the way for that to occur. But this will be the case no matter which institution of higher education that you look at. An institution will have to make some tough choices to reduce their tuition. But it HAS to occur. We can't keep this upward trajectory going.
If we don't change this trajectory, we will continue to put enormous gorillas (of debt) on our graduates' backs! Such debt will take our graduates decades to pay off. 
We need to be aware of these invisible gorillas of debt. That is, our students move on…and we don't see them. But their gorillas remain.
---
---
Addendum on 10/18/19:
Victoria Vuletich, the assistant dean at the Grand Rapids, Michigan campus of Western Michigan University Cooley Law School, was interviewed by the State Bar of Michigan's Legal Talk Network to discuss what the law school experience is like for the current generation of students. 
---
---
On 10/04/2019, in colleges, community colleges, cost of getting a degree, higher education, ideas, MOOCs -- Massive Open Online Courses, online learning, online media, platforms, United States, universities, vendors, by Daniel Christian
Coursera offers its 3,600-course catalog to non-affiliated universities — from ibleducation.com
Excerpt:
Coursera announced Coursera for Campus on October 3.
This initiative is designed to allow any university, including those who are not partners, to supplement their course offering with Coursera's 3,600-course catalog, integrating these classes into their curricula and offering credit-eligible, and blended learning.
These universities will also be able to access Coursera's analytics as well as author content, assessments, and labs. Features such as single sign-on (SSO) and API integration will be available, too.
Also see:
Also see:
On 09/25/2019, in business, career development, colleges, community colleges, computer science, future of higher education, higher education, human-computer interaction (HCI), ideas, innovation, IT in HE, platforms, professional development, programming, technology (general), trends, United States, universities, vendors, workplace, by Daniel Christian
Information Technology (IT) skills and jobs are widely misunderstood to be housed primarily in the tech sector, and they are also thought to be inaccessible to all but a small minority of people who have focused intently on computer science. Building on our prior research efforts and mining a database of more than 150 million unique online U.S. job postings, Oracle Academy and Burning Glass Technologies produce new evidence that neither of these perceptions are borne out by data. To the contrary, 90% of IT skills and jobs are concentrated in 10 non-tech industries, leaving only 10% in the tech sector. The rapid growth of IT jobs is more than 50% greater in non-tech industries than in tech industries.
On 09/14/2019, in Asia, Australia, Canada, collaboration, colleges, community colleges, Europe, higher education, India, IT in HE, Law Schools, leadership, learning ecosystem, online learning, quality, strategy, teaching online, UK, United States, universities, vendors, by Daniel Christian
The Global Landscape of Online Program Companies — from by Doug Lederman
New trove of data suggests a bigger, more complex, more varied ecosystem of companies that work with colleges to take their academic programs online.
Excerpt:
A new dataset promises to give college leaders, company officials and others involved in the online learning landscape much more information about who offers what programs, how they manage them and where the money is flowing, among other factors.
And the company behind the new data, Holon IQ, published a report today that gives a new name to the large and diversifying category of providers that are working with colleges to take their programs online: OPX, instead of OPM, for online program management companies. (More on that later.)
Also see:
Also see:
Multi-Faculty Collaboration to Design Online General Studies Courses — from facultyfocus.com by B. Jean Mandernach
Excerpt:
While this type of autonomy in course design makes sense for the face-to-face classroom, it may be less practical–and less effective–in the context of online education. Simply put, development of a high-quality online course takes considerable time and advanced knowledge of online pedagogy. If multiple faculty members are teaching the same course online (as is often the case with general studies or other high-demand courses), it is not an efficient use of departmental time, resources, or budget to have multiple faculty developing their own online classroom for different sections of the same course.
On 09/14/2019, in 21st century, 24x7x365 access, algorithms, Artificial Intelligence / Machine Learning / Deep Learning, change, cognitive computing, colleges, community colleges, education, education technology, emerging technologies, future of higher education, game-changing environment, higher education, intelligent systems, intelligent tutoring, IT in HE, Law Schools, learning ecosystem, learning from the living [class] room, legislatures / government / legal, Lifelong learning, online learning, personalized/customized learning, platforms, the downsides of technology, tools, United States, universities, by Daniel Christian
Artificial Intelligence in Higher Education: Applications, Promise and Perils, and Ethical Questions — from er.educause.edu by Elana Zeide
What are the benefits and challenges of using artificial intelligence to promote student success, improve retention, streamline enrollment, and better manage resources in higher education?
Excerpt:
The promise of AI applications lies partly in their efficiency and partly in their efficacy. AI systems can capture a much wider array of data, at more granularity, than can humans. And these systems can do so in real time. They can also analyze many, many students—whether those students are in a classroom or in a student body or in a pool of applicants. In addition, AI systems offer excellent observations and inferences very quickly and at minimal cost. These efficiencies will lead, we hope, to increased efficacy—to more effective teaching, learning, institutional decisions, and guidance. So this is one promise of AI: that it will show us things we can't assess or even envision given the limitations of human cognition and the difficulty of dealing with many different variables and a wide array of students.
…
A second peril in the use of artificial intelligence in higher education consists of the various legal considerations, mostly involving different bodies of privacy and data-protection law. Federal student-privacy legislation is focused on ensuring that institutions (1) get consent to disclose personally identifiable information and (2) give students the ability to access their information and challenge what they think is incorrect.7 The first is not much of an issue if institutions are not sharing the information with outside parties or if they are sharing through the Family Educational Rights and Privacy Act (FERPA), which means an institution does not have to get explicit consent from students. The second requirement—providing students with access to the information that is being used about them—is going to be an increasingly interesting issue.8 I believe that as the decisions being made by artificial intelligence become much more significant and as students become more aware of what is happening, colleges and universities will be pressured to show students this information. People are starting to want to know how algorithmic and AI decisions are impacting their lives.
My short advice about legal considerations? Talk to your lawyers. The circumstances vary considerably from institution to institution.