On 06/24/2020, in Blockchain, business, corporate / business world, data mining, emerging technologies, professional development, society, tools, United States, vendors, workplace, by Daniel Christian
What is blockchain technology? The ultimate guide for beginners. — from cryptocoinsociety.com by Jesús Cedeño
Excerpt:
The purpose of this article is to address three central questions that should be discussed to fully understand and appreciate this revolutionary and disruptive technology called blockchain. This will include historical details about nascent technology and its evolutionary progress through the first decade of existence. We will also explore the different types of this technology and explain why the blockchain name is a misnomer and introduce a more proper name for the technology.
Why do we Need Blockchain Technology?
To answer this question we need to state what is the value proposition of Blockchain Technology. Blockchain's value hinges on decentralization. Without decentralization blockchain technology is no different from regular databases. Decentralization removes the need to have an intermediary or a single authority that acts as gatekeepers of truth or having to trust an entity to ensure the trustworthiness of any transaction. Through blockchain, people will be able to transact with each other directly without having to worry that transactions will push through and will not be reversible.
On 03/07/2020, in algorithms, analytics, Artificial Intelligence / Machine Learning / Deep Learning, Blockchain, bots, career development, data mining, law schools, legal technologies, legislatures / government / legal, library / librarians, technology (general), trends, UK, workplace, by Daniel Christian
Why law librarians are so important in a data-driven world — from Oxford University Press (blog.oup.com) by Femi Cadmus
Excerpt (emphasis DSC):
Looking ahead, the integration of technology in the work of law librarians will only increase. Over 90% of government law library employees say that artificial intelligence or machine learning has already affected their workflow by automating routine tasks. Over a quarter of law firms or corporations now have at least one active artificial intelligence initiative. Of those, more than half involve the library. It is therefore not surprising that the skills law library employees plan to develop in the next two years include artificial intelligence or machine learning, data analytics, and blockchain (in that order).
On 03/07/2020, in Asia, Blockchain, business, career development, cloud-based computing / apps / other cloud-related, emerging technologies, global / globalization, platforms, trends, by Daniel Christian
On 02/18/2020, in algorithms, Artificial Intelligence / Machine Learning / Deep Learning, Blockchain, career development, change, changing business models, emerging technologies, engineering, innovation, law schools, legal technologies, legislatures / government / legal, platforms, programming, UK, universities, using teams, vendors, by Daniel Christian
Deloitte Legal to work with academic tech venture group — from artificiallawyer.com
Excerpt:
Deloitte Legal is to collaborate with Conception X, a nine-month programme designed to train PhD students in technology entrepreneurship and to support them in building ventures based on their original research during their degree.
Conception X accepts applications across several research areas including artificial intelligence, machine learning, genetic engineering, blockchain and quantum computing. The first two cohorts, prior to the link-up with Deloitte, have seen the start-ups incorporated by PhD teams collectively raising a total of £5m and generating revenues of £2m.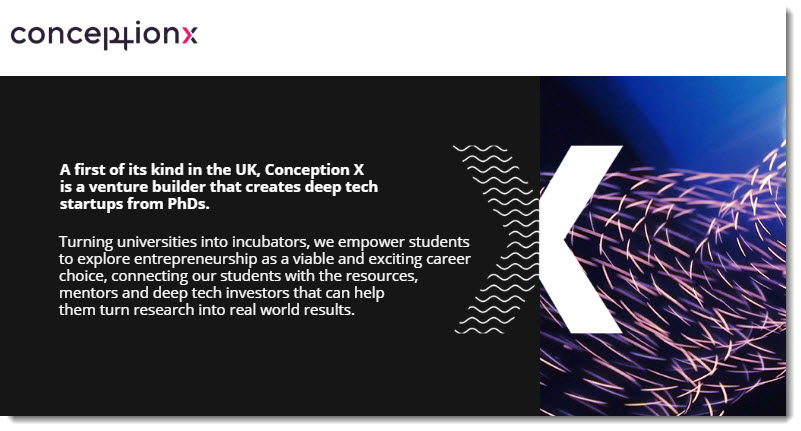 On 02/04/2020, in 21st century, Blockchain, computer science, human-computer interaction (HCI), innovation, law schools, legal technologies, legislatures / government / legal, platforms, programming, by Daniel Christian
How Blockchain's 'paradigm shift' puts more pressure on legal's tech evolution — from law.com by Rhys Dipshan
As part of the Legalweek 2020 Q&A series, Legaltech News speaks with blockchain researcher and entrepreneur Bettina Warburg on blockchain's potential disruption in the legal space, what attorneys most misunderstand about the technology, and more.
Excerpt:
Artificial intelligence may still take up much of spotlight these days, but it's far from the only technology that can fundamentally alter how the legal industry, and the broader economy, operates.
Blockchain technology, for instance, has wide-reaching consequences for record keeping, contracting, data governance and identity management. And beyond that, it may even change how the digital economy functions and work as underlying driver for integrated, autonomously running machines. What all this means for attorneys is that specialization, technical skills, and more technology knowledge will likely become even more important than it is today.
We are not just in the days of Bitcoin, where one user transfers bitcoin to another user's account. Instead, blockchain should be understood as part of an evolution toward a third generation Web (called Web3) that provides us with virtual machines that are stateful.

Web3 will be the basis of our transition from a digital economy to a decentralized economy. The economic opportunities of the decentralized economy can include wholly new business models: everything from fractionalized ownership and rights to assets that are secured digitally, to new kinds of verifiable and unique assets (such as virtual world avatars), to the ability for machines to transact with one another autonomously. A stateful virtual machine essentially allows us to have a shared verified reality upon which to transact digitally.

While it may sound futuristic, it is also the most obvious use for a digital infrastructure that can verify the transaction of value.
On 01/25/2020, in 21st century, 24x7x365 access, Blockchain, business side of he, career development, change, colleges, community colleges, education, future, future of higher education, game-changing environment, higher education, innovation, IT in HE, learner profiles, learning, learning ecosystem, United States, universities, by Daniel Christian
On 12/28/2019, in Blockchain, colleges, community colleges, credentialing, emerging technologies, platforms, society, tools, United States, universities, by Daniel Christian
Companies Say Blockchain Could Have Prevented College Admissions Scandal — from edsurge.com by Jeff Young
Excerpt:
One of the most eye-catching aspects of the recent Varsity Blues admissions scandal was that fake athletic profiles were created for students to help them get into highly-selective colleges through so-called "side doors."
Now, several companies that sell student-record systems based on blockchain—the technology behind Bitcoin—are pitching their products as a way to prevent that kind of fraudulent record tampering in the future.
On 12/27/2019, in algorithms, analytics, Artificial Intelligence / Machine Learning / Deep Learning, Blockchain, career development, cloud-based computing / apps / other cloud-related, computer science, content aggregration, content development, content repositories, corporate / business world, corporate universities / corporate training, emerging technologies, entrepreneurship, ethics, freelancing, future, health, human-computer interaction (HCI), innovation, intelligent systems, internet, law schools, legislatures / government / legal, morals/values, Natural Language Processing (NLP), pace of change, platforms, professional development, programming, the downsides of technology, tools, training / L&D, trends, UK, United States, voice recognition / voice enabled interfaces, by Daniel Christian
7 Artificial Intelligence Trends to Watch in 2020 — from interestingengineering.com by Christopher McFadden
Excerpts:
Per this article, the following trends were listed:
Computer Graphics will greatly benefit from AI
Deepfakes will only get better, er, worse
Predictive text should get better and better
Ethics will become more important as time goes by
Quantum computing will supercharge AI
Facial recognition will appear in more places
AI will help in the optimization of production pipelines
Also, this article listed several more trends:
According to sources like The Next Web, some of the main AI trends for 2020 include:
The use of AI to make healthcare more accurate and less costly
Greater attention paid to explainability and trust
AI becoming less data-hungry
Improved accuracy and efficiency of neural networks
Automated AI development
Expanded use of AI in manufacturing
Geopolitical implications for the uses of AI
Artificial Intelligence offers great potential and great risks for humans in the future. While still in its infancy, it is already being employed in some interesting ways.
According to sources like Forbes, some of the next "big things" in technology include, but are not limited to:
Blockchain
Blockchain As A Service
AI-Led Automation
Machine Learning
Enterprise Content Management
AI For The Back Office
Quantum Computing AI Applications
Mainstreamed IoT
Also see:
Artificial intelligence predictions for 2020: 16 experts have their say — from verdict.co.uk by Ellen Daniel
Excerpts:
Organisations will build in processes and policies to prevent and address potential biases in AI
Deepfakes will become a serious threat to corporations
Candidate (and employee) care in the world of artificial intelligence
AI will augment humans, not replace them
Greater demand for AI understanding
Ramp up in autonomous vehicles
To fully take advantage of AI technologies, you'll need to retrain your entire organisation
Voice technologies will infiltrate the office
IT will run itself while data acquires its own DNA
The ethics of AI
Health data and AI
AI to become an intrinsic part of robotic process automation (RPA)
BERT will open up a whole new world of deep learning use cases
The hottest trend in the industry right now is in Natural Language Processing (NLP). Over the past year, a new method called BERT (Bidirectional Encoder Representations from Transformers) has been developed for designing neural networks that work with text. Now, we suddenly have models that will understand the semantic meaning of what's in text, going beyond the basics. This creates a lot more opportunity for deep learning to be used more widely.