Unbundled: Designing Personalized Pathways for Every Learner — from gettingsmart.com by Nate McClennen "with contributions from the Getting Smart team and numerous friends and partners in the field"
Excerpts:
In this publication, we articulate the critical steps needed to unbundle the learning ecosystem, build core competencies, design learning experiences, curate new opportunities, and rebundle these experiences into coherent pathways.
.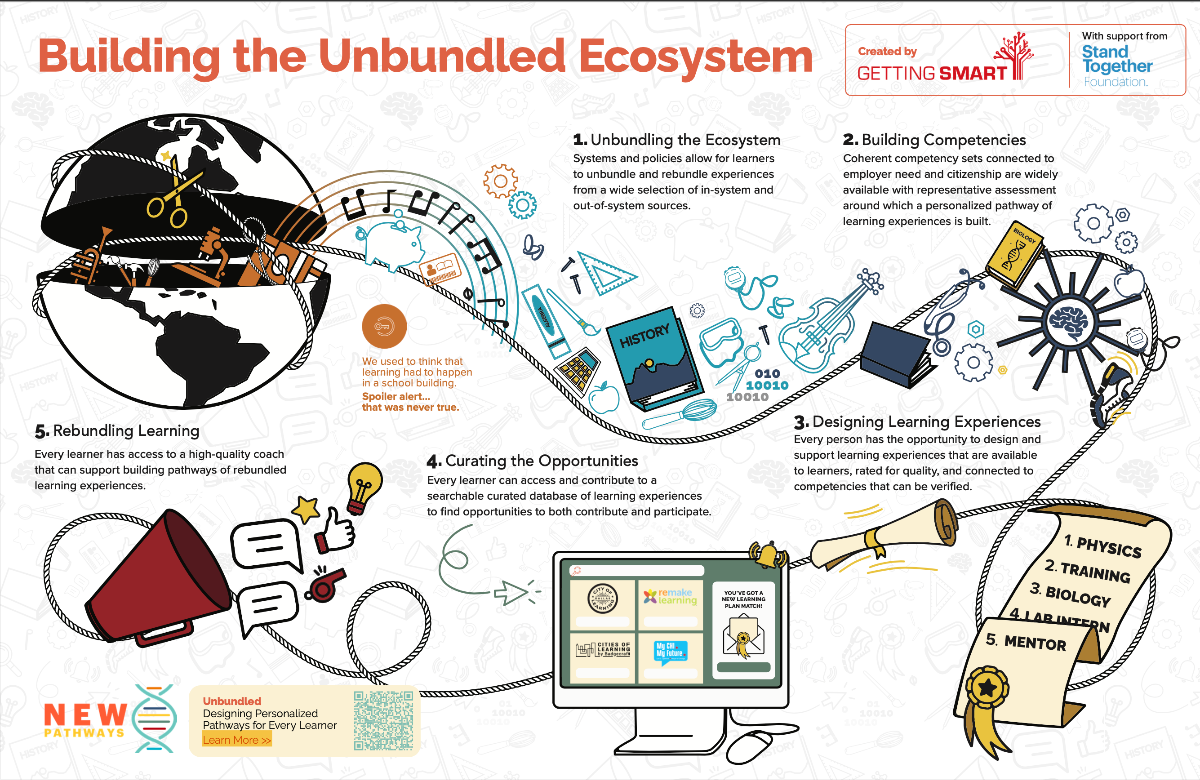 Vision
Every learner deserves an unlimited number of unbundled opportunities to explore, engage, and define experiences that advance their progress along a co-designed educational pathway. Each pathway provides equitable and personalized access to stacked learning experiences leading to post-secondary credentials and secure family-sustaining employment. Throughout the journey, supportive coaches focus on helping learners build skills to navigate with agency. In parallel, learners develop foundational skills (literacy, math), technical skills, and durable skills and connect these to challenging co-designed experiences. The breadth and depth of experiences increase over time, and, in partnership, learners and coaches map progress towards reaching community-defined goals. This vision is only enabled by an unbundled learning ecosystem.
…
Recommendations
Solutions already exist in the ecosystem and need to be combined and scaled. Funding models (like My Tech High), badging/credentialing at the competency level (like VLACS), coaching models (like Big Thought), and open ecosystems (like NH Learn Everywhere) provide an excellent foundation. Thus, building unbundled systems has already begun but needs systemic changes to become widely available and accepted.
Build a robust competency-based system.
Create a two-way marketplace for unbundled learning.
Implement policy to support credit for out-of-system experiences.
Invest in technology infrastructure for Learning and Employment Records.
Design interoperable badging systems that connect to credentials.