On 10/02/2019, in attention, design, digital learning, digital storytelling, education technology, educational games / serious games, elearning, engagement / engaging students, Graphics, human-computer interaction (HCI), instructional design, interaction design, interactivity, internet, learning, learning ecosystem, learning from the living [class] room, learning preferences, Lifelong learning, Mobile learning, multimedia, online learning, online media, platforms, play, productivity / tips and tricks, professional development, simulations, tools, training / L&D, user experience (UX), vendors, workplace, by Daniel Christian
Top eLearning Gamification Companies 2019 — from elearningindustry.com by Christopher Pappas
Excerpt:
The Top Performing eLearning Gamification Companies 2019
As community leaders, here at eLearning Industry, we have evaluated hundreds of eLearning content development companies in the past. As we are constantly on the lookout for new advancements and trends in the eLearning field that are relevant to the industry, we decided to take a very close look at outstanding providers of gamification. We have focused on prestige, influence, application of gamification tools, activity in the eLearning field, gamification innovations, and many more subcategories.
For the list of the Top eLearning Gamification Companies 2019, we chose and ranked the best gamification companies based on the following 7 criteria:
Gamification eLearning quality
Customer reviews
eLearning expertise
Niche specialization on gamification
Gamification industry innovation
Company's social responsibility
Gamification features and capabilities
On 05/14/2019, in 21st century, A/V -- audio/visual, art, Artificial Intelligence / Machine Learning / Deep Learning, Blockchain, creativity, Daniel S. Christian, digital audio, digital learning, digital photography, digital storytelling, digital video, engineering, ethics, future, human-computer interaction (HCI), ideas, innovation, intelligent systems, Law Schools, learning, learning ecosystem, learning spaces, legislatures / government / legal, morals/values, multimedia, personalized/customized learning, photography, platforms, simulations, society, technology (general), the downsides of technology, tools, user experience (UX), by Daniel Christian
Watch Salvador Dalí Return to Life Through AI — from interestingengineering.com by
The Dalí Museum has created a deepfake of surrealist artist Salvador Dalí that brings him back to life.
Excerpt:
The Dalí Museum has created a deepfake of surrealist artist Salvador Dalí that brings him back to life. This life-size deepfake is set up to have interactive discussions with visitors.
The deepfake can produce 45 minutes of content and 190,512 possible combinations of phrases and decisions taken by the fake but realistic Dalí. The exhibition was created by Goodby, Silverstein & Partners using 6,000 frames of Dalí taken from historic footage and 1,000 hours of machine learning.
From DSC:
While on one hand, incredible work! Fantastic job! On the other hand, if this type of deepfake can be done, how can any video be trusted from here on out? What technology/app will be able to confirm that a video is actually that person, actually saying those words?
Will we get to a point that says, this is so and so, and I approved this video. Or will we have an electronic signature? Will a blockchain-based tech be used? I don't know…there always seems to be pros and cons to any given technology. It's how we use it. It can be a dream, or it can be a nightmare.
On 06/09/2018, in blogs / blogging, career development, corporate / business world, corporate universities / corporate training, Daniel S. Christian, digital learning, education, education technology, elearning, learning, learning ecosystem, Lifelong learning, online learning, online media, simulations, tools, training / L&D, web-based collaboration, webinars, workplace, by Daniel Christian
From DSC:
I found the following graphic out at a posting entitled, Continuous Learning & Development; more than just continuous training (from modernworkplacelearning.com/magazine). I thought it was an excellent example of a learning ecosystem!
On 01/25/2018, in A/V -- audio/visual, augmented reality, business, colleges, community colleges, corporate / business world, education, education technology, educational games / serious games, higher education, human-computer interaction (HCI), immersion, innovation, interaction design, interactivity, learning, learning ecosystem, Microsoft, Mixed reality, multimedia, music, research, simulations, tools, universities, user experience (UX), vendors, virtual reality / worlds / learning, by Daniel Christian
Augmented Reality: Everything You Need to Know for 2018 — from isl.co by Josh Strupp
Excerpt:
Here's the trade-off: what we gain in development ease-of-use (native SDKs, integration into existing workflows) and performance enhancements (load times, battery efficiency, render quality, integration with native apps), we lose in universality; naturally, each company wants you staying within its own ecosystem.
In a nutshell: new AR platforms from today's tech giants are aimed at reducing technical headache so you can focus on creating amazing experiences… but they also want you creating more apps for their respective mobile ecosystems.
…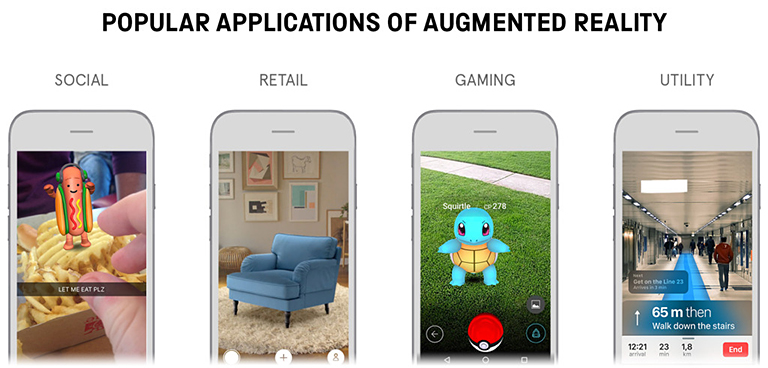 This AR App Teaches You How To Play The Piano — from vrscout.com by Steve Ip & Sydney Wuu
AR piano learning system with improvised jam sessions.
Excerpt:
Learning to play the piano is getting an immersive upgrade with a new augmented reality (AR) piano training software called Music Everywhere. The HoloLens app aims to help students of all talent levels build fundamental music theory and performance skills. While traditional piano lessons can cost upwards of $100 per hour, Music Everywhere is free on the Microsoft store and offers a cost effective tutoring solution that provides students with immediate interaction feedback, making it differ greatly from watching a video tutorial.
Founded in 2017, Music Everywhere began at Carnegie Mellon's ETC with Seth Glickman, Fu Yen Hsiao, and Byunghwan Lee realizing the nascent technology could be used for skills training. The app was the first Augmented Reality music learning platform to take first prize in Microsoft's HoloLens Developer Contest, beating more than one-thousand submissions.
Making Virtual Reality a Reality in Today's Classrooms — from thejournal.com by Meredith Thompson
Excerpt:
The market for virtual reality applications is growing at a rapid pace, and is expected to double in the next five years (Bolkan, 2017). As the cost of equipment falls and schools have greater access to technology, there is great interest in virtual reality as an educational tool. A small but growing group of educators have started to integrate virtual reality in their classrooms, with promising results (Castaneda, Cechony & Bautista, 2017). We reached out to teachers and administrators who are currently using virtual reality in their classrooms to hear their perspectives and practical strategies for infusing this resource into their classrooms.
Teachers have creative ideas for how to incorporate immersive education in current classrooms: how to select activities, how to set up the classroom, how to get support during the activity and how to transport devices. Teachers also shared their ideas for future applications of VR, including how to deepen the learning experience and to expand the reach of these technologies to a greater population of students.
Here we share three vignettes of three different approaches: a social studies class in a suburban school district, a district-wide perspective from an urban school district and a class designed entirely around understanding and implementing VR for other classrooms. We also share how we are using these ideas to inform our own project in designing a collaborative immersive virtual reality educational game for introductory high school biology.
3 best practices from VR implementation across departments — from ecampusnews.com by Andrew Woodberry
Professors across many disciplines are embracing VR technology as an integral part of their learning tools
Excerpts:
VR is already being used for many real-world applications–hiring, training, marketing/sales, medical purposes, entertainment, and more–and is worth considering for many different university departments.
…
At German University in Cairo, architecture students used our platform to create tours of historical Cairo buildings, complete with educational hotspot overlays on particularly interesting features. This multimedia approach educated students without them having to travel to the buildings. It also made for a more "stickier" learning experience for the students involved in creating it.
…
At Emporia State University, for example, the forensic science students view virtual crime scenes recorded at the Kansas Bureau of Investigation in Topeka. Forensic-science students can look for clues and learn facts via voiceover, mimicking an actual crime-scene inquiry quite impressively.
Augmented and virtual reality products to get excited about in 2018 — from gearbrain.com by Alistair Charlton
CES 2018 showed us the way forward for AR and VR this year
Excerpt:
Just as televisions and driverless cars have become part of the furniture at the CES technology show, so too have virtual and augmented reality headsets.
Although the momentum behind VR's growth slowed in 2017 – the industry seemingly unsure if it should progress with a technology destined to remain a niche – AR is being welcomed into the spotlight with open arms.
…
Here are six AR and VR highlights from CES 2018.
Looking to boost AR and VR technology, University of Washington establishes center in Seattle — from edscoop.com by Emily Tate
The UW Reality Lab will focus on "core research advances" in augmented and virtual reality.
Excerpt:
The University of Washington, hoping to get ahead in the burgeoning field of augmented reality (AR) and virtual reality (VR), has launched the UW Reality Lab, a center for research, education and innovation in AR and VR.
…
One of the first research centers in the world built for AR and VR projects, the UW Reality Lab is also located in Seattle — a hotspot for technology companies, from behemoths like Amazon and Microsoft to startups still trying to get off the ground.
"We're seeing some really compelling and high-quality AR and VR experiences being built today," Steve Seitz, center co-lead and Allen School professor, said in the university's statement. "But, there are still many core research advances needed to move the industry forward — tools for easily creating content, infrastructure solutions for streaming 3D video, and privacy and security safeguards — that university researchers are uniquely positioned to tackle."
Augmented Reality: Is it the Future of eLearning — from proprofs.com

Excerpt:
Why Augmented Reality is Important for eLearning
According to a report released by CCS Insight, augmented and virtual reality hardware is set to become a $4 billion market by 2018. Let's take a look at how augmented reality can be leveraged in the online learning space:
Simulated working environments
One of the most common advantages of online learning is the ability to form an environment in which the users have the freedom to experiment. As people usually learn from their mistakes, when they work in a consequence-free environment, they are most likely to remember the right way to do things.
Support Gamification
As online learning management systems (LMSs) use gamification widely, augmented reality can be directly applied. In AR reality training module, employees will be rewarded for effectively performing their routine tasks in the right way, which will eventually improve performance.
Immersive Learning Environments
Using a tablet, smartphone for the online training software means the users are constantly distracted with emails, notifications from social channels etc. This is one of the reasons why elearning content uses interactive multimedia elements to engage students. With augmented reality, elearning courses can be supported with 360° video, which will engage the user and remove distractions for them.
Motion tracking
Motion and gesture tracking are part of the AR experience. They are commonly leveraged for choosing menu items or engaging with video game-based environments.
In the online learning domain, LMSs can use this technology to track learner's progress to ensure that they are achieving the set targets without fail. This will boost real-time training performance and improve interactivity with instant feedback.
Simply put, with augmented reality the possibilities are endless. With the growing number of Bring Your Own Device (BYOD) workplaces, it is expected that employees and learners will be delighted to use augmented reality.
Virtual Reality And Beyond: The Future Of Music Experiences — from hypebot.com by Jen Sako
Excerpt:
The Musical Future of VR
VR technology is still in its earliest stages, but musicians are already seeing how they will be able to connect to fans and make news ones without the expense of touring. In artificial environments, bands can invite music lovers into their world.
But beyond the obvious entertainment factor, VR has the potential to become a tool for education. Music students could enter a studio space using VR gear for lessons and practice. The immediate feedback provided and game-like atmosphere may keep students more motivated and engaged. Imagine methods for teaching that include ways to slow down and loop difficult parts or bringing in the composer for lessons.
VR can also connect music lovers to the many people behind the scenes involved in producing the music they enjoy. Listeners can learn about the industry and how a song comes to life. They'll understand why it's important to play a part in sustaining the music business.
For this technology to become a reality in itself inside consumers' listening and learning spaces, obstacles need addressing. The hardware is still pricey, bulky and requires a power source. Apps need creators who will need more in the way of artificial intelligence.
ARiA, The AR Conference At MIT, Is The Anti-CES — from forbes.com by Charlie Fink
Excerpt:
"The ability to combine digital information with the real world is going to disrupt every business model, transform human/machine interaction, and generate innovative use cases across every discipline and in every vertical including education, healthcare, manufacturing," Werner continued. "I see ARiA as the TED for AR, where the best minds come together to solve real work problems and share ideas to capitalize on the huge opportunity."
Broadcast news and sports now routinely lay data, graphics, and animation onto the physical world. AR has become ubiquitous in ways that have nothing to do with smart glasses. "AR is on the verge.
2017 Augmented Reality Year in Review — from wikitude.com
Microsoft Education unveils new Windows 10 devices starting at $189, Office 365 tools for personalized learning, and curricula to ignite a passion for STEM — from blogs.windows.com by Yusuf Mehdi
Excerpt:
In regards to mixed reality for immersive learning:
Pearson – the world's largest education company – will begin rolling out in March curriculum that will work on both HoloLens and Windows Mixed Reality immersive VR headsets. These six new applications will deliver seamless experiences across devices and further illustrate the value of immersive educational experiences.
We are expanding our mixed media reality curriculum offerings through a new partnership with WGBH's Bringing the Universe to America's Classrooms project****, for distribution nationally on PBS LearningMedia™. This effort brings cutting-edge Earth and Space Science content into classrooms through digital learning resources that increase student engagement with science phenomena and practices.
To keep up with growing demand for HoloLens in the classroom we are committed to providing affordable solutions. Starting on January 22, we are making available a limited-time academic pricing offer for HoloLens. To take advantage of the limited-time academic pricing offer, please visit, hololens.com/edupromo.
On 11/29/2017, in 1:1 / 1:World, 21st century, adjunct faculty, blended learning, change, colleges, community colleges, content development, data mining, digital learning, education technology, face-to-face, faculty, flipping -- inverted learning, hybrid learning, leadership, learning, liberal arts, online learning, pedagogy, personalized/customized learning, platforms, simulations, strategy, technology (general), Using teams, vendors, vision, by Daniel Christian
High-Tech, High Touch: Digital Learning Report and Workbook, 2017 Edition — from Intentional Futures, with thanks to Maria Andersen on Linkedin for her posting therein which was entitled, "Spectrums to Measure Digital Learning"
Excerpt (emphasis DSC):
Our work uncovered five high-tech strategies employed by institutions that have successfully implemented digital learning at scale across a range of modalities. The strategies that underscore the high-tech, high-touch connection are customizing through technology, leveraging adaptive courseware, adopting cost-efficient resources, centralizing course development and making data-driven decisions.
Although many of the institutions we studied are employing more than one of these strategies, in this report we have grouped the institutional use cases according to the strategy that has been most critical to achieving digital learning at scale. As institutional leaders make their way through this document, they should watch for strategies that target challenges similar to those they hope to solve. Reading the corresponding case studies will unpack how institutions employed these strategies effectively.
…
Digital learning in higher education is becoming more ubiquitous as institutions realize its ability to support student success and empower faculty. Growing diversity in student demographics has brought related changes in student needs, prompting institutions to look to technology to better serve their students. Digital courseware gives institutions the ability to build personalized, accessible and engaging content. It enables educators to provide relevant content and interventions for individual students, improve instructional techniques based on data and distribute knowledge to a wider audience (MIT Office of Digital Learning, 2017).
PARTICIPATION IN DIGITAL LEARNING IS GROWING
Nationally, the number of students engaged in digital learning is growing rapidly. One driver of this growth is rising demand for distance learning, which often relies on digital learning environments. Distance learning programs saw enrollment increases of approximately 4% between 2015 and 2016, with nearly 30% of higher education students taking at least one digital distance learning course (Allen, 2017). Much of this growth is occurring at the undergraduate level (Allen, 2017). The number of students who take distance learning courses exclusively is growing as well. Between 2012 and 2015, both public and private nonprofit institutions saw an increase in students taking only distance courses, although private, for-profit institutions have seen a decrease (Allen, 2017).
On 02/13/2017, in business, corporate / business world, corporate universities / corporate training, professional development, simulations, tools, training / L&D, trends, user experience (UX), vendors, virtual reality / worlds / learning, workplace, by Daniel Christian
This Mobile VR Crane Simulator Showcases the Future of Industrial Training — from roadtovr.com by Dominic Brennan
Description from an Inside VR & AR newsletter:
The Mobile Crane Simulator combines an Oculus headset with a modular rig to greatly reduce the cost of training. The system, from Industrial Training International and Serious Labs, Inc, will debut at the ConExpo Event this March in Las Vegas. The designers chose the Oculus for its comfort and portability, but the set-up supports OpenVR, allowing it to potentially also work on the Vive. (The "mobile" in the device's name refers to a type of crane, rather than to mobile VR.) – ROAD TO VR