On 04/10/2017, in A/V -- audio/visual, Apple, digital audio, digital storytelling, digital video, Media/film, Mobile learning, multimedia, new media literacies, story, storytelling, tools, by Daniel Christian
On 04/05/2017, in 21st century, A/V -- audio/visual, art, attention, augmented reality, creativity, digital learning, digital video, education technology, emerging technologies, engagement / engaging students, future, machine-to-machine communications, Mixed reality, Mobile learning, Mobile technologies, platforms, play, virtual reality / worlds / learning, by Daniel Christian
---
From DSC:
After reviewing the article and video (below), it will be interesting to see how machine-to-machine (M2M) communications will be used in combination with augmented reality — and perhaps with virtual reality and mixed reality as well. That is, get to within a certain range of an object, and something automatically happens on your mobile device or your head mounted device. Perhaps that's the sort of thing Apple is building into their next smart phone. It would sure open up some interesting learning and entertainment-related experiences — as such new affordances could help foster anticipation and curiosity, while grabbing someone's attention.
This type of thing could easily become a piece of the future of art and creativity.
---
Mini-Mirages Emerge in an Augmented Reality Art Exhibition — from creators.vice.com by Nathaniel Ainley
Adrien M and Claire B's latest series of installations basically looks like Harry Potter magic come to life.
Excerpt:
Even in its early beta stages, the new live exhibition from digital artists Adrien M and Claire B will have you rubbing your eyes in disbelief. Throughout their Mirages & Miracles display, the artist duo uses wondrous applications of augmented reality to create an orchestra of new installations, both small and large. Much like their live dance performance work at BAM, the new bundle merges the digital with the material, blurring the lines between what is real and what is fake. The multi-pronged ensemble uses augmented drawings, holographic illusions, virtual-reality headsets, and large-scale projections to create a number of unbelievable scenarios "that take root in both the mirage and the miracle," according to the duo.
Mirages & miracles, premier aperçu… from Adrien M & Claire B on Vimeo.
On 02/16/2017, in Artificial Intelligence / Machine Learning / Deep Learning, blended learning, change, CMS/LMS, collaboration, colleges, community colleges, education, education technology, emerging technologies, formal learning, future of higher education, higher education, hybrid learning, ideas, informal learning, innovation, internet, learning, learning ecosystem, learning spaces, Mobile learning, personalized/customized learning, smart classrooms, trends, universities, user experience, user interface design, UX, by Daniel Christian
It's Here! Get the 2017 NMC Horizon Report
Earlier this week, the New Media Consortium (NMC) and the EDUCAUSE Learning Initiative (ELI) jointly released the NMC Horizon Report > 2017 Higher Education Edition at the 2017 ELI Annual Meeting. This 14th edition describes annual findings from the NMC Horizon Project, an ongoing research project designed to identify and describe emerging technologies likely to have an impact on learning, teaching, and creative inquiry in higher education. Six key trends, six significant challenges, and six important developments in educational technology are placed directly in the context of their likely impact on the core missions of universities and colleges.
The topics are summarized in the infographic below:
On 01/23/2017, in 1:1 / 1:World, 21st century, algorithms, analytics, Artificial Intelligence / Machine Learning / Deep Learning, assistive technologies, augmented reality, biology, bots, change, changing business models, chemistry, communications, convergence, corporate / business world, data mining, emerging technologies, engineering, future, game-changing environment, gesture / gesturing, global / globalization, health, human-computer interaction (HCI), ideas, innovation, intelligent systems, intelligent tutoring, Mobile learning, Mobile technologies, multimedia, Natural Language Processing (NLP), Near Field Communication (NFC), pace of change, personalized/customized learning, platforms, robotics, Technologies for your home, technology (general), telecommunications, telepresence, the downsides of technology, tools, trends, virtual reality / worlds / learning, by Daniel Christian
Per X Media Lab:
The authoritative CB Insights lists imminent Future Tech Trends: customized babies; personalized foods; robotic companions; 3D printed housing; solar roads; ephemeral retail; enhanced workers; lab-engineered luxury; botroots movements; microbe-made chemicals; neuro-prosthetics; instant expertise; AI ghosts. You can download the whole outstanding report here (125 pgs).
From DSC:
Though I'm generally pro-technology, there are several items in here which support the need for all members of society to be informed and have some input into if and how these technologies should be used. Prime example: Customized babies.  The report discusses the genetic modification of babies: "In the future, we will choose the traits for our babies." Veeeeery slippery ground here.
Below are some example screenshots: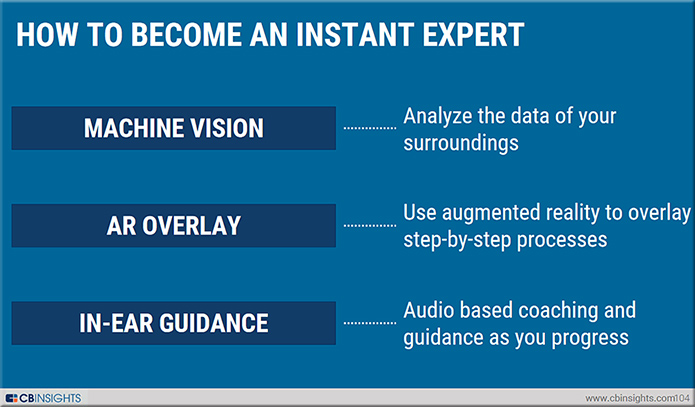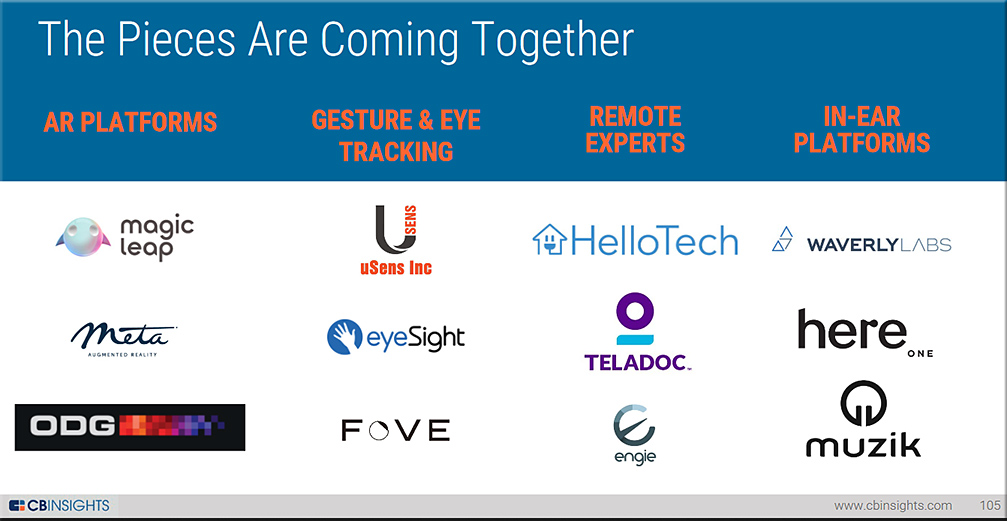 Also see:
CBInsights — Innovation Summit
The New User Interface: The Challenge and Opportunities that Chatbots, Voice Interfaces and Smart Devices Present
Fusing the physical, digital and biological: AI's transformation of healthcare
How predictive algorithms and AI will rule financial services
Autonomous Everything: How Connected Vehicles Will Change Mobility and Which Companies Will Own this Future
The Next Industrial Age: The New Revenue Sources that the Industrial Internet of Things Unlocks
The AI-100: 100 Artificial Intelligence Startups That You Better Know
Autonomous Everything: How Connected Vehicles Will Change Mobility and Which Companies Will Own this Future
On 11/21/2016, in 21st century, 24x7x365 access, A/V -- audio/visual, attention, Christian education, communications, Daniel S. Christian, digital learning, education technology, emerging technologies, engagement / engaging students, higher education, human-computer interaction (HCI), ideas, machine-to-machine communications, Microlearning, Mobile learning, Mobile technologies, multimedia, tools, by Daniel Christian
From DSC:
If we had more beacons on our campus (a Christian liberal arts college), I could see where we could offer a variety of things in new ways:
For example, we might use beacons around the main walkways of our campus where, when we approach these beacons, pieces of advice or teaching could appear on an app on our mobile devices. Examples could include:
Micro-tips on prayer from John Calvin, Martin Luther, or Augustine (i.e., 1 or 2 small tips at a time; could change every day or every week)

Or, for a current, campus-wide Bible study, the app could show a question for that week's study; you could reflect on that question as you're walking around

Or, for musical events…when one walks by the Covenant Fine Arts Center, one could get that week's schedule of performances or what's currently showing in the Art Gallery

Peaces of scripture, with links to Biblegateway.com or other sites


Further information re: what's being displayed on posters within the hallways — works that might be done by faculty members and/or by students

Etc.
A person could turn the app's notifications on or off at any time.  The app would encourage greater exercise; i.e., the more you walk around, the more tips you get.