On 08/31/2018, in algorithms, Artificial Intelligence / Machine Learning / Deep Learning, computer science, human-computer interaction (HCI), ideas, innovation, intelligent systems, interaction design, interface design, Microsoft, productivity / tips and tricks, tools, user interface design, vendors, web design and production, by Daniel Christian
Microsoft's AI-powered Sketch2Code builds websites and apps from drawings — from alphr.com by Bobby Hellard
Microsoft Released on GitHub, Microsoft's AI-powered developer tool can shave hours off web and app building
Excerpt:
Microsoft has developed an AI-powered web design tool capable of turning sketches of websites into functional HTML code.
Called Sketch2Code, Microsoft AI's senior product manager Tara Shankar Jana explained that the tool aims to "empower every developer and every organisation to do more with AI". It was born out of the "intrinsic" problem of sending a picture of a wireframe or app designs from whiteboard or paper to a designer to create HTML prototypes.
On 08/28/2017, in 21st century, analytics, Artificial Intelligence / Machine Learning / Deep Learning, augmented reality, Blockchain, bots, cognitive computing, computer science, emerging technologies, human-computer interaction (HCI), ideas, innovation, intelligent systems, intelligent tutoring, interface design, Natural Language Processing (NLP), pace of change, platforms, programming, society, technology (general), tools, trends, user experience (UX), user interface design, vendors, virtual reality / worlds / learning, virtual tutoring, by Daniel Christian
Top Trends in the Gartner Hype Cycle for Emerging Technologies, 2017 — from gartner.com by Kasey Panetta
Enterprises should explain the business potential of blockchain, artificial intelligence and augmented reality.
Excerpt (emphasis DSC):
…emerging technologies such as machine learning, blockchain, drones (commercial UAVs), software-defined security and brain-computer interfaces have moved significantly along the Hype Cycle since 2016.
…
The Gartner Hype Cycle for Emerging Technologies, 2017 focuses on three emerging technology mega-trends: Artificial intelligence (AI) everywhere, transparently immersive experiences and digital platforms. Enterprise architects and technology innovation leaders should explore and ideate these three mega-trends to understand the future impacts to their business.
"Organizations will continue to be faced with rapidly accelerating technology innovation that will profoundly impact the way they deal with their workforces, customers and partners," says Mike J. Walker, research director. "Our 2017 Hype Cycle reveals three distinct technology trends that profoundly create new experiences with unrivaled intelligence, and offer platforms that propel organizations to connect with new business ecosystems in order to become competitive over the next five to 10 years."
On 03/20/2017, in Artificial Intelligence / Machine Learning / Deep Learning, augmented reality, design, human-computer interaction (HCI), ideas, innovation, interactivity, interface design, user experience (UX), virtual reality / worlds / learning, voice recognition / voice enabled interfaces, by Daniel Christian
Expect voice, VR and AR to dominate UX design — from forbes.com by the Forbes Technology Council
Excerpt:
User interfaces have come a long way since the design of typewriters to prevent people from typing too quickly and then jamming the device. Current technology has users viewing monitors and wiggling mouse, or tapping on small touchscreens to activate commands or to interact with a virtual keyboard. But is this the best method of interaction?
Designers are asking themselves if it [is] better to talk to a mobile device to get information, or should a wearable vibrate and then feed information into an augmented reality display. Is having an artificial intelligence modify an interface on the fly, depending on how a user interacts, the best course of action for applications or websites? And how human should the AIs' interaction be with users?
Eleven experts on the Forbes Technology Council offer their predictions on how UX design will be changing in the next few years. Here's what they have to say…
On 01/17/2017, in 21st century, Artificial Intelligence / Machine Learning / Deep Learning, bots, cloud-based computing / apps / other cloud-related, education technology, emerging technologies, higher education, human-computer interaction (HCI), ideas, India, intelligent systems, interactivity, interface design, journalism, Languages and translation, Natural Language Processing (NLP), platforms, by Daniel Christian
Chatbots: The next big thing — from dw.com
Excerpt:
More and more European developers are discovering the potential of chatbots. These mini-programs interact automatically with users and could be particularly useful in areas like online shopping and news delivery. The potential of chatbots is diverse. These tiny programs can do everything from recognizing customers' tastes to relaying the latest weather forecast. Berlin start-up Spectrm is currently devising bots that deliver customized news. Users can contact the bot via Facebook Messenger, and receive updates on topics that interest them within just a few seconds.
MyPrivateTutor releases chatbot for finding tutors — from digitaljournal.com
MyPrivateTutor, based in Kolkata, matches tutors to students using proprietary machine learning algorithms
Excerpt:
Using artificial intelligence, the chatbot helps us reach a wider segment of users who are still not comfortable navigating websites and apps but are quite savvy with messaging apps", said Sandip Kar, co-founder & CEO of MyPrivateTutor (www.myprivatetutor.com), an online marketplace for tutors, has released a chatbot for helping students and parents find tutors, trainers, coaching classes and training institutes near them.
Story idea: Covering the world of chatbots — from businessjournalism.org by Susan Johnston Taylor
Excerpt:
Chatbots, computer programs designed to converse with humans, can perform all sorts of activities. They can help users book a vacation, order a pizza, negotiate with Comcast or even communicate with POTUS. Instead of calling or emailing a representative at the company, consumers chat with a robot that uses artificial intelligence to simulate natural conversation. A growing number of startups and more established companies now use them to interact with users via Facebook Messenger, SMS, chat-specific apps such as Kik or the company's own site.
…
To cover this emerging business story, reporters can seek out companies in their area that use chatbots, or find local tech firms that are building them. Local universities may have professors or other experts available who can provide big-picture context, too. (Expertise Finder can help you identify professors and their specific areas of study.)
How chatbots are addressing summer melt for colleges — from ecampusnews.com
Excerpt:
AdmitHub, an edtech startup which builds conversational artificial intelligence (AI) chatbots to guide students on the path to and through college, has raised $2.95 million in seed funding.
Why higher education chatbots will take over university mobile apps — from blog.admithub.com by Kirk Daulerio
Excerpt (emphasis DSC):
Chatbots are the new apps and websites combined
Chatbots are simple, easy to use, and present zero friction. They exist on the channels that people are most familiar with like Messenger, Twitter, SMS text message, Kik, and expanding onto other messaging applications. Unlike apps, bots don't take up space, users don't have to take time to get familiar with a new user interface, and bots will give you an instant reply. The biggest difference with chatbots compared to apps and websites is that they use language as the main interface. Websites and apps have to be searched and clicked, while bots and people use language, the most natural interface, to communicate and inform.
---
From DSC:
I think messaging-based chatbots will definitely continue to grow in usage — in numerous industries, including higher education. But I also think that the human voice — working in conjunction with technologies that provide natural language processing (NLP) capabilities — will play an increasingly larger role in how we interface with our devices. Whether it's via a typed/textual message or whether it's via a command or a query relayed by the human voice, working with bots needs to be on our radars. These conversational messaging agents are likely to be around for a while.

---
Addendum:
On 06/03/2016, in 21st century, 24x7x365 access, A/V -- audio/visual, adult learning, algorithms, Amazon, analytics, Apple, Artificial Intelligence / Machine Learning / Deep Learning, assistive technologies, business, career development, change, cloud-based computing / apps / other cloud-related, cognitive computing, communications, corporate / business world, corporate universities / corporate training, Daniel S. Christian, digital learning, education technology, emerging technologies, future of higher education, game-changing environment, Google, higher education, human-computer interaction (HCI), ideas, innovation, instructional design, intelligent systems, intelligent tutoring, interaction design, interactivity, interface design, internet, Languages and translation, learning, Lifelong learning, professional development, teachers, teaching & learning, Technologies for your home, tools, training / L&D, trends, universities, usability, user experience (UX), user interface design, vendors, workplace, by Daniel Christian
Questions from DSC:
Which jobs/positions are being impacted by new forms of Human Computer Interaction (HCI)?

What new jobs/positions will be created by these new forms of HCI?

Will it be necessary for instructional technologists, instructional designers, teachers, professors, trainers, coaches, learning space designers, and others to pulse check this landscape?  Will that be enough? 

Or will such individuals need to dive much deeper than that in order to build the necessary skillsets, understandings, and knowledgebases to meet the new/changing expectations for their job positions?

How many will say, "No thanks, that's not for me" — causing organizations to create new positions that do dive deeply in this area?

Will colleges and universities build and offer more courses involving HCI?

Will Career Services Departments get up to speed in order to help students carve out careers involving new forms of HCI?

How will languages and language translation be impacted by voice recognition software?

Will new devices be introduced to our classrooms in the future?

In the corporate space, how will training departments handle these new needs and opportunities?  How will learning & development groups be impacted? How will they respond in order to help the workforce get/be prepared to take advantage of these sorts of technologies? What does it mean for these staffs personally? Do they need to invest in learning more about these advancements?

As an example of what I'm trying to get at here, who all might be involved with an effort like Echo Dot?  What types of positions created it? Who all could benefit from it?  What other platforms could these technologies be integrated into?  Besides the home, where else might we find these types of devices?
Echo Dot is a hands-free, voice-controlled device that uses the same far-field voice recognition as Amazon Echo. Dot has a small built-in speaker—it can also connect to your speakers over Bluetooth or with the included audio cable. Dot connects to the Alexa Voice Service to play music, provide information, news, sports scores, weather, and more—instantly.
Echo Dot can hear you from across the room, even while music is playing. When you want to use Echo Dot, just say the wake word "Alexa" and Dot responds instantly. If you have more than one Echo or Echo Dot, you can set a different wake word for each—you can pick "Amazon", "Alexa" or "Echo" as the wake word.
Or how might students learn about the myriad of technologies involved with IBM's Watson?  What courses are out there today that address this type of thing?  Are more courses in the works that will address this type of thing? In which areas (Computer Science, User Experience Design, Interaction Design, other)?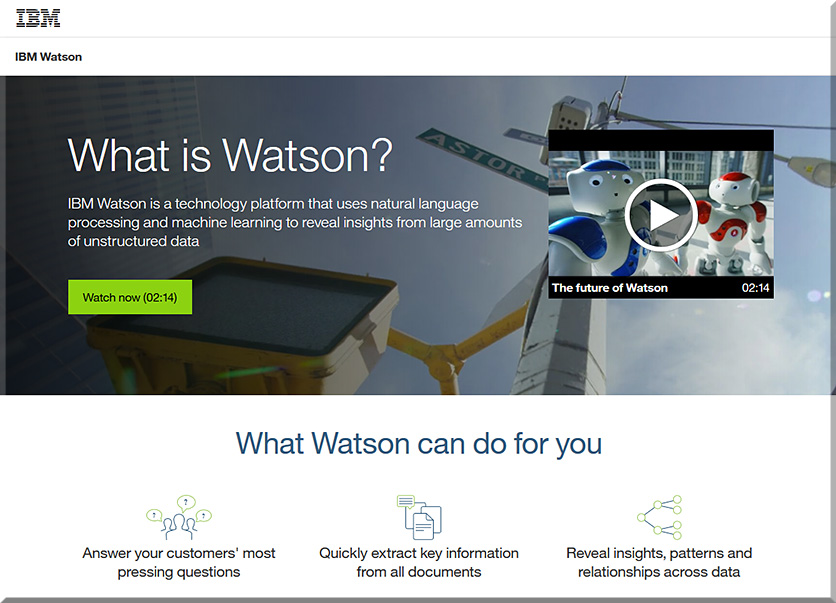 Lots of questions…but few answers at this point. Still, given the increasing pace of technological change, it's important that we think about this type of thing and become more responsive, nimble, and adaptive in our organizations and in our careers.
On 05/25/2016, in 21st century, A/V -- audio/visual, design, gesture / gesturing, human-computer interaction (HCI), ideas, interaction design, interactivity, interface design, television, by Daniel Christian
Beyond touch: designing effective gestural interactions — from blog.invisionapp.com by by Yanna Vogiazou; with thanks to Mark Pomeroy for the resource
The future of interaction is multimodal.
Excerpts:
The future of interaction is multimodal. But combining touch with air gestures (and potentially voice input) isn't a typical UI design task.
…
Gestures are often perceived as a natural way of interacting with screens and objects, whether we're talking about pinching a mobile screen to zoom in on a map, or waving your hand in front of your TV to switch to the next movie. But how natural are those gestures, really?
…
Try not to translate touch gestures directly to air gestures even though they might feel familiar and easy. Gestural interaction requires a fresh approach—one that might start as unfamiliar, but in the long run will enable users to feel more in control and will take UX design further.
Forget about buttons — think actions.
Eliminate the need for a cursor as feedback, but provide an alternative.