On 02/21/2013, in Adobe, Apple, corporate / business world, corporate universities / corporate training, digital learning, elearning, India, mobile learning, mobile technologies, tablets, training / L&D, ubiquitous learning, UK, by Daniel Christian
The question of why (not) eLearning on iPads or tablets? — from upsidelearning.com by Amit Garg
Excerpt:
2012 saw the re-emergence of 'Mobile learning' or 'mLearning' as "new" (ok, not really new) buzzwords in L&D and Training circles around the world. But largely in the wrong context! Mobile Learning is being loosely attributed to any learning activity that is not location bound, which is very surprising! And even more surprising is, more often than not, it is not even referring to mLearning at all! But to things like, making an LMS available on an USB drive so you can track courses while on a plane! Certainly not mobile learning in my opinion.
I believe 'real' mobile learning is much more than just learning on a mobile device. I also believe that "tablet" learning is neither mobile nor eLearning, but actually occupies a position between mLearning and eLearning. So let me lay out my argument for why I believe this!
Also see Amit's presentation at LT13uk — the full presentation is available here:
http://www.slideshare.net/UpsideLearning/designing-elearning-for-ipads
.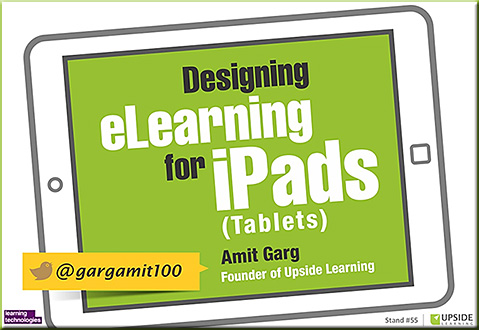 BYOA – Next level of BYOD — from dokisoft.com
Excerpt:
BYOA or Bring Your Own Application is the new trend enterprises are employing these days. It leverages the workforce to deploy the application of their own choice into their area of operations in an organization.
On 01/10/2013, in Daniel S. Christian, digital learning, digital textbooks, future, innovation, more voice more choice more control, online learning, publishing, second screen apps, tablets, technologies for your home, textbooks, by Daniel Christian
McGraw-Hill & Kno offer a peek into the future of textbooks: They're dynamic, vocal, adaptive & bring stats to studying — from techcrunch.com by Rip Empson
Excerpt:
The suite leverages adaptive learning technology — one of the hottest topics in education this past year — which, simply put, seeks to personalize the educational experience by collecting data on student comprehension (knowledge, skill and confidence), employing algorithms to create customized study plans/paths based on that data. The goal being to keep students engaged (and improving) by helping them to identify and focus on areas where they're struggling.
Prediction from DSC:
I'd like to take these developments one step further…
These developments will find their way into our living rooms, via second screen devices and interactions with Smart/Connected TVs. Highly-sophisticated, back-end, behind the scenes technologies will continue to develop (think Next Gen Knewton or IBM's Watson) — aiding in the fulfillment of one's learning objectives. Personalized, digital playlists will be presented and will feature multimedia-based content, with chances for more choice, more control, interactivity, social learning, and more. They will meet us where we are at (i.e. in our Zone of Proximal Development), and encourage us to keep learning via game-like interfaces…but will try not to overwhelm or discourage us.  But live persons will either be instantly available to assist, and/or will help us walk through the steps, and/or perhaps we'll go through these types of exercises in virtual cohorts (that come together quickly, then once finished with the badge or exercise, will disband).

On 01/09/2013, in convergence, Daniel S. Christian, emerging technologies, innovation, learning ecosystem, Learning from the Living [Class] Room, second screen apps, smart/connected TV, tablets, technologies for your home, by Daniel Christian
2nd Screen Society announces definitive Second Screen market research study — frpom digitalvideospace.blogspot.com
Excerpt:
The 2nd Screen: Transforming Video Consumption" written and produced by The Intersection
LAS VEGAS   — At the 2nd Screen Summit at International CES today, 2nd Screen Society Chairman Chuck Parker introduced data and details from his new research study: "The 2nd Screen: Transforming Video Consumption."  The 250-page document details the current state and five-year projections for this emerging marketplace, which the researchers estimate as a $490 million market today and expect to reach $5.9 billion by 2017.
Also see:
From DSC:
This relates to my earlier posting/suggested experiment.
Assistive technology and the 1:1 student — from edutopia.org by Andrew Marcinek
Excerpt:
A Transformative Experience
Meaghan recalls her first moments with the iPad and how she and her liaison discovered the variety of new opportunities that this one device presented. One of the first things she used was the ability to invert the colors of the screen. The iPad gives users the opportunity to read predominantly black text on a lighter screen, or to invert the colors and overlay white text on a black screen. This one feature, Meaghan recalls, was "transformative" in her learning of what the iPad could offer her educational experience.
Aside from the color inversion, Meaghan utilizes the VoiceOver feature that will read any selected text on the screen, and the Zoom feature that requires a double-tap of three fingers.
Beyond the simple flip of a switch in the accessibility options, Meaghan soon found many new opportunities for her learning on this one device.
.

Photo credit: Sean MacEntee via flickr
On 10/29/2012, in 21st century, 24x7x365 access, A/V -- audio/visual, Augmented Reality (AR), emerging technologies, homeschooling/homeschoolers, innovation, learning ecosystem, tablets, technologies for your home, by Daniel Christian
Why Apple could still own the living room of the future — from cultofmac.com by Mike Elgan
Microsoft, Nintendo, Sony, Google and all the big-screen TV makers want to
own the the all-purpose living room entertainment system of tomorrow.
Connected home has broad appeal — from connectedworldmag.com
Excerpt:
Connectivity is becoming a part of so many home devices and systems that someday soon we may no longer refer to "connected home" technology but instead simply say technology for the home. The connected aspect will be implied, thanks in part to M2M (machine-to-machine) technology.
Augmented Reality in education — from ARNews.TV by Paul Hamilton
Learn best practices for using iBooks Author in education — from the New Media Consortium
Excerpt:
In 2012 the AT&T Learning Studio, NMC member Abilene Christian University (ACU) produced an annual report for corporate and on-campus audiences. The report needed to showcase media content within the broader context of our mandate to be a learning laboratory within the university. ACU chose iBooks Author to test its value as a tool for first-time users and design professionals. This webinar recording will walk you through opportunities and challenges in using iBooks Author for major projects.
Gartner Reveals Top Predictions for IT Organizations and Users for 2013 and Beyond
Analysts Examine Latest Industry Directions at Gartner Symposium/ITxpo, October 21-25 in Orlando
ORLANDO, Fla., October 24, 2012—
Gartner, Inc. has revealed its top predictions for IT organizations and IT users for 2013 and beyond. Gartner analysts presented their findings during Gartner Symposium/ITxpo, being held here through October 25.
 Gartner's top predictions focus on economic risks, opportunities and innovations that will impel CIOs to move to the next generation of business-driven solutions. Selected from across Gartner's research areas as the most compelling and critical predictions, they address the trends and topics that underline the reduction of control that IT has over the forces that affect it.
 "The priorities of CEOs must be dealt with by CIOs who exist in a still-turbulent economy and increasingly uncertain technology future," said Daryl Plummer, managing vice president and Gartner fellow. "As consumerization takes hold and the Nexus of Forces drives CEOs to certain expectations, CIOs must still provide reliability, serviceability and availability of systems and services. Their priorities must span multiple areas. As the world of IT moves forward, it is finding that it must coordinate activities in a much wider scope than it once controlled, and as a result, a loss of control echoes through several predictions we are making."
Gartner's top predictions for IT organizations include the following…
Invisible's 'The New Obsolete' showcases self-constructed instruments, touts a typewriter-driven piano (video) — from engadget.com by Billy Steele
Addendums:
.
Microsoft unveils Windows 8, Surface tablet — from finance.yahoo.com/Reuters
Excerpt:
NEW YORK (Reuters) – Microsoft Corp launched its new Windows 8 operating system and Surface tablet on Thursday in a bid to revive interest in its flagship product and regain ground lost to Apple Inc and Google Inc in mobile computing.  "We've reimagined Windows and we've reimagined the whole PC industry," Microsoft Chief Executive Steve Ballmer told Reuters Television.  Windows 8 devices and the company's new Surface tablet, which challenges Apple's popular iPad head on, go on sale at midnight on Thursday.
Microsoft's Windows 8 Test: Courting Consumers — from WSJ.com by Shira Ovide
Excerpt:
The software giant on Thursday formally introduced the touch-oriented overhaul of the operating system that powers nine out of every 10 computers in the world and goes on sale Friday. Microsoft's new Windows 8 is widely viewed as a test of whether the PC-era kingpin can become a factor in new-wave mobile devices—not just tablets but convertible devices that can operate in clamshell or slate-style modes.