On 05/29/2013, in analytics, data mining, education technology, educational games / serious games, emerging technologies, flipping -- inverted learning, future of higher education, game-changing environment, Mobile learning, MOOCs -- Massive Open Online Courses, tablets, by Daniel Christian
On 02/21/2013, in Adobe, Apple, corporate / business world, corporate universities / corporate training, digital learning, elearning, India, Mobile learning, Mobile technologies, tablets, training / L&D, ubiquitous learning, UK, by Daniel Christian
The question of why (not) eLearning on iPads or tablets? — from upsidelearning.com by Amit Garg
Excerpt:
2012 saw the re-emergence of 'Mobile learning' or 'mLearning' as "new" (ok, not really new) buzzwords in L&D and Training circles around the world. But largely in the wrong context! Mobile Learning is being loosely attributed to any learning activity that is not location bound, which is very surprising! And even more surprising is, more often than not, it is not even referring to mLearning at all! But to things like, making an LMS available on an USB drive so you can track courses while on a plane! Certainly not mobile learning in my opinion.
I believe 'real' mobile learning is much more than just learning on a mobile device. I also believe that "tablet" learning is neither mobile nor eLearning, but actually occupies a position between mLearning and eLearning. So let me lay out my argument for why I believe this!
Also see Amit's presentation at LT13uk — the full presentation is available here:
http://www.slideshare.net/UpsideLearning/designing-elearning-for-ipads
.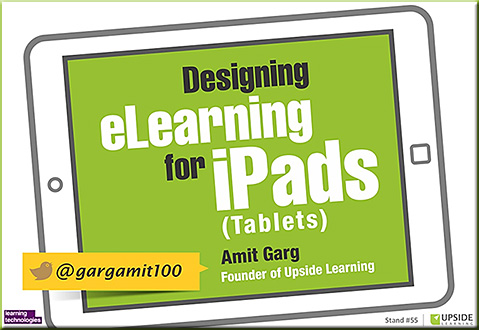 BYOA – Next level of BYOD — from dokisoft.com
Excerpt:
BYOA or Bring Your Own Application is the new trend enterprises are employing these days. It leverages the workforce to deploy the application of their own choice into their area of operations in an organization.
On 01/10/2013, in Daniel S. Christian, digital learning, digital textbooks, future, innovation, more choice more control, online learning, publishing, second screen apps, tablets, Technologies for your home, textbooks, by Daniel Christian
McGraw-Hill & Kno offer a peek into the future of textbooks: They're dynamic, vocal, adaptive & bring stats to studying — from techcrunch.com by Rip Empson
Excerpt:
The suite leverages adaptive learning technology — one of the hottest topics in education this past year — which, simply put, seeks to personalize the educational experience by collecting data on student comprehension (knowledge, skill and confidence), employing algorithms to create customized study plans/paths based on that data. The goal being to keep students engaged (and improving) by helping them to identify and focus on areas where they're struggling.
Prediction from DSC:
I'd like to take these developments one step further…
These developments will find their way into our living rooms, via second screen devices and interactions with Smart/Connected TVs. Highly-sophisticated, back-end, behind the scenes technologies will continue to develop (think Next Gen Knewton or IBM's Watson) — aiding in the fulfillment of one's learning objectives. Personalized, digital playlists will be presented and will feature multimedia-based content, with chances for more choice, more control, interactivity, social learning, and more. They will meet us where we are at (i.e. in our Zone of Proximal Development), and encourage us to keep learning via game-like interfaces…but will try not to overwhelm or discourage us.  But live persons will either be instantly available to assist, and/or will help us walk through the steps, and/or perhaps we'll go through these types of exercises in virtual cohorts (that come together quickly, then once finished with the badge or exercise, will disband).

On 01/09/2013, in convergence, Daniel S. Christian, emerging technologies, innovation, learning ecosystem, learning from the living [class] room, second screen apps, Smart/Connected TV, tablets, Technologies for your home, by Daniel Christian
2nd Screen Society announces definitive Second Screen market research study — frpom digitalvideospace.blogspot.com
Excerpt:
The 2nd Screen: Transforming Video Consumption" written and produced by The Intersection
LAS VEGAS   — At the 2nd Screen Summit at International CES today, 2nd Screen Society Chairman Chuck Parker introduced data and details from his new research study: "The 2nd Screen: Transforming Video Consumption."  The 250-page document details the current state and five-year projections for this emerging marketplace, which the researchers estimate as a $490 million market today and expect to reach $5.9 billion by 2017.
Also see:
From DSC:
This relates to my earlier posting/suggested experiment.