On 09/15/2018, in A/V -- audio/visual, Apple, Artificial Intelligence / Machine Learning / Deep Learning, Asia, attention, Augmented Reality (AR), digital storytelling, education technology, emerging technologies, engagement / engaging students, immersion, media/film, multimedia, pace of change, platforms, robotics, story, storytelling, tools, United States, using teams, vendors, by Daniel Christian
The Mobile AR Leaders of 2018 — from next.reality.news
Excerpt:
This time last year, we were getting our first taste of what mobile app developers could do in augmented reality with Apple's ARKit, and most people had never heard of Animojis. Google's AR platform was still Tango. Snapchat had just introduced its World Lens AR experiences. Most mobile AR experiences existing in the wild were marker-based offerings from the likes of Blippar and Zappar, or generic Pokémon GO knock-offs.
In last year's NR50, published before the introduction of ARKit, only two of the top 10 professionals worked directly with mobile AR, and Apple CEO Tim Cook was ranked number 26, based primarily on his forward-looking statements about AR.
This year, Cook comes in at number one, with five others categorized under mobile AR in the overall top 10 of the NR30.
What a difference a year makes.
In just 12 months, we've seen mobile AR grow at a breakneck pace. Since Apple launched its AR toolkit, users have downloaded more than 13 million ARKit apps from the App Store, not including existing apps updated with ARKit capabilities. Apple has already updated its platform and will introduce even more new features to the public with the release of ARKit 2.0 this fall. Last year's iPhone X also introduced a depth-sensing camera and AR Animojis that captured the imaginations of its users.
The Weather Channel forecasts more augmented reality for its live broadcasts with Unreal Engine — from next.reality.news by Tommy Palladino
Excerpt:
Augmented reality made its live broadcast debut for The Weather Channel in 2015. The technology helps on-air talent at the network to explain the science behind weather phenomena and tell more immersive stories. Powered by Unreal Engine, The Future Group's Frontier platform will enable The Weather Channel to be able to show even more realistic AR content, such as accurately rendered storms and detailed cityscapes, all in real time.
From DSC:
Imagine this type of thing in online-based learning, MOOCs, and/or even in blended learning based learning environments (i.e., in situations where learning materials are designed/created by teams of specialists). If that were the case, who needs to be trained to create these pieces? Will students be creating these types of pieces in the future? Hmmm….
Winners announced of the 2018 Journalism 360 Challenge — from vrfocus.com
The question of "How might we experiment with immersive storytelling to advance the field of journalism?" looks to be answered by 11 projects.
Excerpt:
The eleven winners were announced on 9/11/18 of a contest being held by the Google News Initiative, Knight Foundation and Online News Association. The 2018 Journalism 360 Challenge asked people the question "How might we experiment with immersive storytelling to advance the field of journalism?" and it generated over 400 responses.
---
---
Addendum:
Educause Explores Future of Extended Reality on Campus — from campustechnology.com by Dian Schaffhauser
Among the findings:
VR makes people feel like they're really there. The "intellectual and physiological reactions" to constructs and events in VR are the same — "and sometimes identical" — to a person's reactions in the real world;
3D technologies facilitate active and experiential learning. AR, for example, lets users interact with an object in ways that aren't possible in the physical world — such as seeing through surfaces or viewing data about underlying objects. And with 3D printing, learners can create "physical objects that might otherwise exist only simulations"; and
Simulations allow for scaling up of "high-touch, high-cost learning experiences." Students may be able to go through virtual lab activities, for instance, even when a physical lab isn't available.
Common challenges included implementation learning curves, instructional design, data storage of 3D images and effective cross-departmental collaboration.
"One significant result from this research is that it shows that these extended reality technologies are applicable across a wide spectrum of academic disciplines," said Malcolm Brown, director of learning initiatives at Educause, in a statement. "In addition to the scientific disciplines, students in the humanities, for example, can re-construct cities and structures that no longer exist. I think this study will go a long way in encouraging faculty, instructional designers and educational technologists across higher education to further experiment with these technologies to vivify learning experiences in nearly all courses of study."
---
---
On 06/25/2018, in 21st century, A/V -- audio/visual, digital storytelling, digital video, emerging technologies, Facebook, innovation, story, storytelling, technologies for your home, television, tools, vendors, Virtual Reality (VR) / worlds / learning, by Daniel Christian
Oculus' VR television hub launches today on Oculus Go — from theverge.com by Adi Robertson
Excerpt:
Oculus is officially launching Oculus TV, its dedicated hub for watching flatscreen video in virtual reality, on the standalone Oculus Go headset. Oculus TV was announced at last month's F8 conference, and it ties together a lot of existing VR video options, highlighting Oculus' attempts to emphasize non-gaming uses of VR. The free app features a virtual home theater with what Oculus claims is the equivalent of a 180-inch TV screen. It offers access to several streaming video services, including subscription-based platforms like Showtime and free web television services like Pluto TV as well as video from Oculus' parent company Facebook.
On 03/16/2018, in Apple, attention, Augmented Reality (AR), cloud-based computing / apps / other cloud-related, digital storytelling, education technology, emerging technologies, engagement / engaging students, Google, immersion, journalism, languages and translation, story, storytelling, tools, trends, universities, usability, user experience (UX), vendors, Virtual Reality (VR) / worlds / learning, by Daniel Christian
How to Set Up a VR Pilot — from campustechnology.com by Dian Schaffhauser
As Washington & Lee University has found, there is no best approach for introducing virtual reality into your classrooms — just stages of faculty commitment.
Excerpt:
The work at the IQ Center offers a model for how other institutions might want to approach their own VR experimentation. The secret to success, suggested IQ Center Coordinator David Pfaff, "is to not be afraid to develop your own stuff" — in other words, diving right in. But first, there's dipping a toe.
The IQ Center is a collaborative workspace housed in the science building but providing services to "departments all over campus," said Pfaff. The facilities include three labs: one loaded with high-performance workstations, another decked out for 3D visualization and a third packed with physical/mechanical equipment, including 3D printers, a laser cutter and a motion-capture system.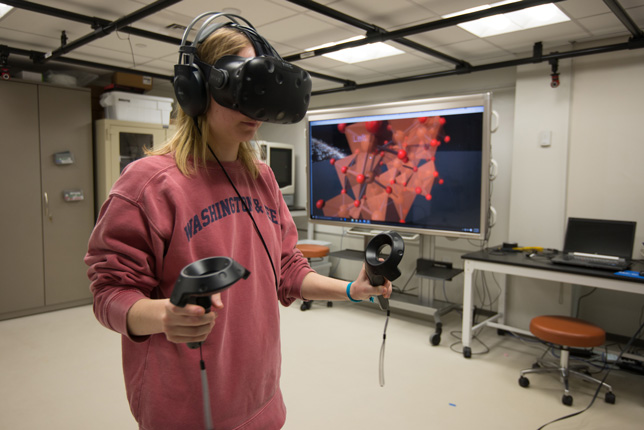 The Future of Language Learning: Augmented Reality vs Virtual Reality — from medium.com by Denis Hurley
Excerpts:
Here, I would like to stick to the challenges and opportunities presented by augmented reality and virtual reality for language learning.
…
While the challenge is a significant one, I am more optimistic than most that wearable AR will be available and popular soon. We don't yet know how Snap Spectacles will evolve, and, of course, there's always Apple.
…
I suspect we will see a flurry of new VR apps from language learning startups soon, especially from Duolingo and in combination with their AI chat bots. I am curious if users will quickly abandon the isolating experiences or become dedicated users.
Bose has a plan to make AR glasses — from cnet.com by David Carnoy
Best known for its speakers and headphones, the company has created a $50 million development fund to back a new AR platform that's all about audio.
Excerpts:
"Unlike other augmented reality products and platforms, Bose AR doesn't change what you see, but knows what you're looking at — without an integrated lens or phone camera," Bose said. "And rather than superimposing visual objects on the real world, Bose AR adds an audible layer of information and experiences, making every day better, easier, more meaningful, and more productive."
…
The secret sauce seems to be the tiny, "wafer-thin" acoustics package developed for the platform. Bose said it represents the future of mobile micro-sound and features "jaw-dropping power and clarity."
Bose adds the technology can "be built into headphones, eyewear, helmets and more and it allows simple head gestures, voice, or a tap on the wearable to control content."
Here are some examples Bose gave for how it might be used:
For travel, the Bose AR could simulate historic events at landmarks as you view them — "so voices and horses are heard charging in from your left, then passing right in front of you before riding off in the direction of their original route, fading as they go." You could hear a statue make a famous speech when you approach it. Or get told which way to turn towards your departure gate while checking in at the airport.
Bose AR could translate a sign you're reading. Or tell you the word or phrase for what you're looking at in any language. Or explain the story behind the painting you've just approached.
With gesture controls, you could choose or change your music with simple head nods indicating yes, no, or next (Bragi headphones already do this).
Bose AR would add useful information based on where you look. Like the forecast when you look up or information about restaurants on the street you look down.
The 10 Best VR Apps for Classrooms Using Merge VR's New Merge Cube — from edsurge.com
Google Lens arrives on iOS — from techcrunch.com by Sarah Perez
Excerpt:
On the heels of last week's rollout on Android, Google's  new AI-powered technology, Google Lens, is now arriving on iOS. The feature is available within the Google Photos iOS application, where it can do things like identify objects, buildings, and landmarks, and tell you more information about them, including helpful details like their phone number, address, or open hours. It can also identify things like books, paintings in museums, plants, and animals. In the case of some objects, it can also take actions.
For example, you can add an event to your calendar from a photo of a flyer or event billboard, or you can snap a photo of a business card to store the person's phone number or address to your Contacts.
The eventual goal is to allow smartphone cameras to understand what it is they're seeing across any type of photo, then helping you take action on that information, if need be – whether that's calling a business, saving contact information, or just learning about the world on the other side of the camera.
15 Top Augmented Reality (AR) Apps Changing Education — from vudream.com by Steven Wesley
CNN VR App Brings News to Oculus Rift — from vrscout.com by Jonathan Nafarrete
On 02/16/2018, in Adobe, career development, change, creativity, design, digital storytelling, graphics, human-computer interaction (HCI), story, storytelling, user experience (UX), user interface design, vendors, voice recognition / voice enabled interfaces, web design and production, by Daniel Christian
The Future of Design, Part II — from 99u.adobe.com by Madeleine Morley; with thanks to Keesa V. Johnson for posting this on Twitter
For the second straight year, we asked 10 creatives to predict what is coming up in the world of design and how they will prepare for it. This year's installment includes designing for voice-controlled tech, holograms, and the rise of the hybrid designer.
Design is always changing, and wider changes are often spearheaded by design itself. Now with tech and the creative industry increasingly aligning, we're on the precipice of a truly momentous period in the history of design, something unprecedented that is difficult to predict and prepare for.
Excerpts:
With quickly evolving tools, tumultuous shifts in the economy, the relentless growth of the gig and freelance lifestyle, and global networks, the working landscape for young designers is a tremendously uncertain one. There's no model to follow: The known and well-trodden career path of previous generations is overgrown.
…
It's an uncertain time for design, but in its difficulty and complexity, it is an inspiring and crucial one: Those with the skills will help decide the way that innovations in tech not only look but function, too, and influence our daily lives.
Although we can't predict the future, we can speak to those with experience who think about what's in store. We asked each participant to give us their advice: What does their future of design look like? What will it do to the very idea of design. And how can we prepare for it?
Design will be for ears and not eyes.
We're always getting our heads around designing for the latest technology, methodology, application, media, or format. It's a fascinating time to be a designer. There will always be space for experts, for those who specialize in the things they are really, really good at, but for others there is the need to diversify.
We won't tell stories; we'll live them.
On 12/19/2017, in A/V -- audio/visual, Apple, art, biology, collaboration, communications, digital storytelling, digital video, education technology, emerging technologies, health, human-computer interaction (HCI), innovation, languages and translation, multimedia, platforms, productivity / tips and tricks, psychology, storytelling, tools, vendors, Virtual Reality (VR) / worlds / learning, by Daniel Christian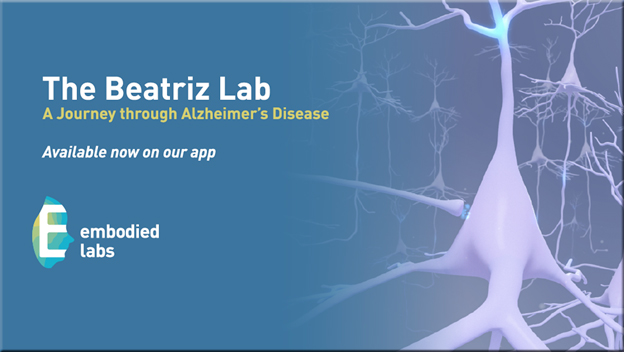 This three-part lab can be experienced all at once or separately. At the beginning of each part, Beatriz's brain acts as an omniscient narrator, helping learners understand how changes to the brain affect daily life and interactions.
Pre and post assessments, along with a facilitation guide, allow learners and instructors to see progression towards outcomes that are addressed through the story and content in the three parts, including:
1) increased knowledge of Alzheimer's disease and the brain
2) enhanced confidence to care for people with Alzheimer's disease
3) improvement in care practice
Why a lab about Alzheimer's Disease?
The Beatriz Lab is very important to us at Embodied Labs. It is the experience that inspired the start of our company. We believe VR is more than a way to evoke feelings of empathy; rather, it is a powerful behavior change tool. By taking the perspective of Beatriz, healthcare professionals and trainees are empowered to better care for people with Alzheimer's disease, leading to more effective care practices and better quality of life. Through embodying Beatriz, you will gain insight into life with Alzheimer's and be able to better connect with and care for your loved ones, patients, clients, or others in this communities who live with the disease every day. In our embodied VR experience, we hope to portray both the difficult and joyful moments — the disease surely is a mix of both.
Watch our new promo video to learn more!
As part of the experience, you will take a 360 degree trip into Beatriz's brain,
and visit a neuron "forest" that is being affected by amyloid beta plaques and tau proteins.
From DSC:
I love the work that Carrie Shaw and @embodiedLabs are doing! Thanks Carrie & Company!

Top 7 Business Collaboration Conference Apps in Virtual Reality (VR) — from vudream.com by Ved Pitre
Excerpt (emphasis DSC):
As VR continues to grow and improve, the experiences will feel more real. But for now, here are the best business conference applications in virtual reality.
Final Cut Pro X Arrives With 360 VR Video Editing — from vrscount.com by Jonathan Nafarrete
Excerpt:
A sign of how Apple is supporting VR in parts of its ecosystem, Final Cut Pro X (along with Motion and Compressor), now has a complete toolset that lets you import, edit, and deliver 360° video in both monoscopic and stereoscopic formats.
Final Cut Pro X 10.4 comes with a handful of slick new features that we tested, such as advanced color grading and support for High Dynamic Range (HDR) workflows. All useful features for creators, not just VR editors, especially since Final Cut Pro is used so heavily in industries like video editing and production. But up until today, VR post-production options have been minimal, with no support from major VR headsets. We've had options with Adobe Premiere plus plugins, but not everyone wants to be pigeon-holed into a single software option. And Final Cut Pro X runs butter smooth on the new iMac, so there's that.
Now with the ability to create immersive 360° films right in Final Cut Pro, an entirely new group of creators have the ability to dive into the world of 360 VR video. Its simple and intuitive, something we expect from an Apple product. The 360 VR toolset just works.
See Original, Exclusive Star Wars Artwork in VR — from vrscount.com by Alice Bonasio
Excerpt:
HWAM's first exhibition is a unique collection of Star Wars production pieces, including the very first drawings made for the film franchise and never-before-seen production art from the original trilogy by Lucasfilm alum Joe Johnston, Ralph McQuarrie, Phil Tippett, Drew Struzan, Colin Cantwell, and more.
Learning a language in VR is less embarrassing than IRL — from qz.com by Alice Bonasio
Excerpt:
Will virtual reality help you learn a language more quickly? Or will it simply replace your memory?
VR is the ultimate medium for delivering what is known as "experiential learning." This education theory is based on the idea that we learn and remember things much better when doing something ourselves than by merely watching someone else do it or being told about it.
The immersive nature of VR means users remember content they interact with in virtual scenarios much more vividly than with any other medium. (According to experiments carried out by professor Ann Schlosser at the University of Washington, VR even has the capacity to prompt the development of false memories.)
Since immersion is a key factor in helping students not only learn much faster but also retain what they learn for longer, these powers can be harnessed in teaching and training—and there is also research that indicates that VR is an ideal tool for learning a language.
---
Addendum on 12/20/17:
---
On 12/12/2017, in business, corporate / business world, corporate universities / corporate training, educational games / serious games, instructional design, leadership, learning, learning ecosystem, microlearning, mobile learning, story, storytelling, training / L&D, by Daniel Christian
Curated Content & Conversations from Learning 2017
This 30-page eBook is packed with content, context, conversations, video links, and curated resources that include:
Learning Perspectives from Michelle Obama, John Lithgow, Julian Stodd, Christine McKinley, and other Learning 2017 Keynotes
Graphic Illustrations from Deirdre Crowley, Crowley & Co.
Video Links for Content Segments
Learning Perspectives from Elliott Masie
Segments focusing on:
Curation & Learning
"Micro" & Compressed Learning
Performance Support
Mobile Learning
Learning Design
Learning Strategy
Leadership Development
Gaming & Gamification for Learning
Escape Rooms for Learning
Diversity & Inclusion
Storytelling
and much more!