Quote/excerpt from Sims (2008) paper entitled, "Rethinking (e)learning: A manifesto for connected generations":
Advances in theories of human memory parallel, and perhaps depend on, advances in technology… The information processing approach has been an important source of models and ideas, but the fate of its predecessors should serve to keep us humble concerning its eventual success… Unless today's technology has somehow reached its ultimate development, and we can be certain it has not, then we have not reached the ultimate metaphor for the human mind either. (Roediger, 1980, p. 244 as cited in Sims, 2008)
Roediger's remarks remind us that, not only are we in a constant state of change and development, but also that there are inherent risks in arguing that we know what there is to know about teaching, learning, and e-learning. Therefore, without undermining the importance of understanding the dynamics of human learning, this article adopts the position that it is untimely to let the e of e-learning disappear, because without that e we might lose sight of the value digital technology provides, especially through social networks, to emergent forms of learning and knowledge construction.
Emergent forms of learning cannot easily be addressed by current instructional design methodologies (Kays & Francis, 2004), which are often teacher-centered. New models and strategies embracing the roles and skills of the teacher, the learner, and the design team are required to address such developments (Sims & Koszalka, 2008). Recent reports by Oblinger (2004), Irlbeck, Kays, Jones, and Sims (2006), and Siemens (2007) posit that these emergent technologies and interactions have opened doorways to new ways of learning and that these deserve new models of thinking about the very essence of the teaching and learning dynamic. While this article accepts that e is becoming more mainstream and part of the infrastructure of developed nations, the real question is whether the models we use to create learning environments and measure outcomes retain their relevance in a generation in which technology is the medium of communication for many.
.
---
Sims, R. (2008). Rethinking (e)learning: a manifesto for connected generations. Distance Education (29) 2. August 2008, 153–164.
---
On 03/08/2011, in business, change, economics, emerging technologies, future, game-changing environment, generational differences, lifelong learning, technology (general), workplace, by Daniel Christian
2020 Learners — from learning with 'e's by Steve Wheeler
Excerpt:
Children of the future will also need to learn for life – learning to be flexible, adaptable and open to changes that might – for our current generation at least – be perceived as a threat. Of one thing we can all be certain – that change will accelerate in the next few years. Change can be disruptive and can take time, energy and effort to adapt to, but learners of the future will need to see change as an opportunity, and will need the requisite skills to take the opportunities that are presented and turn them into positive and sustainable outcomes.
Finally, children will need to be able to design their own learning spaces, create their own content and learn from it. They will be less reliant on didactic and transmissive forms of teaching and will turn instead to more independent learning from the vast storehouse of knowledge we know as the World Wide Web. This does not preclude some form of 'schooling' however. The teacher's role will change to accommodate these new needs. Teachers will become facilitators, mediators, co-authors and co-producers of content, and ultimately, companion travellers with children on their road to better learning. It is already happening in some schools. In posts later this week, I will explore what possible new roles of teachers in 2020 will need to adopt to help to prepare learners for an uncertain and certainly unpredictable future.
Lisa Gansky: The future of business is the "mesh" — from TED
At TED@MotorCity, Lisa Gansky, author of "The Mesh," talks about a future of business that's about sharing all kinds of stuff, either via smart and tech-enabled rental or, more boldly, peer-to-peer. Examples across industries — from music to cars — show how close we are to this meshy future.
Preparing for Generation C — from Business Spectator by Roman Friedrich, Michael Peterson, and Alex K
Excerpt:
Colin is a 20-year-old computer science student living in London with two other students in the year 2020. He enjoys backpacking, sports, music, and gaming. He has a primary digital device (PDD) that keeps him connected 24 hours a day — at home, in transit, at school. He uses it to download and record music, video, and other content, and to keep in touch with his family, friends, and an ever-widening circle of acquaintances. His apartment is equipped with the latest wireless home technology, giving him superfast download speeds of up to 100 Mbps.
…
Much of Colin's experience at school is mediated by his PDD. He can attend lectures, browse reading material, do research, compare notes with classmates, and take exams — all from the comfort of his apartment. When he goes to campus, his PDD automatically connects to the school's network and downloads relevant content, notices, and bills for fees, for which he can authorise payment later, at his leisure. Although he prefers to shop online, when he visits a retail store, his PDD automatically connects to the store's network, guiding him through product choices, offering peer reviews, and automatically checking out and paying for items he purchases.
…
This is the first generation that has never known any reality, other than that defined and enabled by the Internet, mobile devices, and social networking. They have owned various hand-held devices all their lives, so they are intimately familiar with them and use them for as much as six hours a day. They all have mobile phones, yet they prefer sending text messages to talking with people. More than 95 per cent of them have computers, and more than half use instant messaging to communicate, have Facebook pages, and watch videos on YouTube. Their familiarity with technology; reliance on mobile communications; and desire to remain in contact with large networks of family members, friends, business contacts, and people with common interests will transform how we work and how we consume.
The article includes this graphic:
.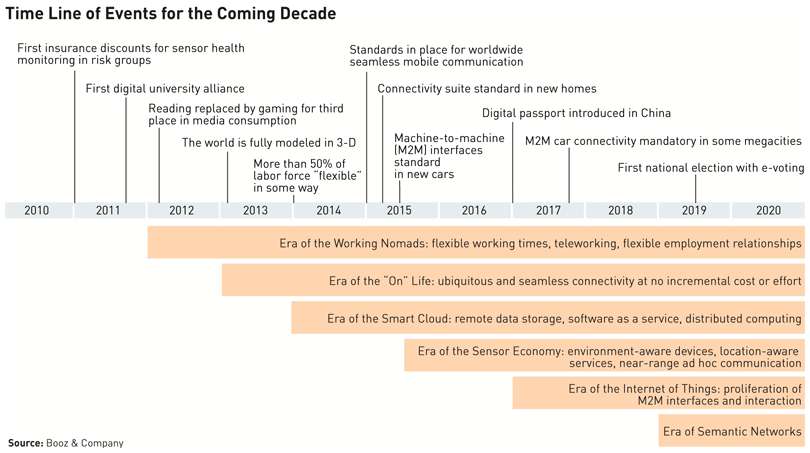 On 01/20/2011, in 21st century, 24x7x365 access, corporate / business world, corporate universities / corporate training, digital audio, digital learning, digital video, elearning, expectations, game-changing environment, generational differences, instructional design, multimedia, new media literacies, training / L&D, by Daniel Christian
Millennials replacing Baby Boomer workforce: Meeting their unique needs — from Diane Hamilton
Big changes are occurring in the current workforce.  The dynamic is shifting as companies are experiencing a shift toward millennials replacing baby boomer generations. According to Harvard Business Review /HBR.org, "The makeup of the global workforce is undergoing a seismic shift: In four years Millennials—the people born between 1977 and 1997—will account for nearly half the employees in the world. In some companies, they already constitute a majority." (emphasis DSC)

Time for education innovation— from edReformer.com by Tom Vander Ark (emphasis DSC)
The growth of media and communications technology, the rise of a new generation of students and teachers equipped to use technology, and the shifts within schools and educational systems themselves create new fertile ground for education innovation.  Taken all together these major changes can be understood as The Big Shifts in education.
The Big Shifts are comprised of the Technology Shift, the Global Shift, and the Learning Shift.
Veteran Trainer from McDonald's U Describes The 2020 Workplace (Interview) — from Bloomfire.com by Nemo Chu
Recommended by McDonald's University's Dan Camp:
The 2020 Workplace is one of the most fascinating books I've read recently. Think about how life has changed in the last ten years. In 2000, the world was not conducting 34,000 Google searches per second. Cell phones were still seen as a luxury for most of the world. There was no such thing as Facebook, Twitter, LinkedIn, or iTunes. And the idea of being always on, and always connected—"hyper-connected"—was only seen in the movies.
From the book's description at Amazon.com:
The 2020 Workplace begins by setting the stage for why the future workplace is going to be different. Advances in social technologies, shifts in demographics, and a global business environment will all affect the workplace of the future. The Millennial generation is a particular focus, since it is expected to be nearly 50% of the workforce in just four years.