From DSC:
My dad sent me this in an email — I'll include it here as a graphic to insure that I get the layout correct: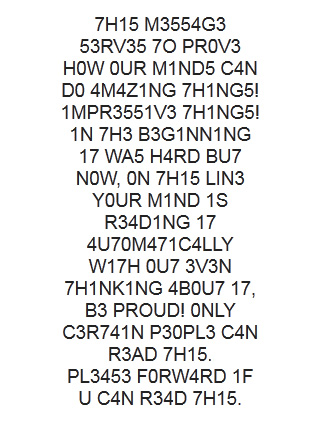 Another excerpt from the email:
If you can raed this, you have a sgtrane mnid, too.
Can you raed this? Olny 55 plepoe out of 100 can. I cdnuolt blveiee that I cluod aulaclty uesdnatnrd what I was rdanieg. The phaonmneal pweor of the hmuan mnid, aoccdrnig to a rscheearch at Cmabrigde Uinervtisy, it dseno't mtaetr in what oerdr the ltteres in a word are, the olny iproamtnt tihng is that the frsit and last ltteer be in the rghit pclae. The rset can be a taotl mses and you can still raed it whotuit a pboerlm. This is bcuseae the huamn mnid deos not raed ervey lteter by istlef, but the word as a wlohe. Azanmig huh? Yaeh and I awlyas tghuhot slpeling was ipmorantt!
From DSC:
What amazed me about this was in the meta cognitive processes of my mind I sensed my mind struggling to make sense of the first couple words…but then, as I moved forward, my mind went back and filled in the gaps and moved forward with understanding what the words were saying.  Then it occurred to me how amazing the human mind is — glory to God!  Humans can pick up patterns much quicker than computers and algorithms. Not that algorithms can't be tweaked over time, but humans are key in getting them headed in the right direction in the first place!
P.S. I also saw this type of thing at Jimmy Johns; but that's even one step further outside the academic realm than even an email from someone's dad!  But thanks Dad if you are reading this!  I found it to be an amazing exercise.   🙂