On 07/24/2011, in 21st century, 3D, A/V -- audio/visual, creativity, digital audio, digital video, Europe, gesture / gesturing, graphics, innovation, interactivity, multi-touch, multimedia, user experience (UX), by Daniel Christian
On 06/17/2011, in computer science, engineering, gesture / gesturing, human-computer interaction (HCI), Microsoft, programming, tools, user experience (UX), user interface design, by Daniel Christian
Microsoft advances natural UI with Kinect SDK — from cnet.com by Jay Greene
Oregon State University student Alex Wiggins gestures to Kinect, which in turn makes a remote-control
toy helicopter take off while teammates Ruma Paul (left) and Fabio Matsui (right) look on. (Credit: Microsoft)
On 05/11/2011, in 21st century, A/V -- audio/visual, creativity, digital learning, digital video, gesture / gesturing, human-computer interaction (HCI), innovation, media/film, vision, visualizing information, by Daniel Christian
What happens when sixth sense meets an iPad?–– from labnol.org
Excerpt:
Zach King
, a film student from LA, has created this neat video where the iPad screen is projected in the form of a hologram and users can interact with the various apps using natural hand gestures. Futuristic but not impossible.
From DSC:
What a creative way to help people visualize your concept and to help bring your vision to a format that others can understand and work with! Great work on the digital video editing Zach!

On 03/01/2011, in A/V -- audio/visual, change, convergence, future, game-changing environment, gesture / gesturing, innovation, media/film, pace of change, technologies for your home, television, vendors, videoconferencing, by Daniel Christian
The Future of television: Sweeping change at breakneck speed — from Cisco by Scott Puopolo, Carlos Cordero, William Gerhardt, Kate Griffin, Leszek Izdebski, and David Parsons, Cisco IBSG Service Provider Practice
10 reasons you won't recognize your television in the not-too-distant future
Also see their blog posting on this.
.


.
Reminds me of a graphic I created a while back…
.
Also see:
What television is *really* becoming — by Philip Leigh at Inside Digital Media, Inc.
Excerpts:
Nicholas Negroponte who founded MIT's Media Lab correctly put it sixteen years ago when he wrote in Being Digital "…the future open-architecture television is the personal computer, period."
…
Televisions will become giant windows into the Internet Cloud. They'll transform into electronic hearths through which family members gather to remotely share communications and social experiences as much as to watch videos. In addition to watching "TV" shows and movies, they'll use future televisions for video phone calls, FaceBook updates, news feeds, interactive gaming, and knowledge quests within the nearly infinite mind of the Internet. Moreover, such features will augment one another. For example, FaceBook socializing will alert us to new videos our friends are watching.
The television-as-Internet-window will ultimately have a more intuitive interface. It's likely to provide a combination of icon-apps as well as Internet browsing. Although the man-machine interface will continue to offer a mouse-and-keyboard for a while we'll also use a gesture sensitive interface like Microsoft Kinect demonstrated in this video.
On 02/08/2011, in analytics, Augmented Reality (AR), e-books, e-readers, education technology, educational games / serious games, gesture / gesturing, mobile learning, mobile technologies, tablets, by Daniel Christian
The 2011 Horizon Report — from the New Media Consortium; via Educause
.

.
Time-to-Adoption: One Year or Less
Time-to-Adoption: Two to Three Years
Augmented Reality
Game-Based Learning
Time-to-Adoption: Four to Five Years
Gesture-Based Computing
Learning Analytics
Also see:
New tech moves beyond the mouse, keyboard and screen — from CNN.com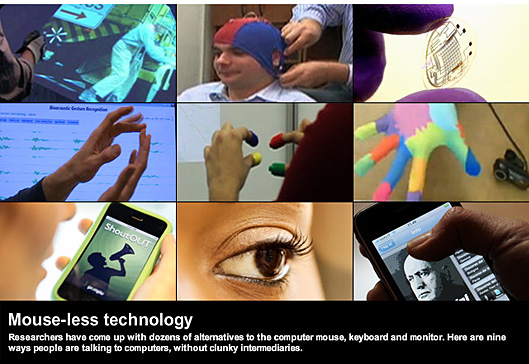 Also see:
http://oblong.com/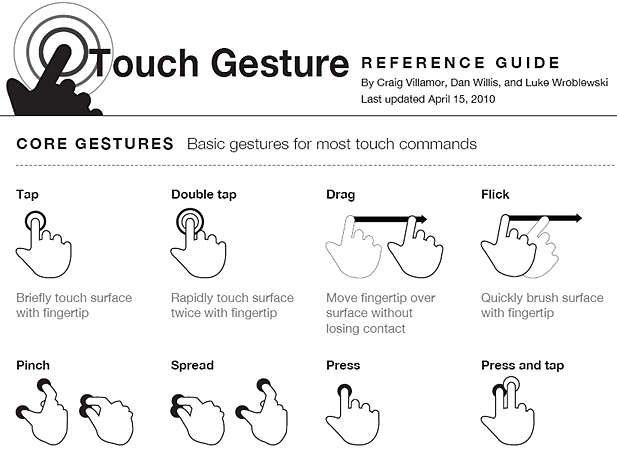 From:
The Touch Gesture Reference Guide — by Luke Wroblewski
…
Also see:
GestureWorks Open Source Gesture Library
…
Apple's latest patent outlines the future of multitouch — from techradar.com
Total control at the tip of your fingers
Microsoft's Deskerity Project combines the powers of pen, touch, gesturing, voice — from FastCompany.com via Mr. Yohan Na, Calvin College, Teaching & Learning Digital Studio